Since the real deal is well out of my range (real or imaginary), I have to wonder if these two clones measure up 80-90% of the way for a fraction of the price. I guess it comes down to your nature: investor or enthusiast, because an investor wouldn't drive the real thing as hard or as often as it should be. As it was intended.
The real deal: 1973 Porsche 911 Carrera RS Coupe Touring Coupe on eBayMotors being offered by Ooely and Blackburn of Indianapolis: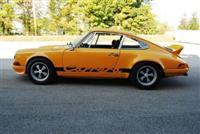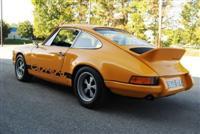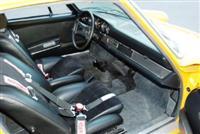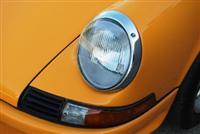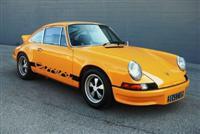 quote from Ooely & Blackburn eBayMotors listing:
This 1973 Porsche 911 Carrera RS coupe is finished in correct code#114 signal yellow with black vinyl and cloth interior. It is an all numbers matching proper older restoration. We have carefully inspected this gorgeous RS and have found it to be a fabulous correct example. The chassis number is 9113600631, the engine number is 6630645 , the transmission number is 7830637 and the paint code number is 114 (525212) signal yellow. It is one of just 87 Carrera RS cars to be produced in this color by the factory. This rare Porsche must be considered one of the most correct and original numbers matching cars in the country. The car was produced in February of 1973 and immediately shipped to its original owner in Luxemburg.
And on to the clones. The first is this lovingly prepared 72 Targa on eBayMotors: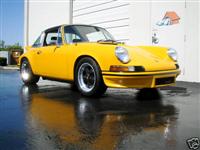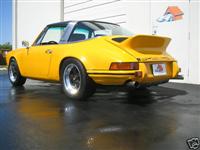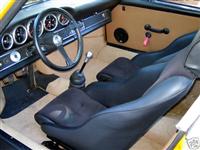 quote from seller's eBayMotor's listing:
The key with building a good RS is to start with a great car. This car was originally sold new in Southern California which means that it has lived a rust-free life.

This car went through an extensive 2-year restoration and it shows. It is a stunning example and extremely well built. It was taken down to the bare metal and painted its original color in acrylic enamel with hardner. It then went through countless hours of hand color sanding and buffing to bring out its shine. The paint looks great. There are a few rock chips here and there from use, but that's about it.
And then there's this 1986 Carrera with backdated bodywork to provide a modern configuration that looks vintage and appropriate:
quote from seller's eBayMotors listing:
I am selling this amazing RS recreation based on a mint 1987 Carrera. (galvanized shell) 950 trans. Grand Prix Bright white fresh paint with mat black decals. This is a specialty car and very tastefully done, you won't find one like this anywhere! Lots of time and dedication went into building this vehicle.

Stock 3.2 ltr motor (no leaks) Car and motor have 48k miles, Air condition and sunroof were taken out to lighten the car, full new RS interior, suede dash, WEVO shifter, LSD, 17×8 17×9 inch Lindsey Racing wheels, Bridgestone Potenza RE-01R tires, Reccaro SRD seats, Car Graphic pedal set, Brey Krause harness bar and tower bar, Nardi suede classic steering wheel, Willans harness, Upgraded Brembo big brakes and rotors, Turbo tie rods, SSI heat exchangers, polished Dansk exhaust, carbon fiber fenders, bumpers, duct tail (MAshaw)

Everything on this car and listed is brand new from all new seals, trim, lights, screws etc.. Fully tuned, very tight. Very light and fast!
So if it's not obvious by now, I think the real thing is way overpriced. A true 911 enthusiast would want a car that could be driven and experienced. While a collector that could afford the real 911RS would argue otherwise, I'd challenge the buyer to hit a dozen track days a year and drive the car as intended to prove their allegiance!
dc