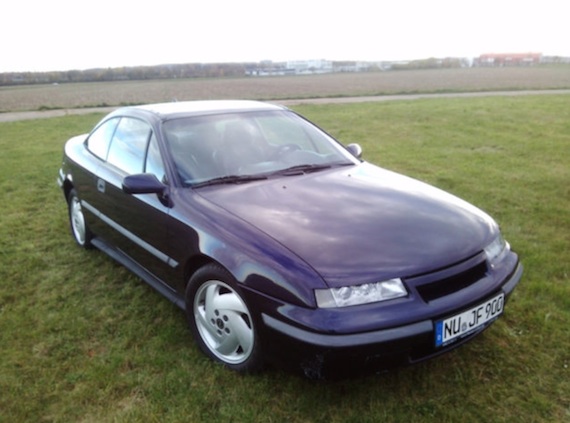 The 1990s was not a bad time for car design. Crash bumpers and DOT approved headlights for US market cars made way for more flush fitting bumpers and aerodynamic lighting thanks to advances in technology. This was also before new pedestrian crash standards raised up the hood and cowl lines of new cars, so you still had some nice, sleek designs out there. One of my favorite designs from this period was a car that was never sold here stateside: the Opel Calibra. This coupe was based off of the Vectra platform and held the title of most aerodynamic vehicle for a time. Offered with a range of four cylinder engines and a 2.5 liter V6, the top model was this one, the turbocharged 16V 4×4. This Calibra 4×4 for sale in Bavaria was stored away for a while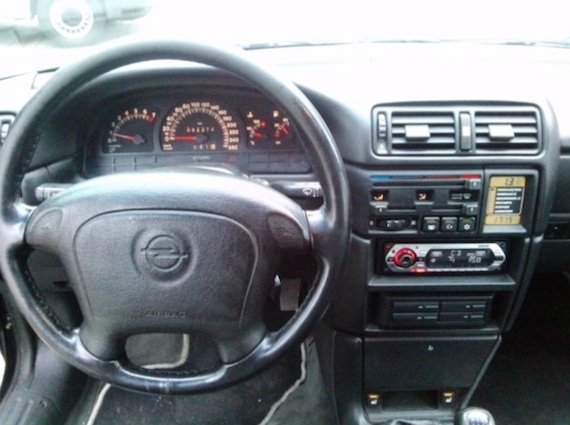 Year: 1993
Model: Calibra Turbo 16V 4×4
Engine: 2.0 liter turbocharged inline-4
Transmission: 6-speed manual
Mileage: 82,700 km (51,387 mi)
Price: €6,999 (~ $9,612 USD)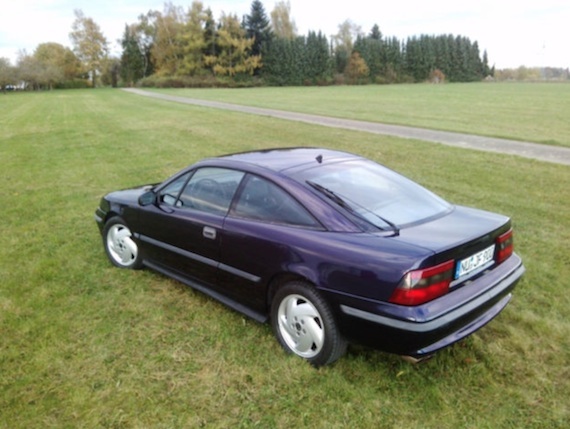 History:
In March 1992 the Calibra Turbo 4×4 hit the dealers as the new flagship model. In it, the 2.0-liter 16V engine (C20LET) was used, equipped with a KKK turbocharger (K16) and a charge air cooler making 150 kW (204 hp). The turbocharger was a new development, it was not flanged but integrated into the exhaust manifold. The turbo engine was combined with a standard six-speed gearbox and four-wheel drive, an automatic transmission did not come with the turbo. The maximum torque is 280 Nm, which is already at 2400 rpm. The Calibra Turbo was the fastest car of its kind: indicated top speed of 245 km/h and acceleration from 0 to 100 km/h in 6.8 seconds. It cost in 1992 DM 49,880.00

This splendid example was titled in December 1993 the first time. Logged in September 1994. And in the following spring once again logged. This went on for years until March 23, 2007. At this time, a man had decided to put the car in a barn and store it. In the spring of this year I then discovered this car. After being stored, of course, a lot had to be done. Belts, etc. replaced, then brakes, wishbones, accumulator, etc. Then I drove the car on nice weekends to Lake Constance. Most routes were so "long distance."

Now I need to part, unfortunately, due to lack of space and money reasons. The TÜV was a lot (TÜV is new). The mileage is verified! The car is in complete original condition (the original radio is also available). More pics will be in Autoscout, or if you are interested, by email. Of course, I am also reachable by phone for you!
01578 9502543
So do not hesitate to call me!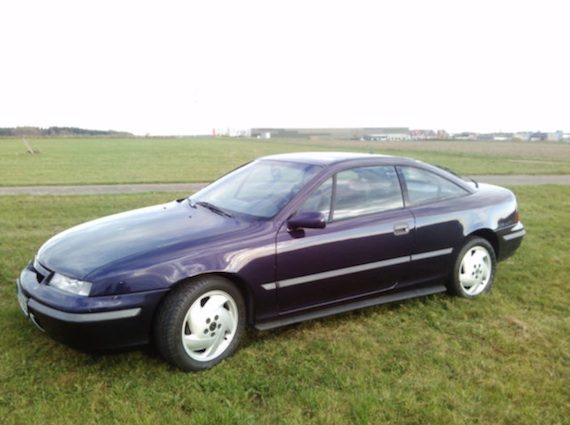 The first Calibras produced will soon be eligible for import to the US, but I doubt that many, if any, will show up here. Without a recent visible presence in the US market other than some recent Saturn and Buick offerings that were rebadged Opels, the following for these coupes is not that big. In addition, the transfer case on 4×4 models such as this one is known to be fragile and cause added maintenance expense and headaches. So while it's 4WD Week here at GCFSB, if you really want a Calibra, it would probably be best to eye up a front-drive variant.
-Paul