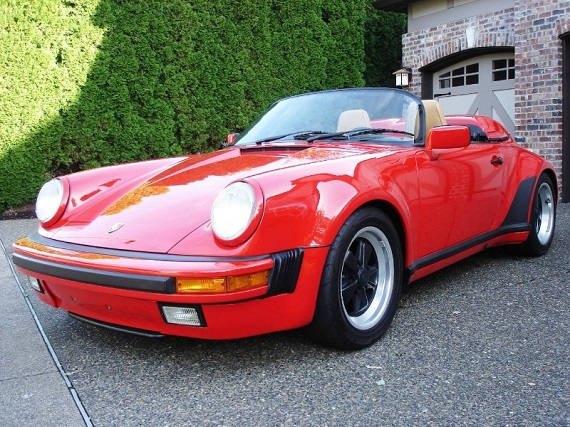 Throughout our pages we have consistently trumpeted the virtues of the 911SC and 3.2 Carrera as relative values for any buyer looking to get into a classic 911. These cars take us back to when driving was analog rather than digital and combine graceful aesthetics with enough performance to provide for miles and miles of driving enjoyment. As with most things in life, there are exceptions when it comes to finding value for our performance dollars. Here we have a 1989 Porsche 911 Speedster, but unlike the 3.2 Carrera off which it is based, the Speedster is not the car for those searching for value. Speedster is such an iconic name within the Porsche stable that these cars are almost always bought up and immediately packed away upon release rarely to be seen on the road. Produced in the final year of classic 911 production the Speedster served as an elegant send-off prior to the release of the 964. It was a car built for Porsche purists who favored style over performance. The car here, located in Oregon, has seen a scant 5,948 miles in its pampered life and comes dressed in the always beautiful Guards Red exterior over a Cashmere and Black interior.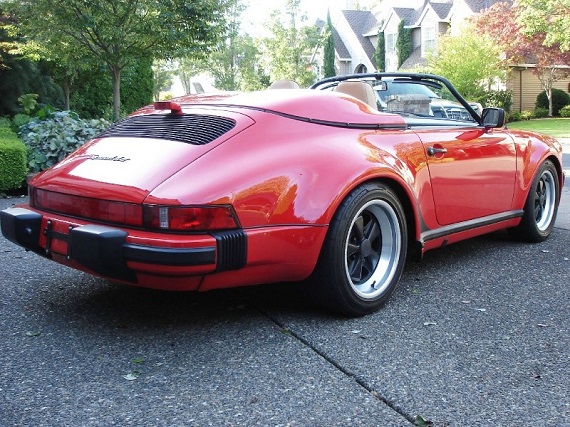 Year: 1989
Model: 911 Speedster
Engine: 3.2 liter flat-6
Transmission: 5-speed manual
Mileage: 5,948 mi
Price: $159,995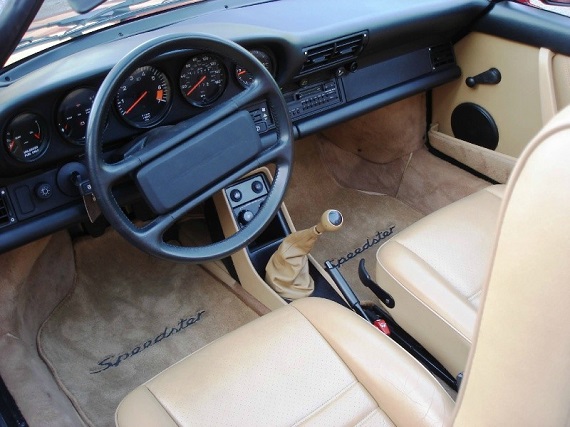 Motogroup, LLC is very pleased to present this GORGEOUS Collectible 89 Speedster…Truly a Stunning Porsche, of the highest possible quality, without a doubt the finest available in the US…
214 hp, 3,165 cc SOHC flat six-cylinder engine, Bosch digital motor fuel injection, five-speed manual gearbox, independent front suspension with McPherson struts, lower A-arms, coil springs and sway bar, independent rear suspension with semi-trailing arms, coil springs and sway bar, and four-wheel hydraulic disc brakes. Wheelbase: 89.4″

• Only 5,948 original miles
• One of only 824 produced for U.S.
• Porsche Certificate of Authenticity

The original 1954-59 Porsche 356 Speedster was originally demanded by U.S. importer Max Hoffman. With its cut-down windshield and emergency-only top, it was to be an inexpensive sports cars for the youth market. Its raffish good looks and minimalist equipment clicked with customers, and original examples remain much prized and sought after in the collector car market.

The concept floated around as a fond memory for 30 years, finally re-emerging in 1989, when the new 964 model was delayed. Styling chief Tony Lapine transported a number of the old 356 styling cues to a limited production model, which sold for a hefty premium. Lapine raked and cut down the windshield, dispensed with the back seat and capped the space with twin "camel humps."

In all, 2,065 Speedsters were built in 1989, with only 824 coming to the U.S., most with the "turbo-look" wide body. They were pounced on by investors, with some buyers paying as much as $100,000 to buy a new one. As a result, many have few miles on them, 24 years later. This car is one of those examples, with a mere 5,950 recorded miles. As might be expected, it is in effectively new condition, with a Porsche Certificate of Authenticity, finished in Guards Red with a tan leather interior and black top. It is fitted with air conditioning, power seats that also raise and lower and a Blaupunkt Charleston stereo. This car represents an excellent opportunity for a Porsche collector in search of rare, landmark models. Pre-Sale viewing by appointment only to qualified principals.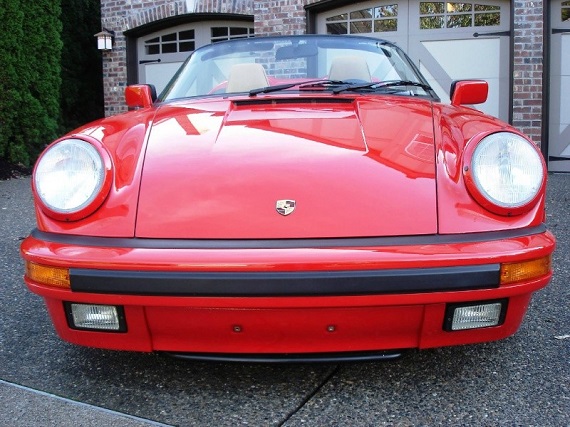 The question any buyer of a car such as this must consider is how high the market for these will really go. $160K is a lot of money for a car that underneath it's beautiful skin remains a standard 3.2 Carrera. The Porsche market has generally been much kinder to higher powered variants than to the cosmetic rarities and while the Speedster will certainly, and already has, remain somewhat insulated from those problems, there will inevitably reach a point where the market plateaus. I don't think $160K is where that plateau will reside, so this isn't necessarily overpriced, but I do wonder just how valuable these will become. Financial matters aside, the Speedster is a beautiful icon of Porsche engineering and will always have a place in the marque's lore. It is a pity, though, that these cars are almost never driven.
-Rob