Following up on Paul's recent 190E find here is another one that is less expensive and with less miles that was pointed out by reader John C.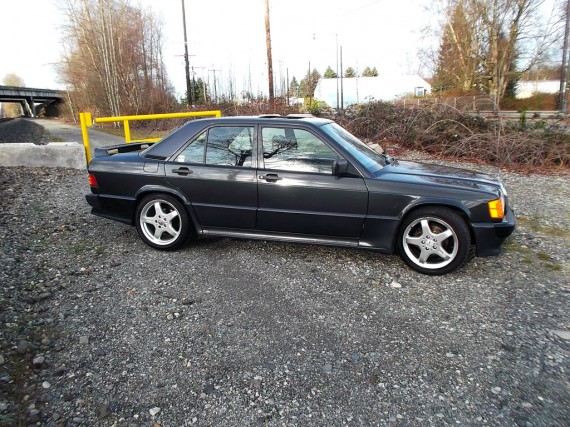 Year: 1986
Model: 190E 2.3-16
Engine: 2.3 liter inline four
Transmission: 5-speed manual
Mileage: 75,000
Price: $8,500
I won't go into specifics about the 190E since we have actually discuss these great pocket rockets many times before on this site. As Paul states and I have mentioned before the prices on these are not keeping up with the E30 M3, but you are getting a car of similar craftsmanship, performance and rarity. Also like the M3 it is tough to find one that hasn't been beaten or customized to within an inch of its life. Good original examples will rise in price.
This U.S. spec model looks to be a good daily driver. The owner says the clear coat is starting to come up in a few places. The car is in Washington state so I'd like to take a peak around the sills and underneath to see what the rust situation might be.
The car has a long list of receipts, the seller mentions a bunch of things that have been done, but isn't exactly clear how long ago those maintenance items have happened. The list includes things like bushings and engine mounts, which on a car like this that is fun to throw around winding roads is good, you want things nice and tight. It is great that there is a lot of receipts with the car $16,000+, but again $10k in maintenance work done 10 years ago doesn't mean as much as $5k done last week.
U.S. spec headlights the bane of my Merc enjoyment hurt the look. A set of practically obligatory 17″ AMG rims give a little back. The stock rims are included.
The 75,000 miles and an $8,500 puts this car right in the heart of the hmmm this might be the one price for the enthusiast. If the car checks out and looks as good in person as it does in the photos that is a fair ask. Maybe knock a little off for the paint, keep it waxed and enjoy it as is. A few drives with a tuned up free spirited Cosworth engine mated to a dog leg 5-speed and who cares about the paint.
~Evan