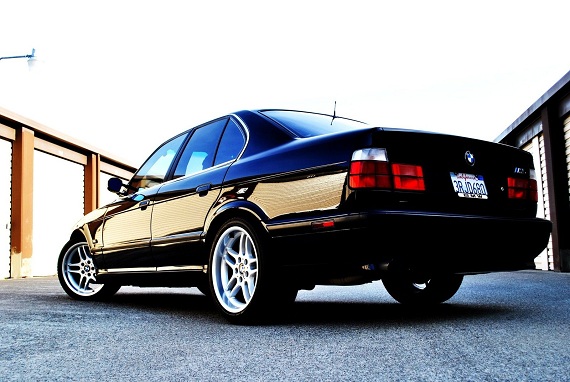 If you wanted a fast, executive super saloon in 1995, your options were dwindling. 1995 was the last year of the Audi S6, and one year after both the V8 Quattro and 500E were taken away. 1995 would also be the last year of the iconic M5, and hints were that it might be a long time before we'd see another. Why? Well, the reality was that with the 6 speed 540i the performance gap between the "super" M5 and the "normal" V8 engined 540 was so close it just didn't make a lot of sense to have the premium model anymore. The S38 was by now a quite old motor and was getting harder to pass increasingly strict emissions standards; indeed, shrinking sales and high price had resulted in the M5 being pulled from the U.S. in 1993. As a result, BMW offered a hint at what it could do with the V8 in the form of the M540i in Canada and the 540i M-Sport in the U.S. market. The Canadian model was quite close in spec to the European M5, except that in place of the venerable S38 it ran the M60 V8 out of the normal 540i. If that sounds like a letdown, it wasn't – mated to the Getrag 6-speed transmission it was a great driver, and with the M5 suspension, brakes and cosmetic details it was 95% plus of the M5 for most drivers. The 540i M-Sport that the U.S. got differed a bit in not having the trick floating rotors of the M540i, but with nearly everything else out of the M5 bag of tricks these are cool cars, great drivers, and even more rare than the M5: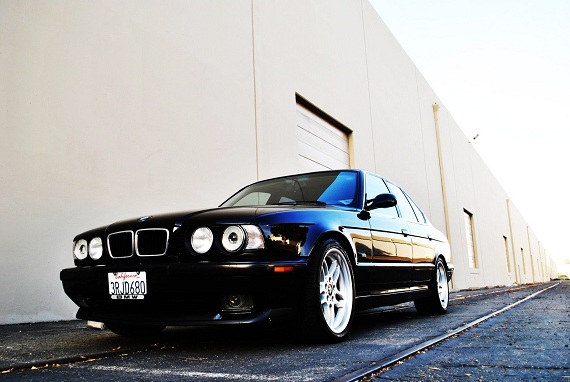 Year: 1995
Model: 540i M-Sport
Engine: 4.4 liter V8
Transmission: 6-speed manual
Mileage: 112,900 mi
Price: $12,500 Buy It Now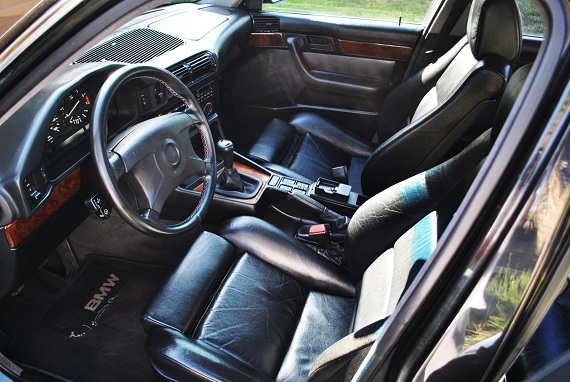 For those of you who are not familiar with the car……

"In 1995, BMW made a limited production run of only 200 these models (135 w/ 6-speed manual transmissions). Borrowing most of the componentry, trim, mouldings, rims, suspension, badging and more from the M5, BMW thought it would be fun to mate the silky smooth BMW M60 V8 engine with everything else from the M5. (M5's of this vintage were equipped with 3.8L inline 6 cylinders)"

How is the U.S.-spec E34 540i M-Sport unique?
A limited edition of 200 (plus 5 pre-production examples) E34 540i M-Sport models was produced for the United States market between September and November of 1995. Available with either the Getrag six-speed manual gearbox (139 produced) or ZF five-speed automatic transmission (66 produced), the E34 540i Sport included all of the standard E34 540i equipment plus the following special features:
-"Nurburgring" M5 chassis with Electronic Damping Control (EDC) shocks, firmer springs and larger anti-roll bars
-M5 steering rack with M-tuned Servotronic assist
-8×17-inch M System II wheels with 235/45ZR17 tires
-M-Technic aero package painted in body color
-M exterior rearview mirrors
-sport seats
-M-Technic four-spoke airbag steering wheel
-illuminated M leather shift knob (manual transmission)
-E31 leather shift lever (automatic transmission)
-door sill plates with the "M" logo
-heated front seats (optional)
-ASC+T traction control (optional)

Additional car info can be found here: http://www.kindel.com/bmw/m540_info.htm

Here is an extremely rare opportunity to own one of the rarest BMW's made. Even if you can find one, this is one of the cleanest e34 540i M-Sport you will ever find. Selling because I will be out of the States for next couple of years due to job transfer. I really hate to let her go.

I am THIRD OWNER of the car and not the 5th owner stated by ebay highlights. I flew to LA and purchased the car in 2005 from a sales manager (his personal car) from Center BMW in Sherman Oaks CA. I rarely driven the car since the purchase. Approx mileage now is 112,XXX.

She has been pampered and babied from day one since I owned it. Never driven in the rain and never driven in bad condition roads. Never raced or abused. Always garaged and parked indoor. Waxed regularly and the interior has been treated with leather lotion on regular basis. No drink or food allow inside the car and no pets (I don't own one). The car takes only premium gas and only Shell or Chevron. Oil change every 4000 miles and only synthetic. More importantly, all parts needed or due to change are replaced on timely manner (more on this later). I am extremely anal when it comes to cars (I own several cars) and so they have to be in tip-top mechanical and cosmetic condition.

MORE PICS HERE:
http://s1317.photobucket.com/user/bmwm540i1995/media/8_zpsa4c5a7af.jpg.html#/user/bmwm540i1995/media/8_zpsa4c5a7af.jpg.html?&_suid=136722921705806926440842617074

EXTERIOR
The Cosmos Schwarz black metallic color paint is in perfect condition. No rust anywhere. No dents, no swirl marks & no dings. The entire car was professionally repainted by EMC a couple of years back. The cost of paint job was close to $6,000. It includes wet sanding for a mirror-like shine. No more orange-peel effect. The exterior has been meticulously maintained since after the paint job. Superfine polish once a year and wax every 3-4 month.

INTERIOR
Excellent condition no tears or rips anywhere. No Fading or cracking on the dashboard.

MECHANICAL
Absolutely no issues at all! No warning or service lights. No leaks. Engine idles smooth. Accelerates hard, shift and brake just like when new.

Suspension is SUPER tight and does not have any noises or plays in joints. Drives flawlessly and straight with no irritating shakes. Please note I don't drive this car on poor paved road nor I drive with heavy load so to preserve EDC (Electronic Damper Control) and self-leveling suspensions. The EDC is fully functional. All shocks and struts are tight and absolutely NO leak whatsoever (please refer to the pics). As rare as the car already is, having the stock EDC system makes this car even more rare (most others have swapped the EDCs out with after market shocks/struts). Stock EDC system is what makes these e34s unique. It not only increases driving comfort, prevents dipping when braking, but also sharpens the handling.

Car has been maintained meticulously by BMW Motorsports Haus. (BMW specialist and maintains exclusively BMWs).

Recent Chassis Parts Replaced (less than 2,000 miles ago):

– New slotted rotors with quite semi-metallic pads on all corners.
– Upper thrust control arms w/ heavy duty bushing (L+R)
– Lower Aluminum control arms and bushings (L+R)
– Tie rod complete assembly (L+R)
– Sway bar links (L+R)
– Idler arm
– Center tie rod assembly
– Rear pitman arms (2)
– Rear sway bar links (2)
– Rear subframe mounts (2)
– Rear shock mounts (guide support) (L+R)
– Rear additional shock absorber (L+R)
– Front strut mounts (guide support) (L+R)
– Front additional shock absorber (L+R)

Additional Parts Replaced:

– Windshield Molding (less than 1000 miles ago)
– Sunroof Trim Seal (less than 1000 miles ago)
– Fuel Filter (less than 9,000 miles ago)
– Air Instake Hose (less than 9,000 miles ago)
– Air Filter (less than 2000 miles ago)

Recent Service Done:

– Brake Fluid Flush/Fill (less than 2,000 miles ago)
– Coolant Flush/Fill (less than 500 miles ago) Coolant hose replaced as well for preventive measures.
– Oil Change — Mobil Synthetic (less than 300 miles ago)
– Spark Plugs – Bosch (less than 100 miles ago)

Upgrades:

– BMW Genuine M Parallel Staggered Spoke Alloy Wheels. Front: (8X18) – 235-40-18 & Rear: (9X18) – 265-35-18.
– BMW Business CD Radio currently installed. BMW CD Changer is installed in the trunk, but will need to use the other BMW head unit which I will also include.
– Subwoofer wired and installed. Not pictured, but subwoofer is included.
– BMW car cover included.

The car has been inspected thoroughly recently (to list a few . . .. all fluid checked, MAF O2 sensor, cat O2 sensor, fuel pressure regulator, fuel pump, etc). The car needs no mechanical attention whatsoever. Passed the smog with no problem whatsoever.

This is super clean and extremely well maintained rare car. This is not any typical 540i sport or regular 540i. In fact, it is even more rare than e34 M5.

Thanks for looking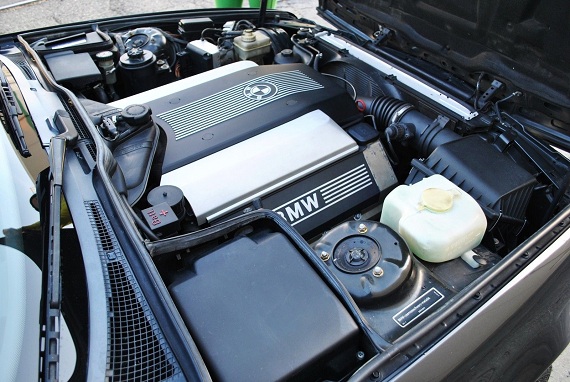 As the owner of a black car, I know the amount of time and work that goes into making it look anything close to what this car looks like. The finish on the paint is pretty amazing and overall the car looks just about ready for a BMW catalog photo shoot. While I love the M-Parallels and these are OEMs and not replicas, I do wish the original M-System wheels were there; they're just the wheels I'd prefer on this package. Also, though I understand why I'm not a fan of the M5 badge on the rear – it's not an M5, and I don't think it has to apologize that it's not. Other gripes? Not really any – mechanically and cosmetically, this car is sorted and probably one of the best we've seen for sale recently. That means at the price it's offered you could buy an E34 M5, but it's doubtful you'd get an M in this condition for the same money. It does present a question though; do you need the M5 badge? For 95% of people, this car would be equal to if not slightly better than owning an M5 as a driver – with the only downside being that you'd need to explain to everyone what it was when they asked "why didn't you just get a M5"? Because, if for no other reason, that's what they'd expect you to do!
-Carter