Carlton emailed me over the break with his stunning 500SEL AMG. While this car has mileage befitting it's age and the patina to match, it is being sold as an authentic AMG equipped vehicle. The best part is that it is a NO RESERVE auction! With a little over a day to go, it's currently at a bit over $8k!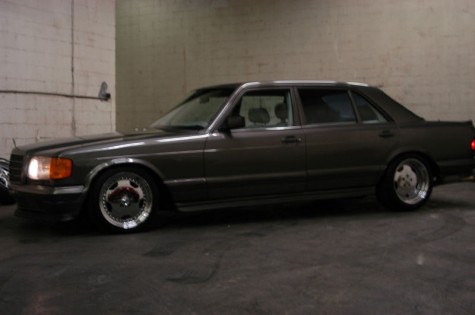 quote from the seller's listing:
All I can say this is one fantastic Mercedes! I have owned many rare and unique cars and I can honestly say this one might be one of the neatest cars I have ever owned. I get many thumbs up. This AMG has presence! It has been a southern car for a majority of its life, hence no rust at all. For being 28yrs. old it is in very good condition. The paint is in fair shape and has a couple of flat spots in it. Also if you look at the front fender it has a spot of cancer the size of a half dollar. The rear window is delaminating, which is common with this vintage. This is a real AMG with all AMG parts stamped and verified. I have done all preventive maintainance and have added some performance inhancements. This particular Mercedes has the AMG catalog thrown at it with a no cost approach from the original purchaser. Below is a list of AMG options installed and the maintainance I have done. **********euro vehicle, eBay does not recognize VIN. It's a 1984*************

AMG Options

AMG Areodynamics

full body kit

rear spoiler

Performance

tubular exhaust headers

5.4 liter modification to version lll

Suspension

lowering kit

AMG 3pc Areo's(new Toyo tires)

Interior Apointments

full leather treatment including dash and all surfaces your body touches

steering wheel

Recaro Ideal C seats(fully functioniing)

matching wood console

shift knob

full door wood kit

AMG rear logo

champaigne cooler center console(not working, but cool non the less, all parts there)

Maintainance

timing chain, rail, guides and tensioner

plugs, wires and valve adjustment

interior restoration

recharge A/C and replace belts

all fluids flushed and replaced

battery

stainless 2.5 exhaust with X pipe into dual Magnaflow exhaust

As good as the pictures came out, this AMG is 28yrs old and shows some pantina. The exterior shows well, but I was going to have it painted. The dipped chrome trim has some paint flaking off, along with the front grille. The front spoiler has a crack in the middle, holding up well, but needs repair. The interior has been restored to like new condition. The leather is in fantastic shape with minimal wear. Most of the interior wood is in decent shape, excluding the dash trim pieces. To make this stand tall next to the leather I would have all wood restored. Mechanically this car is strong! I took it out the other day and ran with a Mustang GT. The top end seems endless! All service has been performed by a Mercedes Master tech and is spot on. This summer I took it to Atlanta and back with temps pushing 90 with the A/C blowing cold and the temp needle holding steady. There are a couple problem areas that will need attention. The first is the transmision. I've had it looked at and the tech said it is fine, it just shifts a little soft for me, I hear you can adjust it. Never tried. The vaccum needle bounces around at idle. Probably a vaccum line some where. Also the driver side and passenger side window switches are going bad. They work, but require a little force. This AMG is a piece of Mercedes history and I guarantee it is one of few optioned like this. It deserves to be restored and driven and definately appreaciated. There are a couple reasons I'm selling it: I dont get to drive it like I should or have the time to put into restoring it, secondly I'm buying a car I sold years ago and it's for sale again, you know how it goes, wife say's I can only have so many toy's. Who ever wins this auction will be gettiing a great car and a piece of Mercedes and AMG history!
While this car needs some attention to be perfect, it is a great looking period piece and I hope it finds a loving new home. Good luck with the sale Carlton.
If you have a car that should be seen on our site, please email me!
dc