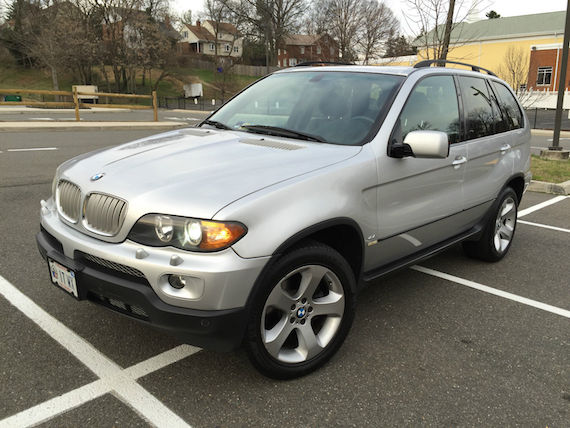 Today's Feature Listing is this well optioned, first generation BMW X5. Paul asked me specifically to write this one up because I currently have an e53 4.4i in my stable, and the seller's quest in finding this example was very similar to mine. The e53 X5 was considered by many the best in class at it's release — if not in the sense of outright off-road performance, but rather more than competent in handling the occasional foul weather detail and always feeling more than up to the task the rest of the time. In fair weather conditions it behaves like spacious 5 serious, which is what makes it such a great touring car coupled with a 400+ mileage range.
In the seller's description he describes how he sought out the following packages for his ideal e53: Premium, Sport, Cold Weather, and Navigation. Trust me, this is the combination you're looking for. Mine is too early for navigation and is also lacking the cold weather package; which means no heated seats and an omission my wife will never forgive me for. And yes, the sport seats are sweet upgrade in the cabin of a family oriented vehicle.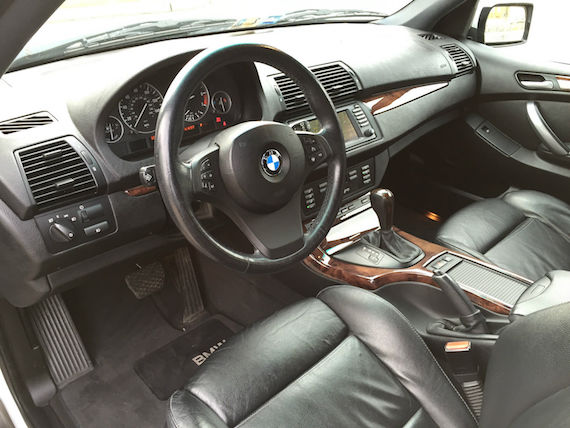 Year: 2006
Model:Â X5 4.4i
Engine:Â 4.4 liter V8
Transmission: 5-speed automatic
Mileage:Â 102,408 mi
Price: $11,990 Buy It Now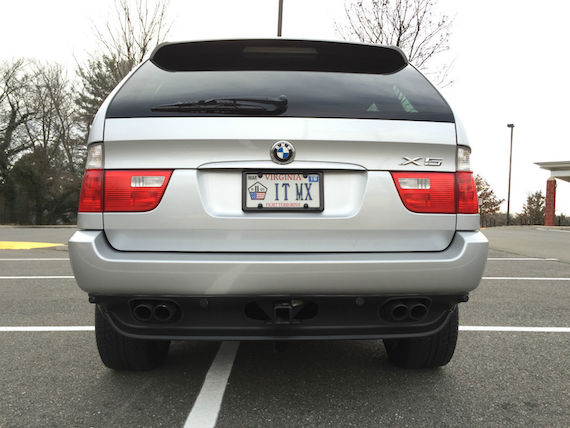 2006 BMW X5 4.4i (E53)

Background:
This vehicle was purchased in February of 2015 and was intended to be a long-term vehicle, but given a relocation, a different type of vehicle is more appropriate and it is time to sell. The vehicle is the last of the E53 model for BMW's X5, which I specifically sought out since it both looks and drives much better than its successor (the E70). I also took time to locate a Sport Package/Cold Weather Package unit with a black headliner, which really makes the vehicle's exterior/interior look much more appealing, in my opinion. I am sad to see it go, but it will be a great vehicle for someone for many years that continues to care for it — good condition E53 X5s are becoming harder to find, and hopefully this one finds a good home. I have a clean and clear Commonwealth of Virginia title in-hand. I will drive the vehicle very sparingly if it does not sell immediately and will update the mileage if it is more than 50 miles above what is posted. Please read and understand the "Terms of Sale" at the bottom of this description area. If you have any questions, please contact me!

Options on This Car:
Major options on this car include: Titan Silver Metallic Exterior, Schwartz (Black) Dakota Leather Interior, Premium Package w/BMW Assist & Complete Bluetooth Hands-free Calling (only avail on 2006 model years, if I recall correctly), Sport Package (19″ wheels, sport seats, 3-spoke steering wheel, shadowline trim, sport suspension), Cold Weather Package (heated seats, heated washer nozzles, optional heated steering wheel), Navigation, Rear Privacy Glass w/manual shades, Tow Hitch, etc. For a complete list of installed options, please see the build sheet for this car near the end of my writing on this listing, just before the "Terms of Sale."

Items Addressed During My Ownership:
Since I planned to keep the vehicle over the long-haul, I preemptively had several mechanical/aesthetic items corrected to get the vehicle into my idea of a good daily-runner. Specifically, the following maintenance/repair work was performed (all performed at BMW of Midlothian, near Richmond, VA):

– Valve Stem Seal Repair / Alternator / Belt Tensioner / Spark Plugs / Oil Change (2/13/15 @93,816 mi): If you know this vehicle, you likely know of this issue. The vehicle was tested, and while it still passed emissions at the time of purchase, the test procedure for the initial symptoms of this issue showed signs the valve stem guide seals were going to be a problem that would continue to worsen and would eventually impact running/emissions. The BMW dealer did the valve guide seal repair kit, complete cylinder gasket set, new bolt set (all req'd anyway), valve cover gaskets/vent pipes, oil pressure switch, spark plugs, drive belt tensioner, new drive belt, new alternator mount gasket and a new alternator. It likely goes without saying, but an oil change was performed as well. I had them replace any gaskets/items that even remotely showed signs of wear or an impending issue while the engine was out, since I was already paying for the labor. I also had a new windshield washer pump put in, since the old one wasn't spraying very mightily and the lines were squeaky-clean/clear.

– Front Brakes/Rotors / CV Boot (2/13/15 @93,816 mi): The front brakes were at 4/32″ and rears were only 8 mos old when I bought the vehicle, so I had the front done. At the same time, the right-front outer CV boot was showing signs of wear — while it still passed a state safety inspection, I elected to have it replaced anyway.

– New Tires / Balancing / Alignment (2/13/15 @93,816 mi): The vehicle was sold to me with non OEM tires (Pirelli), which were fine, but were almost worn to the wear bars (max 4/32″ all around) and were making some road noise. I replaced with the correct OE Michelin Latitude Diamaris (w/BMW *) tires, which were above and beyond better than the Pirellis. I don't like to mess about with tire quality since it's a significant active safety component of any car that all too often gets overlooked. They have worn little and evenly while I have had them installed.

– Recall Work for Pass. Airbag Sensor (2/20/15 @93,835 mi): The dealer ordered the recall part, and it was installed. The light came on again while someone was in the passenger seat the next day, went back, they checked the install and put a new complete foam bottom piece with the new sensor in the mat and it has not been a problem since. At the same time, I had a very intermittent 'Low Beam Warning' that would come on, even though the both lights were fine. They found one of the connectors to a bulb carrier had a broken tab, replaced it free and it has not been a problem since.

– Calibration for Eccentric Shaft (2/27/15 @94,497 mi): After the amount of work done to the engine previously, I expected to have to come back for something small. When starting on a cold start, the car would search for RPM for about 3-5 seconds that it did not do prior to the work on the valve stem seals. The dealer kept the vehicle overnight, verified the concern and reset several ECU parameters and performed a correlated service bulletin to correct the issue. They verified it no longer behaved the same way, and it has not for me again since. These engines do start rougher than a Honda/Toyota engine, but I've lived with German cars almost my entire driving life and all is now very normal.

Aesthetically, I personally did or had the following items replaced to 'spruce up' the car:

– Audiovox DICE Silverline DUO iPod Integration Kit (Feb. 2015): I don't listen to CDs, do not care for the radio, and do not like aftermarket wires/head units, but I definitely like to listen to my iPod. I installed the kit myself (not hard to do) and just use it to connect the iPod in the rear cargo console, and control everything through the OE navigation head unit and steering wheel controls.

– Steering Wheel Trim Replaced (Feb. 2015): These are just about always have some flaking or moderate/severe wear. I bought the part and the BMW dealership installed it for free (it is not hard to do yourself).

– Navigation Trim Surround (Feb. 2015): The original on the car was not broken in any way, but had a sheen on one corner where it looked like the previous owner had rested a digit while turning one of the knobs or pressing some button. Drove me nuts, special ordered the surround and installed myself; the matte surface looks nicer/newer/correct.

– Climate Control Buttons (Feb. 2015): E39/E53 5-Series/X5 models suffer from this, but the buttons are easily replaced. I was going to buy new ones and replace myself, but the BMW dealer had some in stock and replaced them all free.

– Cargo Area Floor Mat (Feb. 2015): Nothing epic, just a new carpeted floor mat.

– New-Style Alloy Center Caps (March 2015): Changed out the original 'sticker type' center caps with newer metal caps.

– Front Mesh Grille Inserts (March 2015): I replaced the 2 top front mesh grille inserts since one of them had a crack, right in the middle. I replaced both to be sure they color matched, in case the old driver side grille was significantly more dirty after being on the car for 9 years.

– New Gas Cap (March 2015): I replaced because the original unit was dirty and the green catch was almost ready to break into 2 pieces.

Items to Note:
In the interest of full-disclosure, and since this is an AS-IS sale, I will list the issues I am aware of, and believe me, I was scrutinous, when I looked over the car myself. First and foremost, there are NO mechanical issues/leaks/noises/etc. that I am aware of. I bought the vehicle in drivable shape in February 2015 and had any issue that I considered remotely important fixed. I have had no new issues pop up and I do not drive like a maniac. If you are so inclined, the vehicle is currently parked in my garage in Arlington, VA — you can inspect/test drive if you are nearby and I will be happy to answer any questions you might have. As far as aesthetic items, please note the following:

– Scratches on Alloys: I intended to have these fixed when I bought the car, but just never quite got to the point where I could drop it off and have it done. There are several places and mobile units that do this work for dealerships and on cars/alloys of all types, so you should be able to have this done yourself if you would like. The alloys are simple painted/clear-coated rims; just about anyone that does this work should have no problem reconditioning them to your satisfaction. The wheels are straight and true and balanced — no vibrations whatsoever.

– Bottom-Front Mesh Grille: I replaced the top 2, as they were much more easily noticed to my eye, but there is a crack on the bottom front mesh grille. It is a simple plastic piece, and the issue has not gotten worse since I have owned the car. If you want, the plastic mesh is sold as a BMW part and can be replaced.

– Rear Bumper Scratches: the rear bumper has two small scratches from a previous owner. I did not touch these up or do anything, since they were not very noticeable, even close-up. If I inadvertently put another scratch myself, I planned to have them all fixed at the same time, but that never happened.

– Rear-Lower Tailgate Scratch: This is the one scratch that I planned to get fixed. I did not want to fill it myself with touch-up paint, since it would likely be just as noticeable, so I left it with the intention of having it fixed professionally, but I never did get around to it. I keep the vehicle fairly clean at all times, and overtime, especially as I have been driving less and less, I simply did not worry about it.

– Pass. Side Rear 3/4 Panel Indent: I noticed this when I purchased the vehicle, and it took me awhile to reliably notice it if I was not in just the right light, but it is there. Just outside the bottom rear of the passenger-side rear door, there is a vertical "indent" that is basically a very shallow dent. I tried to photograph, but it is hard to notice unless you are looking for it. I never intended to fix this and have not thought about it for several months, until I decided it was time to sell. There is no paint break, it is not on any character line and it is not very noticeable.

– Navigation Screen: There are small parts of the navigation screen that are discolored/delaminated(?) (they do still show the colors), or have some film that has come off. EVERY single E53 X5 (and for that matter E39 5-Series) I looked at had this issue; some were worse than others. Please look at the photographs to see what I mean — the areas affected are not blank/black, and at the angle I usually look at the screen from while driving, I did not see them, but they are there. The screen itself can be replaced, but I elected not to do it since I rarely use the screen, other than to change some setting, or I just want the navigation screen to come up for appearance (I use Waze on my phone in the car, 99% of the time). All of the speakers/Navigation/CD player/ancillary items work as they should.

I may have missed something, but truly, the vehicle is in great shape inside and out. I do not believe anyone looking for this vehicle will be disappointed, and I believe you will find it much better than the majority of other units for sale. If you are interested and would like an inspection performed, contact me. BMW of Alexandria is close by, and I may be able to drop the vehicle off with notice from you — they usually charge 1-1.5 hours worth of labor ($150-250) to perform an inspection. While the service technicians and several service writers would speak directly to this vehicle at BMW of Midlothian, where all of the work was performed, I cannot travel the ~100 miles to have the vehicle dropped off there for an inspection. If you would like to speak to my service advisor directly, send me a message and I will do my best to connect you. He has worked with me on several of my other BMW Group cars (E39 530i, E83 X3, E38 740iL, E90 335i, E46 325i, R53 MINI Cooper S, R60 MINI Countryman S) and should be able to answer some questions you have about the car.

BUILD SHEET For This Car:

Type code FB53
Type X5 4.4I (USA)
Dev. series E53 ()
Line X
Body type GEFZG
Steering LL
Door count 5
Engine N62
Cubical capacity 4.40
Power 235
Transmission ALLR
Gearbox AUT
Colour TITANSILBER METALLIC (354)
Upholstery LEDER DAKOTA/SCHWARZ (LCSW)
Prod. date 2005-12-01

Order options
No. Description
1CA SELECTION COP RELEVANT VEHICLES
2CC LT/ALY WHEELS STAR SPOKE 132
205 AUTOMATIC TRANSMISSION
216 SERVOTRONIC
226 SPORTS SUSPENSION SETTINGS
248 STEERING WHEEL HEATING
255 SPORTS LEATHER STEERING WHEEL
330 SPORTS PACKAGE
386 ROOF RAIL
4NA INTERIOR MIRROR WITH DIG. COMPASS
402 PANORAMA GLASS ROOF
417 ROLLER SUNBLIND, REAR SIDE WINDOWS
430 INT/EXT RR VW MIRROR W AUT ANTI-DAZZLE
438 WOOD TRIM
441 SMOKERS PACKAGE
461 SEAT BACK ADJUSTMENT IN REAR
464 SKIBAG
481 SPORT SEATS F DRIVER/FRONT PASSENGER
488 LUMBAR SUPPORT DRIVER/FRONT PASSENGER
494 SEAT HEATING F DRIVER/FRONT PASSENGER
502 HEADLIGHT WASHER SYSTEM
508 PARK DISTANCE CONTROL (PDC)
521 RAIN SENSOR
524 ADAPTIVE HEADLIGHTS
609 NAVIGATION SYSTEM PROFESSIONAL
639 COMPLETE PREP. CELLULAR PHONE USA/CDN
761 INDIVIDUAL SUN PROTECTION GLAZING
775 INDIVIDUAL ROOF-LINING ANTHRACITE
8SP COP CONTROL
840 HIGH SPEED SYNCHRONISATION
926 SPARE WHEEL

Series options
No. Description
220 SELF-LEVELING SUSPENSION
249 MULTI-FUNCTION FOR STEERING WHEEL
302 ALARM SYSTEM
321 EXTERIOR PARTS IN BODY COLOR
354 GREEN STRIPE WINDSCREEN
442 CUPHOLDER
459 SEAT ADJUSTM., ELECTR. W. MEMORY
522 XENON LIGHT
533 AIR CONDITIONING FOR REAR
534 AUTOMATIC AIR CONDITIONING
645 RADIO CONTROL US
676 HIFI LOUDSPEAKER SYSTEM
692 CD CHANGER I-BUS PREPARATION
785 WHITE DIRECTION INDICATOR LIGHTS
845 ACOUSTIC BELT WARNING
853 LANGUAGE VERSION ENGLISH
876 RADIO FREQUENCY 315 MHZ
992 NUMBER PLATE ATTACHEMENT MANAGEMENT

Terms of Sale

Please do all of your homework/due diligence before the auction ends and bid accordingly. Any inspections, if desired, must be completed before the auction ends and are the responsibility of the bidder/buyer to pay — the seller assumes nor implies to pay any cost associated with such an inspection. As with any purchase of this type, do not assume anything and ask any questions you might have regarding this car — I am happy to respond to any inquiries. Also, although the vehicle is in great shape, keep in mind this is a 10-year-old vehicle, and some normal wear and tear is to be expected, as with any used vehicle. The vehicle is also for sale locally, and I may end the auction at any time, if the vehicle is being sold to another buyer.

This vehicle is being listed, and will be sold AS-IS, where-is, with no warranty written, expressed, or implied. As the seller, I am not responsible for defects or genuineness/authenticity regarding the description and make no warranty as such, regarding these items. The seller also assumes no responsibility for any repairs. By bidding on this vehicle, you agree to these terms. I will complete a Bill of Sale and Odometer Statement preemptively — some states do not require these documents, others do, in addition to the vehicle's Certificate of Title. I am happy to provide anything necessary to aid the process of retitling/registering the vehicle in the winning bidder's locality.

Payment:
A $500 non-refundable deposit is due (via PayPal) within 48-hours after auction end, and the buyer must contact me within 72-hours to arrange payment of full remaining balance and to arrange pickup or shipping details. The balance is due within 7-days after auction end and can be paid via certified bank or cashier's check (certified funds/direct wire transfer only, I cannot accept personal checks). You may also complete payment via the eBay Financing Center. In either case, the full balance must be received and the transactions completed prior to vehicle delivery/pickup, either by a transporter, or you directly. Please be sure your finances are ready to complete the sale according to the aforementioned terms. If the terms of the sale are not met, then the seller will report the winning bidder to eBay and the vehicle will be re-listed immediately.

Shipping:
The vehicle must be picked up within 7 days of balance payment being finalized. If you are planning to pickup or ship, please let me know your intentions during our contact after you have the winning bid. You can use the Shipping Center within eBay Motors to estimate or arrange shipping. If shipping is arranged, please only use fully bonded/insured shippers to alleviate any issues that could arise, and to protect your purchase! If you need help with shipping arrangements, please let me know — I may be able to help locate an optimal solution.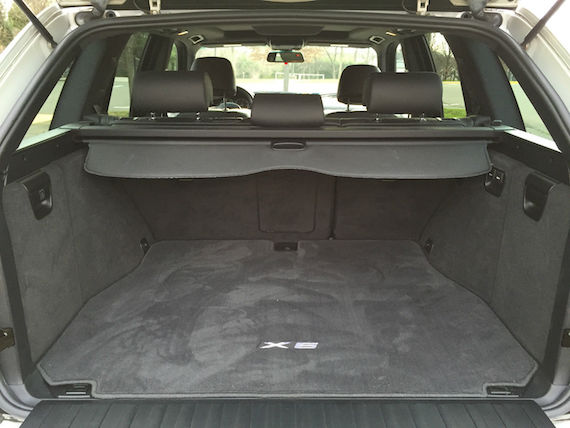 There are few X5's optioned better and it's refreshing to see all the recent and documented service which is what any enthusiast X5 buyer should expect to keep these cars as great drivers.
While the 3.0l engine and transmission are a combination that is very capable in an E53, and evoke a sense of BMW tradition, the V8 really gives this car a bit more satisfaction in it's drive. The 4.8is is the ultimate in performance for this platform and year, but it commands a significant price increase as well, and makes this 4.4i all the more appealing for daily driving duties.
Good luck to buyers and seller!
-dc