The last of my series of black AMG W126 cars comes in the form of this, perhaps overpriced, but sweet looking, widebody coupe.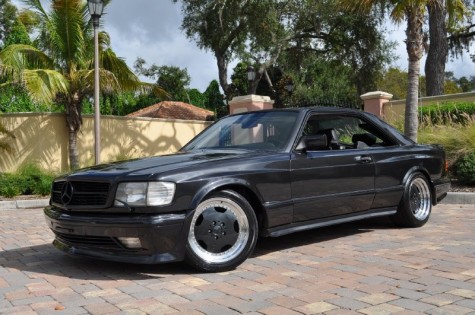 This car has been listed for awhile and I hesitated on posting it because of the woefully inadequate description. Readers know that we try not to patronize/promote ads that frustrate potential buyers, but this one is worth getting out.
What makes this ad frustrating is the single mention of the car sporting a 6.0 liter AMG V8. We know AMG records and identification are tough, but come on please throw us a little more or at least give some indication that you tried to document the claim. The difference between this sporting a 5.6 liter and 6.0 liter and the difference between the conversion being done in 1987 or yesterday can be swings of $10k. The owner does state that the car was built in Affalterbach and cost $140,000, but it is hard to know if they can prove that or are just stating that based on common knowledge about AMG. As we saw in my previous post about the AMG with the 6.0, the one that had copies of the invoices, these conversions were not all done in Affalterbach.
What we do know is the car looks great and has covered just under 40,000 miles. There is no question as to the authenticity of this being a genuine AMG car it has all the right hallmarks including, the 300 km/h speedometer. The rear fender flares add a bit of muscle to the W126 without going full on Gemballa or Koenig crazy.
We do appreciate the good pictures, including underneath. The car looks clean. The ask is $35,000, not cheap, but not too out of line with what collectors are valuing excellent original AMG cars. You wouldn't turn a profit buying the car at that price for at least a few years, but prices will continue to rise.
~Evan