Part 3 of my black AMG cars. This one might be the ugly duckling of the bunch, though that is a bit harsh, as really it just stands out since it is the only four door. With the black out look, including the painted honeycomb grille, and the dark tint the car looks gangster.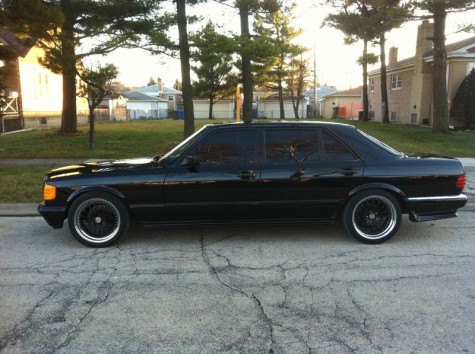 The AMG package is cosmetic and consists of bumpers and skirts. The car doesn't appear to be a Euro model, but it does look like it comes with Euro headlights and taillights and in combo with the AMG kit it gives the proper look.
The interior has some oddities, the owner replaced the stock seats, which were apparently shot, with some Sparco race buckets. These look a bit out of place, but as the owner says, they could easily be replaced again. Their is a modern radio/TV added to the car as well.
The owner says the car has always been garaged and that it runs and rives great however, it may have suffered from sitting for an extended period of time as the owner says the tires are shot and flat spotted. The tire and wheel package on this car are an expensive one, three piece 18″ HRE rims, so too bad about the tires.  The car has 65,000 miles.
This being the 560 it is the more desirable big brother and top of the heap of the W126 sedans. The car is being sold with no reserve and has bids up to $2,300 currently, a steal of a price. Anything under $5,000 for this can be considered well bought, I'd expect it to go higher, but suspect things like the goofy seats may be keeping enthusiasts away. Also the seller has no feedback so bid with caution, but maybe that fact will help you get a great deal.
~Evan