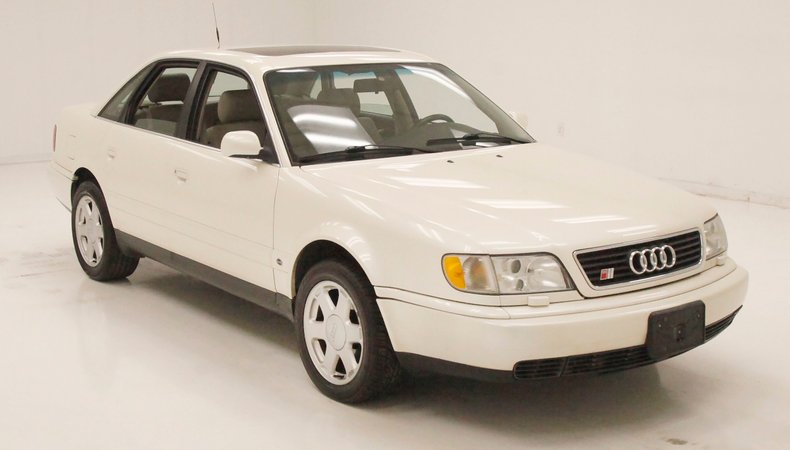 Defying the odds and most aspects of common sense, a group of fans out there still loves, maintains, and drives Audis from the 1980s and 1990s. Why is this so outrageous? Well, first off, there just aren't many left. Audi never really broke many sales records here in the US. When we look at this car's model year, Audi sold about 18,000 cars in total – helped in no small margin by the early launch of the A4. Between 1991 and 1994, Audi averaged only about 13,000 cars per year. Only a very small portion of those were the highest-performance variants with the 2.2-liter 20V turbo inline-5.
As a result, while these cars have cult status among fans, most people still have no clue what they are – as witnessed by the description of this particular 1995.5 S6, which may be one of the strangest I've ever come across…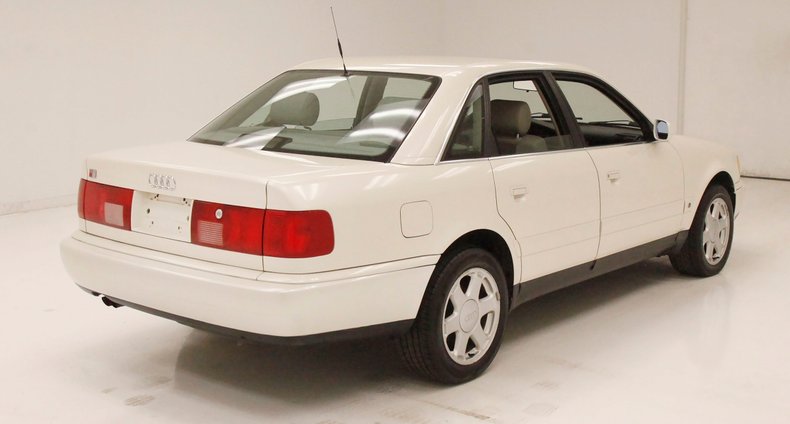 Year: 1995.5
Model: S6
VIN: WAUKA84AXSN121774
Engine: 2.2 liter turbocharged inline-5
Transmission: 5-speed manual
Mileage: 95,000 mi
Location: Morgantown, Pennsylvania
Price: $16,000 Buy It Now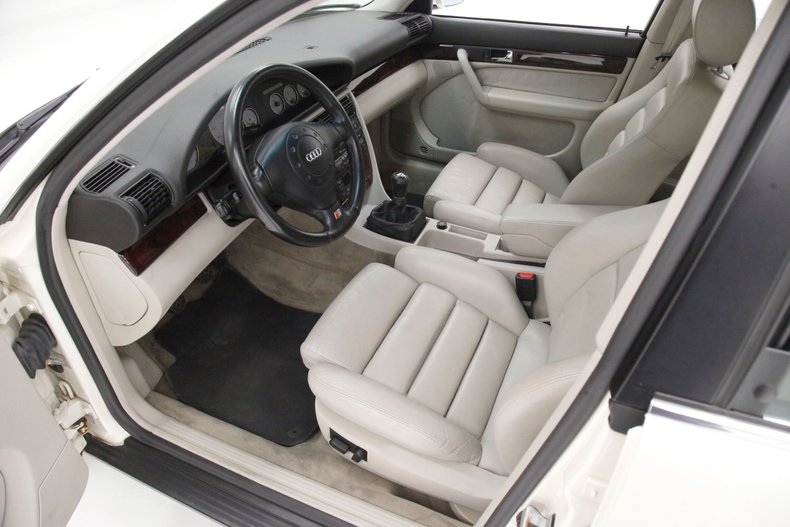 Description

1995 Audi S6 Sedan

Audis were different by design and execution. Mercedes chased luxury and prestige, while BMW chased driving performance and character. The four-ringed wonders landed somewhere in the middle. Audis were fun to drive, but their mainline cars were not deemed as entertaining or quick as the equivalent BMW. Audi exteriors were handsome and their interiors ultimately became gorgeous, putting them on par with or even a little ahead of Mercedes and BMW. Reliability, build quality, and longevity were hit or miss compared to Mercedes, and lagged even behind BMW's first forays into computer-designed plastic mobility.

For consignment, an S6 which means it has all the comforts and accents as an A6 but uses sportier suspension, larger alloy wheels, all leather sports seats, a more aggressive front grille, daytime running lights and improved infotainment. Since our consignor did not provide much information, this report will be "just the facts ma'am".

Exterior
Pearl white paint covers aero steel and neoprene with a black trimmed lower around the entire bottom of the car. The headlights are clear and parking and signal lighting wraps around the sides. Black trimmings for the glass and a sunroof are seen. 4 doors and a rounded off rear with large wrap around tail lighting and another white pearl neoprene bumper bring up the back. Should I say a 4 ring circus, albeit a serious performing one.

Interior
Bone tan molded plastic and vinyl materials make up the snazzy door panels that use black uppers and black toggle panels as accenting. In the lower storage area of the doors is the seat adjustment panel. Inside, those seats are bone leather with tuck and roll inserts and smooth bolsters, and are high back with built in headrest form. A center console races through them and this has a glovebox/armrest and the shifter. As it rises to the dash we see some walnut veneer, (perhaps from ze blek fulrest?! Cuckoo clocks start there too, but I digress). A digital high end stereo with plenty of adjustments is first in line on the rise then we get into the many toggles for airflow and defrosting glass and upward to some vents for said air. Round white faces gauges reside under a swooping slowly descending dash top all in basic black. The factory Audi wheel fronts the dash. In back is a nice sporty 2 plus 2 bench but offering up plenty of room not like its American counterparts. Also in leather and bone, (tan). Tan clean carpeting covers the floors and black rubber mats protect the carpeting. The headliner is bone color felting and I see the sun-roof when the covering is slid inside the roofline. It appears as though the upper small lighting and sunglasses storage console in the roof needs gaffers tape to stay up there.

Drivetrain
Within the engine bay which remains clean I spy a 2.2L Turbo I-5, yes, you heard me correctly, an I-5. It sports EFI and a 5-speed manual transmission is on back with 4.11 front and rear geared axles.

Undercarriage
Pretty much like new underneath as the Germans love to cover everything for airflow and this car is no exception. Independent Macpherson struts are in front, with the rack and pinion uber responsive steering. In back are independent coil springs with power disc braking on all 4 corners. A dual exhaust runs through a single muffler underneath and exits at the back.

Drive-Ability
Drives great with no issues save for the radio not working, (they never work in these German classics??). It steers smoothly, handles great and has smooth acceleration when you need the Turbo to kick in it has a bit of lag.

All in all a sporty version in this S6 versus the standard but still good and lots of fun. Nice paint, no rust, aero design and leather interior. Put on zee lederhosen and let's go snell!

WAUKA84AXSN121774

W-Germany
A-Audi
U-Audi Division
K-S6
A-2.2 Liter Turbo I5
8-Manual Belts, Front Airbags
4A-S6 Sedan Quattro
X-Check Digit
S-1995
121774-Sequential Unit Number

Classic Auto Mall is a 336,000-square foot classic and special interest automobile showroom, featuring over 650 vehicles for sale with showroom space for up to 1,000 vehicles. Also, a 400 vehicle barn find collection is on display.
This vehicle is located in our showroom in Morgantown, Pennsylvania, conveniently located just 1-hour west of Philadelphia on the I-76 Pennsylvania Turnpike. The website is www.classicautomall.com and our phone number is (888) 227-0914. Please contact us anytime for more information or to come see the vehicle in person.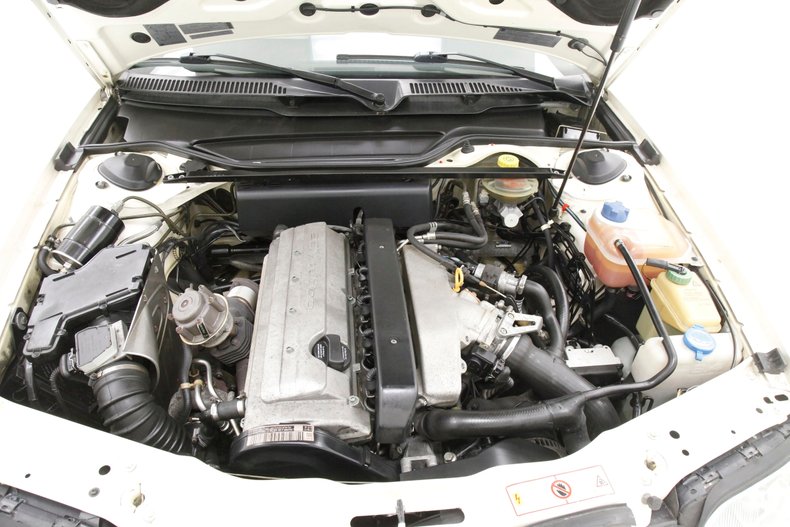 That description really just leaves me…confused? If the car is on consignment, get some details from the owner? The colorful but offbeat description of the car really doesn't do it justice, and makes the $16,000 asking price absurd to consider on its own. However, backing up, what you have is one of the cleanest C4s out there; under 100,000 miles, a nice (albeit typical) color combination of Pearlescent White Metallic and Ecru leather, nearly all-original configuration. Peeking underside, which I'm glad the dealer provided, shows that this car has been driven in areas that are less-than-ideal for preservation; there are certainly corroded bits, but honestly nothing that doesn't seem like it could be overcome. Swap a new exhaust, suspension, and brakes onto this car and you'd have a really clean example. $16k doesn't get you much of anything in the E34 M5 or W124 500E world – but some better photos and service records would probably help to further illuminate if this car is as reasonable of a deal as it seems.

We here at GCFSB wish you and your families all the best for the holidays! Thank you for following!
-Carter