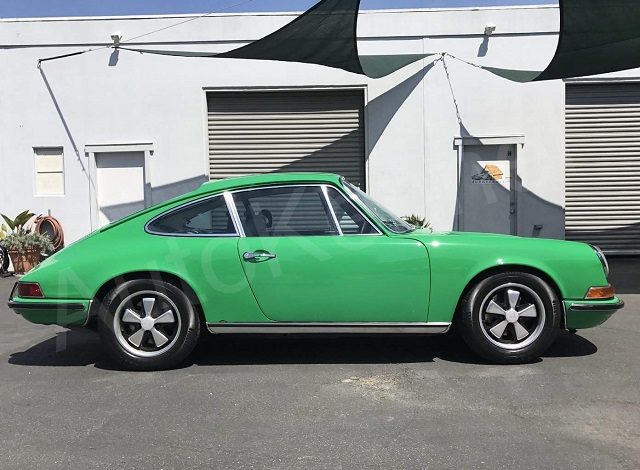 Here we have another lovely rare-colored 911 that we so seldom come across. Truth be told, I strongly would have considered featuring this 911E even if its color was more common because it is such a nice overall example of these early Porsches. That it does wear such a rare color simply adds to the mystique and the allure. This is a Conda Green 1970 Porsche 911E Coupe, located in California, with black interior. The engine has been rebuilt and hasn't covered too many miles since that work, but overall this 911 has seen plenty of miles (168K) and surely provided its owners immense joy over those years. To find such an interesting example that also has been well used in its life always makes us smile.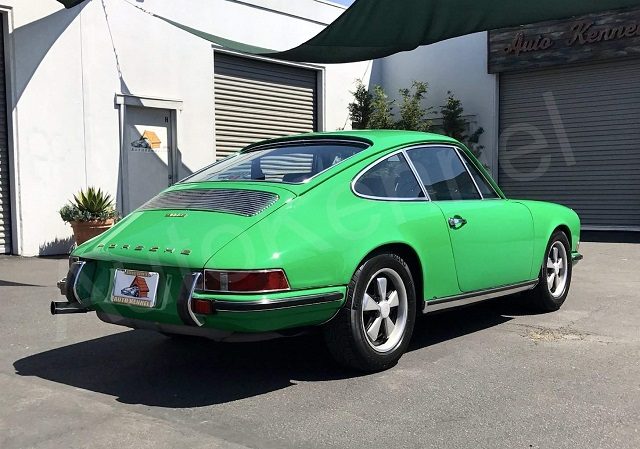 Year: 1970
Model: 911E
Engine: 2.0 liter flat-6
Transmission: 5-speed manual
Mileage: 168,800 mi
Price: $134,990 Buy It Now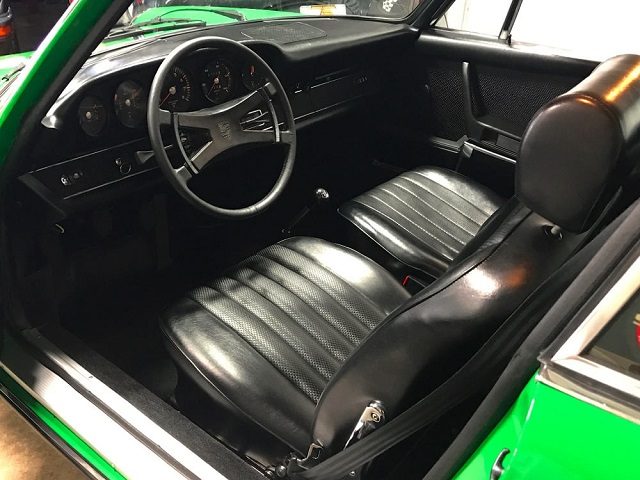 1-Family Owned for 27-Years
SoCal Porsche from New
Rare and Great Original Color

VIN#
ENG# 6201084 (911/01)
TRN# 7105413
Numbers Matching
800 Miles on recent Top End Engine Rebuild
34,000 Miles on Full Engine Rebuild
68,800 Miles on Odometer (168,800 on chassis)
Conda Green (26) on Black Leatherette (11)
5-Speed Manual Transmission (901)
Clean and Clear California title
Straight and Dry Chassis
3-SoCal Owners from New
Original Sales Window Sticker and Maintenance Book
Porsche Certificate of Authenticity
Early S Registry and R Gruppe Member Owned

This 911E was built in December of 1969 and sold new by Estes Zipper Porsche/Audi of Beverly Hills, California on February 18th, 1970. The first owner was a well-recognized music composer of film and radio scores. He kept the car until he passed away in 1989 after sadly loosing his battle with cancer. The current owner's father-in-law was a jazz trumpet player, lyricist, and composer. He was a close friend with the original owner as they worked together. He had always admired this Conda green 911 E and after his friend's passing, he asked the original owner's daughter if he could purchase it. For the next 17-years, he enjoyed the car until his passing in 2006. At this point, the current owner (son-in-law) purchased the car.

All three owners obviously loved this car and were passionate about its care. Most services have been documented from day 1. Besides biannual services at the dealer or qualified independent shop, the first owner had major services performed at all of the correct intervals. In the early 80's, this owner moved to Washington State and brought the car with him. Shortly after moving there, he got caught in a rainstorm and slid off the road into the shoulder. The damage was light on the front right fender, wheel well, and door. It was properly repaired and noted to be fairly minor. The repairs are carefully documented. Besides normal services, this owner also replaced the clutch and had the motor resealed. Furthermore, in 1978 with 56k-miles on the car, the original owner properly converted the hydropneumatic front suspension to a factory 911S setup. Factory aluminum S brakes were used as well as Koni strut inserts. All the work was done by Beverly Hills Foreign Car Centre. This is an expensive job and cost $1,200 back in the day. That's the equivalent of $6,000 in today's money.

When the 2nd owner purchased the car in the late 80's, it had about 100k-miles on the clock. He brought the car back down to Southern California and began his nearly 2-decade ownership affair. The first major work was performed in 1990 right at 100k-miles. He had the transmission completely rebuilt, overhauled the brake system, and rebuilt the pedal assembly. The total cost was over $4k at the time. This owner then continued the same regular service regimen, as had the original owner.

In 2000/134k-miles, the current owner (son-in-law) had just pulled up to the owner's house in a pristine '73 911 S. This inspired the 2nd owner to clean up this Conda green 911. So, the car went out to a local shop for a repaint (the original paint was looking a bit tired) and at the same time, he had the drivetrain pulled and engine rebuilt. He had always used the famed shop, Aurel & Don's of North Hollywood. This shop has been a cornerstone of the air-cooled Porsche independent shop community. They have done work on many of the great collector's cars including Jerry Seinfeld's.

Highlights of the engine build included:

Mahle factory "S" pistons and cylinders
Replaced all bearings
Valve job
Chain tensioner update kit
Oil hoses and lines
All new gaskets
Replaced timing chains, sprockets, guides, and rocker arms
Stainless steel heat exchangers
Clutch kit/machine flywheel
Replace factory oil cooler

Further work done during this refurbishment included:

Repaint the whole car
New front seat covers and door cards
Replaced carpet
New dash
Replaced rubber seals as needed

Aurel & Don's did most of the reassembly after paint. In total, over $32,000 was invested. In today's dollars, this would be equivalent to nearly $50,000.

The son-in-law/current owner purchased the car in 2006 with 153k-miles. He is a longtime Early S Registry and R Gruppe member who is very active in the local early long hood 911 scene. He continued the same excellent care to the car and over the past decade/15k-miles performed the following significant services:

Install European H4 headlights
Replaced deco trim all the way around
Sourced factory deep 6×15 wheels/refurbished by Harvey Weidman
Refurbished the suspension by Steve Alarcon with Johnson's Alignment
New front correct Koni strut inserts and rear Bilstein shocks
Replaced transmission mounts
Shifter bushings
Turbo tie rods
Wheel bearings
Installed front and rear swaybars
Installed period correct retractable front seatbelts (including rear panels)
Front suspension pan replaced and refurbished fuel tank by John Esposito
Elephant Racing front strut brace
Installed correct Haargarn carpet
380mm RS leather wrapped steering wheel
Reconditioned pedal cluster
Rebuilt throttle bodies by Aaron Burnham
Replaced transmission mounts
Rebuild clock/convert to quartz movement
Replaced all 4-door pockets

Furthermore, he just had the top end of the engine rebuilt by Richard Dick of Air Cooled including all engine components properly cad plated or powder coated including fresh engine bay decals from Canford Classics. During the top end rebuild, three pistons were replaced as well as the MFI pump rebuilt and tuned. In total, the current owner has invested over $35,000 making sure this 911 E was always a great turnkey/ready to use example.

This 2.2L E is in excellent condition and clearly shows the careful ownership throughout its life. It was obviously never neglected, always driven, and properly maintained. The paint looks great for an older paint job. It was a decent quality job for the time. There are a few areas on the driver door where the paint is checking, but it is nearly impossible to see unless you are in the right light and a few inches away from the paint. There are minimal blemishes and we've tried to point out anything significant in the pics. The glass looks fantastic, as does the brightwork. The deep sixes have no curb rash and are wrapped in correct size (185/70 – 15) OEM specification Pirelli tires. The tires have more than half-life remaining as they were installed a few years ago/less than 3k-miles. The brakes have more than 50% life remaining.

The interior is equally as nice with minimal signs of wear. The seats, carpet, door panels, and dash all look fresh. The headliner appears to be original and in great shape as well with no tears. The sun visors are also original with hardly any puffing and just some pinch marks on the passenger side from years of hanging a mirror or garage door opener. The original kneepad has the slightest of cracks (see pic). All the gauges operate properly including the clock. All the buttons, switches, knobs, lights, and heat all work, as they should.

California registration is paid through November of 2017.

This 911 E includes the original owner's manual with cover, factory maintenance booklet, original dealer window sales sticker, most receipts organized from new, original spare wheel/tire, extra keys, Porsche COA, and tool kit.

Go to our website: for full details and more history.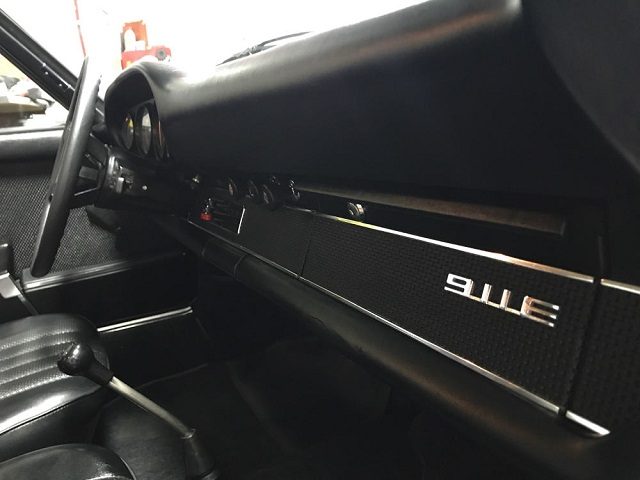 The ad provides us details of this 911E's history and what we read gives testament to the condition and care shown to the car over its life. The ownership is documented and while life hasn't been perfect for this 911 – it did suffer a minor accident a few decades back – it has been driven, enjoyed, and loved. It isn't in "original, as-it-left-the-factory spec." It has been repainted, the engine has been rebuilt and a good bit of the interior replaced. But it's a rare 911 indeed that has seen frequent use throughout its 40+ years and not needed a refreshing of most of its components. Of significance to us now is that it looks in fine shape and is said to run and drive excellently. For the buyer hoping for a unique, well cared for, long-hood that still can be enjoyed this 911E makes for a nice opportunity.
Of course, much of the care and restorative work this 911 has seen brings with it a price. Add to that the very rare color and the price moves up even further. $135K is a lot for an E, near top market, and we could probably find a 911S for not too much more. The color wouldn't be as rare nor the documentation as thorough, but that gives us some idea at least of where we're sitting on price and what else might be out there. I would suspect we'd need higher levels of originality for this to sell here, but we'll see. It's a really nice looking E that should be ready to enjoy and I'll definitely have my eye on it to see just where it might sell.
-Rob