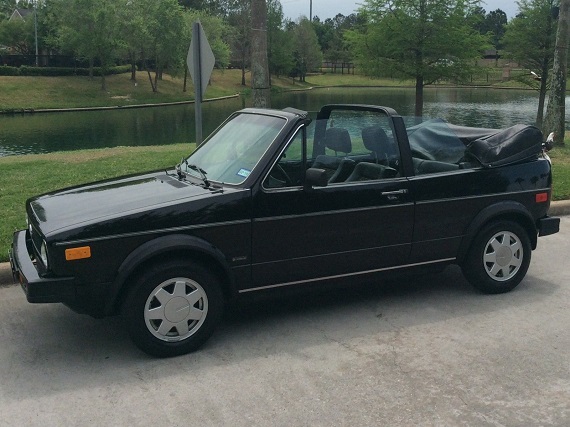 By the late 1980s, Volkswagen's lineup seemed decidedly dated. While the entire lineup of German motors wasn't particularly innovative or new (I'm looking at you, R107 and 911), for some reason the Volkswagen lineup seemed more ancient. Outside of the Golf and Jetta which were launched in 1985, you had the Quantum – a chassis shared with the B2 Audi, but it lived longer as a Volkswagen. Square and tall, it looked like a mildly updated 1970s car mostly because it effectively was. Then you had the Scirocco; fun, angular and sporty, it too was a mildly updated Scirocco 1 from the 1970s and might have been the last use of sealed-beam headlights in the U.S. market. Of course, there was the Vanagon; the T3 would amazingly carry over into the 1990s (barely) from its 1979 launch – but it always felt straight from the 1970s, even when presented with updated bodywork, wheels and interiors. And then there was the true Jurassic-era product in the Volkswagen lineup – the Cabriolet. While Volkswagen didn't chop the top off the first generation Golf until 1980, it was already a reasonably old car by that point, having been launched in 1974. Yet the last of the Cabriolets would roll off the assembly line astonishingly in 1993, having outlived the A1's successor, the second generation Golf. Such was the enduring appeal of the Cabriolet, however, that it was a bit long in the tooth didn't matter. Nor did poor build quality, relative unreliability, buzzy engines, short gearing, oppressive wind noise and poor performance. It was, after all, a convertible – and that meant people anted up amazing amounts of money to get their hands on what was the cheapest German convertible one could buy. It wasn't an expensive Rabbit – it was a cheap 911 cabriolet. Sort of.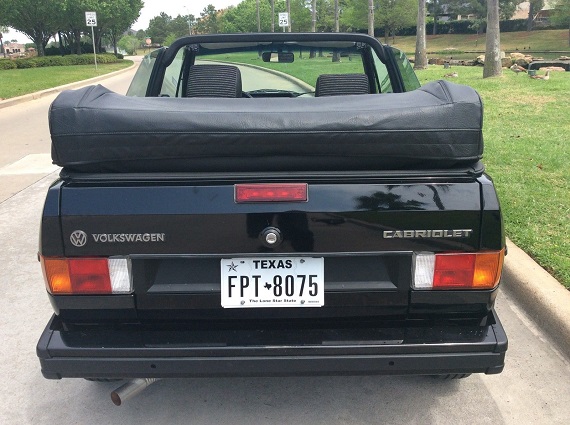 Year: 1987
Model: Cabriolet
Engine: 1.8 liter inline-4
Transmission: 3-speed automatic
Mileage: 21,600 mi
Price: No Reserve Auction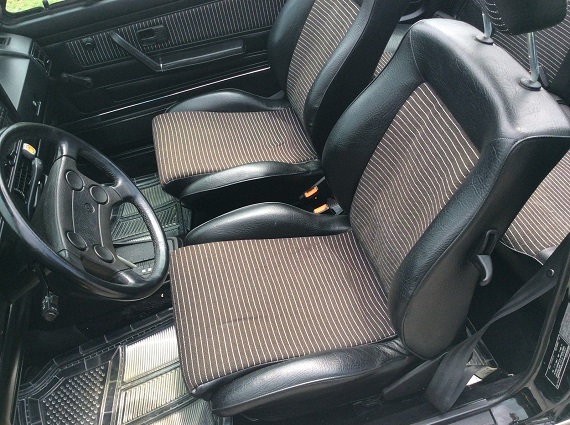 You are looking for one of the nicest and rare Volkswagen Golf MK1 Convertible, not restored but in its original perfect condition, 21600 original miles, smoke free, pet free…
All the car except (the hood) original paint and looks perfect! always garaged, AC blow cold, Power steering, Cruise control, original tinted glass all around, original Radio cassette, console-Full center with cassette storage tray, Wheels-Aero Steel.
I just serviced the AC, Replaced brake pads, roaters, all motor's mounts and transmission's mount, replaced timing belt, new battery, new Michelin tires, replaced all hoses, wires, oils, filters, replaced wheel cylinder, replaced oil pan gasket ( ALL DOCUMENTED )
You will get a big folder for the car's history with all service's documents and every single paper and document from day one when the original buyer bought it from the dealer in 5/16/1987
( including window sticker, bill of purchase and all papers and documents related to the car )
Then she sold it on 9/6/2014 with odometer reading 21168 miles, to a car's dealer who sold it to me on 3/10/2015 with Odometer reading 21260 miles…So I am the 2nd owner and I have a clear title in hand in my name…
Please feel free to ask any questions, come or send a third party to check the car please…. As the car doesn't have an existing warranty and sell as is…
To buy it now please call or text HANI @ 832-538-2029
Please check all the photos…
THANK YOU FOR LOOKING…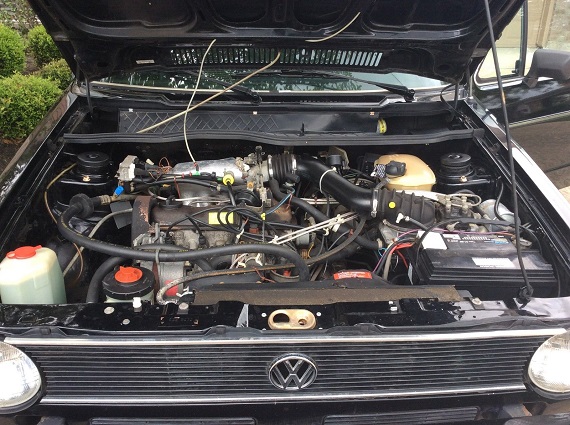 As Cabriolets go, this one is certainly nice and represents the earlier body style. Lightly revised aerodynamic bumpers and skirts, along with a 4-headlight grill, were added the year after this car was produced. The color combination and seats are unusual; Black wasn't a color often selected on these Cabriolets. The seats remind me of some GLi-spec seats I installed in my '85 Golf a long time ago, yet these look hardly used and in fantastic condition. The Cabriolet certainly isn't a luxury car, so lack of power windows is fine by me; one less glitchy 1980s Volkswagen electric item to worry about. What is very nice is the heavy amount of documented maintenance which should leave the next owner relatively worry free. Bidding has reflected the top condition of this example, with a nearly $9,000 current bid. That's about the most expensive example we've seen since new, but I think this particular one is worthy of it. It most certainly isn't as refined as a R107 or as sporty as a 911 Cabriolet, but drop the top and does it really matter? The Cabriolet is like a German Jeep, with the semi-inexplicable appeal to match.
-Carter