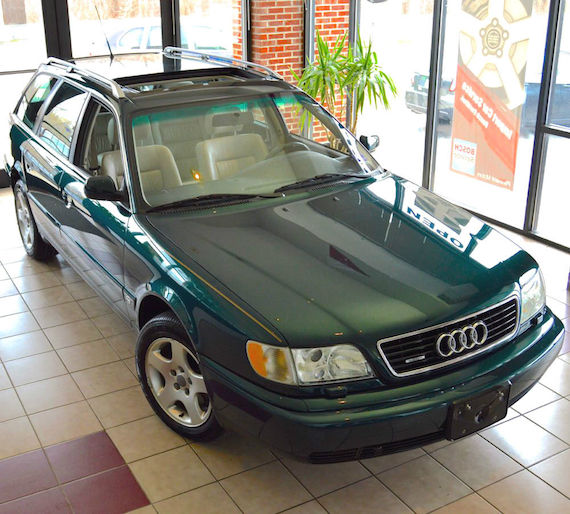 Growing up in Southern Vermont a lot of people had wagons. My parents first shared vehicle was a beige 1984 Subaru GL, my grandmother had an 1990 Legacy and my aunt and uncle had an 1989 Loyale . There have been a number of Subarus owned in my family since and I'm actually the first of the clan to go for something German, although it was still a wagon. Point is, there was no history of Quattro love in my family, no reason that I should feel such a strong connection to these vehicles. However, as is often the case in the automotive community, there is no rhyme or reason for feeling a certain way about a certain car. When a car works for you, it just works for you and for me such is the case with the C4 A6 Avant.
My first experiences with one of these was with my buddy's 1996 Casa Blanca A6 Avant spec'd out just like this example. Right away I was nerding out on just about everything in the car and it's still just as impressive now as it was then. We all know that your co-pilot needs to be aware of the oil temp, battery voltage and time so the brainiacs at Audi went ahead and made that information easily available to them by extending the gauges over to the center stack. It's just one of many design details that makes me think of logging many highway hours in this vehicle with a family and a ton of gear. I remember the seats as being some of the most comfortable I had ever sat in and I'd say that still holds true today.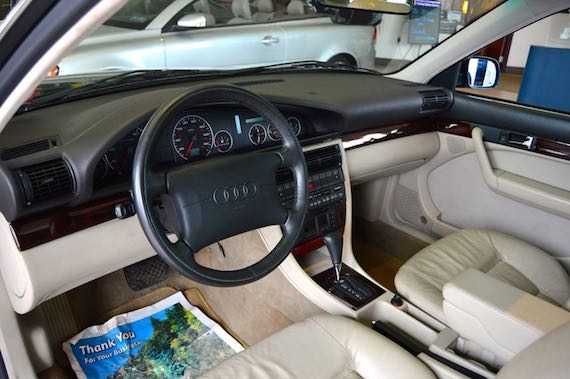 Year: 1998
Model: A6 2.8 Quattro Avant
Engine: 2.8 liter V6
Transmission: 4-speed automatic
Mileage: 109,702 mi
Price: $5,995 Buy It Now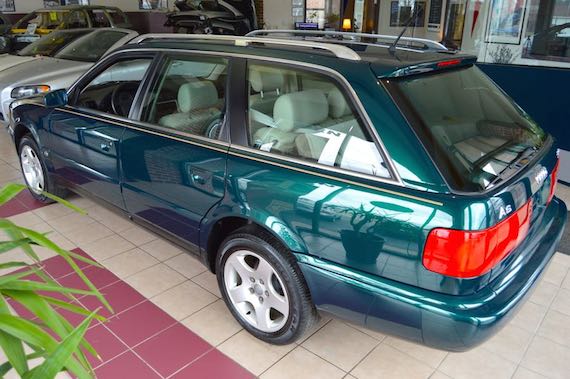 Pennant Motors is pleased to present this INCREDIBLE 1998 Audi A6. 1998 is the very last year for the C4 body style A6 in wagon form. In 1998, the body style changed for the sedan, but the wagon stayed on as the older style. As such, the wagons received the very best of the technological and engineering enhancements at the end of this very long production run. That makes these cars nearly bulletproof, and with many of the same technological and mechanical features that are used in brand new Audis today. What makes this A6 so special is that it has very low mileage, and its condition is absolutely incredible. This could easily be the nicest Audi remaining from this era. This could be your one and only chance to own such a low mileage example in such pristine condition! This car was just traded in to an Audi dealership last month on a brand new Audi, and we purchased it from them to offer to our friends on ebay. We knew that a car this special should be made available on a national level. On top of that, it has nearly every possible option including the very popular third row seat! MAKE YOUR OFFER NOW!!

The interior of this car is in incredibly good condition. The Ecru leather seats are in excellent shape – almost so nice that it's impossible to put into words, as is the dash and the carpets. The car has Audi's automatic climate control which works properly. The cabin is illuminated with beautiful red backlit buttons and gauges. The gauges have stylish silver rings around them. It features Audi's premium Delta CC audio system. It works great and sounds awesome. For safety, this A6 has, of course, dual front airbags, as well as front airbags. It also has anti-lock brakes, electronic differential locking, electronic brake distribution, and much more! The interior is also trimmed in beautiful genuine dark walnut wood. It also has the third row seat as I mentioned before. The third row seat neatly folds into the floor of the cargo area. There are two large storage compartments on either side of the cargo area as well. Even the original floor mats are in fabulous condition!

The outside of this Audi is beautiful and is finished in stunning and very hard to find Emerald Pearl paint. The finish is brilliant, and really just striking. The exterior of this car is gorgeous. The paint still has a beautiful shine to it, and it is clear that this car was garaged and well cared for by its previous owner. I absolutely cannot put into words how amazing the outside of this car looks. It looks like it just drove off of the assembly line. There isn't a single scratch or ding that we could find ANYWHERE. If you're looking for an A6 of this age that is in truly amazing condition, this is the one. I'm an Audi enthusiast, and own an S8 of similar vintage myself, and I am absolutely blown away by this car. When I first saw it, I couldn't believe it! We didn't even have to clean it very much. It was traded in almost the way it is. We just quickly washed the outside. That's it! The car has beautiful 16 inch 5 spoke alloy wheels as it was fitted from the factory.

The tires are in very good condition and are almost brand new matching Goodyears. The brakes are in very good shape and feel very good. The brakes and rotors appear to be nearly new. The car is very smooth on the highway with no shakes or vibrations. The transmission feels great. The full owners manual kit is included along with 4 keys and two keyless entry remotes! Everything is there. The radio code is included as well. As part of our process to prepare the cars for retail sale, our service department completes a large multi-point inspection where the car's functions and systems are tested. It passed with flying colors.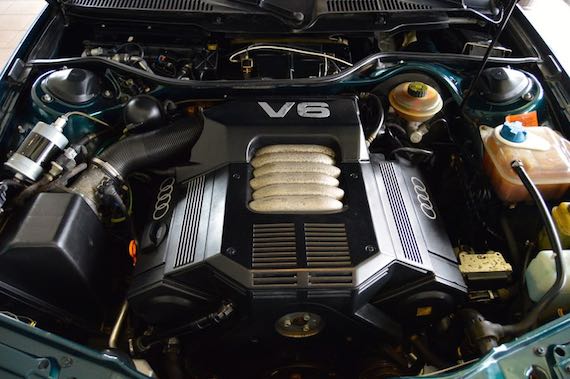 The 2.8 V6 eeks out 172hp which considering it's curb weight is 3,847 may not seem like a lot, certainly not by today's standards. However it does offer 184 lb-ft of torque which comes on whenever it damn well feels like it. Honestly I remember it feeling very quick; loads quicker than the Subaru I was driving at the time. Sure it had it's quirks, radio would go in and out, dashboard would occasionally light up like a christmas tree, fuel gauge stopped working in it's later years. But for all it's minor issues, that car served my friend well and it gave me a much needed dose of Quattro during my formative automotive years.
This example for sale in Pennsylvania is not just one of the cleanest C4 A6 Avants out there, it's one of the cleanest C4 Audis out there. While the yellow pin striping is painful to look at, I think its something that I could live with because the Emerald Green paint is in such good condition. Inside the Ecru leather seats appear to have just had the plastic pulled off of them, a rare sight on any Audi from this period. Perhaps an even rarer sight on these cars is the readout on this example's odometer. With a paltry 109,702 on the clock, this Avant is just getting into the prime of its life. With continued regular service and proper care, this thing will soldier on for another hundred thousand miles with ease. The Buy It Now of $5,995 isn't unreasonable but I bet an offer of $5k cash would see an interested buyer headed home in what I think is a wicked ahsum wahgon.
Cheers,
-Andrew