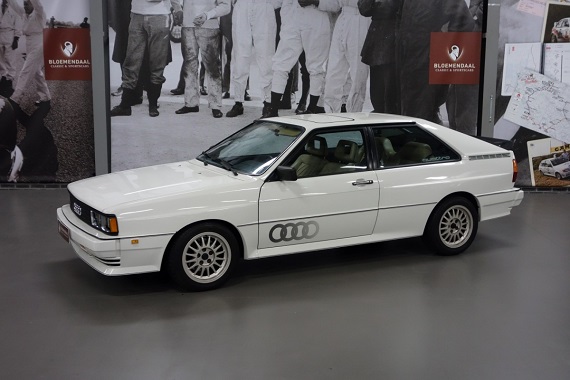 I know what you're thinking from the earlier post; "Really Carter? You're going to do a Coupe GT and not a Quattro? Don't be silly! Of course, the legendary and original turbocharged all-wheel drive Coupe is on my list for Coupe Week, and Paul spotted this stunning example on Classic Driver. It may be one of the lowest mile Quattros in existence, and certainly one of the best outside of the museum. While interest in the Quattro has surged thanks to Audi finally acknowledging in their ad campaigns that they made cars before the A4, the truth is that too long the Quattro was an unappreciated giant of automotive design. How unappreciated? Well, even as interest grows we've seen quite an odd trend; Europeans have been reverse-importing U.S. spec cars back to Europe. Such is the case with this example; originally a U.S. spec car that is back up for sale after returning to European soil: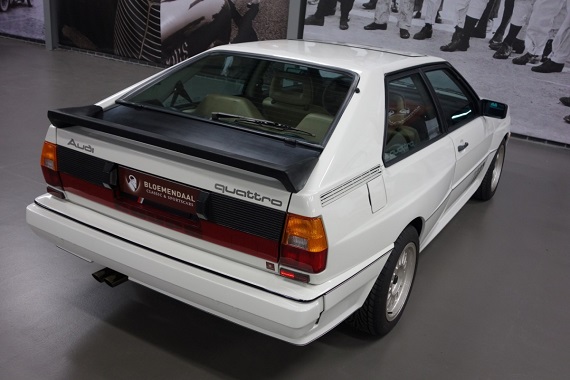 Year: 1983
Model: Quattro
Engine: 2.1 liter turbocharged inline-5
Transmission: 5-speed manual
Mileage: 16,917km (10,512 mi)
Price: E.49,500 ($56,004 Today)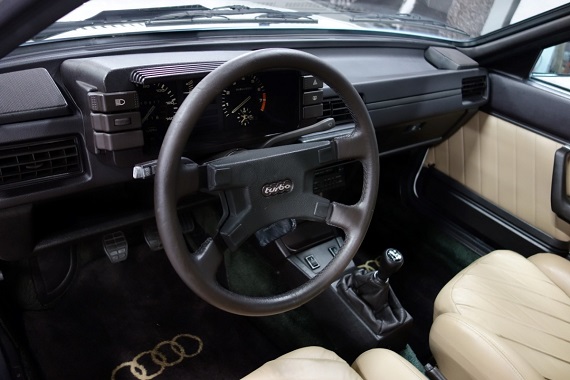 A unique find: that is what we can call this Audi Quattro. This, named by connoisseurs "Urquattro" has its unique status due to several things. Things which are for the enthusiast and collector of the utmost importance. The car is not just only technically in pristine condition, but also the entire history is known from new. On the basis of invoices and documentation is therefore to prove that the mileage of 16,917 is absolutely correct.

The Audi came in 2013 from the USA to the Netherlands and was transported directly to a Quattro specialist to be subject to an inspection in detail and the necessary maintenance was done. Not only the standard maintenance was done, also were renewed: tires, timing belt and tensioner, water pump, battery, door seals, brake hoses, shock absorbers rear, brake servo, brake pressure regulator and petrol pump. In total over Euro 9.000, = was invested to obtain the car in this current absolute top condition.

Due to decreasing of his collection, the owner decided to sell the Audi. This offers the Quattro enthusiasts a great opportunity to achieve one of the best, and very important: a low mileage car. Experts know that a very real Urquattro is not cheap, but should be a definitely good investment for the future. Outside this profitable investment, you should choose this car especially for its high quality, versatility and exclusivity, but also for the sheer driving pleasure in this premium "Vorsprung durch Technik" product.

Technical information:
Engine:5-cylinder 10V inline engine
Carburation:injection systeem
Cylinder capacity:2144 cc.
Horsepower:200 bhp. / 5500 rpm.
Topspeed:220 km/h
Weight:1330 kg.
Transmission:5-speed, handshifted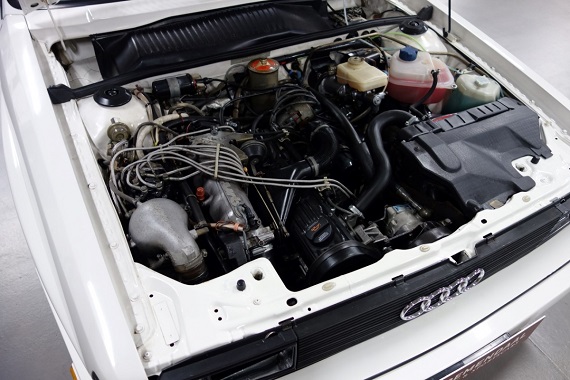 This car is simply stunning in Alpine White with tan leather; I particularly love the detail work on the Quattro that didn't make it to the GT. Overall condition has to be judged as one of the best out there, in line with the ridiculously low mileage and recent 9,000 Euro mechanical overhaul. The car is not completely original; it's claimed to be a 200 horsepower example, but U.S. spec on the WX turbocharged inline-5 was only 160. The U.S. spec bumpers have also been tucked in to give a closer approximation to the European look though it retains the 4-headlight setup as originally sent. Also, the car wears the '84-up 15″x8″ Ronal R8 wheels – a welcome addition, but technically out of time. However, ultimately I'm not sure that the details degrade the overall value of the car; simply put, it's one of the best early examples out there for sale. The question is, is it worth $50,000 plus dollars? That's E30 M3 money, or later 20V RR Quattro money. To the right person, though, you could easily drop half or more of that amount trying to replicate the condition of this car. For me, it's a perfect counterpoint to the M3, and the values continue to rise especially on the early models and last run cars, the former which is harder to find in good condition. Will this car return to North America? Unlikely, but I hope that appreciation reaches a point where these legendary cars that redefined the World Rally Championship stop leaving our shores. Already a rare sight, it would be sad to lose any more and I hope the resurgence in value means owners will save and restore the examples that they have. It truly is one of the most special Coupes Germany has ever made and emphatically put Audi on the map as few other single models have ever done for a company.
-Carter