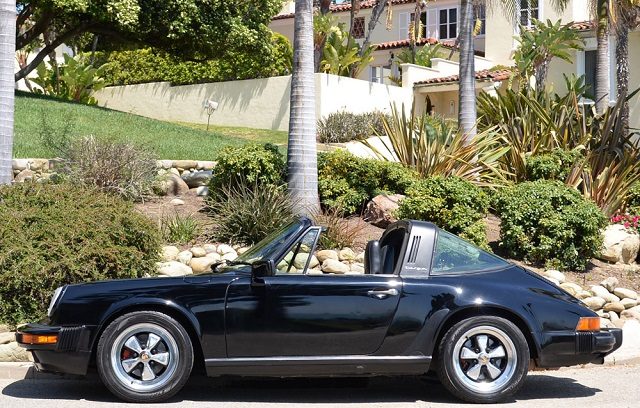 Back to Carreras, but still keeping with yesterday's black theme. Cars like this one are some of our favorites to come across here at GCFSB. The mileage is pretty high, over 233K miles if I'm reading the odometer correctly – based on the ad it's clearly seen more than 200K miles – demonstrating that this 911 has provided plenty of joy to its owners over its 30 years on the road, but the condition looks excellent! The engine bay seems astoundingly clean for a car of this mileage. The takeaway being that this 911 has been well cared for. We aren't told whether it still wears its original paint, but the seats are said to be original and they look in very nice shape. In fact the whole car looks in very nice shape and with it having had an engine rebuilt around 10K miles ago it should be ready to provide plenty more enjoyable miles to its next owner.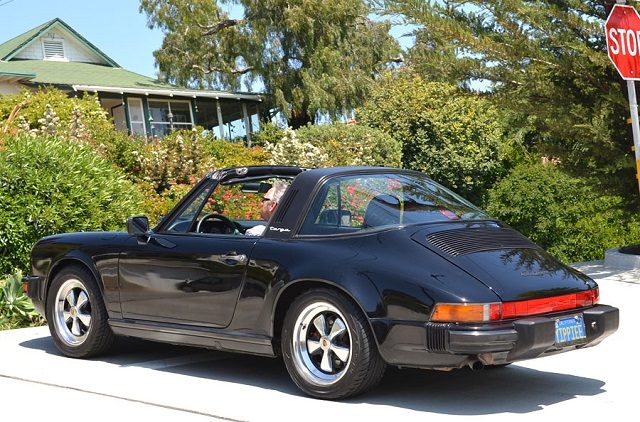 Year: 1987
Model: 911 Carrera Targa
Engine: 3.2 liter flat-6
Transmission: 5-speed manual
Mileage: 233,000 mi
Price: $37,900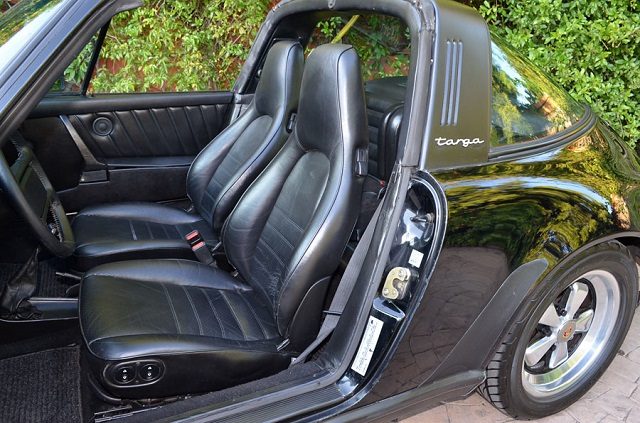 Porsche experts agree:, the 1987-'89 Carrera is the best 911 ever built. Why? It's simple, really. It is the last 911 to feature a body style now considered "classic" and the first to incorporate technological advancements such as the vaunted GETRAG G-50 transmission.

30 years after it was manufactured in Zuffenhausen – just before the advent of robotics changed the art of building automobiles forever – the 3.2-liter Carrera has become an eminently collectible Porsche, while still being very useable as a fun and fast driver's car.

These cars are so well engineered and so bullet-proof, that many have logged upward of 200,000 miles and are still going strong. Buy one that has been conscientiously maintained (such as this one), and you will enjoy driving it for another decade or longer without having to anticipate major repair bills.

The 1987 Porsche 911 Carrera 3.2 Targa presented here, VIN *WP0EB0913HS160644*, has been a California car from new that has enjoyed enthusiast ownership throughout its life. Sold new in Santa Monica, the car was subsequently owned by a medical doctor from Redondo Beach, lived in posh Newport Beach, and finally in Santa Barbara.

A folder containing recent maintenance receipts totalling more than $24K accompanies this Porsche. It has always been serviced as needed. Beyond consumables like tires, clutch, and shocks, it received a fully refurbished engine in May of 2012, less than 10,000 miles ago, to the tune of $16,875.00.

Let's now inspect this fabulous Carrera in more detail, starting up front, with the trunk.
Dressed in original gray felt, we're pleased to find the original and complete Porsche tool kit.

Date-coded, inflatable spare has never been used; the vulnerable front suspension pan is absolutely flawless with no sign of corrosion or repair anywhere.

Undercarriage presents itself in unmolsted, perfectly rust-free condition. There are no fluid leaks to report, nor any signs of prior damage of any sort.

The car is 100% rust and accident free; it has never been apart. Panel fit and shut lines are perfect throughout.

The removable Targa top itself is in prime condition, with undamaged headliner and supple vinyl covering.

Carrera's glossy, black paint presents very well, indeed, without any bubbles, scratches, dings, or dents, just a few small, unavoidable signs of use indicating this car's primary purpose as a fun driver.

A special treat are the polished Fuchs wheels, 7×16″ up front and 8×16″ out back, shod with quality Yokohama 205/55-16 and 225/50-16 tires.

The iconic 911 cockpit features five large, circular, white-on-black dials with bright orange pointers, a timeless design. You can't improve upon perfection! Vulnerable dash top is in beautifully preserved condition, without a single hairline split.

Porsche power seats are covered in the original, aromatic, black, still soft leather. Those hides are beautifully preserved, showing just the right amount of creasing to confirm they're genuine.

"Occasional rear seats" are in marvelous condition.

The indestructible 3.2-Liter engine featuring BOSCH MOTRONIC runs excellent, delivering 217 strong Teutonic horses at 5,900rpm. With less than 10K miles on the clock since the aforementioned $16,875.00 were plunked down on the counter at Santa Barbara's Autohaus Schneider, it starts, sounds, and runs like new, with excellent leakdown numbers to boot.

Monday, May 1st, turned out to be just another perfect day here in our California paradise. Blue skies and mild temperatures provided the perfect opportunity to put the folded Targa top in the trunk and let the sunshine in! Piloting such a well-sorted Carrera is a pure delight. The car starts, runs, drives, shifts, corners, and stops perfectly. The desirable GETRAG G-50 5-speed transmission with its BORG WARNER synchromesh system certainly can handle the Carrera motor's torque; the hydraulic clutch ensures ease of operation. Naturally, an all-black Porsche like this one is a prime attention getter, garnering excited comments wherever you take it. Be it as a sporting driver or a cherished collectible, this 911 provides unequalled driving enjoyment, with built-in appreciation potential. If you've been looking into ownership of one of these fabulous Carreras, here's a worthy candidate for your consideration. Featuring the coveted G-50 transmission, a desirable factory color combination, fabulous leather seats, an unblemished provenance, and a fresh engine, this fine SoCal survivor might be The One.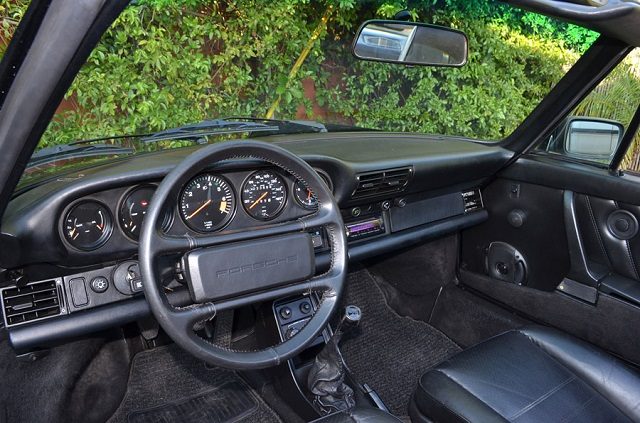 I'm always curious about the interplay between mileage and condition as it affects value and I think this 911 might provide a nice data point in that regard. The asking price isn't too bad for a G50-equipped Carrera, but given the mileage it might strike some as a little high. We've certainly seen 911s priced around $40K with half this mileage. It is the condition that makes the difference and once mileage reaches a level where we classify it as "high" then that condition and maintenance history should begin to take on greater importance than mileage itself. A 911 with half this mileage, but shown lesser care will probably turn out to be more of a headache than any buyer wants to handle.
This 911 looks great and comes with a sizable stack of service receipts. Any buyer will want to look through them to get a sense of precisely what maintenance has been performed and what issues might need addressing in the near future, but as high mileage 911s go this one looks like a great option. A later Carrera for under $40K isn't easy to find, and certainly not easy to find in nice condition. But here is one such animal. Love it!
-Rob