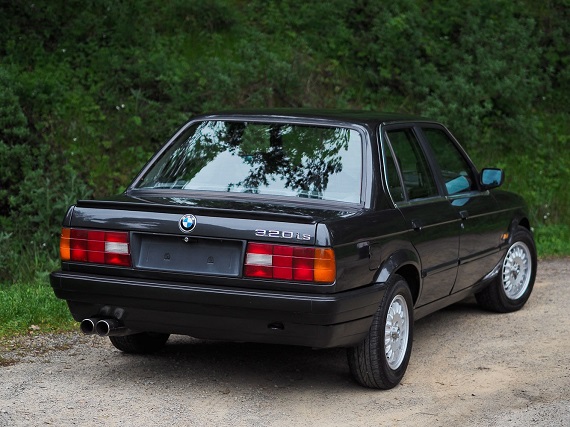 We often speak of sleepers on these pages, but in truth none of the cars we typically cover are truly sleepers. Cars like the E28 M5, 500E and Audi S4 all sported bigger wheels, special badges and fatter exhaust. Often you see flared fenders, special lights and in most cases you can see the lowered stance hinting at a stiffened suspension. Inside are special and unique interiors with heavy bolsters, badges and enough electronic gizmos to make a Brookstone blush. Sure, they generally wear the same clothes as a German airport taxi, but honestly unless you're blind not going to mistake them for anything picking you up outside Frankfurt Flughafen. But there are some serious sleepers available if you like discrete performance and complete anonymity. I'd argue that likely the best is this particular car – the BMW 320is: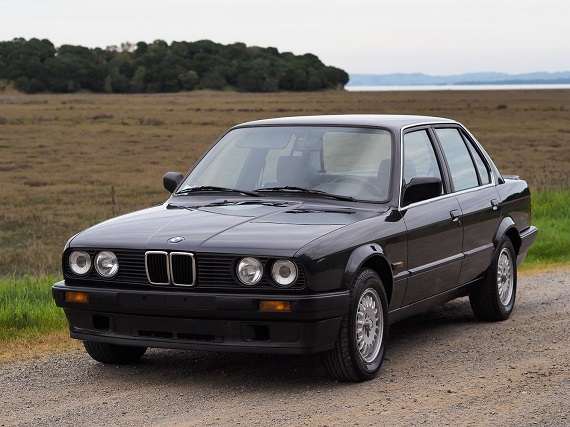 Year: 1988
Model: 320is
Engine: 2.0 liter inline-4
Transmission: 5-speed manual
Mileage: 88,864 mi
Price: $28,500 Buy It Now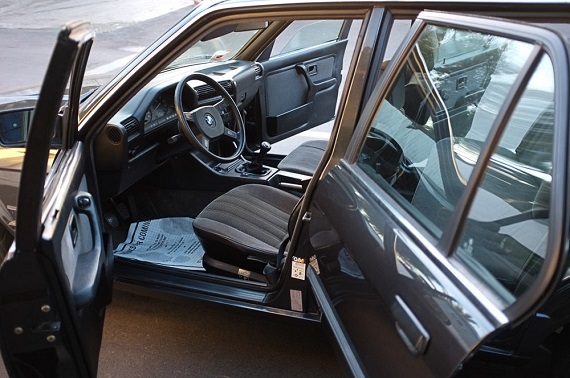 For sale is one of the 1250 "Italian M3s" built exclusively for the Italian and Portuguese markets. It has a 2 liter version of the M3 S-14 engine that produces only 3 less horsepower but weighs 242 pounds less than an M3, so the power is much better. The weight also makes it much more nimble and brake better than an M3. There were 19,000 E30 M3s but only 1250 of these four door S-14s. The B pillar makes the 4 door versions more rigid than the coupes. This 320is was purchased in Lake Como from a collector and has been imported and titled in Nevada. The engine is in a great state of tune. The brakes are firm. The euro, close-ratio, dogleg gearbox is tight and well spaced. The clutch is smooth and has a lot of life in it. The paint is excellent. The interior is very good, with the exception of some bubbling of the plastic under the brake handle and wear on the top of the rear seat (pictured). The fog-lamps have been replaced by vents, and the transmission and engine mounts are firmer than stock. The radio has been replaced by a cluster of additional instrumentation.

There are only a few of these Italian M3s in the United States and the last couple have sold for well over $30,000.

Below is more information on the "Italian M3."

There once was a King named Faisal, who ruled a sea of sand atop a sea of oil. In 1973 he funded a pincer attack on Israel during Yom Kippur. It was a blitzkrieg success for three days, but then Israel, with the help of the West, counterattacked to victory. The king, furious in his humiliation, put both hands around our pipeline and chocked the economy–until we were thumbing open 12 percent mortgage bills while waiting in alternate-day gas lines. The United States responded with an economical 55 mph speed limit. The Italians and Portuguese applied a shirk ray of taxation on engines larger than 2 liters, in an attempt to get them in symmetry with their oil supply.

BMW had a problem. Luigis were walking into Milanese BMW dealerships with $45,000 looking for an M3, but stormed out yelling, "nessuno mi lufungulo'" after hearing that they would have to pay an additional $9000 in tax because it was .3 liters over the limit.

Most of the time, when Eurocrats spew mercantilist goo, it gums up the works. But every once in a while, the strange distortive effects of regulation shart a hope diamond, or a four-door S14 that weighs 242 pounds less than an M3.

BMW went to Paul Rosche, who designed all the early Motorsport engines and asked him to de-stroke his S14 engine from the M3 to down to 2 liters. Rosche shortened the crank (72.6 vs 84), lengthened the rods, and fitted headers from a rally car, which resulted in an engine that only makes 3 horsepower less than the 2.3 (192 vs 195) and 15 fewer ft/lb of torque (155 vs 170). They connected it to a shorter differential (3.46 vs 3.25), so it would accelerate harder, and only offered it with a dogleg, close-ratio gearbox, to better keep it in it's rev range. It was fitted with individual throttle plates, machined intake and exhaust ports, and a crankshaft with eight counterweights.
The genius move was dropping the S14 it into the lightest E30 chassis they could find.

The US M3 was 2865 pounds and the 320is was only 2623 pounds. So the 320is weighs an astonishing 242 pounds less. This means that the 320is has 7.3 percent better power to weight and suffers only a de minimis 0.4 percent drop in torque to weight. This weight difference is about the same as between a Porsche 964 and 964RS, making the 320is the most Rennsport version of the E30.

When the German car magazine Auto Motor Und Sport tested the 320is against the M3 they wrote, "The bigger engine actually has less power in the lower rpm range. A fourth gear run from 40 to 100 kph took the M3 13.6 seconds but the 320is only took 12.8." They said the 2 liter engine revved more smoothly and finished the article by writing, "Less is indeed more."

The 320is is not just more powerful. Removing 242 pounds of weight doesn't just improve the power, it improves every dynamic ability. The Italian M3 handles and stops better than an M3. This is even more important to the character of the Italian M3 than it's superior power. The car changes direction as if you were blowing on a feather. That lightweight, hand-built S14 is humping the firewall, leaving a huge gap to the radiator, like somebody made a mistake. This moves the center of mass inward, like an ice skater pulling in their extremities to accelerate the spin into a blur.

Or as Auto Motor Und Sport wrote, "The 320is reacts to the slightest steering action more willing than the M3, appears to be handling better, but also demands more attention from its driver than the good-natured and understeering M3."
photo 1.PNG
photo 2.PNG
photo 3.PNG
photo 4.PNG
photo 1-1.PNG
photo 2-1.PNG
photo 3-1.PNG

BMW World Magazine tested the 320is against an EVO2 M3 and came away saying, "It's the 320is I'd take home."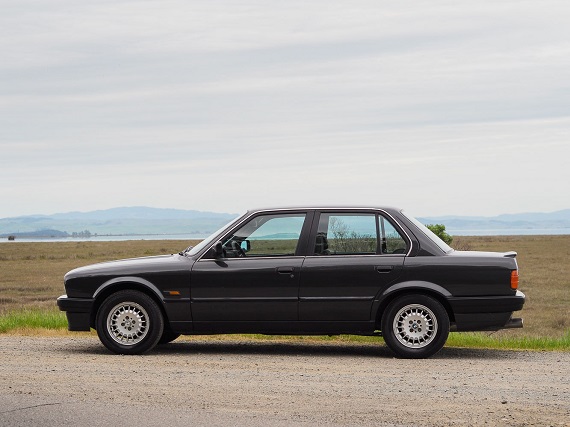 Well, you certainly get plenty of information and an interesting history lesson which I can appreciate from the seller. As I teach history, making connections between events and their consequences is one of my favorite lesson plans; the link that follows the birth of the 320is is certainly interesting. What's unique about the 320is 4-doors, though – especially the early models – is the general lack of anything special. Later cars, and the two-doors, were differentiated with upgrades to the body and wheels, but the early 4-doors just look like the base E30s they are. Bench seats, manual windows, plain alloys, standard suspension – it's only a small spoiler that helps to give away any potential sporting intentions. Walking by this car, 9.5 out of 10 enthusiasts (including the supposed E30 faithful) would pass it completely by without likely a second look. Sure, it's a clean, base model E30 – one of hundreds of thousands that were made. Yet, underneath this car is quite special indeed. That's why the lack of inclusion of engine shots is somewhat odd. The S14 motor is what's making those wild M3 prices tick, and despite the generally exceptional condition of the rest of the car it's odd that the hood isn't open in any of them. With 190 high-revving horsepower on tap, this stripped E30 should be able to stick with most other E30 products with no issue even though it won't turn many heads. Now, all of that said, is this car worth the best part of $30,000? Comparable models include the original Alpina and Hartges that I've written up recently, and it's considerably less money than a similar condition M3. Additionally, it's even more rare than the esteemed M3s. Plus, there's the added bonus that so few actually know what it is. There was a point where driving something like the M5 or 500E was like having a secret weapon no one knew about, but the early 4-door 320is? That's still the most stealthy of the sleepers. While I think the whole E30 market is overpriced, were I seriously in it and had enough money to contemplate a rattier M3, this car would certainly give me serious pause and peak my interest. That said, you could really have most of the performance of this model and the looks in the later M42-equipped 318i. Granted, it wouldn't be as special, but it's also only roughly a third of the asking price and cheaper long term to run.
-Carter