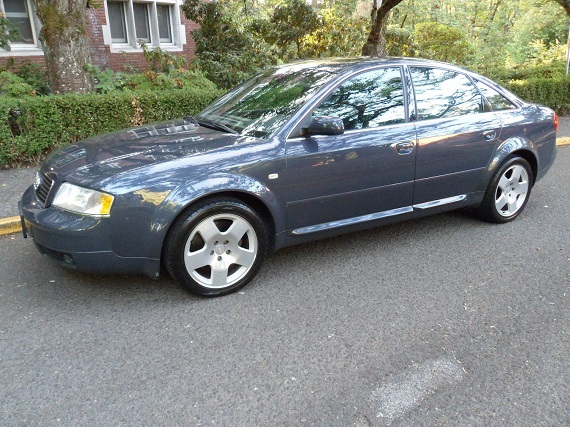 For the C5 chassis, there was a major change in that the popular S6 sedan was discontinued in the United States. In its place, you got to choose from a few options; if you had to have a S6, Audi would oblige but only in wagon form in 2002/2003 with the S6 Avant. If you had to have a S sedan, your option was to wait until the 2003 twin turbo RS6 launched and pay a serious premium over a standard A6. But Audi had two spiritual successors to the C4 S6. First, you could get the twin turbocharged 2.7T V6 in the A6 sedan and it could be had with a 6-speed manual. A little heavier than the C4 but with a bit more power, performance was very close to the legendary turbo 5. But few remember that there was a 4.2 V8 option on the C4 S6 in Europe as well, and you could even specify your S6 with (gasp!) an automatic transmission. Audi recreated this package as well in the new C5 A6 4.2 quattro, and to make it a bit more special it was given some S6 details. The 4.2, for example, sported lighter aluminum fenders and hood, along with an aluminum front subframe to match it's alloy V8. A full 1.4″ longer and with 3.5″ of additional track over the standard A6, the 4.2 also gained the door blades that would later be seen on the S cars. It was the defacto S6 sedan that was never offered, though the 300 horsepower V8 was down on power to the S6 motor and only 2/3s the power of the later twin-turbo RS6. Despite the special aspects the A6 4.2 doesn't seem to enjoy as much as cult following as either the S6 Avant or the A6 2.7T 6-speed. I've rounded up two 4.2s to consider today; one with a manual swap and another with quite low mileage. Which is the winner?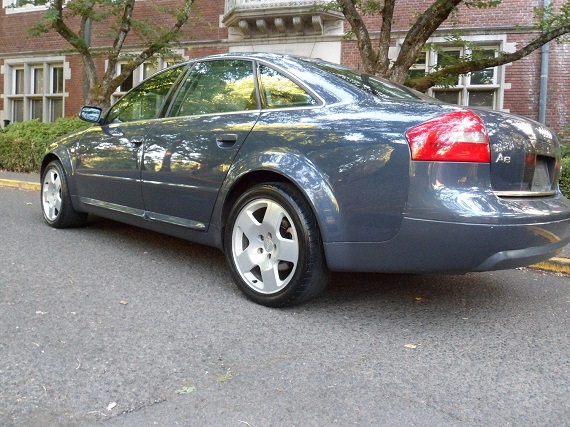 Year: 2001
Model: A6 4.2 quattro
Engine: 4.2 liter V8
Transmission: 6-speed manual
Mileage: 97,700 mi
Price: Reserve Auction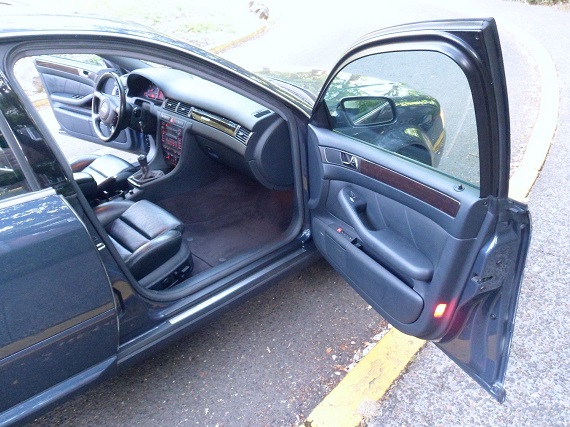 2001 Audi A6 Quattro 4.2L V8 low mile fully loaded Sedan. 6 Speed Manual!! Car is very clean, and has every record since new. was Audi certified used when bought by second owner, clean carfax car. Very RARE Nemo Blue with Black Leather. Original Owners manuals, warranties, all books and both original keys which both still work with the push button. All records since new. Synthetic since new. Some body as S6, and with this tune same HP. Has Sport Suspension as well as Sport seats OEM.
100 miles since complete Transmission swap. This is what was done during the swap. New clutch kit complete, clutch slave, clutch master, inner and outer CV boots, transmission fluid flush, Oil pan Gasket, rear brake pads, new intake manifold flappers, exhaust modification for better breathing, replacing studs, intake actuator links, Euro S6 ECU tuning with coding out rear O2 sensors, SAI, and code change for Manual transmission, brake fluid flush.
90K mile Major service done at Sunset Audi at 86500K-They Removed heads, resurfaced and replaced vacuum lines for Kombi valves, replaced timing belt, water pump drive belt, water pump, new head gaskets, valve cover gaskets, cam rollers, belt dampener, thermostat, all nuts, bolts and washers as well and seals. $4250

Car runs perfect, drives tight, very fast, high torque and very very clean.
Power windows, mirrors, locks, sunroof/moonroof, power tilt/telescopic, power rear window shade, Memory front seats, visor garage door opener, front and rear heated seats, A/C blows cold, has side sun shades and power rear sun shade, no rips tears in anything. perfect cluster with all pixels working perfectly, original fat fives, HID's.
This is basically a S6 car with a manual transmission. This is an amazing car in amazing shape with low miles and a bulletproof transmission. You could not get this car in a manual transmission and the Automatics are garbage.

On Jul-16-15 at 23:45:53 PDT, seller added the following information:

30226 – Sunset Audi – O2 Sensor, Oil/Filter, Air Filter, Cabin Filter, Spark Plugs No Charge Warranty
33864 – Les Schwab – New Tires $780
36602 – Sunset Audi – 30K service, Oil/Filter, Turn signal switch, brake flush $230
42123 – Sunset Audi – Rear Rotors & Pads $380
46567 – Sunset Audi – 40K service, Oil/Filter, Cabin Filter $280
48311 – Sunset Audi – Hood Shock, Center instrument display replaced for bad pixels – No charge under warranty
49540 – Les Schwab – New Tires, Alignment $800
52143 – Sunset Audi – 50K service, Front left outer CV, Oil/Filter, Battery, Maf
59260 – Les Schwab – 2 New Tires, Tie Rod passenger outer – $680
61023 – Sunset Audi – 60K service, Front & Rear rotors and pads, wipers, cabin filter, Oil/Filter,
70881 – Les Schwab – Alignment
71958 – Sunset Audi – 70K service & Oil/Filter
75658 – Les Schwab – New Tires
76950 – Sunset Audi – 80K Service , Coolant Tank, Exterior Bulbs, Oil/Filter, Air Filter, Spark Plugs, Cabin Filter, rear pads $960
81310 – Les Schwab – Alignment $83
82978 – Sunset Audi – Vacuum lines, Coolant hoses, Wipers $220
83036 – Sunset Audi – O2 Sensor $360
86582 – Sunset Audi – 90K Service as stated above $4300
90376 – Sunset Audi – Front Rotors, Pads, brake lines, fluid flush $740
91661 – Les Schwab – Alignment $83
91847 – Sunset Audi – Front outer CV Boot $340
95896 – Sunset Audi – Transmission Inspection $180
96805 – Les Schwab – Battery $160
97500 – Complete 6 Speed Transmission Swap as stated above

On Jul-25-15 at 13:27:20 PDT, seller added the following information:

ALL PICS
s120.photobucket.com/user/hoopster21/library/2001 Audi A6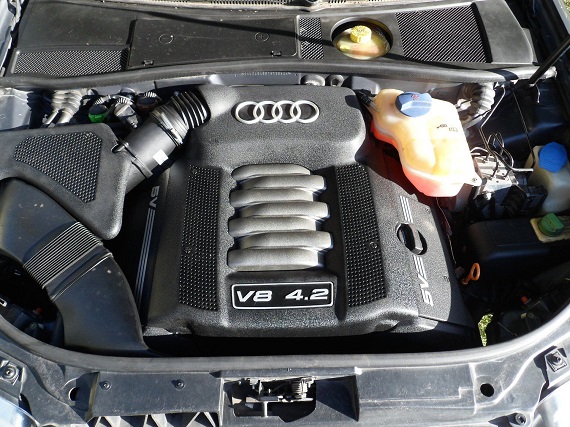 Finding good condition 4.2s is pretty tough these days, and the seller is correct that Nemo Blue Pearl Effect is a pretty rare color to find on a normal A6. Most of the A6 4.2s seem to be more predictable silver or black, and Nemo is a very pretty shade. It's set off nicely by the forged and polished "Fat Five" 17″ wheel option. Inside we see the car was equipped with both the Premium Package (heated seats and sunshades) and the Sport Package (sport seats and suspension). Even more unusual to find is the manual transmission swap; the standard ZF automatic is a weak spot in these Audis, and since the 6-speed was available in the 2.7T models it's a fairly straightforward swap. There are strange things though; again, here's an expensive swap that was undertaken so the car could be flipped, with less and 150 miles since the changeover. In my opinion, that's not enough to have worked out the kinks of the swap of this nature, and since the seller is a bit notorious for previously misrepresenting cars in the Audi community, I'd be wary. Additionally, a minor niggle is that the shift boot is clearly from a different colored car; since they're not that hard to source, that's a detail which stands out as a bit of a shortcut. However, it overall looks like a good example from what's shown, and the asking price of $11,000 doesn't sound outrageous if the car is as nice as described.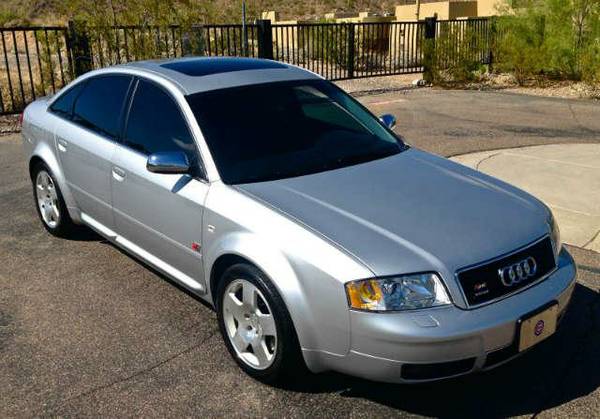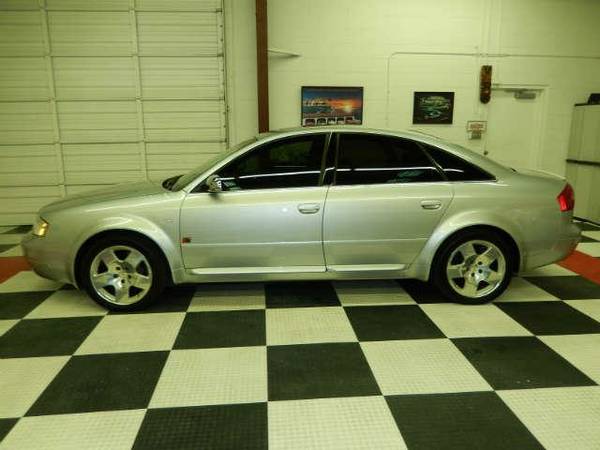 Year: 2001
Model: A6 4.2 quattro
Engine: 4.2 liter V8
Transmission: 5-speed automatic
Mileage: 33,500 mi
Price: $15,900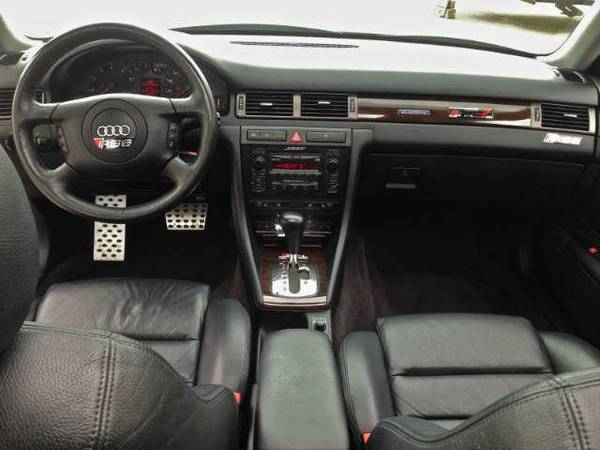 33k original miles

This is not your regular Audi A6. . ..

• Rare Factory / RS6 Wide Body
• A6 Sports Package w/RS6 badges
• High Performance 4.2L V8 5 Valve with 300 HP
• Quattro All Wheel Drive
• Sport Suspension
• Premium Package
• Cold Weather Package
• Warm Weather Package
• Special Silver Metallic Paint
• Full Black Leather
• Xenon Lighting Package
• Dual Electronic Climate Control
• Sports Contour Seats
• Dual Memory Heated Front Seats
• Rear Heated Seats
• Rear AC
• Side Airbags
• BOSE Premium Sound System
• Sunroof
• Rear Power Sunshade
• Side Sunshades
• Home link
• Sport Alloy Wheels w/Hi Performance Tires
• New Window Tinting and fresh Oil Service
• Garaged and babied – leather conditioned regularly
• Non smoker – no food – no pets
• Huge Trunk Space and a Large Back Seat
• Super Comfort Seating & legroom good for any size person
• This Audi has almost every option, if not every option available for this year
• Ultra low miles and Fully Loaded with rare options.
• Over $50k MSRP when new

New premium tires & brakes.

Always garaged and pampered!
Carfax Certified! No accidents or negative history
You will not find a nicer Audi A6 Sport in this condition for this price anywhere.

Sale priced @ $15,900

Call Roadsport @ 925-323-5800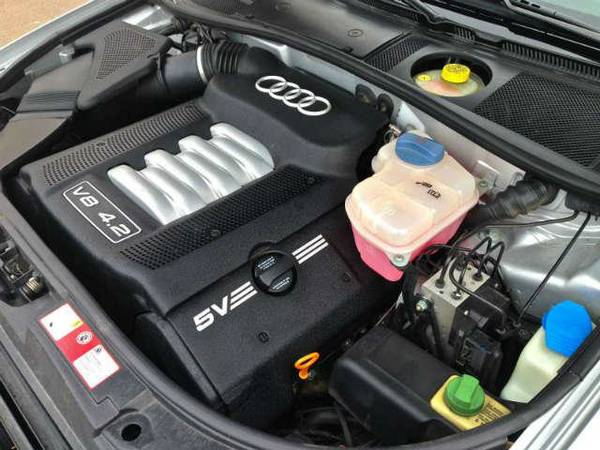 Another Sport and Premium equipped 4.2, this one is presented in more common Aluminum Silver Metallic with the same black sport interior. It appears to be all original, with the exception of the numerous (and horrible) RS badges that have been applied. It also has S-esque polished metal mirror caps, which aren't a bad addition to me. Miles might be the lowest I've seen on one of these and the condition does appear to be excellent overall, though unlike the first example there's no indication of what work was previously performed on it. $16,000 is certainly all the money for a non-S C5; I think if this were an all original 2.7T 6-speed, that amount might be warranted for the right person, but for a 4.2 it'll be a hard sale.
Between the two, I'd probably have to choose the manual. The suspect transmission is gone and the car looks to be in good shape. It's in the color I'd prefer and though it has more miles, it seems that it was well cared for before it got to the current seller. It's a bit overpriced in some regards, but all things considered it should be a car that lasts quite a long time and offers a large amount of driving enjoyment for not a lot of money.
-Carter