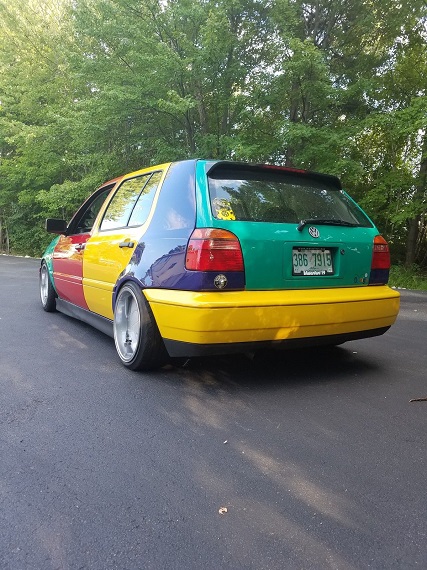 The Golf Harlequin is one of those strange creatures that ostensibly would look more at home in a art festival than in a car show. Volkswagen's "Chinese fire drill" of body parts from primary colored Golfs was an interesting exercise, leading to the moniker Harlequin – a reference to the colorful and semi-psychotically eyed ducks, themselves named after a colorfully dressed character in Italian 16th century theater. Now that you've learned something, these Golfs have become legendary and desirable in their own right despite effectively being a base model underneath, leading to the replica color scheme not only extending to copies of the originals, but even to replicas utilizing other Volkswagen models. My local Volkswagen dealer, for example, has used the scheme not only on post-Mk.3 delivery Golfs, but even their Chevrolet Express parts vans have the mismatched tones. But today we'll look at a replica GL which has gone to great lengths to mask itself in the colorful attire. Unlike the originals, though, this one has a serious weapons-grade revision in the drive department: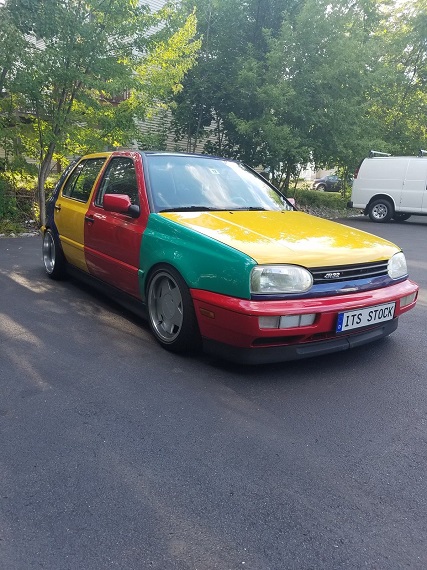 Year: 1996
Model: Golf GL
Engine: 3.2 liter narrow-angle VR6
Transmission: 5-speed manual
Mileage: 47,018 mi
Price: $13,000 Buy It Now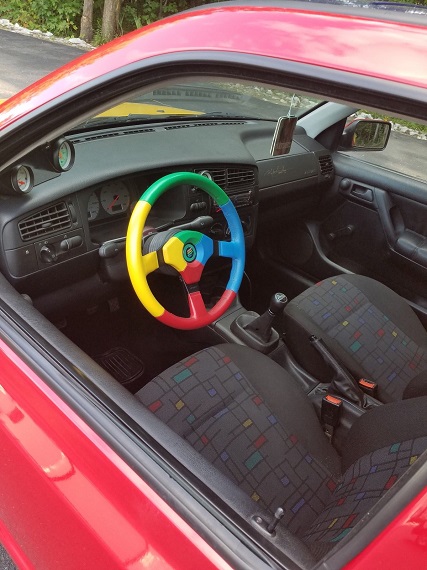 looking to sell or trade for mk5 r32 ONLY… possibly a clean clean corrado.

Small list below of mods and info if you want more send me a text plz and thank you

1996 golf painted to spec like a harlequin (real paint, all ppg prduct)

Car:
47,018 orginal miles (2owner southern car)
Real oem harlequin seats
All new suspension bushings,ball joints, tierod ends, new rack, new control arms, new ultimo coils, new bearing, new hubs, new everything
Girling 2piston g60 brakes, drilled rotors
Borbet type As 16×10 16×8 polished lips

Engine:
04 r32 3.2l with 73k miles
Tt 264 cams, ported and polished head, springs, vlaves…. ect
New chain guides and chains
All new gaskets (ALL NEW)
Tt statinless down pipe
3″ cat back straight pipe exhaust
Eurocustoms tune car made 312whp on a mustang dyno(have sheet)
Built 02a 5speed 12v trans with guife lsd and apr hardwear
02j shift cables and shift tower
B&m short shifter and knob
competition stage 3 clutch with 9.25lb flywheel (ready for 500whp)
Mishimoto aluminum radiator
Stancedubs harness
Full wire tuck and shaved bay

FULLY INSPECTED LEGALLY!

I have a folder full of all the paper work on the car $30k invested
No tire kickers, no bullshit

TRADE FOR R32s ONLY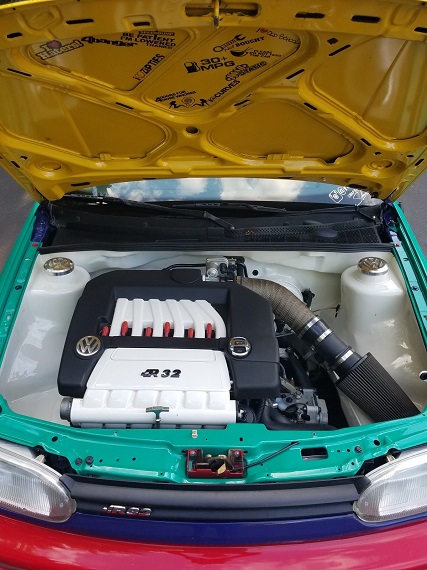 It's hard to imagine finding a low-mile A3 Golf, a car which seems to be rapidly disappearing from the roads. Yet clean this one appears to be – or, at the very least, started that way. The paintwork looks correct and follows the proper Chagall Blue base, Ginster Yellow hood, rear doors and bumper, Tornado Red front doors and bumper, and Pistachio Green fenders and hatch. Each base color dictated the color scheme, and it's nice to see it correctly done and what appears to be a good paint job. The theme carried over inside, where the confetti-colored seats from a Harlequin were installed. The shaved engine bay is impressive, though properly it should be Chagall – we'll excuse it since it holds an impressive R32 installation. As the ABA 5-speed Mk.3 was already entertaining to drive, doubling the power with associated suspension, brake and a limited-slip differential should make the drive exciting. I'm not a fan of the huge and wide Borbet Type As, but a set of BBS RS or RMs with the centers alternating Harlequin hues would solve that easily (though not cheaply). Because of the wheels, I thought this car looked familiar, and sure enough – I wrote it up previous back in 2014 when it had a supercharged ABA. Sure enough, under the hood is the proper Chagall Blue. The seller (notably, the same as now) failed to get much traction on the sale then, and having chosen to keep the car took it to the next level with the engine swap.
All of that work is bound to lead towards a high asking price, and $13,000 for a Golf is certainly all the money. However, this is most definitely a huge amount of entertaining and eye-catching Volkswagen which will draw a crowd and looks wherever it goes.
-Carter