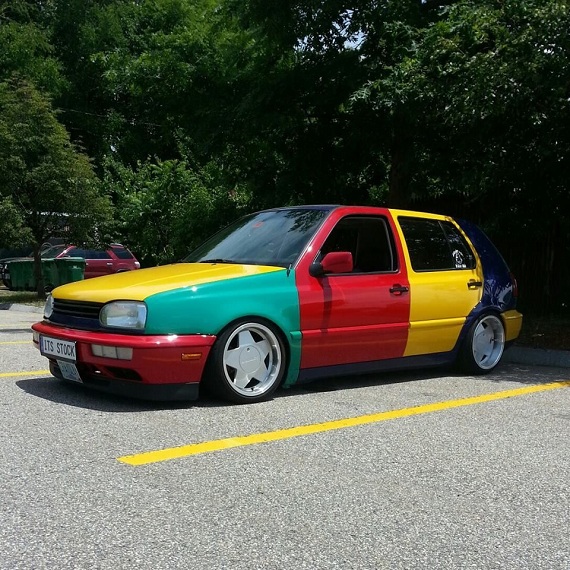 Pretty much everyone knows that Volkswagen enthusiasts are a special breed, but even within Volkswagen enthusiasts there are some really devoted fans of a particular sub-model. One such example of this is the Golf Harlequin, seemingly a joke by Volkswagen dealers to get rid of excess body panels. In truth, it's one of the really neat exercises by a major that reinforces my belief that Volkswagen just does things differently than most other manufacturers. Seriously, could you imagine Mercedes-Benz shipping a bunch of S-Classes out to dealers in different colors and telling them to swap body panels around? The Harlequin Golf was and remains a neat page in Volkswagen history that generally brings a smile to VW fans. So, it's no surprise that the Harlequins are very sought after, even if they appear all in one color because the dealer was lazy – no joke! But are they sought after enough to warrant a replica?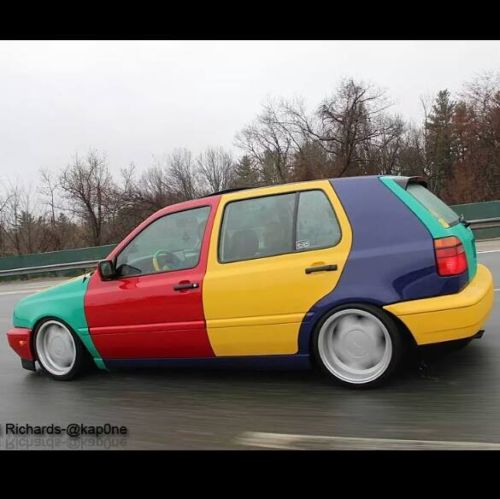 Year: 1996
Model: Golf
Engine: 2.0 liter supercharged inline-4
Transmission: 5-speed manual
Mileage: 41,813 mi
Price: No Reserve Auction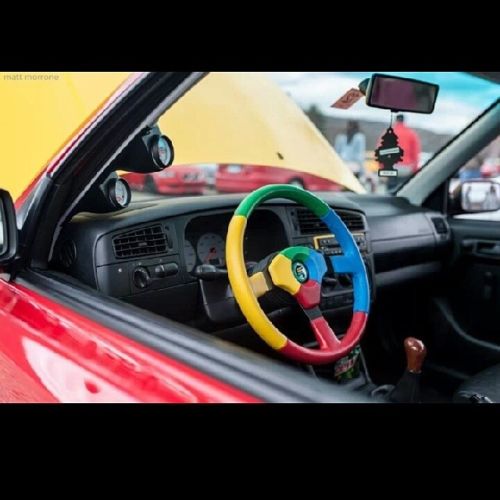 REPLICA!
Up forsale is my 1996 golf gl that has been painted to spec like a harlequin(painted the right way with PPG product)

Details:
Car has 41,653 orginal miles!!!!
Base gl car was originally Catalina blue color
crank windows but has power locks
power sunroof!! Rare on a gl!
Raceland ultimo coils
Corrado g60 bigger brakes and drilled rotors, disc in the rear
wood floor in the trunk
new carpet
full wire tuck in the bay black leather seats and door cards out of a jetta glx(drivers seat needs to be replaced) REAL botbet type As 16×7 in front 16×9 in rear with sdrive 195/45 tires

Engine:
Aba 2.0 5 speed tranny with limited slip!
Neuspeed supercharger @16psi
2.3 charger pulley
bbm fuel rail
bbm 4bar fpr and fpr housing
Bosh 440cc 42lb injectors
c2 stage 2 sc/turbo software capable to 350hp
head spacer and custom pulley set up
Denso ik20 plugs
bosh wires and cap and rotor
vr6 3″ maf

car has not seen a dyno or the track, car should be at 200hp when stock its 120hp

All work and parts on this car have less then 9k miles the supercharger was installed little less then 3 months ago has 2k miles on it

Car needs nothing and is in perfect shape! Im the 2nd owner and this car will last you forever with its 40K MILES!!!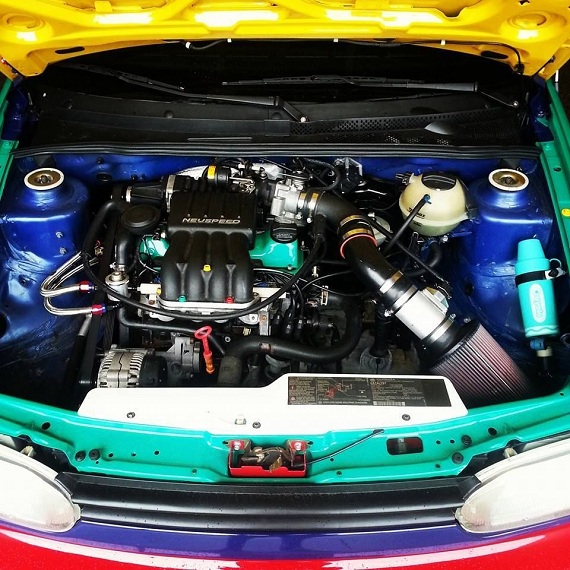 I think this car has been done fairly reasonably within the spectrum of modified Volkswagens. The paint looks great and is well executed, the ABA 2.0 is a fun motor made even moreso with a supercharger and limited slip, and the miles are fairly low on what appears to originally have been an unmolested Golf. The GLX leather swap is a nice change as the stock Golf seats aren't particularly comfortable, too, and the Benetton wheel is a nice touch. All in all, there's a lot of work done here that was nicely executed. I think the wheels are too big/wide for my taste and don't suit the character of the car well (I'd guess that the wood floor in the rear doesn't, either) and it's sitting a bit too low; were I to own it, I'd color match 4 different BBS RA or RS wheels to really complete the look and raise the ride height a bit. Pricing is set at no reserve but the opening bid will likely scare most away at nearly $9,000. At that amount, I'd really rather have a very clean 1990-1992 GTI 16V. For a true Harlequin fan, it might not be too much considering the work completed, but then this isn't really a Harlequin. I think this car will be a pretty hard sell at that amount; I'd suspect it'd actually move closer to $6,000.
-Carter