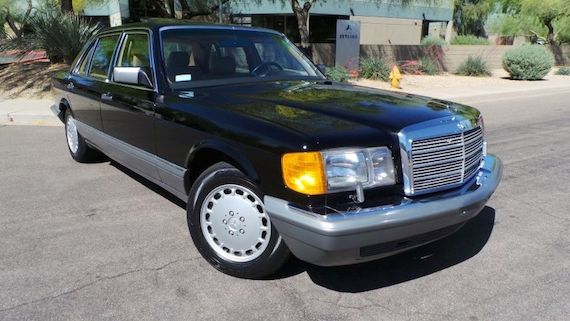 No matter how many successive generations of S classes pass us by, I always look back to the W126 as the gold standard of executive transport. The W116 of the 1970s was a thoroughly capable car if a bit unloved. The W140 that succeeded the W126 was a technological tour de force but was a bit brutish in terms of its size and complexity. The W220 that came after that was derided as a bit unreliable during the dark days of Mercedes-Benz products in the early part of the 21st century. The last and current generations of S classes have moved the luxury sedan game very much forward, but the technology is a bit over the top for me, which has me going back to the W126 for simpler, albeit capable performance and motoring pleasure.
The two following 560SELs represent the flagship of the lineup for the period between 1986 and 1991. The first one we will look at is a very low mileage example for sale in Arizona in a classic combination of black over parchment leather.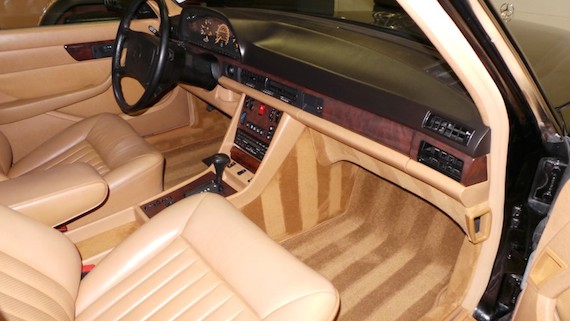 Year: 1986
Model: 560SEL
Engine: 5.6 liter V8
Transmission: 4-speed automatic
Mileage: 53,443 mi
Price: $18,900 Buy It Now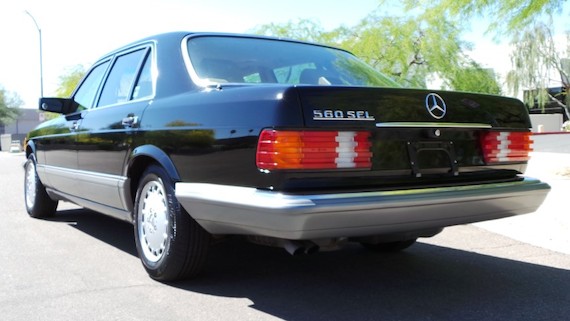 This week Canyon State Classics brings to market one of the best documented and best kept 1986 Mercedes-Benz 560SEL Sedans on the Planet. This car is very special in several ways. It is a a low mileage car which has lived a very pampered life here in the dry Arizona desert shortly after being purchased in New Jersey. It also had a MSRP of over $60,000 when new and is fully loaded! This was THE big boy car to own in the 80's.

This car was bought brand new at Intercar Inc. on August 29, 1986 by original owner R. Dascoli Bartholomew of New Jersey who brought it to Arizona in 2008. Included is a statement of origin detailing his ownership history on the car, which was titled in several of his business names during his ownership, which explains the car showing more owners than it actually had. This car was his pride and joy and always received the best care and service and by his own admission never saw rain or snow during his ownership. A few more owners in Florida and Washington took their turns babying the car till it made its way back here to Arizona. Don't miss your chance to own the nicest SEL offered on eBay in a long time!

The following is a list of options as this 560SEL is currently equipped:

-5.6L 8-Cyl Gasoline Engine

-4 Speed Automatic Transmission

-Ice Cold A/C

-Cruise Control

-Power Windows

-Power Door Locks

-Power Antenna

-Fog Lamps

-Heated/ Power Reclining Rear Seat

-Original Leather Interior

-Power Sunroof

-Original Becker Grand Prix Cassette

The body on the car is in very good condition and was extremely well maintained. The paint on the car is finished in its original color of Black and has a brilliant shine and not a ding to be found. All rock chips were professionally touched up by airbrush. The car has been completely inspected underneath from front to back and is solid as a rock and ALL ORIGINAL PAINT as any well cared for garaged lifelong car should be. All chrome trim, glass, and rubber seals are in great shape. Original windshield in chip free and has original stickers on it. The car looks as nice as the day it rolled off the Mercedes lot. It just had a full detail done at a cost of over $500 so this car looks spectacular! The car is accented by the original set of correct wheels which look great and wrapped in brand new Good Year radials.

The interior is in very nice original condition all around. Its life long garage storage is obvious at close examination of the crack and fade free interior. The dash and door panels are in very nice condition with zero cracks or damage to be noted anywhere other than two small cracks on shifter console wood. The palomino leather seats are all in very good condition and look almost new, which shows the quality of leather used in this car. All wood grain is in excellent condition with only minor cracking visible around the shifter. The carpets are all very nice are not worn or damaged. The car also has Custom Mercedes floor mats. All dials and controls function as they should, power windows and antenna also are fully functional. The sound system is also very nice with the original Becker Grand Prix sound system. All lights, gauges switches, and accessories work as they should. The trunk compartment is very clean and does have the original jack, tools, and the spare tire and wheel. This car is all there and in excellent shape with all functions and accessories working as they should.

Mechanically, this SEL runs GREAT! I have owned nearly 20 80's and 90's era Mercedes vehicles, and this car blows the doors off all of them! The car starts right up and shifts smooth as silk. It drives as good now as the day it rolled of the lot. The 5.6L V8 is excellent. It is reliable, easy to fix, and parts are readily available. The receipts show a lot of major work done in 2008 and again at Park Place LTD in 2012 which total over $5700just spent of fuel system including new fuel distributor, new injectors/ wiring, new intake hoses, new fuel pumps,new injector covers and a full tune up. Transmission service, rear axle service, brake fluid and coolant flush, new brakes, and new Good Year tires top off the recent service! The suspension is very tight and feels solid even at autobahn speeds above 90mph. The car was always regularly serviced and shows it in how flawless the car drives. The car is tight and right as any low mileage car should be with no current mechanical issues. This car is 100% fully documented with EVERY service receipt going back to the pre-delivery paperwork from 1986!

The car will include all original books, huge stack of receipts, original spare, jack, tools, all original keys, as well as the CUSTOM 560SEL floor mats!

All in all, this is THE cleanest and nicest SEL that I have had the privilege of being associated with, and is surely the NICEST in the Country! It has been professionally maintained and truly loved by its previous owners. This Mercedes is a fantastic car for the price and includes every option offered in this car. Any further questions please call Jon at 480-703-2337. The car is located in Sunny Scottsdale, Arizona.

CanyonStateClassics has been your source of excellent Arizona vehicles on Ebay for over 10 years and has obtained the distinction of an Ebay Top Rated Platinum Seller by keeping 100% POSITIVE feedback with my buyers. Please check my ratings and BID WITH CONFIDENCE!

Good luck in the Auction!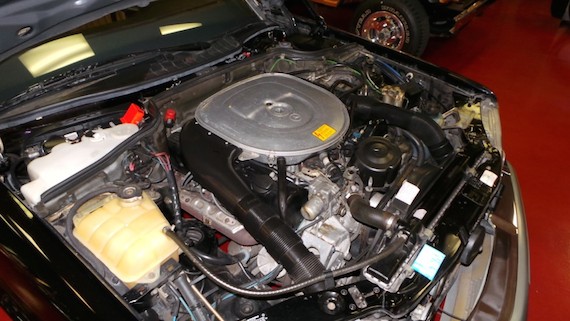 In comparison to the 560SL, 560SEL prices have been rather steady over the past couple of years, but good ones are starting to inch up, with some breaching $20,000. This one is priced just about right considering the mileage and condition, not to mention the popular color combination. Now for a 560SEL with slightly higher mileage that was a one-owner vehicle until being purchased this past February from an estate.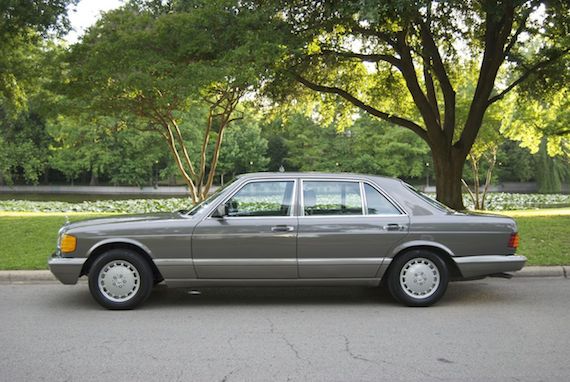 Year: 1986
Model: 560SEL
Engine: 5.6 liter V8
Transmission: 4-speed automatic
Mileage: 145,000 mi
Price: $9,500 Buy It Now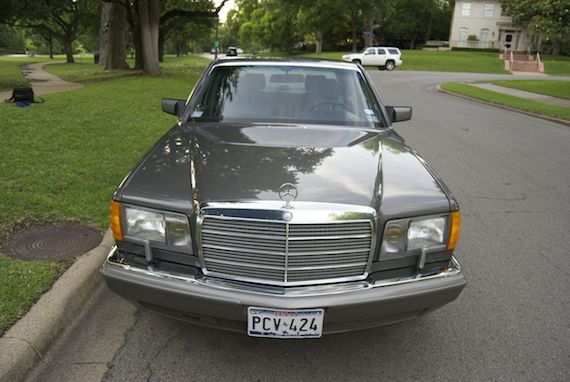 Completely original car with original paint in perfect condition. No fading, cracks etc. Body is free from any dents or door dings. Interior is flawless with minor wear on driver's seat bolster. Meticulously maintained original-owner car until February 2014, when I purchased it from the family's estate. Dallas, Texas car purchased at Autohaus (Now MB of Plano).

All paperwork, documentation, original window sticker, original keys, metal plate, radio tags, manuals, and related parts included with car. Everything works – all electronics, cruise control, power windows, locks, rear seat recline, all 4 heated seats, A/C, power front seats, power antenna, sunroof – it all works. Original Becker radio rebuilt and Aux port added. Work done at Becker Autosound.

Full service history documentation, including detailed written journal of repairs. All required and preventative maintenance performed on-schedule during the life of the car. This car is literally 100% ready for many, many more miles without concern for major maintenance or repair needs. Please inquire about reviewing full maintenance records and additional pictures. I have a website with over 50 pictures and all maintenance since brand new. I cannot post that site on ebay, but will gladly email that address to you. Thanks.

Repairs/maintenance in 2014:
Major exterior and interior detailing
Refinished original wheels
Complete fluid change including coolant and radiator hoses, transmission fluid with new MB filter and gasket and filled with Redline D4 Synthetic, power steering and filter, suspension hydraulic fluid, flush brakes, engine oil and MB filter and filled with Brad Penn 20-50.
Cruise control components rebuilt
Replaced steering components (tie rods, center link, bushings and strut rod bushings)
Full alignment
Replaced A/C compressor and dryer. System still uses the superior R12 Freon and is very cold. System cools below 40*, even in Texas.
All belts replaced
High pressure suspension hydraulic fluid line replaced
Replaced headlight surrounds (doors) with Bosch replacements as the original units were sun faded

Major components and/or service performed in recent years
Brakes and rotors
Water pump and radiator replaced
Valve cover gaskets – no leaks
Transmission rebuild
Reseal steering pump
Plugs, wires and distributor cap and rotor
Engine mounts
Starter and alternator replaced
Rear main seal replaced
New Transmission mount and drive shaft flex joints
Fuel filter
Brand new battery
Timing chain tensioner replaced at 98k miles (on schedule)
Michelin tires with excellent tread
All 4 shocks and accumulators replaced

I am a private seller and an enthusiast. I enjoy finding, purchasing, repairing/restoring, and driving Mercedes cars from the 80s and 90s – the heyday of German engineering. I purchased this 560SEL in February and have enjoyed this car immensely. I am simply amazed by the way it drives and by its original condition almost 30 years later. They literally "don't make them like this anymore."

I have a clear Texas title in hand. And I will gladly assist with PPIs, shipping, etc. No agents please, I do not need any assistance selling this car. Please feel free to ask me for additional pictures or anything else. Believe me, I know every inch of this great car! Enjoy the pictures.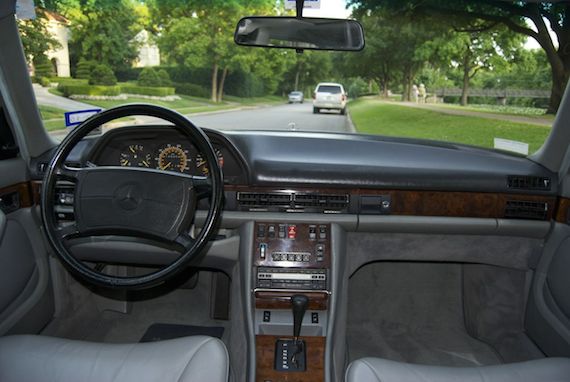 As usual, when it comes to ultra low mileage cars, it kind of makes one weary of using them as intended, for fear of damaging them. Even though I like black, I'd probably go for the higher mileage car in this case, not only to save a little bit on the purchase price but to feel a little less guilty about using a show quality example like we see with the black car.
-Paul