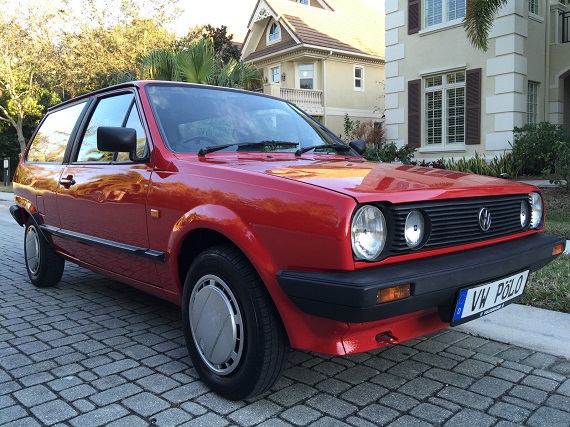 Just like we saw with yesterday's 928S4, there are specific dealers that have made a go of importation of vehicles from Europe that have passed the magical "25 year" rule. Most of what we have seen from this particular seller is of the BMW variety, and we've featured quite a few of their E30 Tourings as well as a wayward Volkswagen. While the photography is never as slick as the 928s looks, the photos are a bit more honest and the descriptions usually show the drawbacks. What you get is a good look at a model infrequently seen in the U.S.. However, in this case it's one that will probably leave most people scratching their heads, as it's a right-hooker 1.0 liter base Polo wagon. At least it's a manual?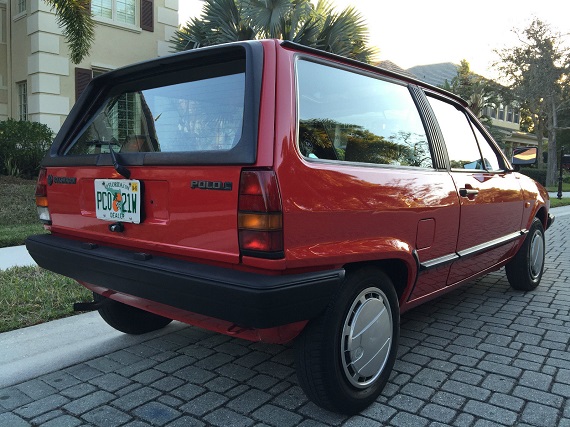 Year: 1989
Model: Polo C
Engine: 1.0 liter inline-4
Transmission: 4-speed manual
Mileage: 83,465 mi
Price: $5,250 Buy It Now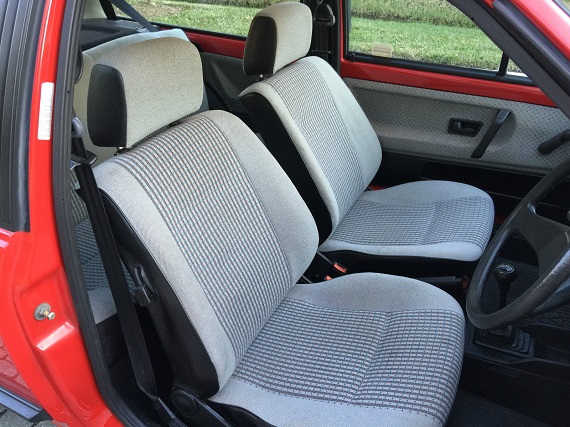 For sale European Right Hand Drive 1989 VW POLO.
Vin # WVWZZZ80ZKW186563

More pictures Below

Here is a VW POLO Euro Model, Tornado red, fitted with 4 speed Transmission, Manual sun roof, Black / Grey seats, finished off with a set of European Bumpers & 13″ Steel wheel rims with VW trims, The VW Polo Model was only available in Europe, Similar to the USA Fox Model.

I bought this 1989 VW Polo in England last year and imported it over to Florida, It has a clear title with Florida DMV, It would be the same to title this car in your own state as it would with any Florida Titled car, However being from Europe it is not fitted with a catalytic converter or airbags, So you may need to check rules for smog test in your own state before bidding.

The car has covered only 83,xxx miles, The Car has just been service replacing oil and filters, It runs great, & is fitted with very economical factory 1.0 4 Cylinder Engine and mated to 4 speed manual transmission, Car is not fitted with factory air con which is usual due to the European mild climate.

Inside the car is in great condition for 25 years old, dashboard is crack free, The Seats are in Excellent condition, folding rear seats makes the car very practical and roomy, trunk area with tool kit, Two Spoke Euro steering wheel (none airbag), all switch gear is working and in good condition, Manual front windows, & Manual glass sun roof.

Outside the Tornado red paint is good, Some Marks / dings on hood, various marks/ dings, as expected from a 25 year old car, But as you can see from the pictures very Nice, a very solid car, rear wheel arches, strut towers, floors doors are all solid without any major sign of rot, a little rust bottom of left windshield, nothing serious, easy fix, Under the hood the engine bay is very tidy & Engine dry.

This Polo runs Great, engine Pulls good and performs very well, with no untoward noise or fuss, Gear change is smooth, and the brakes stop the car nicely with good pedal feel, the suspension is smooth and composed, with no knocks or rattles, This car drives very well.

It is easy to see why the Polo is such a sought after car and has become a great classic every day driver, Its a simple and dependable car that's great fun to drive without all the fuss and gadgets that some modern cars including newer VW's sometimes detract from the pleasure of actually driving a fun car.

In my Opinion the "Bad Bits" below all are in the pictures
Dings hood & doors
Very minor rust on lower part of Left windshield
Blower fan only works on high

Overall a very good and tidy 27 year old VW Polo, that's dependable and in great condition, every thing works as it should, It would make a great classic daily driver or with little work could be made in to a excellent show car.

Don't miss your chance to buy this Very nice European RHD VW Polo.

More pictures are available on request, If you have any questions please ask before the auction ends not after, Please only bid if you intend to buy, any inspection is welcome and should be done before the auction ends.

Shipping is available

FL, GA, AL, $200.00
MS, SC, TN, NC, AR, LA $395
KY, VA, WV, IN, OH, PA, NY, DE, CT, MA, NH, RI, VT, ME, MI, WI, IL, MN, IA, MO, TX $695
OK, KS, NE, SD, ND, NM, CO, WY $895
MT, ID, CA, UT, NV, AZ $1000
OR, WA $1200

Sorry no shipping to AK, HI, PR or islands.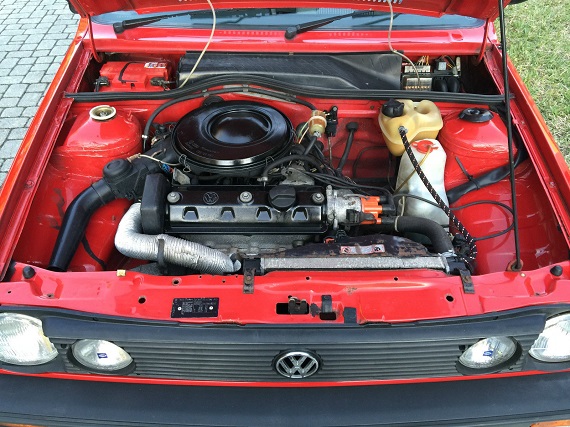 I had a friend I went to visit in Germany, and he and his girlfriend shuttled me around in a Polo not too dissimilar to this. A Volkswagen fan, I loved being in a model that wasn't available in the States, but I did get the distinct impression that for many Germans ownership of a Polo was akin to a venereal disease. It was something you had to live with and couldn't easily get rid of, and you really didn't want anyone else to know you had it. Condition of this particular Polo C is reasonably good, but as a cheap base model you can expect it was a workhorse rather than a heirloom so it's not surprising to see a few dents. It's also not surprising to find some rust and that some of the few electrics on this era Volkswagen are non-functional. Get past that and this really could be a neat little car for a Volkswagen lover who wanted to surprise the crowd at a local show. Is it $5,250 worth of neat little car? I think that's pretty strong, but considering easily half that amount would be eaten up trying to import your own it's not staggeringly overpriced. I think I'm with the Germans on this one though – it might be a cheapish one night Euro stand, but I'm not sure I'm ready to pay that much for it. Were it a left drive G40 supercharged example, the story would be quite different!
-Carter