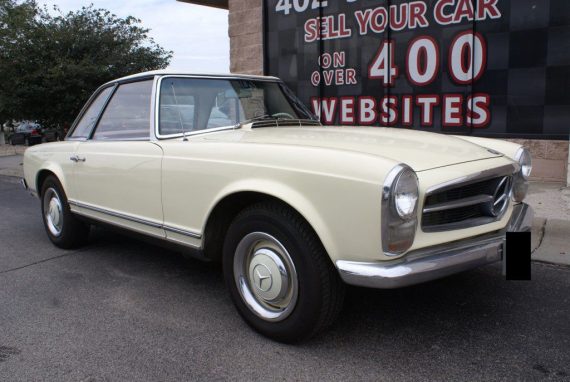 Yesterday I was doing my daily rounds searching for interesting cars and scrolled upon a 1965 Pagoda. I looked at the price and saw $19,995 (more on this later) and my eyes got really big. The going rate for a decent Pagoda is about $50,000, so my finger was creeping awfully close to the "Buy It Now" button. Everything looked good, no major body damage, the interior was nice despite an aftermarket CD and air conditioning system. But that all could be sorted out easy enough. It had a clean title and only a little over 39,000 miles. Maybe I did just stumble across a Pagoda from someone who still prices cars from a book they keep in the top drawer of their desk. Everything looked like I was going to Pagoda owner until I saw what was under the hood.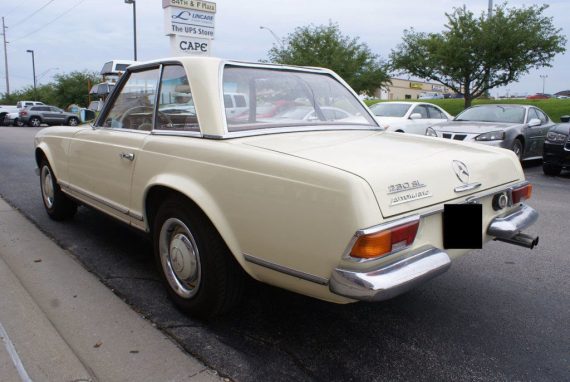 Year:Â 1965
Model: 230SL
Engine: 5.0 liter V8
Transmission: 4-speed automatic
Mileage: 39,743 mi
Price:Â $24,995 Buy It Now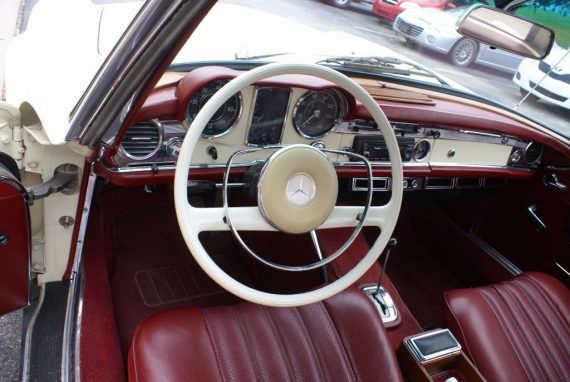 Check out this very nice 1965 Mercedes-Benz 230 SL Roadster! This car looks and runs great! The seller told us he has owned the car since approximately 2002. He said the previous owner installed a 302ci V8 Ford Engine, Aftermarket AC, Aftermarket CD, and Power Locks. It's loaded with factory options including Leather, Automatic Transmission, Soft Top & Hard Top Convertible, and much more! Overall this car is very nice with just some paint chips on the driver's door – as seen in pictures! We try to point out any and all defects no matter how small for our internet shoppers! It's priced to sell ASAP so call 1-866-981-5856 now! We are helping a private party sell this vehicle on consignment and do not store the vehicle at our location. If you would like to see the vehicle in person, please contact us at 1-866-981-5856.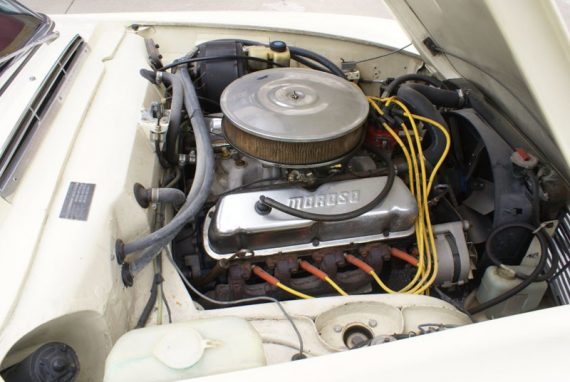 As you can see in the photo above, that's not the Mercedes M127 that should be in the car. It's nothing other than a good old Ford 302 V8. The dirty air filter, the valve covers straight from the JEGS catalog, yellow spark plug wires and rusty exhaust manifolds are right at home. I don't hate the Ford 302, it's a nice motor if you want to make a lot of noise and don't want to worry about going anywhere too fast. But why in the world you would decide to put one into a Pagoda is beyond me. You could melt the head, blow a hole in the block and smash the oil pan all at the same time and it would still be worth rebuilding the M127.
So about the price. Currently it's listed for $24,995 but when I first saw it when the listing went live, the dealer was asking $19,995. Even with the bastard engine, $19,995 would have been a good price seeing as where values are heading for these cars. My guess is this dealer saw the values of other Pagodas, many well into six-figures, then figure he could squeeze another $5,000 out of this one.
I'm not totally against engine swaps in these as I featured a 1971 280SL earlier this month that was done perfectly. But that's the thing, it was perfect. Something like this just doesn't really add up. I don't know if this swap was done in the 80's or early 90's when this wasn't a big deal, but you have to think whoever did this is kicking themselves now, no?
– Andrew