The Volkswagen Phaeton has been, since introduction, quite an intriguing car. Generally passed off by those out of the know as a rebadged A8, every time I see one I'm blown away that Volkswagen pulled the project off. Despite what the American enthusiasts think, the exclusive executive sedan has been very popular in Europe and specifically Germany – where it's much more in vogue to fly a little lower on the radar. Fly low the Phaeteon does; for many, at first glance it doesn't look much different than the B5.5 Passat, and many of the styling cues were incorporated into the B6 Passat sedan. Couple that with a general resemblance to the D2 Audi A8, and not many notice this serene Volkswagen shuttling its passengers in near silence. I say near silence, since the only noise you hear inside is the slightly slower beating of your heart and heavy breaths as you soak in the luxury. They're disturbingly quiet inside, thanks in no small part to extra thick glass and soundproofing. Every conceivable option available in the Volkswagen catalog was thrown at these cars, including the top-spec W12 motor. Shared with the Audi A8, Bentley Continental GT and Flying Spur, the W12 is a monster of power – easily capable of propelling the very important people riding along with you quite close to 200 m.p.h. when deregulated. This is especially shocking given the Phaeteon's weight – a staggering 500 lbs heavier than the Audi A8 you'd presume was the same car, the Volkswagen was simply in another weight class and quite different than the D2/3 chassis. Yet, despite the exotic Bentley stablemates that share many components and the D1 platform, today you can pick up one of these expensive cars that were a bit of a sales flop at a substantial discount: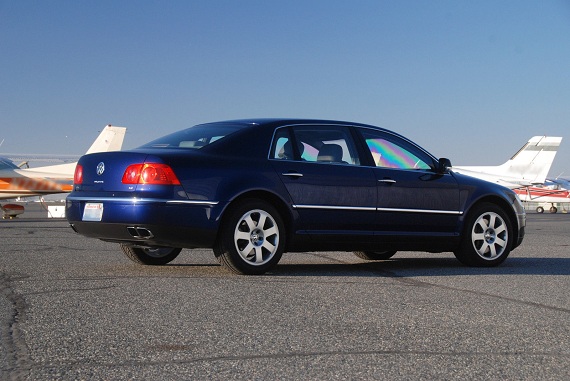 Year: 2006
Model: Phaeton W12
Engine: 6.0 liter W12
Transmission: 5-speed automatic
Mileage: 29,978 mi
Price: Reserve Auction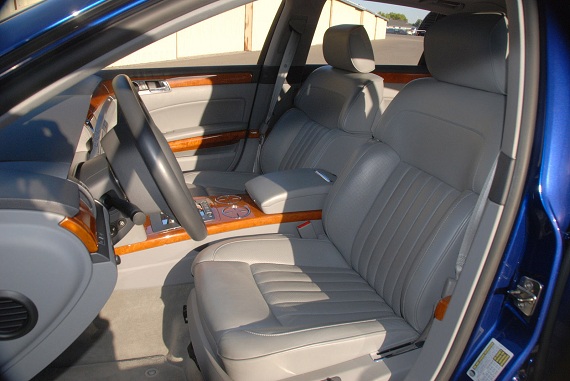 SELLING MY DREAM CAR
(My wet oil paints and Border Collie are better suited to old trucks!)

Single owner, low-mileage, ultra-comfort touring sedan, purchased and driven exclusively in the Pacific Northwest (no salt roads).

SPECIAL FEATURES:
Rare, Appassionata Blue upgrade paint, Chestnut interior trim upgrade, parking assist, standard Navigation package,
BRAND NEW TIRES (five ultra performance all-season Continental ExtremeContract DWS 255/45ZR18) – full spare tire
PLUS BONUS SET (20″ Helo wheel rims w/ BF Goodrich G-Force performance speed tires) – see 'Helo Rims' photo in gallery.
Certificate of Thorough Mechanical Inspection (Excellence) provided.

A TRULY UNIQUE VEHICLE
This vehicle is designed for drivers who demand the ultimate in power, performance and comfort; but prefer to 'fly' under the radar.
The U.S. requires an engine governor at max. speed 155 mph. I felt like I was driving a Bentley and the cops thought she was a Passat!
Gotta love the freedom of stealth wealth… especially on the open road. Averaged 18-20 MPG with 12 cylinder get up and go.

Buyer responsible for vehicle pick-up or shipping from Richland, Washington.
Deposit of $2,000.00 required upon closing bid.
Payment made in full must be received within three days of auction close.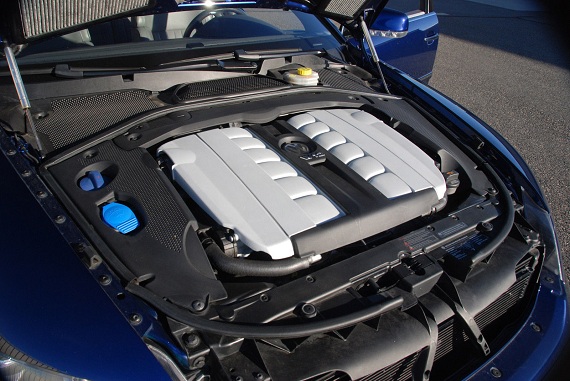 Our reader Ry spotted this model, and I have to say the Appassionata Blue over tan is pretty stunning. Unlike most of the A8s, the Pheaton had many wheel options to choose from – this one has the BBS made "Challenge" wheels that are a good fit in my mind. They really make the car look different than some of the other wheels that are quite similar to Audi designs, unsurprisingly. Miles are low, condition appears good and if you discount the horrible "bonus" wheels this car looks great. Bidding is already past $21,000 as of writing, but you'd be looking at near triple that to get into a similar Bentley Flying Spur; take the badges off, and minus some extra luxury for the rear passengers and a little extra motivation from the turbos, you'd be hard pressed to tell the difference.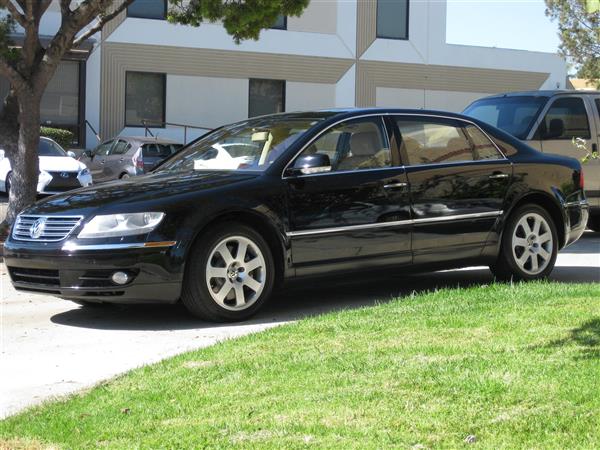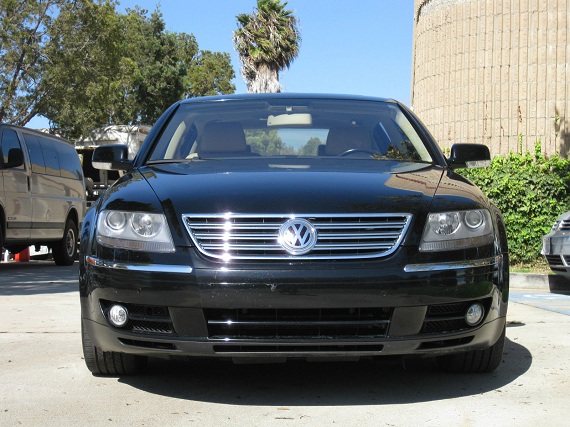 Year: 2004
Model: Phaeton W12
Engine: 6.0 liter W12
Transmission: 5-speed automatic
Mileage: 79,243 mi
Price: Reserve Auction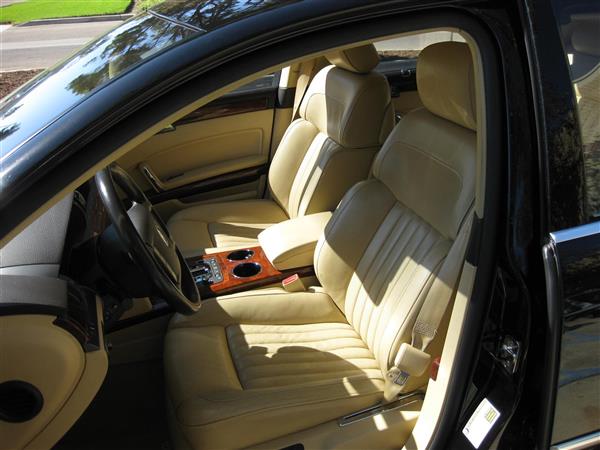 Presented for your consideration is a 2004 Volkswagen Phaeton W12 AWD in the elegant color combination of Black Klavierlack with Sonnen Beige Leather Interior. This Phaeton features the W12 cylinder engine and drives like a dream. It currently has 79,243 miles, is a one-owner car with a Pennsylvania title, and has a clean vehicle history report. It's loaded with extra features such the Klavierlack Piano Paint Coating, Comfort And Cold Weather Package (Rear Outboard Seats with AC Ventilation and Massage Feature, Power Adjusted Lumbar Support, and Power Adjustable Head Restraints), Electronic Parking Assistance, and Keyless Access. Please see the attached picture of the window sticker for more details on the features of the car.

This Phaeton has been well taken care of and was serviced regularly. It handles phenomenally and the 5-Speed Tiptronic Automatic Transmission shifts smoothly. The outside is in great shape, aside from the usual little nicks. The interior is in great shape as well and is a 5-Seater. The buyer will be provided will the books/owner's manual, 2 keys, service records, and the original window sticker.

Please don't hesitate to call if you have any questions: Rick – (805)218-0606.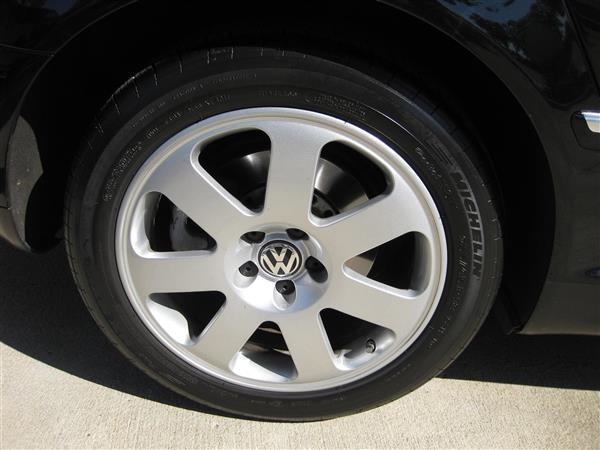 If you don't mind some extra miles, you can get one of these cars even cheaper – this Piano Black Lacquer example shows well for its 80,000 miles. It shares the same BBS wheels and has a similar interior, and like the first example comes from a one-owner, reportedly maintained home. But bidding is much lower on this example; around $6,000 at time of writing. This car should stay well below $20,000 because of the early build and higher miles.
In either case, these are both lovely cars. Yes, they'll cost you a lot to maintain and if something big goes, prepare to walk away or part it out – but you'll have one of the most special and best kept secrets in German motoring for a fraction of the price of what a new one will cost you. The people that have owned and driven these cars will tell you – they're really something special.
Thanks to Ry for encouraging us to revisit these special Volkswagens!
-Carter