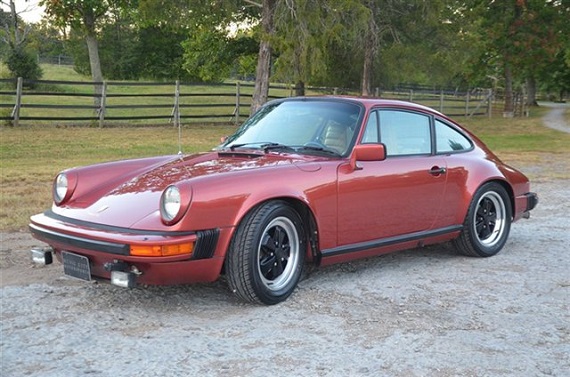 There are times when I forget that part of the success of the 911 comes not only through it's excellent performance but also because it has almost always provided that performance with a high level of refinement. It is a hallmark of the marque itself, as evidenced by its forays into halo-car territory with the 959, Carrera GT, and the new 918 Spyder. None of these were stripped-out racers like the F40. This digression was sparked by the car we see here, an otherwise standard 911SC that happens to be in a stunning shade that showcases the refined nature of the 911. There are 911s that are brash, like yesterday's 930 Slantnose, and then there are 911s that appear almost serene in comparison. Of course, the performance is still there, but it's packaged entirely differently. Here we have a (possibly) Rosewood Metallic 1982 Porsche 911SC, located in Nashville, with 65,325 miles on it. It is, in a word, beautiful.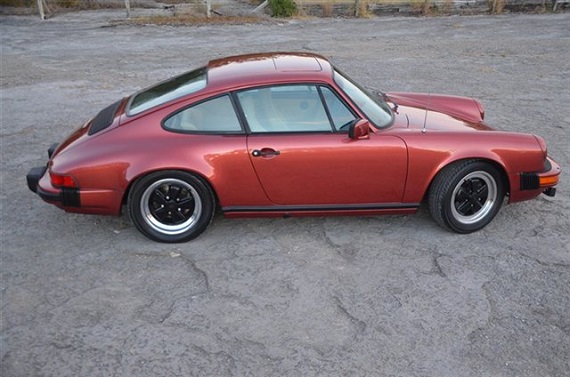 Year: 1982
Model: 911SC
Engine: 3.0 liter flat-6
Transmission: 5-speed manual
Mileage: 65,325 mi
Price: Reserve Auction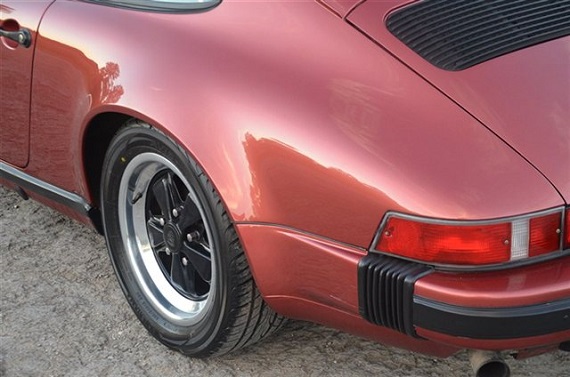 ONE OWNER 65325 mile SUNROOF SC COUPE! The original owner is now in his mid seventies and his relationship with his beloved Porsche had come to an end,too hard physically to get in and out.The car shows no indication of rust or accident history.The car lived in a high dry arid climate and was not exposed to the inclimate weather of the salt states.The body and interior are as straight and nice as the pictures reflect,great body panels and factory panel gaps.The car drives as good as it looks,strong,tight,straight.The car has a good clutch,good synchros,brakes,tight suspension.The tires are brand new.Paint is in superb condition,dash is straight with no cracks,seats are superb,headliner is clean and tight,glass is good.Review the pictures posted,fly in to review,hire an independent Porsche specialist,make yourself the proud second owner of this lovely SC example.This and other European collectibles may be reviewed at jpfrazier.com.There will be an additional $298.50 assessed to each sales transaction for dealer doc fees.You may contact me at 615-971-4409 or my associate in the central Nashville office Chris Fortune 615-714-5262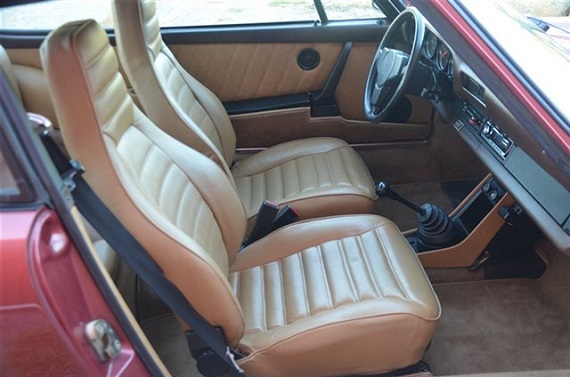 I have been quite curious about the state of the 911SC market and this example should give us a nice gauge on where things stand. It's a one-owner car with very reasonable mileage that looks to be in very good condition and, to top it off, it's a rare color. And my is that color beautiful. The color looks a little lighter than other Rosewood Metallic examples I've seen (it looks more like Wine Red Metallic) so it would be useful to have the paint code, but it's also possible the lighting is throwing things off. Either way, it's really pretty and the contrast with the Tan interior makes this an elegant SC. The only negative from a collector standpoint appears to be the aftermarket stereo, but while those aren't always easy to source it is something that can be replaced. Bidding currently stands at $21,100 and I'll have my eye on this auction for sure.
-Rob