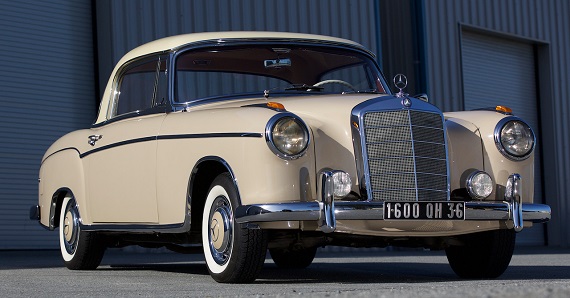 Following World War II and the near complete destruction of the Mercedes-Benz production capacity, the company nursed itself back to life with the pre-War 170 model. Production of that model would pave the rebuilding of the Sindelfingen plant that would launch the company's resurgence to the top of the market. The new 'Ponton' model would be introduced to the public in the fall of 1953 and would remain the bulk of production for the remainder of the decade. It would be available in an amazing sixteen different model configurations, ranging from 4-cylinder sedans to 6-cylinder cabriolets. The Ponton represented a technical leap forward from the company who had invented the automobile, with independent suspension and an available automatic clutch dubbed "Hydrak" being the big headlines. Mercedes-Benz also steadily improved the performance over the model run, and when it came to the 2.2 inline-6 in the 220S, dual Solex downdraft carburetors helped to develop over 100 horsepower. But it was style, not performance, that helped to set the Ponton models apart and especially in Coupe and Cabriolet form, they were special cars indeed: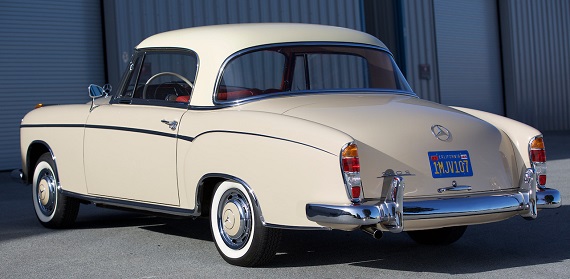 Year: 1957
Model: 220S
Engine: 2.2 liter inline-6
Transmission: 4-speed manual
Mileage: 91,730 km (56,998 mi)
Price: $135,000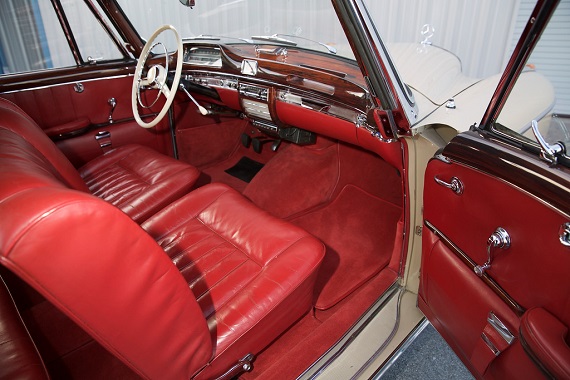 When the car world hears the words preservation/survivor interest and excitement is immediately recognized. The car FOR SALE offers the new a owner a experience to drive and own a 49 year old Mercedes Benz that has never been taken apart for a restoration. One Mercedes Benz factory level and totally correct repaint to its original special ordered color and a all original interior that shows the love and care taken by its few previous owners makes this car a rare opportunity to experience the quality that was built on all of these early Mercedes Benz road cars.

Please read the below summary that was provided to me by the previous owner who owned the car for over 34 years. The amazingly interesting biography shown at bottom of page in a link provides even more data! It makes for very interesting reading and clearly shows the love and passion this car has received since 1957.

Known history of Mercedes-Benz 220S "Bertha"

From documents obtained from the Mercedes-Benz Classic Center in Irvine:

Build date: unknown.
Invoice date: 8/27/1957
Sold to: IDASA (Daimler-Benz distributor, Spain)

Color: special order Crème 439 with ivory top 608
Special padding
Bench back seat with side bolsters
Single red leather seats 826
Radio Becker Brescia Sa 55072/3 with Reims adapter 1 SA 55151/1
Automatic antenna SA 55052/1
Bosch fog lights
Ivory steering wheel
Exterior left-side mirror

-First known history of ownership: IDASA former employee traced the car to the Spanish court, the car supposedly being a gift to future king Juan Carlos for having joined the army in 1958.
-Unknown history until 1981, when owned by Swiss Roland Page. Under his ownership, invoice shows work on the car: new exhaust, new wheel nuts, steering damper, clutch mechanism, disk, brakes hydraulic lines, brake wheel cylinders (all 4), brake shoes, drum brakes machining, steering joints, chassis cleaning. Oil change at 73333 kms (45576 miles).
-Certificate of ownership shows VIN at 180 037 N 7 509 637, first on the road in (unknown precise date) "59".

-Car purchased from Mr. Page through dealer Jose Mayor in Puplinge, Switzerland, in May 1982.
Car was driven to Dijon, France, where it remained for a year inside a warehouse.
Car driven to Paris, consigned to transporter by surface to Long Beach, CA.
Car received in good condition, with only the hood star missing.

When received, the car got mechanical attention through various independents, eventually beginning a long-time maintenance program at Bruce Strauss Autocare in Costa Mesa, where it received proper mechanical maintenance. New tires were fitted at that time.

The car was driven to various events from 1982 through 1992, winning a few Concours here and there, always being admired for its originality.
In 1992, it received a cosmetic restoration performed by a former Mercedes-Benz club president in California, JP Guiral.
All brightwork was removed, some re-plated. Body was taken down to original red DB primer and panels aligned. Factory DB primer and lacquer paint was used to refinish. However, original paint in door openings etc. was not renewed as it was in good condition. No chassis or body ID plates were removed in this process. Interior was cleaned, wood renewed. Glass was left original, but rubber seals were renewed with DB material. The fuel tank was cleaned and lined with protective, anti-corrosion material.
From 1992 through 2011, the car operated properly and efficiently. Tires were renewed again in 2011 with new radials from Coker Tires, greatly improving the stability and handling.

In 2011, while returning from a Concours event, the engine "let go" but quick clutch action saved from much damage. Upon removal and disassembly, it was discovered that a rod bolt had broken, the rod end "hanging" over the undamaged crankshaft. The corresponding piston was damaged. No damage to the cylinder head.
It was also discovered that the engine had once been rebuilt, and it is likely that the rebuilder over-torqued the rod bolt, causing its failure after many years of use. The date and place of this rebuild is unknown.
The cylinder head was found to have several cracks and was completely rebuilt with new valves, valve seats and guides, after having been welded and pressure tested by engine specialists in Santa Ana. The block was hones, had no damage. The crankshaft was straight and its journals polished.
At that time, a Mercedes-Benz specialist offered an unused, un-numbered NOS long block that was sold as spare part to his DB shop in 1958. We chose to use this brand-new engine and set aside the partly repaired original engine. A 1961 "fintail", used cylinder head was purchased, and completely rebuilt with new valves, valves guides and chain tensioner.
The engine was assembled by specialist Ivan Anderson in Costa Mesa.
The gearbox was rebuilt at the same time, with new seals, bearings and shifting mechanism. The clutch actuating bearing was renewed, as well as engine mounts and all rubber hoses.
The starter and generator were rebuilt with new brushes, the commutators machined. The carburetors were cleaned by sonic process. All seals and joints were renewed.
The car has operated properly ever since, having now covered over 1500 miles of a break-in period. Oil was changed after the first 500 miles.

All systems in the car are functional at the following exceptions:
-The heater valves above the heater radiators are stiff, and penetrating oil is slowly being dispersed to free them. A set of renewed radiators come with the car, but since the heater boxes are now rare originals, I would advise against replacement as it could damage the precious survivors.
-The ignition switch (Neiman) is a bit temperamental and should some day, been rebuilt. It is unnecessary at this time.
-The battery is recent, is kept on a battery tender and rests on an acid absorbent pad. There is a kill switch fitted at the battery post.
-The air filter is recent and does not need renewing for a long time.
-A wheel cylinder (FR RT) failed in 2014 and was renewed with a new part from the Classic Center.

http://www.tsrfcars.com/toys-full_size_220s.htm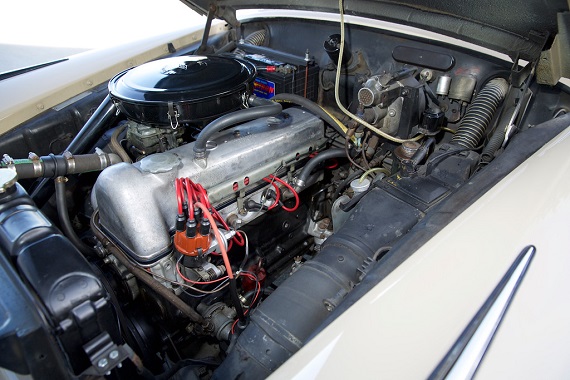 Numerically speaking, the 220S Coupe is nearly the most rare of the Ponton production. Only the later W128 220SE Coupe and Cabriolet are more rare, and then only slightly. Chassis numbers of Pontons make a seemingly endless number of specific combinations; the 220S was technically the W180II chassis, and the Coupe was the W180.037. Produced between April 1956 and September 1959, a total of 1,251 Coupes were produced – fewer than the 2,178 Cabriolet models and 55,279 sedans. Pontons could be opted as a single, two-tone or even triple color combination, further diversifying the range of models available. The color combination here of Creme and Ivory is quite subtle with a lovely red leather interior, and that interior is further set off by the Ivory steering wheel and wood trim which looks to be Palisander. Condition of this example overall is certainly towards the top of the market on what is a very rare car to find at all these days; even the Ponton-specific club records only 23 registered examples.
Cars like the Ponton are a reminder of when Mercedes-Benz was the gold standard in automobile production, when their models led the world in refinement, style and durability. Unlike today's disposable, tech-laden super-sedans, the 220Ss were heirloom-quality cars that enjoyed a pampered life. The Pontons have also been stars on the rise in the market, with the obvious 190SL leading the charge but helping to pull models like the 220S and 220SE Coupe and Cabriolet up with them. The Ponton was important not only because it represented the first post-War step for Mercedes-Benz to reestablish itself in the market, but indeed because it was a foothold for the company to once again be a world leader in design and innovation.
-Carter