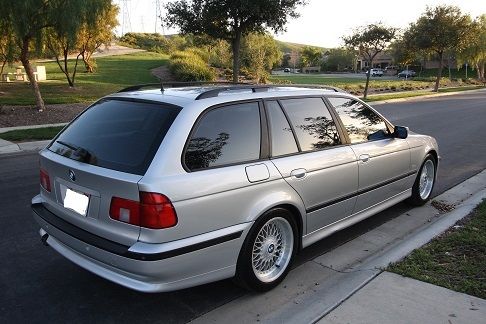 I have a bit of an interesting comparison today, and I think in many ways it's harder than it would first appear to be. If you said to most enthusiasts "Would you rather have a manual or automatic?", the collective ire of autophiles towards self-controlled cars is akin to suggestion a revision to the 2nd Amendment at a NRA rally. And outwardly, today's two E39 5-series wagons seem quite similar. But they represent two different directions for BMW and I think it will be interesting to see which foot enthusiasts land on. So, what would it be, then – a 5-speed 528i Sport Touring or a 5-speed (automatic) 540i M-Sport Touring?
Year: 2000
Model: 528i Touring
Engine: 2.8 liter inline-6
Transmission: 5-speed manual
Mileage: 125,162 mi
Price: $9,995 Buy It Now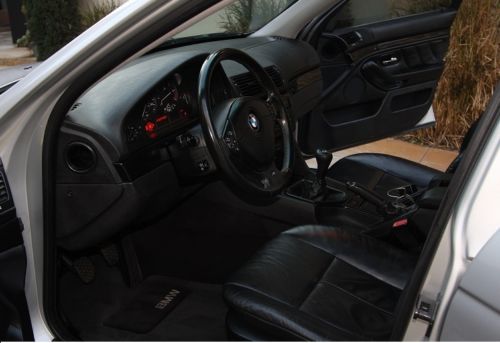 Silver on Black interior. I changed the wood trim to black This is a rare wagon in a Factory 5 speed manual transmission. There were only 740 528itm produced with manual transmission. All doors panels are original, windshield, side glass all have BMW original markings.

Options:

DSC

Self Leveling suspension

Cross spoke factory alloy wheels

Satin Chrome exterior trim

Roof Rail

Glass roof, Electric

Luggage compartment net

Interior Rr Vw Mirror W Aut Anti-d

Seat Adjust, Electr. W. Memory

Park Distance Control (PDC)

Rain Sensor

Xenon Light

M Leather Steering wheel

M5 Front Bumper

Main Battery Switch

Front Armrest

Foglights

Auto Air Conditioning

Cruise Control

I've gone through this car front to rear to make sure there are no leaks. Any parts with any sign of wear, leaks, etc…….I already replaced. I can put the car on the lift for inspection as well. A lot of mechanical work was done recently to bring this car in excellent shape.

Following items were changed recently:

* LUK Clutch Kit

* Transmission seals replaced

* In-tank fuel pump assy.

* Throttle Housing

* New Ventilation valve and Hose

* New Breather hoses

* In-line fuel filter

* Recent fluid service, engine oil, trans. fluid, diff. fluid

* Replaced oil pan gasket

* Replaced new rear main seal
For whatever reason, though they shouldn't the Style 5 wheels are so perfectly fitting of the E39 shape and really help to set it apart. The photos aren't great on this particular car but it appears to be overall quite clean. The trim swap to all-black could be reversed with some work, but overall the car is remarkably original and clean. Mileage isn't outrageous, but there is an undisclosed title issue. Then there's the pricing; current Kelly Blue Book on this car is $2,500. Not that KBB is the be-all, end-all, but for nearly $10,000 you can get a much newer BMW Touring so you'd have to specifically want this package to pay the premium.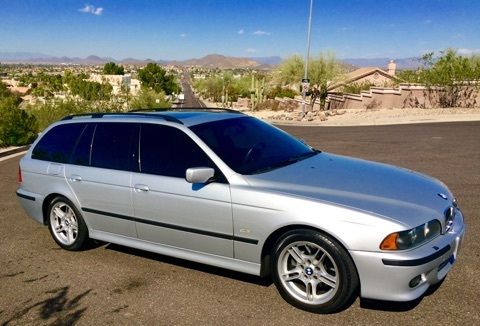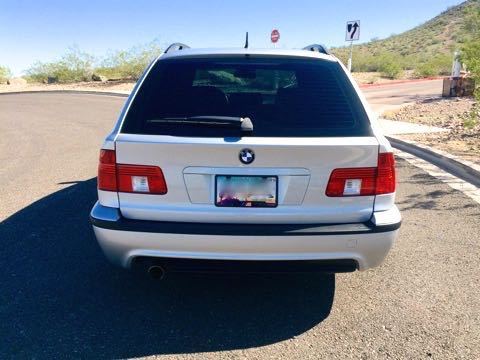 Year: 2003
Model: 540i Touring
Engine: 4.4 liter V8
Transmission: 5-speed automatic
Mileage: 93,000 mi
Price: $16,800 Buy It Now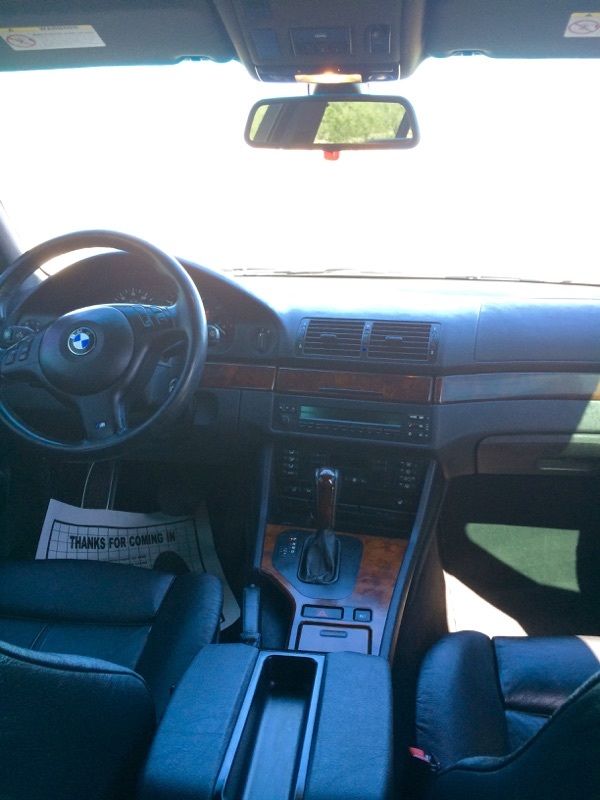 RARE 2003 BMW 540IT WAGON
M-TECH E39
AUTOMATIC

COLOR: SILVER WITH BLACK LEATHER INTERIOR

V8 ENGINE

4 DOOR WAGON

93,000 MILES

ALL STOCK/FACTORY M-PACKAGE

Steptronic Transmission – Full auto mode, sport mode and also full manual mode where you can shift through all 5 gears as you wish
High-Stall Torque Converter – This means the engine can spin faster, use more gas and thus make more power when starting off
3.15 : 1 performance rear axle ratio. This means the car is always in a lower gear than the standard 2.82 : 1 ratio on standard 540i models. This way you always get more torque at the rear wheels which means more thrust which means more acceleration
M-Sport Aero Kit – Same body kit as on the M5, including front and rear bumpers and side skirts
M Suspension II – Unique for 2003. This is stiffer springs, shocks and anti-sway bars. It also lowers the entire car by 0.8 inches. It still rides nice and comfy, and makes it stiff and nimble enough for a lot of fun anywhere you drive.
Black Roofliner – Unique for 2003. Instead of gray, the whole roofliner is black. Kind of a Darth Vader look. Very cool.
M Footrest – Unique for 2003. This is a place to rest your left foot while you drive.
M Sport Steering Wheel – This is the excellent thick leather steering wheel with perfectly positioned finger controls for the radio, CD player and cruise control. It's a masterpiece of ergonomics.
M Sport Door Sills
High Gloss Shadowline Trim – This is black chrome around the windows instead of the usual silver
M-Sport Parallel Spoke Style 37 Forged Alloy Wheels, raised surface polished. 9 x 18 rear, 8 x 18 front. Unique for 2003
12-Way Power Memory Sports Seats

Xenon Headlights – Super bright
Full Aluminum Front and Rear Suspension – A first in the automotive world, this reduces unsprung weight to improve both handling and ride quality at the same time.
Intensive Headlight and Windshield Cleaning System.
Heated Windshield Washer Jets
Rain Sensing Wipers
Auto-Dimming Inside and Left Outer Rear View Mirrors
Heated Dual Outside Rear View Mirrors – No problems with fogging or icing!
Full Remote Keyless entry lock/unlock with alarm and Interior Motion Detector Alarm
Ram-Air Front Brake Cooling
Triple Zone Fully Automatic Climate Control
Four Fully Automatic Magic Power Windows -Just tap one or all the window switches and the windows open or close completely with no need to hold the button. Every window front and back has this
Fully Automatic Magic Power Glass Moonroof -Just tap the switch all the way and the roof opens or closes completely
All-Open and All-Closed Convenience Modes – Hold down the OPEN button on the remote and all four windows and sunroof open completely
In-Dash Radio and CD player
Universal Garage Door Opener
Power Front Memory Seats, Outside Mirrors and Steering Wheel

CALL OR TEXT 602-725-3845 IF YOU HAVE ANY QUESTIONS PRIOR TO PURCHASING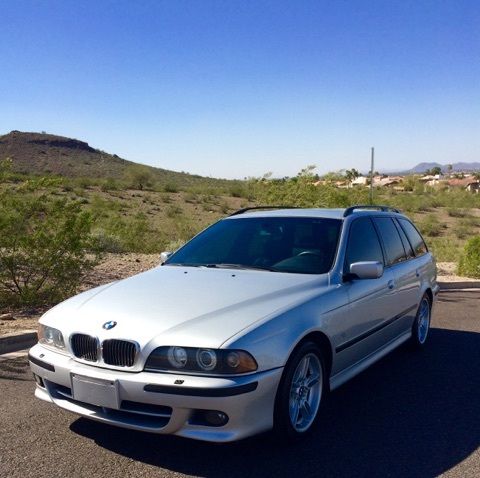 So what does adding a M badge do? Well, the base 540i ups the fun quotient by nearly 100 horsepower over the 528i, and the parting piece of the E39 was the M-Sport package which added mostly appearance items. However, opting for the "540i" option on the check sheet at U.S. dealers precluded you being able to select a manual option. Again, condition is above average and mileage is well below average. The photos also again aren't great, but the description is a bit more detailed about what makes the '03 special. Now, the 540i traditionally carries a bit more weight in the used car market, and this being the last of the special models makes it desirable. However, the best part of $17,000 asking price is a full $10,000 more than KBB value.
The argument against KBB values is that they don't factory rarity or desirability into the equation; indeed, when I bought my M3 this was the case, as I paid well over market value for "the one". The question for you enthusiasts is whether either of these cars is that particularly special example?
-Carter