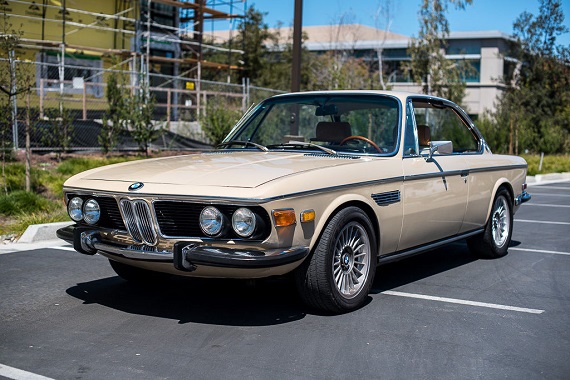 In the movie Eight Mile, Eminem's character was engaged in a rap battle. Stick with me, this is going somewhere. Challenge after challenge fell to Eminem's funny yet cutting commentary in response to attacks on his character and upbringing, but when it came to the final he had to go first. There was an awkward pause where it seemed as though he'd choke, but then in a brilliant stroke of cunning, Eminem launched a barrage of insults – on himself. By taking away the enemy's typical weapon, there was no response but to accept that he was just a great rapper. "Here, tell these people something they don't know about me" Eminem taunts as he hands the mic to his opponent.
So, let's discuss the 3,200 lb elephant in the room. Being an E9, this 2800CS has had rust. It also has a branded title, thanks to an accident in its history at a time when the value of these cars was fairly low. But do you know what? The previous owner and the seller combined efforts to keep this beautiful classic going. It's been upgraded and attended to, and while it still has needs it is far from a project to run away from. This is drawn into sharper contrast as its replacement, the E24, has been steadily gaining value. Seemingly heading towards the cusp of being unaffordable for many enthusiasts, the highlights of the 6 series are shared with its predecessor; shark-like nose, a beautifully low waistline that elongates the silhouette, a sweeping roofline that it just perfect in execution. In fact, with so much attention focused now on snapping up E24s before they too become unobtainium, it's the perfect time to consider this E9: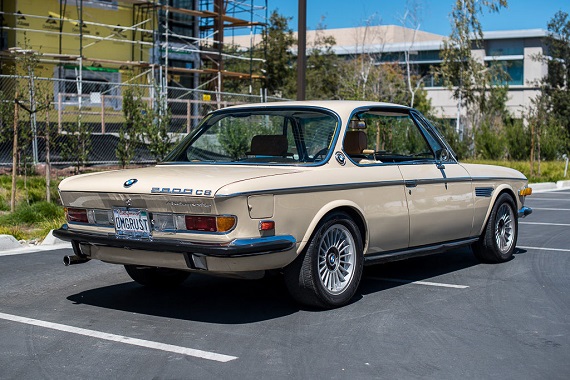 Year: 1970
Model: 2800CS
Engine: 2.8 liter inline-6
Transmission: 5-speed manual
Mileage: 183,000 mi
Price: $33,000 Buy It Now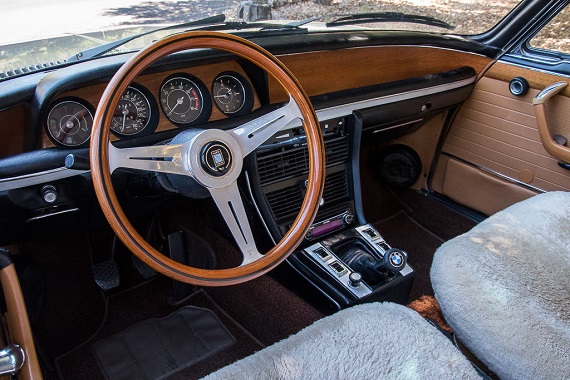 My step fathers health has taken a turn for the worse, and I'm going to be taking some time away from work to help take care of him. While I'm sad to do this after riding the high from Monterey Car Week, it looks like it might be time to sell the Coupe to fund my time away from my job so I can help my family out. Overview: Sahara Beige 1970 E9 2800CS over tan leather. Car was spec'ed with leather, AC, no sunroof. Originally built with an automatic, it currently has a 5 speed manual installed. 183,xxx miles on the rolled over odometer. Car is a fantastic Coupe, and I've owned her for close to three years now. Some projects aren't completed, since I wasn't planning on ever selling it, and I'll detail those below. Notable upgrades: Getrag 265CR dogleg 5 speed Rebuilt Weber 32/36 downdrafts '83 head with manual fuel pump Schrick 300* cam Walloth & Nesch header back stainless steel exhaust Nardi Wheel Aluminum radiator, 9 blade cooling fan, E12 fan shroud, viscous fan clutch CN Lowering springs, what looks like Bilstein HD's, adjustable rear sway bar Alpina Replicas Pertronix Exterior Condition: I'd rank it a solid 8/10, and call it a nice 10 footer. It has a few obvious flaws, but you need to get close to see some of the small issues. Brightwork has some pitting and swirls in spots. Few stress cracks in turn signal lenses. The car was repainted in OEM Sahara back in the 90's, and you can see some issues in the prep work around the passenger side C pillar where the paint deteriorated. Some bubbles on the passenger side front fender. There is a small dent on the hood, and a few dings in the kidney grill. It's a head turner at Cars and Coffee, and I was proud to show it at Legends of the Autobahn. Interior Condition: 8/10 like the exterior. Clock works (makes the lovely fart thunk noise). Door cards in good shape. Dash wood is nice, and the door wood is mostly there with light delamination on the drivers side. All windows work. Original carpets that are in good shape across the entire car. Rear seats were reupholstered back in the 90's and present well. Sadly though, they were reupholstered in cow leather, and the color doesn't quite match the front original pig skins. Aftermarket radio with aux in wired into the glovebox. Dash top is in great shape and crack free. Mechanical Condition: Strong driver. Runs to redline without hesitation or surging, starts and runs when dead cold. Gearbox shifts fine, and is running Royal Purple Synchromax. Does 2-3 hour drives without issue, and aside from a dead ignition switch that I replaced, I've had no surprises with it. 183k on the block, 90k on the head, unknown on the gearbox. Clutch take up is near the top, but grabs hard and doesn't slip. Fixes since I've had it: Cooling system Rear windows, and drivers side front window (passenger is the last one on the list) Exhaust Valve adjustment Alignment Removed hokey 1990's alarm out of wiring harness Ignition switch New battery Media blasted and painted the air filter housing Carb rebuild Rust abatement in the trunk Fuel pump Valve cover gasket Some suspension bushings but not all Current Needs/Quirks: Fenders need to be rolled after I lowered it. Rubs on hard cornering or really sharp bumps Timing chain gasket needs to be replaced Small coolant leak off the front Weber DGAV. Drops a little coolant on the block and you can smell it cooking off after you restart Front carb needs a new anti diesel solenoid Coolant temp gauge has a flicker when needle sits at 3 O'clock. A finger tap puts it back in it's normal position. Issue comes and goes, but it's verified issue with gauge; car does NOT run hot Could stand a set of tires depending on how much you drive. I was expecting to replace them in summer 2017 Rear windows stick every now and again in full open or closed position. Need to replace the rubber stoppers that set the limits. A bump of the white gear gets them moving again with ease AC inop. Needs a compressor and drier. I'm in NorCal so this hasn't been that big of a priority to me Rust: Worst I found on the car when I bought it was in the spare tire well. I wire brushed it down to bare metal, and POR15'ed it with the intent of cutting it out and welding in a W&N replacement panel. Haven't gotten around to it Drivers side front fender has some rust in the rain channel. Oddly enough, it's coming from the top down, not the inside out like usual. I hit it with a dowel to see if it went through to the inside of the fender, and it didn't Passenger side front fender has light surface rust in the rain channel Underside of the fender tops looked solid when I had the springs out when I lowered it Few bubbles on the passenger side front fender Solid floors Solid firewall I had the elephant skin off the rear shock towers when I first got it (and broke them slightly as you'll see), and I didn't see any rust on the rear towers. From under the car, I didn't see any rust inside the rear towers Didn't notice any rocker rust As always, I recommend a PPI. SFDon has seen my car before, and helped me with the cooling system, and he's local to me. PPI at buyers expense. Car was involved in a light fender bender back in the early 90's. It pushed the drivers side headlight bucket in slightly, and the car had the fender off to fix it. Due to the cost of removing a welded in fender against the Coupes value in the 90's, it now holds a CA Salvage title. I'm usually scared of branded titles since they're automotive herpes, but after having the car on a rack to see it, I was ok with it. That same hit today would be repaired without branding the title since the cost of the repair vs the value of the car now is not close at all.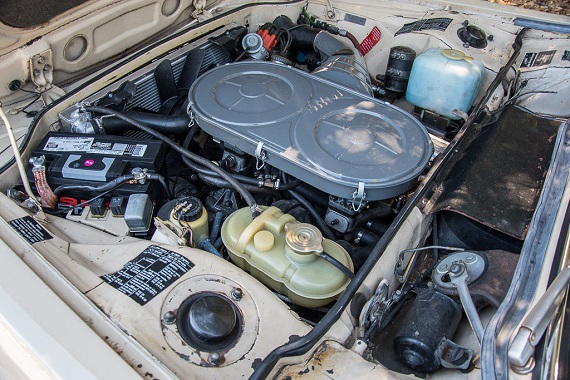 I love the full disclosure, no apologies needed listing. I love more the custom "OMGRUST" license plate. With quite a few engine, suspension and drivetrain upgrades matched by great looking Alpina-style wheels, this 2800CS looks a fair amount more aggressive than your typical big coupe. Yet it retains the class and style that made the E9 so distinctive, with plenty of brightwork and wood accents highlighted by that awesome Nardi wheel. I've always been particularly fond of the C-pillar mounting of the Roundel, too. There are projects still to complete but as a driver and occasional show car this looks like an great option. You'll turn heads while generating smiles, replete with the satisfaction that one that otherwise might have been relegated to the crusher was saved and still looks spectacular.
-Carter