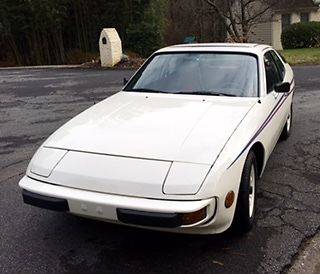 In 1976, Porsche won the World Sportscar Championship for makes with successful runs in both the 935 and prototype 936 chassis. The 936 was triumphant at Le Mans in the already famous Martini livery, while a series of 935/76s carried the colors in Group 5 FIA sports car racing. It was there that Porsche introduced the 'slant nose' aerodynamic bodywork that became the hot mod on 911s in the 1980s; however, in the 1970s you could get a very nice slantnose Porsche – replete with Martini Racing colors – for a lot less than a 911 Turbo.
To commemorate the success of the 1976 season, in 1977 Porsche released a limited run of Martini-colored 924s. Option M426 was the Martini World Championship Edition, and it cost $450. Add in a removable roof like this one for about $350, and the sticker price of this car just passed $10,000. For that sum, Porsche gave you quite a lot of visual enhancement; bathed only in pure white, the 924's 8-spoke alloy wheels were color-matched to the body. Martini stripes ran the length of the sides, their design mimicking the wedge shape of the 924. Inside, a special two-tone interior of scarlet corduroy and black leatherette was offset with Martini stripes stitched into the upper portion of the seats and blue piping ran throughtout. A commemorative plaque was added to the back of the center console, too, reminding you that the car you were driving was from the house of a champion. You held a real leather steering wheel, and helping execute your commands was achieved by Porsche adding sway bars to the suspension both front and rear. It was a series of small changes that resulted in a neat package, and one that is sought by collectors of the transaxle design today: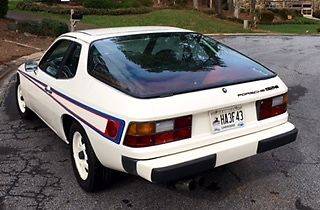 Year: 1977
Model: 924
Engine: 2.0 liter inline-4
Transmission: 4-speed manual
Mileage: 60,000 mi
Price: $11,500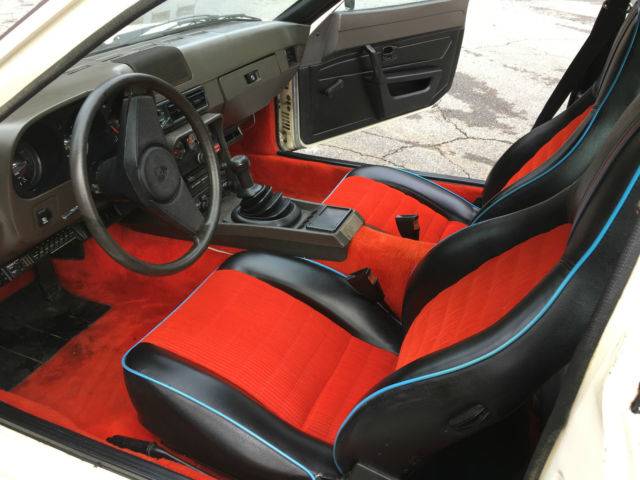 Location: Roswell, Georgia, 30075
VIN #: 9247210880
Mileage: 60000
Transmission: Manual
Condition: Excellent
Exterior: White
Interior: Red and Black

Seller's Description:

The Martini & Rossi Limited Edition was built in 1977 to celebrate that company's sponsorship of Porsche's 1976 World Sports Car Championship, as noted by each cars console-mounted commemorative plaque.

The vehicle has been in storage most of the last 20 years and has recently undergone over $3000 in mechanical work.
It has new paint and decals and new interior. It runs, drives and stops very well.

Price: $11,500 obo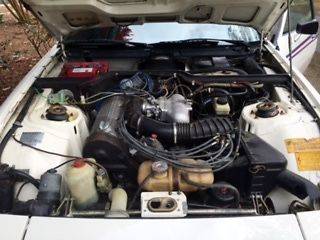 While this car is not a preservation-style presentation, the condition throughout is impressive. Find other examples, and you'll quickly see the special corduroy interior is often tattered and in shreds; the decals missing or augmented, the carpets faded and the exterior less than sparkling. Such is not the case with this example, which admittedly has had cosmetic work. The application of new paint and decals looks to be on par with the originals, while the freshened interior solves the often deteriorating seat experience. Neither the exterior nor interior freshening are inexpensive undertakings, so having them completed is a boon to perspective buyers. So, too, is the mechanical freshening. These original 2.0 924s aren't the fastest car on the block, but performance is on par with contemporary designs. Buying a lesser example and attempted to replicate the condition here would be a losing proposition in value.
Look, there's no getting over that this was a "parts bin" car with plenty of DNA borrowed from corporate partners Volkswagen and Audi. However, move beyond the argument that 'it's not worthy of the crest', and it's a pretty design that is both cheap to run and get into, along with reasonable practicality. It's an interesting alternative to the Audi 100 Coupe S and Volkswagen Scirocco, with which is shares some components. Today, you can't buy equivalent examples in this condition of either of those designs for the same asking price here. While that may not alone be a compelling reason to buy a limited edition 924, it does point towards the relative value and collectability of the design.
-Carter