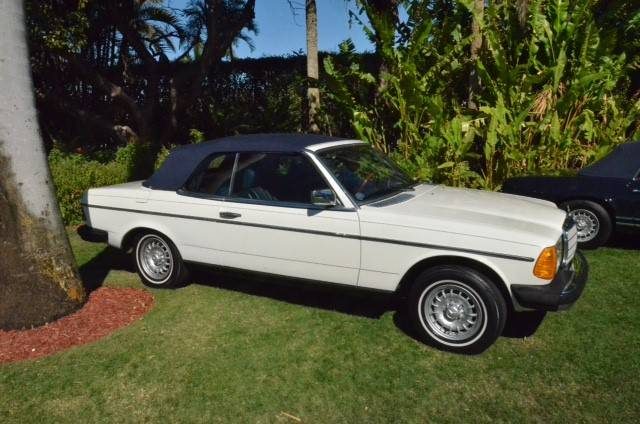 Back in the 1980s when the world was running rampant with small tuning and coach building companies, we were subject to creations like today's car. This a 1982 Mercedes-Benz 300CD … cabriolet. Yes, someone took a perfectly fine 300CD and chopped the roof off to fully expose you to the wonderful feel and aroma of diesel exhaust. But it was the 1980s and the money was never-ending, so doing things like this made sense at the time. Now that reality has hit us square in the face in 2017 and keeps on punching, we are still left to live with creations like this. Of course with something like this oddity, I have so many questions I can only try my best to explain – poorly.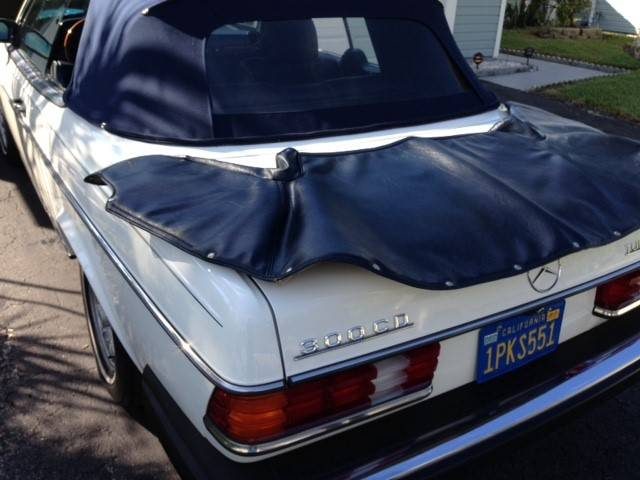 Year: 1982
Model: 300CD Cabriolet
Engine: 3.0 liter inline-5
Transmission: 4-speed automatic
Mileage: 80,235 mi
Price: $80,000
1982 Mercedes-Benz 300TD Cabrio, RARE RARE (One of Five produced) I am 2nd owner / all Books/Records / Boca/Palm Beach (35 year History), Full Navy Leather w/Power top & COLD A/C / 35 mpg / $80k obo/trade. John, 561-818-1900, FL; biondo-palmbeach.com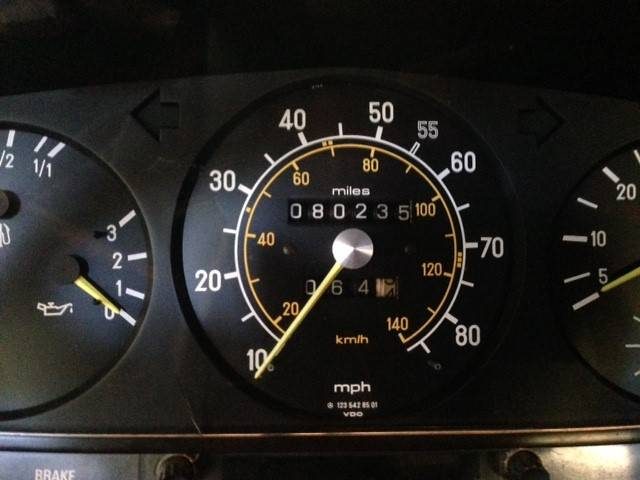 The condition of the 300CD is actually pretty nice. Looks to be well looked after with no major visible flaws. Sure, it maybe or maybe not has a Nardi steering wheel and maybe that shift knob is a quality piece and not an eBay special. But I've seen stuff like this many times over. The white wall tires look odd even with the matching white paint as I'm a firm believer that white walls only belong on the W100 600 and even then I'm iffy on them. I just can't get over the canvas top and what went into making this happen. A bunch of coachwork houses have done these conversions but none have really stood the test of time or functioned all that well and I'd bet this one is another one of those examples.
In case you haven't noticed, the seller is asking $80,000 for this creation. Doing this quick math here, if this car was just the standard 300CD with 80,000 miles on it, I would probably value it around $7,500. Now we subtract $7,500 from the $80,000 asking price which gives us an increased value of $72,500 — for cutting the roof off and adding a canvas top. You can see how this probably doesn't make a lot of sense. Checking out this sellers website you can see he also has a taste for other fine automobiles such as the Cadillac Allante, Chrysler LeBaron Convertible and of course the legendary Chrysler TC by Maserati. This hacked up W123 must feel right at home with all those other convertibles with poorly fitting canvas tops. I understand this asking price, the seller sees terms like "rare Mercedes", "one of (whatever)" and "cabriolet" then a bunch of crazy things happen in his brain and out pops the number $80,000. I actually feel kind of bad for the guy in a way because he clearly has no idea what he is doing. Then again, he is living out his golden years in Florida with a picture of him and Jay Leno from 1999 on his website so things probably aren't all that bad. I just hope the rest of his retirement isn't tied up in this car.
– Andrew