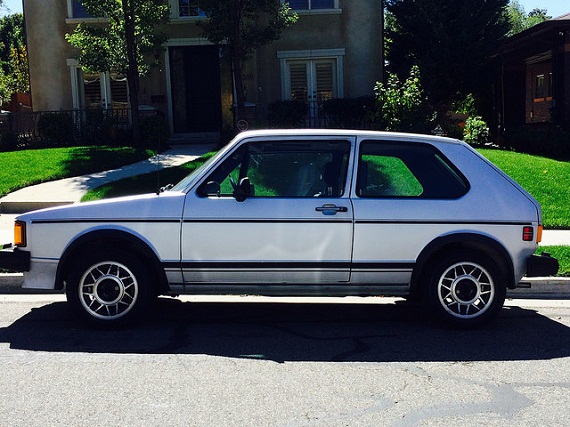 You may remember this great looking, original and rare color combination GTi from last week. Although the car sold, the buyer failed to come through, so you get a second chance to pick up this awesome timepiece of history. Opportunities to own what many consider legendary cars don't come along often, and usually aren't very cheap – but these original GTis if left unmolested and in good shape like this one are near certain to appreciate over the coming years and offer you the chance to drive one of the best regarded cars ever made without breaking the bank. This car has some unbelievable records including a handwritten log from the first day of ownership by the original owner, and outside of the replaced windshield and gas cap, and a few mechanical parts is 100% OEM. This is a truly impressive survivor, and the seller has extensive shots that document the condition both above and below the car.
You can contact the seller if you're interested directly at jimmyzslc@yahoo.com.
Click Here For Additional GTI Photos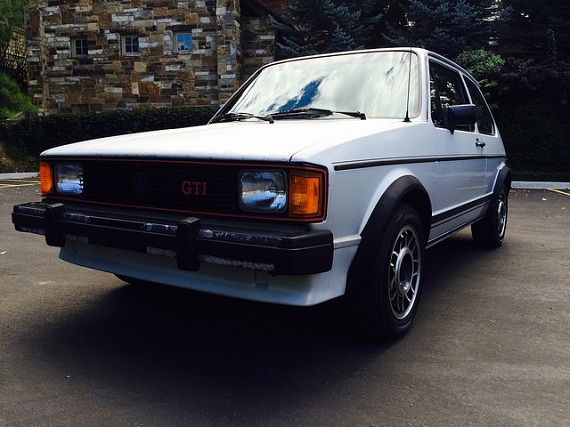 Isn't it amazing how far cars have come? Just yesterday, I was walking with my wife and we were talking about the cost of living today versus when our parents were our age. Certain things are significantly more expensive proportionate to what income was then; housing, for example, and utilities are – at least where we live – much more expensive than when our parents were young. In the early 1980s, the housing market was such that an average amount of money today would have bought you a real mansion – or in some cases, you could have easily owned two or three houses for the same amount as a not particularly extravagant home today. But then you turn to computers, phones, and music technology – remember the CD collection that you used to have? Or perhaps it's taking up shelf space or boxes in the attic while you walk around with all of the music you can ever listen to on a device that's smaller than your hand and cost only about a fifth of what a CD player cost new. But technology hasn't just improved our musical library – technology has made cars safer, faster, and more luxurious – but amazingly, not more expensive. Sure, the dollar figures are higher and it's worth a laugh looking at the original sticker price of this GTi; a paltry $10,300 in 1984. You can't even buy a new car for that amount today! Of course, factor in inflation, though, and that $10,300 roughly equates to the best part of $24,000. Guess how much a base GTi costs today? I'll save you some time….$24,395 gets you a base GTi. But base doesn't mean what it used to – the "base" model comes with a 210 horsepower turbocharged inline-4, LED foglights, 18″ wheels, iPod connectivity, a touch screen radio, trip computer, and heated front seats – not to mention that things like power windows, air condition and power steering are all standard items now. Sure, as enthusiasts we can decry the nanny-state decreasing our connection with driving through technology and isolation, but ultimately the new GTi is just better at being a car than the original GTi was. It's faster, turns better, stops better, is more comfortable, can carry more, gets better fuel mileage and is safer. Technology has helped this all occur with no real change in price, amazingly. Yet, we still look longingly at those old GTis, nostalgic for the days that you could toss a car around at 10/10ths without really even breaking laws: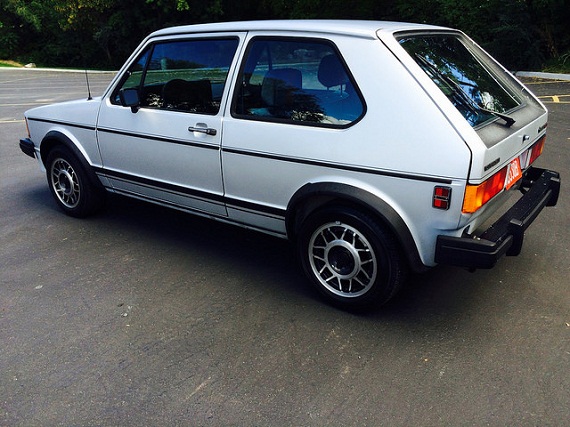 Year: 1984
Model: GTi
Engine: 1.8 liter inline-4
Transmission: 5-speed manual
Mileage: 104,500 mi
Price: $6,500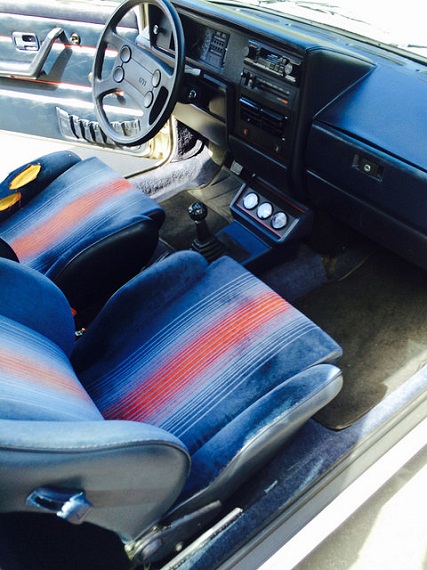 Purchased right here on eBay Motors just last month. Brought from CO to UT (mountain deserts), addressed a couple of mechanical items that needed attention and am listing it without reserve for sale now.

Not a flipper, I just have a bad case of auto ADHD & am onto something else. You can read the details from the original owner's listing in (blue type) below this list of recent fixes;

Recharged AC
Replaced Shifter Bushings
Replaced Wheel Bearings
Replaced Water Pump
Tightened Motor Mount
Replaced Thermoswitch
Replaced Head to Heater Core Hose
Cleaned Fuel System

From the previous/original owner:

I'm the original owner of this 1984 VW Rabbit GTI. I purchased it at Lakewood Motors in Lakewood California in November of 1983 and moved it to Estes Park, Colorado in 1991 where it has been since. The dry climate in Colorado has been a good thing from a standpoint of minimizing rust, but the intense sunlight has taken a toll on the paint. Its low miles can be attributed to the fact that it has been driven sparingly since the early 2000's.

It runs and drives great, but it could really use a paint job as it is down to mostly primer in a number of areas. The body is structurally sound and the panels are straight other than a few minor door dings. The interior is in very good shape with the exception of the left bolster of the driver's seat which has a few tears in the upholstery. The car has never been smoked in. All gauges are working. It has factory A/C, but it no longer blows cold air. I'm not exactly sure what repairs would be necessary to bring the A/C back to life.

I have done most of the maintenance work on this car myself and have kept a maintenance log from day 1. Here are some of the highlights.

Within the last 100 miles: new battery, new fuel filter, brake fluid flushed and replaced, new upper and lower radiator hoses and coolant, oil and filter change, and new front and rear wheel bearings. The timing belt and water pump were replaced at 60,568 miles and the spark plugs, front brake pads, and oxygen sensor were replaced at 97,600 miles.

This is a solid car and a rare example of the original "hot hatch" in stock condition.

Terms of Sale: 30 year old vehicle being sold AS-IS:

I have described the car honestly and to the best of my ability based on having owned it since new. I believe it to be in good mechanical condition. However, it is 30 years old so routine service and repairs should be expected based on its age. I welcome showing my GTI in person during the auction if you are not comfortable bidding on it sight unseen.

A $500 deposit via PayPal is due within 24 hours of the auction ending. The remaining balance is due within 14 calendar days. Pick-up or shipping is the responsibility of the buyer. Due to personal travel, the car will not be available for pick-up on August 19th or 20th. The winner will need to contact me when the auction ends to arrange the date.

If you have negative eBay history or an eBay transaction score of less than 10, please contact me to verify your genuine interest so that I can accept your bids. I reserve the right to cancel bids at any point under these circumstances.

I reserve the right to end my auction early in the event I accept an offer and the car becomes no longer available.

Thanks for your time, Keith.

There you have it. Please find many more pictures available at http://www.winkflash.com/PHOTO/signin_es.aspx?esf=liyvn1cigsm5rqdq52cngqtpe3pz2g and please recognize that I've had the car fully inspected, it is everything and more than the original owner had described. It is an absolute blast to drive & very tossable. I have put just over 300 miles on it since receiving it and it's been a fun experience taking me back to my youth and introduction to the original "Hot Hatch." I offered to auction on a BaT listing, sadly – they didn't want another Mk1 so soon after this one & the last one (white), so here it is. Yet they have an 2nd gen Scirocco featured today. Hmmmm. Check out my feedback & history, you won't be disappointed. $1K Deposit in 3 days after listing expires & balance due within 1 week of expiry. I won't transport or arrange it either, but I do have some great connections for you if you need them. I also reserve the right to end early for a prior sale. Any questions, please call or text 801-580-7917. Thanks – Jim.

On Oct-03-14 at 19:00:51 PDT, seller added the following information:

Please see additional pics at flickr.com by searching for jimmyzslc@yahoo.com
Didn't realize you'd need to create an account to login & view them at winkflash.com
Will also text or gmail (in 5 shot bursts) or take any specific pics & upload &/or text email, if requested.
Thanks for letting me know about the problem 🙂

On Oct-03-14 at 19:14:37 PDT, seller added the following information:

Also have a '92 VW Corrado SLC (less than 37K original miles) – I'll upload pics of it to Flickr as well.
Not going to post another eBay listing for it, but figure anyone looking at the GTI might also have interest as well. Gave Bring A Trailer first crack (having found both of these VWs there) but they're "diversifying their listings" currently, so here it is. 🙂 Call or text with any questions, please & thank you.

On Oct-03-14 at 22:17:08 PDT, seller added the following information:

So with kind direction from a few others (I am new to Flickr), you select "People" from the "Everyone's Photos" drop down menu & search for jimmyzslc. There you can view many pictures of both cars. 🙂

On Oct-06-14 at 09:19:03 PDT, seller added the following information:

Sorry for the confusion, if you don't have an account on Flickr – here are the links to the GTI & the Corrado pics;

https://www.flickr.com/photos/127582758@N05/sets/72157648332385222/

call or text w/questions please & thank you 801-580-7917.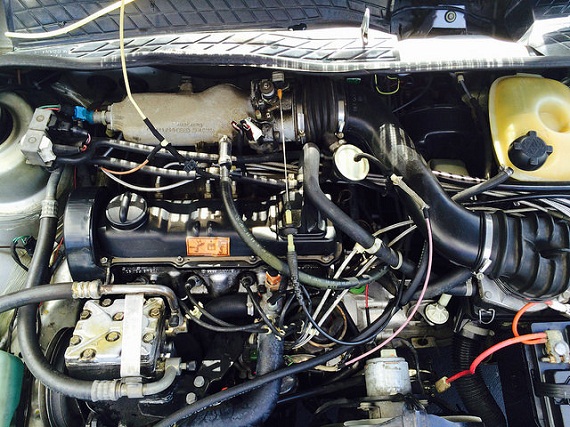 This car was originally well specified, with sunroof, air conditioning, vent windows, and Diamond Silver Metallic paint. But, just as the GTi of today, it wasn't a cheap car – this was effectively top of the line and fairly pricey in the early 1980s – especially for an economy car. Condition overall is good and original; it's not perfect, but compared to many this represents a reasonably opportunity to get into a classic Volkswagen that you could actually drive. I think, actually, that the patina is pleasing here and a reminder that these are great driver's cars, not museum pieces. There are plenty of options for upgrades to the seats, for example – I'd suggest tracking down some of the rare Helios edition GLi Recaros. But overall, this is a great little car that is looking for a new home and I hope that it remains mostly original. The records are extensive, it's a great color combination and looks awesomely original and loved, there's recent mechanical work to help keep it going for the new owner – this car certainly appears to be a solid potential investment and great driver in the meantime.
-Carter