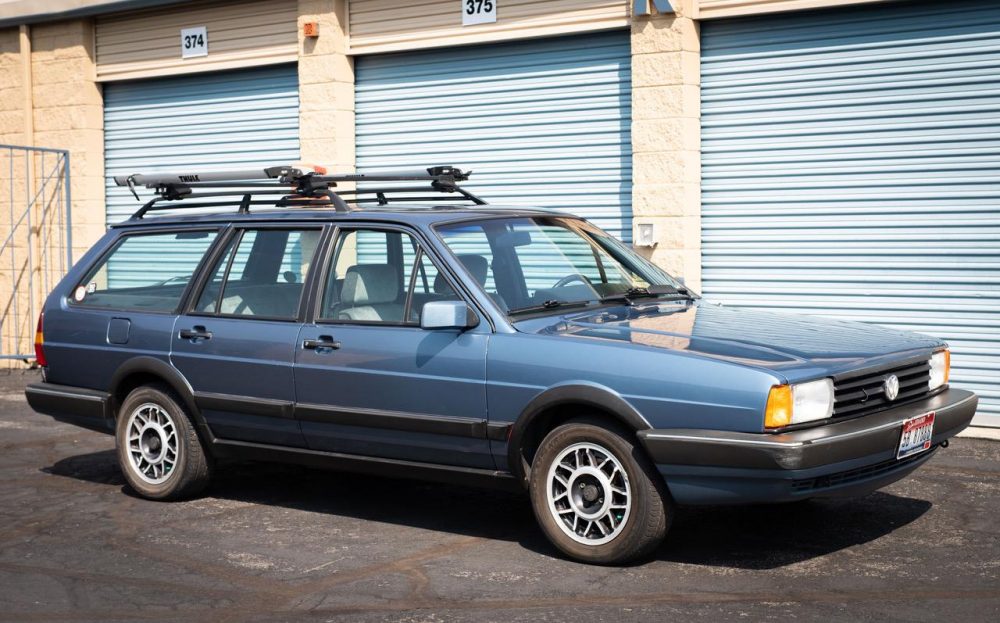 In the mid-1980s, Volkswagen aimed its market sights upwards and tried to gain more traction in a niche market by offering…well, more traction. Starting in 1986, Volkswagen partnered with Steyr-Damiler-Puch and made a unique alternative to corporate partner Audi's quattro drivetrain utilizing a viscous center differential. Puch was also responsible for design and manufacturing of the T3 Vanagon Syncro, which used a different viscous coupling system because of the rear-drive platform and nature of the Vanagon. In addition to the transmission of power forwards, the T3 also offered a rear differential lock while both center and front were viscous.
But in 1986, there was a third option. Because the Volkswagen Quantum (née Passat) shared nearly all of its internal architecture with the B2 Audis, fitment of the quattro setup from the Quattro and 4000S/CS quattro was possible – so Volkswagen did it. As there was no Audi B2 Avant, Volkswagen offered the new Quantum quattro – also badged Syncro – in Wagon form, and only in wagon form. This meant that there was no competition crossover between the 4000 quattro and Quantum Syncro in the U.S. market. The Quantum also continued to run smaller 4x100mm hubs versus the Audi, which allowed it to utilize the same "snowflake" Avus wheels borrowed from the GTI. Pricing was on par with period 4000 quattros, though – base price was $15,645, but equip the Quantum similarly to the standard 4000 with power windows, mirrors, locks and sunroof and you'd quickly crest $17,000 – about $4,000 more dear than a standard GL5. Unlike the 4000, Quantum Syncro Wagons came standard only with power steering, brakes, cruise control and air conditioning. You had to opt-in the power package to get the other items.
That made the Quantum Syncro Wagon very much more expensive than, say, a Subaru GL 4WD Wagon or the Toyota Tercel SR5 4WD Wagon. But both of those cars were part-time 4WD; in order to get a car with similar build quality and seamless drive of all wheels, you'd need to pony up a staggering $30,000 for the Audi 5000CS quattro Avant. Volkswagen only brought over 2,500 1986s, making them a rare treat to see today. But the condition which this particular 1986 appears in is staggering: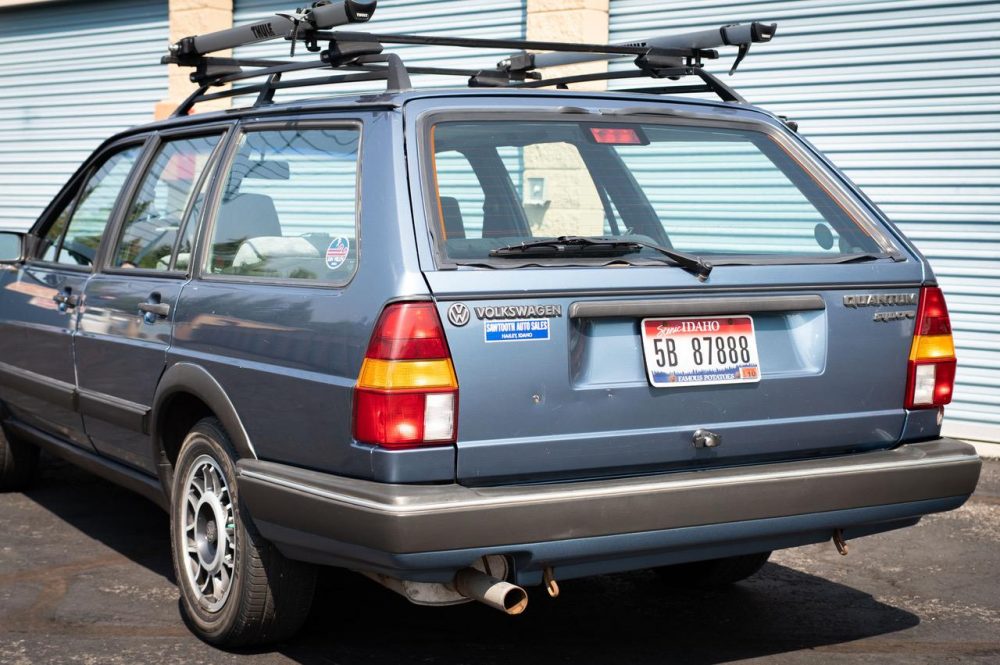 Year: 1986
Model: Quantum GL Syncro Wagon
Engine: 2.2 liter inline-5
Transmission: 5-speed manual
Mileage: 43,000 mi
Price: $6,500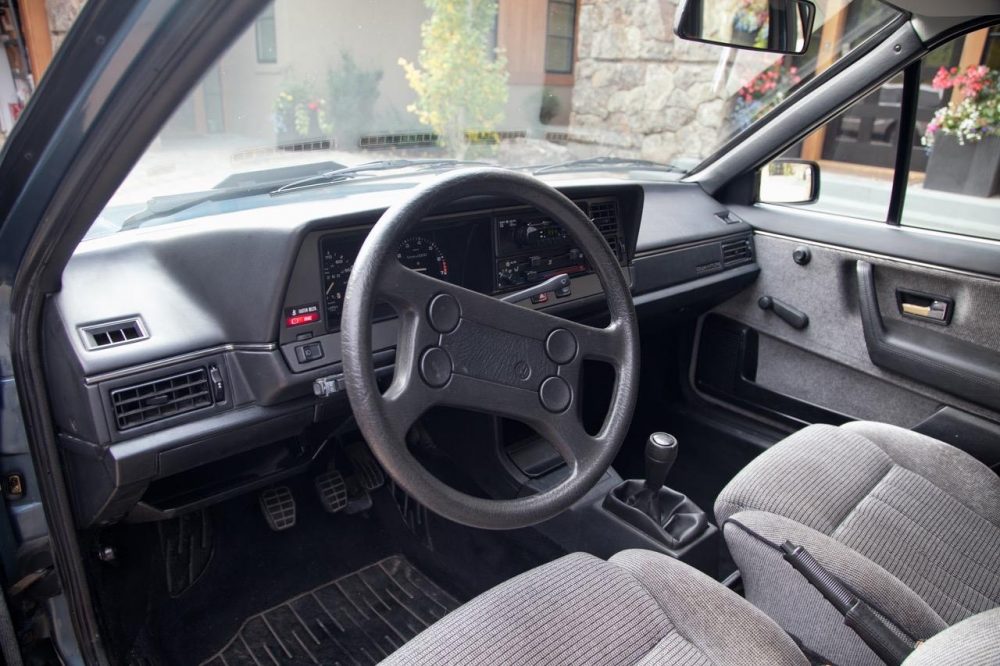 43,000 Miles. All-wheel drive. Manual transmission. Locking differentials. Adult owned and always garaged with all service records. Runs excellently and is unstoppable in the snow. It's in decent shape (was owned by an older woman for the first 27 years of its life – she ran into things periodically) and I purchased it in 2011 w/ 16,800 miles on it. I drive it periodically, runs great. Has a few things wrong with it. Unfortunately I hit a pronghorn antelope on the front right side a couple years back so it has been repaired. It's always been garaged and it has lived its whole life in Sun Valley, Idaho. No major mechanical issues and I've had it regularly serviced. The original radio does not work but is still in the dash. And the cruise control does not work. One more thing – there is a slow electrical drain that must have existed for some time because the previous owner had a battery kill switch installed on the motor – maybe that is just for storage. I have a 3 year old now and it is time to move on to a bigger car.

$6,500 or best. Contact Josh at 801-560-1918.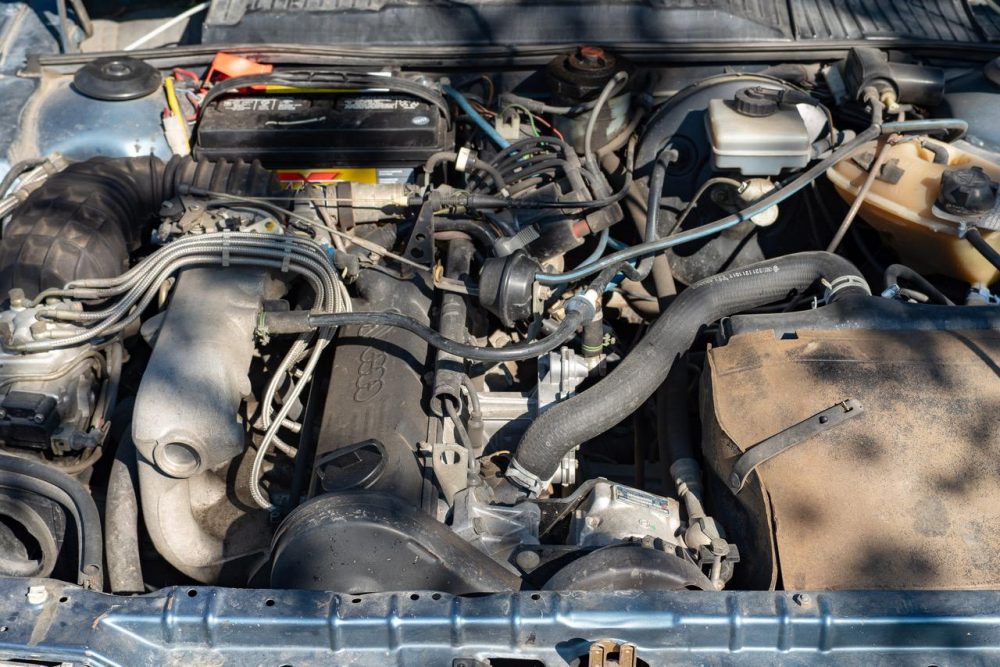 Presented in the wonderfully signature Biscaya Blue Metallic LA5Z, this car really shines from its low mileage, garaged lifestyle like few others. Truth told, I can't remember ever seeing a Quantum Syncro Wagon in this condition as far back as I've owned Audis – and that takes me all the way back to 1995. Even in 1995, this car would have been pretty impressive, with less than 5,000 miles per a year accrued at that point. Today, it's almost unthinkable. The only way you ever really hear about these cars today is when they appear as junkyard trivia articles, which is unfortunate as they deserve so much more. Not only were the Audi underpinnings stout, but the Quantum occupied the unique niche of the only B2 available in wagon form. Not even the crazy Walther Treser tried to make one.
Some 32 years later, this time piece is not without its faults; small dents and some non-functional equipment keeps this from being a museum-ready piece. But the seller offers a thorough photo gallery which shows the solid condition of this car. A broken radio can be overcome much more easily than a rusty chassis, and the look underneath this car reveals solid infrastructure. Although it was opted with the upgraded color, the original owner did not sport for the power package, so this Quantum has manual mirrors and windows – probably not a horrible thing at this point.
With only 115 horsepower on tap from the Audi-spec 2.2 JT inline-5, this car won't set the world ablaze with its speed. But pull up to a show and you'll certainly stir the crowd who will gather to gawk at this unlikely but worthy survivor.
-Carter