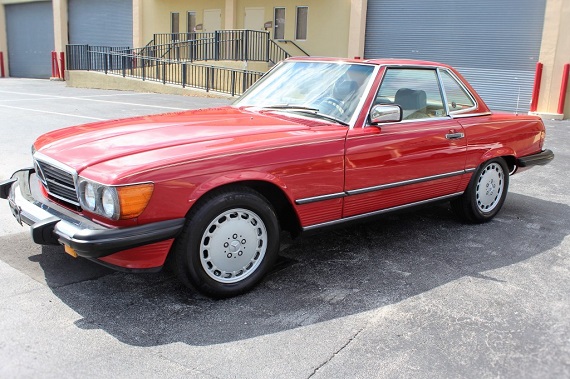 For a few years in the late 1970s, two seeming decapitated dinosaurs roamed the roads of America, the last of a dying breed in the great Convertible Ice Age. First was the now ancient Beetle cabriolet, designed originally in the 1930s and relatively unchanged until production ceased – sort of – in 1980. Your other option if you wanted top-down motoring in the U.S. was the Mercedes-Benz SL, but while it made the Beetle look like a horse-drawn cart, in reality it wasn't a particularly sporty car at that time. American manufacturers had withdrawn from the market in 1977, and the still relatively small companies of BMW, Audi and Porsche had only tin tops. If you wanted a luxury convertible in 1977, the Mercedes-Benz R107 was your option.
Then the 1980s happened, and suddenly the gas crisis, economic stagnation and concerns over sun exposure suddenly ended. People who liked convertibles were no longer viewed as social pariah with a death wish, and the SL shined as a perfect example of success and excess. Like most V8s from the late 1970s and early 1980s, the SL's V8 had suffered from environmental restraints which resulted in the 380SL. With a mere 155 horsepower on offer from its engine, the 380SL was hardly the match for its near 3,500 lb. curb weight. That was finally rectified in 1986 with the introduction of the much upgraded 560SL. Now the M117 delivered the power that the prestige of the SL demanded; it gained 72 horsepower and nearly 100 lb.ft. of torque, and gave the model a new lease on life. While the R107's production cycle lifetime doesn't scare the likes of the Beetle's 50 years, in a marque with the storied history of Mercedes-Benz it is the second longest produced model. That alone should lend some credibility to its staying power, and today these models have finally gained the respect they deserve: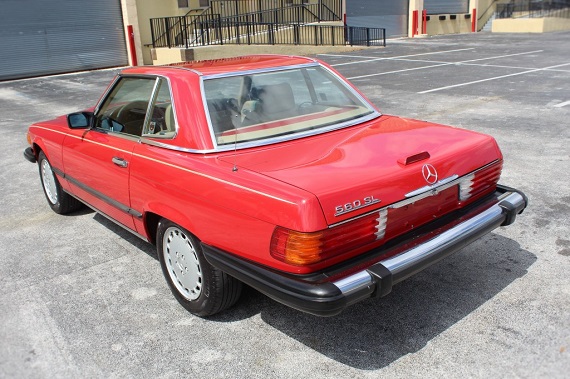 Year: 1988
Model: 560SL
Engine: 5.6 liter V8
Transmission: 4-speed automatic
Mileage: 47,741 mi
Price: $24,995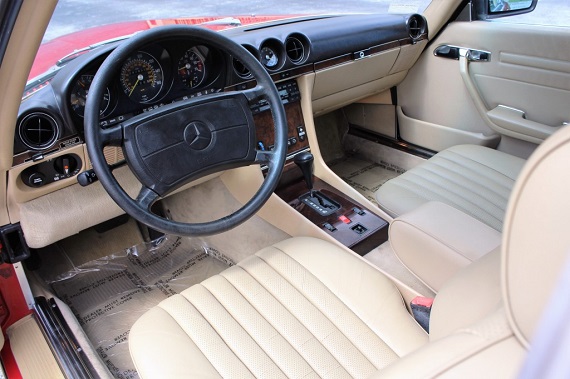 Vin:WDBBA48D9JA081353

1988 Mercedes-Benz SL Class 560SL in Signal Red with Cream Interior

The 560SL was the last of the R107 chassis models, a model run that lasted 18 years, offering essentially bullet proof reliability, German quality, satisfying power and aggressive looks.

We hereby offer a one owner, collector grade car that has traveled only 48K miles since 1988. Finished in desirable Signal Red (568) with Crème beige (275) leather. The car is 100% original, no accidents, no rust anywhere and no paintwork anywhere. Exterior shows very well for its age with minor rock chips in the front section and minor blemishes on the original wheels. Interior is in excellent condition with little wear and healthy leather all around. Mechanically the car runs great with no fluid leaks of any kind and stops on the dime, AC blows ice cold and all other electronics are in working order. Car is sold with the original tool kit, jack, spare, first aid kit, owners manuals, original window sticker, 3 keys and both the soft and hard top which are in perfect condition. After many years of being stored and limited use it is now ready to take on the road for a new owner…

Please inquire we can assist with export to Germany.

Vehicle Highlights:
-100% Original
– No Paint Work Anywhere
– All Electronics and Features work correctly
– Soft Top and Hard Top In Excellent Condition
-A/C is ice cold

TRADES WELCOMED

For Additional Pictures and Information Please Visit our Website
Auto Source Group
305-477-2425
www.autsourcegroup.net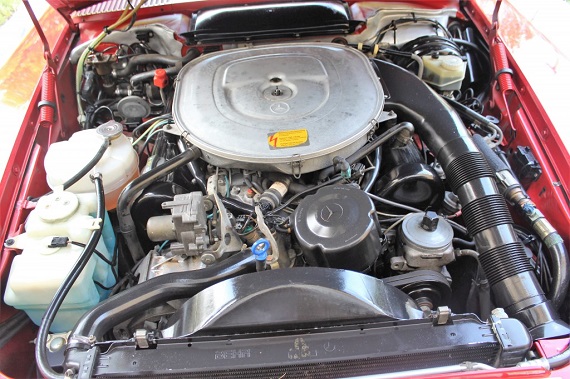 While typically the 1980s Mercedes purview is more restrained colors, the Signal Red worn by this 1988 seems absolutely at home and perfect for a late SL. It's offset excellently by the light cream interior which shows perfectly against the wood. It is such a contrast to view this car against some of its competitors, such as the BMW 3-series; while Spartan inside, the true luxurious nature of these cars justify their premium over some competitors. Condition throughout looks to be very good, and very nice examples of these R107s have shot up in value over the past few years, with the 560SL really leading the charge. Still, in relation to the W113 and certainly is a strong juxtaposition to the newer SLs, a beautiful and classic 560SL like this can offer an experience second only to cars many times its value.
-Carter