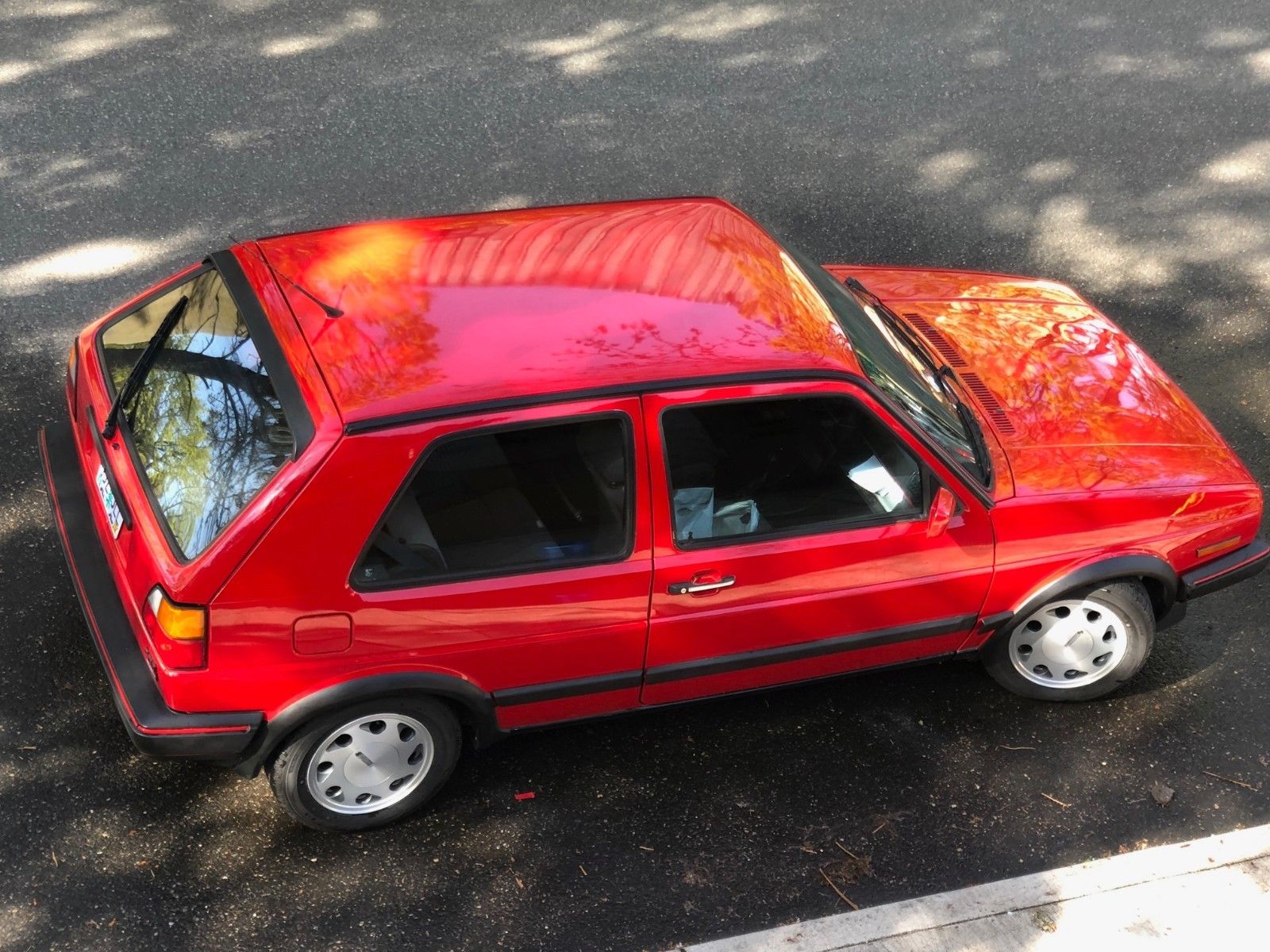 Update 11/26/18: After selling as a Feature Listing back in April, the new owner of this GTI 16V has had second thoughts and listed it in a reserve auction. It doesn't look as though there have been any changes over that time and it sold for $4,200 in the Spring. Though the seller paid a lot to transport it, I wouldn't expect the value to be much more than the last go around this time.
I was pretty excited to see the 1986 Volkswagen GTI that popped up for sale last week. While the A2 is a seriously popular platform for enthusiasts and tuners, coming across original examples is exceedingly hard. But within the GTI range from 1985-1992, the '85-'86 probably rank lowest on desirability.
You can imagine what a treat it was for me, then, to get to follow it up with the car that re-injected excitement into the lineup. For 1987, Volkswagen brought its development of the EA827 inline-4 – the PL – to the Golf. Already in the Scirocco, it boasted 16 valves, 10:1 compression, KE-Jetronic injection and 123 horsepower. That was over a 20% jump in power, and mated to a close-ratio 5-speed manual it more than made up for the additional heft of the A2 compared to the A1.
To help differentiate its new engine, and because it was initially run alongside the 8V model, several styling cues were added to the 16V. Shared with the Scirocco, the easiest to spot were the "Silverstone" (Teardrop) alloys that would be the signature of the 16Vs for the next few years. Less noticeable were minor changes; painted lower valances and a deeper front lip spoiler, a relocated Fuba antenna now residing on the roof, and – of course – 16V badges and red stripes throughout. The 16V also got a special leatherette interior and beefy 205-55-VR14 Pirelli P600 tires.
Measured 0-60 times plummeted; now capable of achieving the feat in 7.9 seconds, Volkswagen also installed a pretty optimistic 140 mph speedometer. But it was an indication that this was a quick car, and indeed the GTI again punched above its weight class in performance. The base price was up, too – now $12,250, but you could opt in air conditioning, metallic paint, a sunroof and nicer Heidelberg radio and be pushing $14,000 pretty easily.
Despite the price increase, the GTI was an immediate success, universally heralded by magazines as the best GTI yet. With most of the A2 16Vs now approaching 30 years old, though, they've become reclusive legends and rarely appear like this: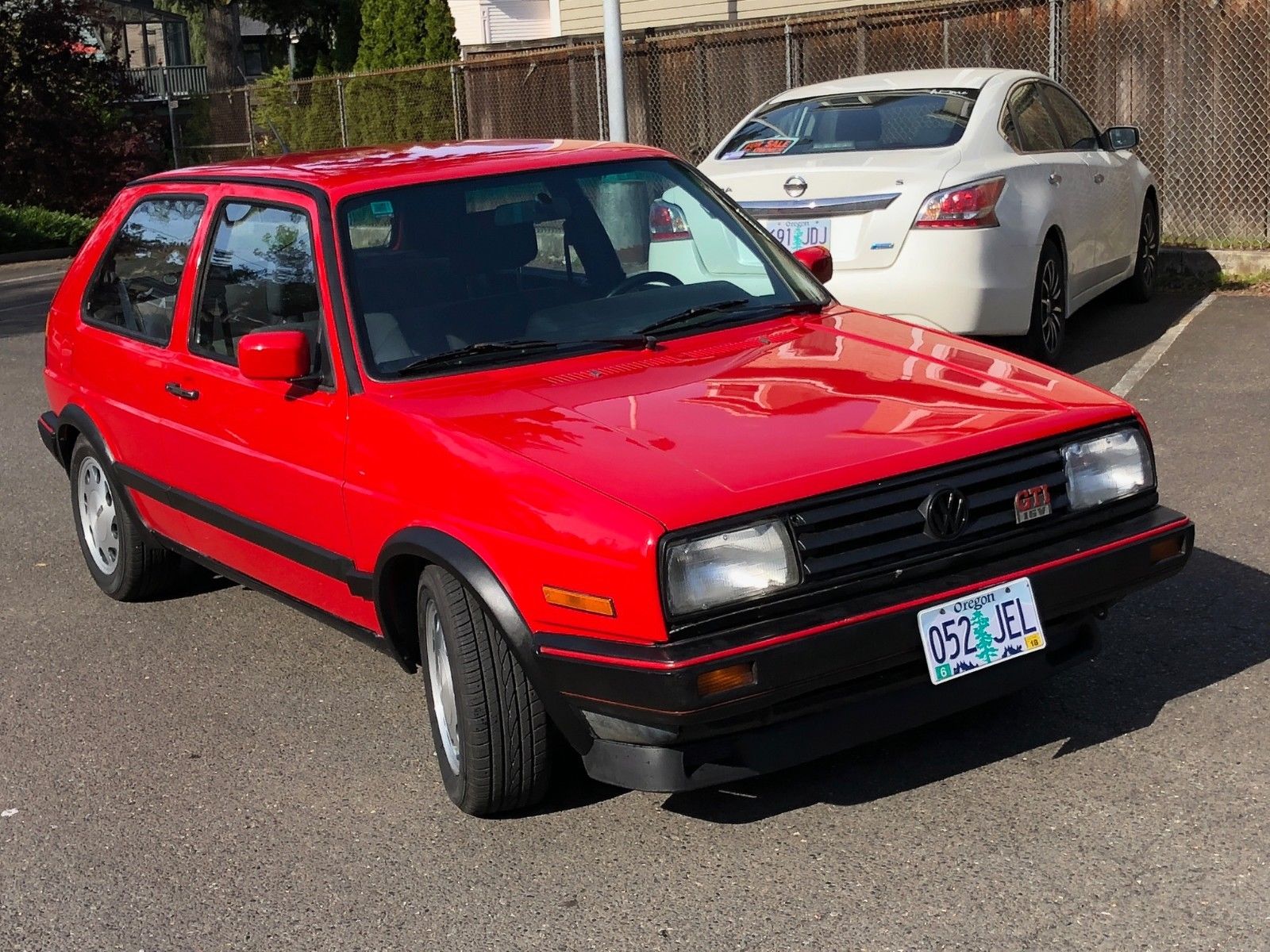 Year: 1989
Model: GTI 16V
VIN: 1VWDC0172KV007488
Engine: 1.8 liter inline-4
Transmission: 5-speed manual
Mileage: 151,754 mi
Price: No Reserve Auction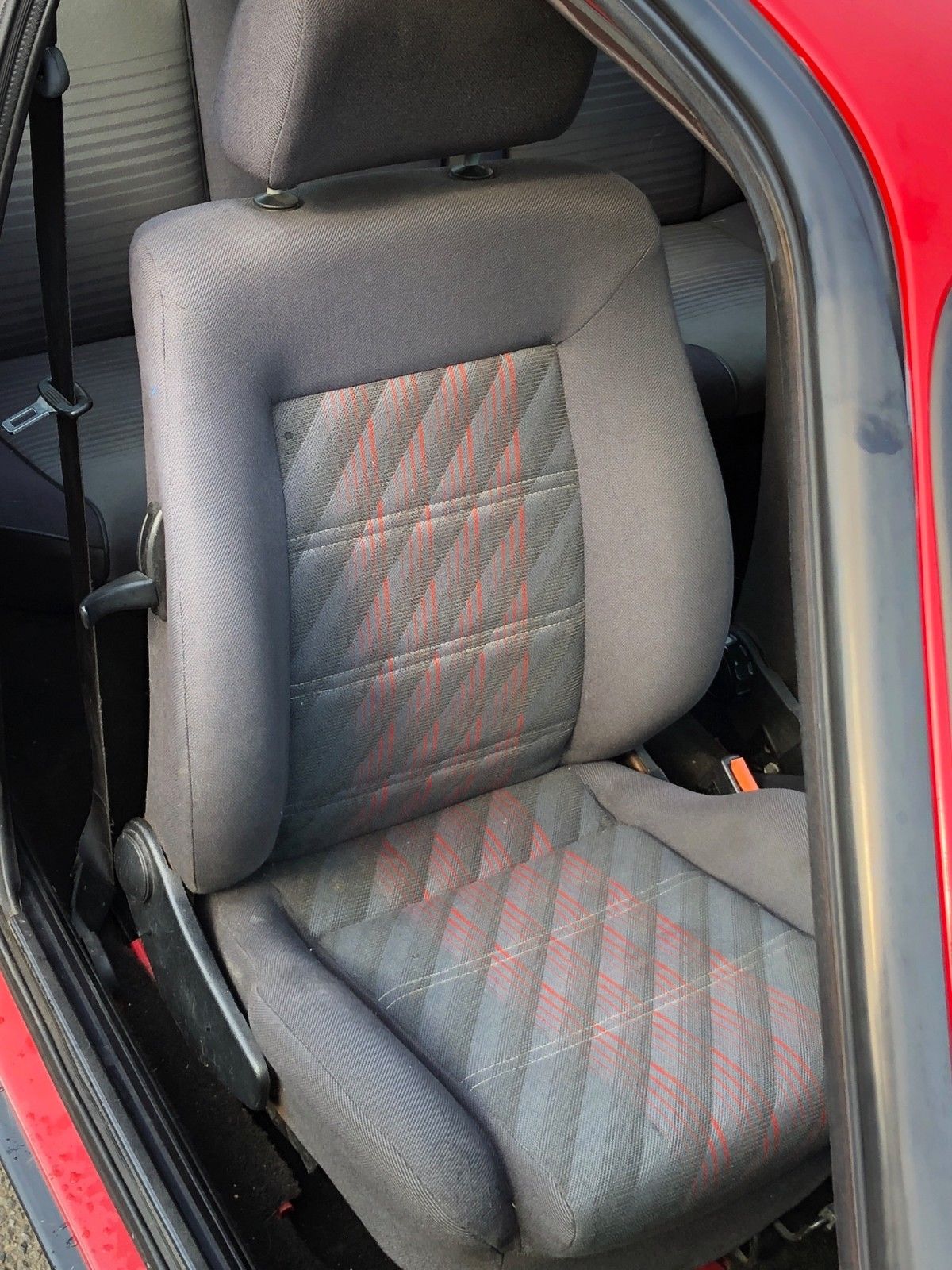 Fully Restored 1989 VW GTI 16v in original tornado red. 151,754 miles

Pictures of the Car During Restoration

Advertising Photos Serving As Basis For Restoration

Have taken it back to stock and done a full rebuild with the intention of bringing it back to original 1989 spec. full interior restoration in Spring 2018, replacement of all exterior trim and emblems Spring 2018, Full restoration of OEM teardrops spring 2018. full front window out repaint in January 2018, Full rebuild of engine and transmission including new clutch in October 2017.

This has been my weekend project for the past 9 months. It's finally ready. It runs like a bat of of 1989 hell and is tight all around.

Exterior is 7-8 out of 10. Paint job was good, but not a rotisserie job at $3000. Looks perfect from 10 feet, looks great from 3 feet, From 1 foot there are a few minor imperfections I don't love (pictures of defects included.) Under left rear window an area of rust was sanded down and repaired poorly. It was sealed, primed, and painted, so should not be an issue, but I'm bummed they did this poorly. Has been 4 months and haven't seen and degradation.

Interior is in exceptional shape, with not rips or tears in the seats and floor carpeting in good shape. All plastic trim has been replaced or repaired. Dash surround is in perfect shape

Stereo is OEM stereo with new speakers front and rear March 2018

Engine has been taken out and fully rebuilt. New valves, new piston rings, new head gasket, new timing belt, new timing belt tensioner, new oil pan, new oil pan gasket, new intake manifold, exhaust manifold repainted in OEM colors in October 2017 – February 2017. Less than 2,000 miles on new engine.

Transmission has been fully rebuilt with a new clutch in October 2017. Less than 2,000 miles on new clutch.

Drivetrain and brakes have been fully restored with new brakes and rotors in October 2017

Coolant system has been fully rebuilt in April 2018.

3 modifications from stock –

1) H&R Sport springs 54748F front, 113264R rear, 1″ lower than stock
2) Bilstein sport shocks and struts
3) Euro-sport exhaust (a little more snarl, no drone)

The Work:

April 2018 – New fender flares, OEM front spoiler
April 2018 – Bumper restoration including repainting of red trim
April 2018 – Full restore of coolant system – new thermostat, coolant sensors, fan switch, wiring, coolant flush, OEM coolant, new recovery tank hoses, new recovery tank flap
March 2018 – New door locks and handles
March 2018 – New trunk lifts
March 2018 – New rear trunk fabric
February 2018 – $800 restoration of OEM teardrop wheels including refinishing, repaint, new clear coat
February 2018 – new engine oil pan gasket, oil and filter change with
February 2018 – repair of alternator bracket
February 2018 – repair, restoration of rear windshield wiper motor and mount
February 2018 – restoration of interior – sourced new front and rear seats, door cards, OEM new old stock floor mats, replaced stereo with OEM unit, new speakers front and rear, full rebuild of dashboard including new dash bulbs, fan controller, dashboard panel surround, fan regulator
January 2018 – New OEM 16v GTI front and rear badges
January 2018 – New OEM Key
January 2018 – $3000 repaint in original tornado red, stripped, front window out, full seal, prime, paint
January 2018 – New front windshield
December 2017 – New low pressure oil switch, new high pressure oil switch
November 2017 – New tires
November 2017 – New OEM front grill and OEM VW front grill badge
October 2017 – $3000 full engine and transmission rebuild. pistons restored, valves restored, engine out, transmission out, new clutch, new motors mounts, repaint exhaust manifold, repaint transmission, new oil pan, new timing belt tensioner, new timing belt
October 2017 – new brake pads and rotos
October 2017 – Full rebuild of suspension and drive axles
October 2017 – New black headliner, all plastic trim replaced including new old stock visor clips
October 2017 – New shift linkage
October 2017 – New pressure regulator
October 2017 – New crankcase breather hoses
October 2017 – New intake manifold
October 2017 – New battery
October 2017 – New headliner in black
March 2014 – New water pump
February 2014 – New knock sensor
February 2013 – New OEM tail lamps
January 2013 – New alternator
February 2012 – new drive axles
February 2012 – New struts and Springs, Blistein and H&R Sport
February 2012 – New speedometer cable
September 2010 – New motor mounts
July 2010 – New in-tank fuel pump
April 2010 – New inner and outer bearing races and grease seals
April 2010 -New heater core and heater hoses
April 2010 – New fuel pump relay

The remaining niggles:

– I don't love the suspension. If I had more time, I would probably go with OEM springs
– The windshield sprayers don't work. There's a small wiring issue in the stalk, i haven't been lucky enough to find a working replacement yet
– The headliner is great but the dome light doesn't fit quite right
– The new front fender flares don't sit perfectly flush. Have been trying to source replacements
– The black trim under the grill above the bumper should be red. I have replacement trim already and tornado red paint coming and will likely be able to finish this before sale. Will update during auction if I'm able to complete
– As mentioned above, the paint job is not perfect, with a quarter and dime sized rust area not treated in the way I would have if i'd done it myself. No worry about further rust, just not a smooth repair.
– The rear interior seats are not a perfect match with the fronts. Fronts are grey with red stripes, rears are grey with light grey stripes.
– The red stripe on the center of the dash has a crack on it. It's been repaired but it isn't perfect.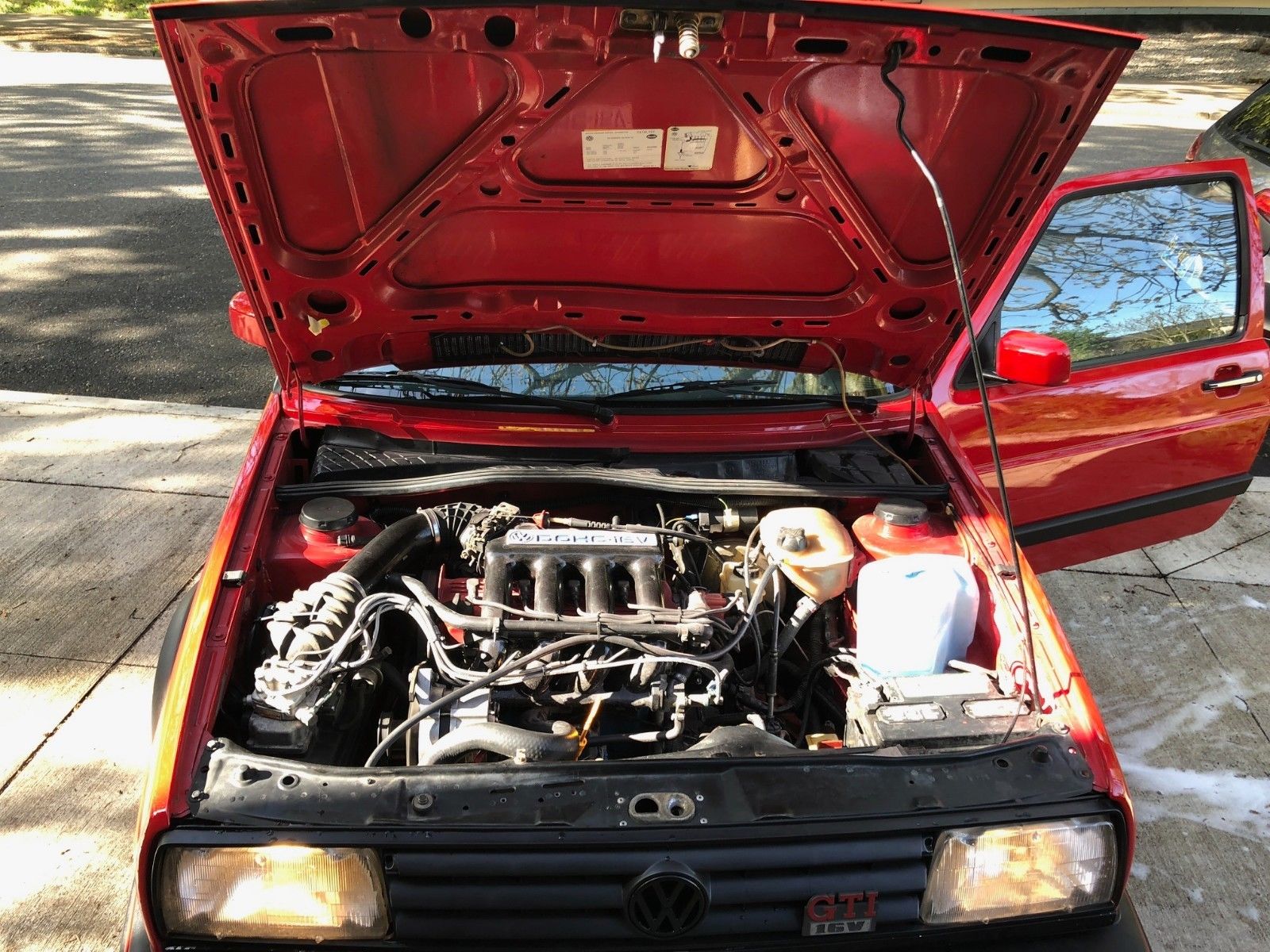 Tornado Red is certainly synonymous with fast 80s Volkswagens, and the repaint looks great here. A notoriously expensive paint and hard to get just right, the seller is upfront that this one isn't perfect, but it sure looks clean and shiny in the photos. Even more lust-worthy are the refinished wheels. Having had a set of these when they were still pretty new, seeing them with lustrous clearcoat and no corrosion makes me salivate. Throughout, this car has been mechanically sorted and visually refreshed, and the few upgrades are items that would enhance the driving experience for most. A thorough gallery paints an unusually complete picture of the current condition of this car, and the seller's records of all work completed help to round out the story. It's a bit unusual to see a non-sunroof example too.
Though not a perfect, completely original example, this GTI 16V represents the sweet spot for the model. They're not as sought as the 2.0 models, and consequently the price will end up being more reasonable for the buyer. Very unusual for a Volkswagen of this ilk, the seller has undertaken all of the heavy lifting to make this car a great driver and the buyer will be left with a fun-to-drive platform without the headaches of a lengthy list of repairs that are needed to correct two and a bit decades of deferred maintenance.
-Carter