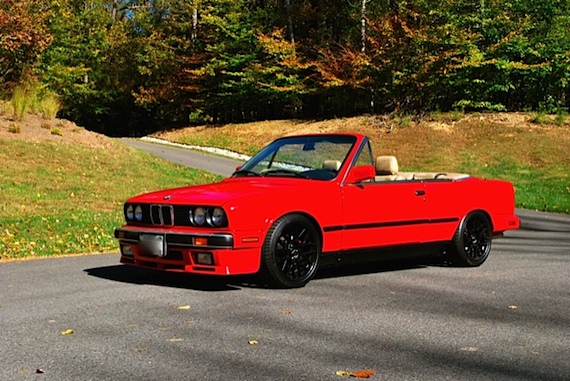 The BMW E30 3 series has become a kind of German 1950s Chevrolet in a sense. With a thriving aftermarket scene, plenty of enthusiasts have undertaken projects to reinvent this compact executive car in their own right. From M3 clones to V8 engined barnstormers, the sky is the limit. With many of the Touring models eligible for US import, this has given enthusiasts a whole new canvas with which to work, as well. It's not too often that we see the convertible variants breathed upon, but this particular 1990 325i Convertible from our reader Chris in Northern Virginia has had an upgrade to the M50 inline-6 from the later E36 3 series, along with suspension, steering and brake upgrades to handle the increased power.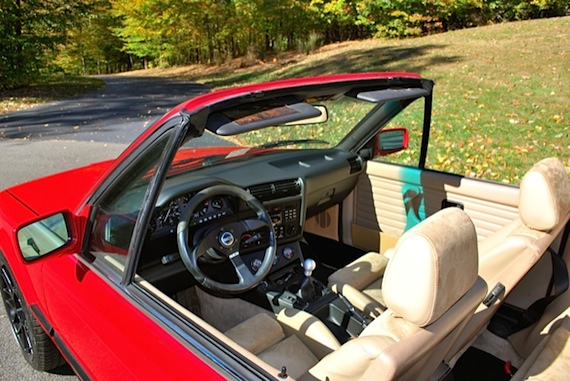 Year: 1990
Model: 325i Convertible
Engine: 2.5 liter inline-5
Transmission: 5-speed manual
Mileage: 110,000 mi (95,000 mi on engine)
Price: $7,500 Buy It Now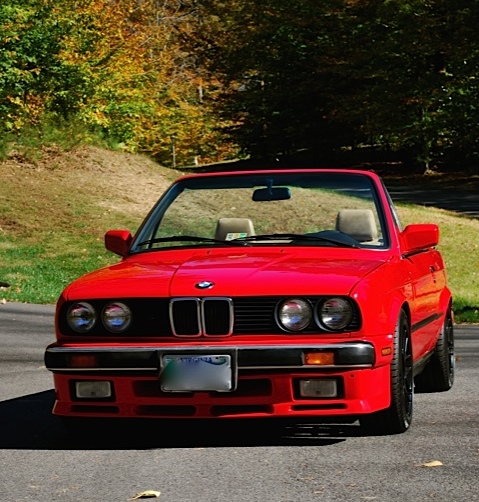 BMW e30 Convertible with Engine and Performance Upgrades

The BMW E30 is a true "driver's" car because of its size, responsiveness, and style. This car takes everything about the E30 and kicks it up a notch. Performance is enhanced by replacing the single cam engine with a twin cam M50 engine from 1995. The entire drive train has been replaced: engine, transmission, and diff. A quick ratio steering rack from an E36 makes the car super responsive. The remaining systems were upgraded to handle the increase in power include H&R sport springs, Bilstein Sport shocks/struts, adjustable sway bars, etc. It took well over a year and a lot of passion to put this beauty together but the result is a wonderfully well balanced machine with plenty of power.

My investment in this car exceeds $20K and I will let it go for much less. I am selling the car because I just don't have time to drive it anymore and I could use the space. It has been driven a few times a year for the past few years but spends way too much sitting in the garage. The engine, tranny, and diff came from a 95 E36 sedan with 95K mi. The chassis has approx 110K mi (the odometer broke around 95K mi when doing conversion).
Passes VA State safety and emissions inspections.

Upgrades:
Drive Train
95' e36 M50 with VANOS sourced from http://www.zionsvilleautosport.com
95' e36 Transmission
E36 quick ratio Steering Rack
Aluminum Radiator w New Fan Clutch
New Water Pump with Metal Impellor
E30 M3 Clutch
Limited Slip Diff
Zionsville BMW Short Shift Kit
Scorpion SS Exhaust
Stainless Clutch Line
BMW/Redline/Mobile 1 Fluids only
Castro Racing Air Box
Chassis Wheels and Brakes
Continental Contact 215/40 ZR 17 95% Tread Left
Powder Coated Calipers
Cool Carbon S/T Pads
Cross Drilled and Slotted Rotors
Stainless Brake Lines
e21 Brake Booster
Bilstein Sport Shocks
H&R Springs
Front and Rear Shock Mounts
Racing Dynamics Sway Bars
New Tie Rods
APEX ARC-8 17X8 Wheels with 1 Spare Still in the Box
Interior/Exterior
New Top with nice clear rear window
Complete Body Re-spray by http://www.leehighauto.com
Rear Brake Light Delete
E30 M3 Seats with New Seat Covers from Creative Options – Vinyl Sides with Micro Sued Inserts http://www.creativeoptions.info
Sparco Steering Wheel
325 es Front Spoiler

The car is not perfect yet – there are still some unfinished details that I have not had the time to address.
Items which should be addressed:
Odometer broke at 94 K mi
A/C needs to be charged – I had new hoses and o-rings installed a couple of years ago.
Passenger seat release cable
Top release handle – I have the parts
Center console – I have the parts
Windows need to be adjusted
Misc Interior parts
While not a finished product, a lot of work has gone into this 325i Convertible to produce a nice blend of E30 vintage with touches that give it a modern flair. Not a lot of effort would be needed to get it to 100%, at which point you'd have a very usable 3 series well ahead of time for the warm months. We've seen a few E30 Convertibles of this vintage sell in between the $6,000 to $8,000 range, so given the amount invested into this 325i, the asking price is certainly within reason.
-Paul