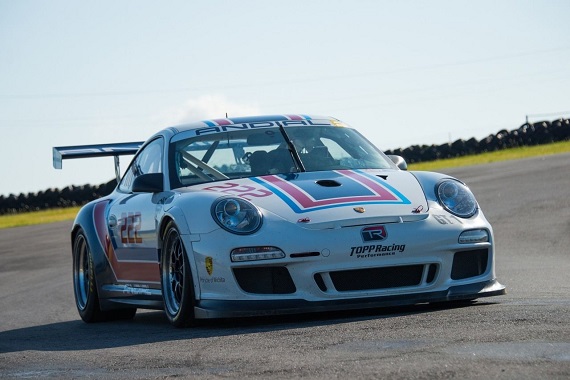 For German car fans who love racing, it doesn't get much more exciting than Porsche's long history of endurance racing. Indeed, Porsche's venerable 911 seems intrinsically linked with racing – undoubtedly, part of its mystique. However, true factory racing Porsches have always been pretty expensive when new and still are so. Watching yesterday's coverage of the 24 Hours of Daytona had me cringing as the multi-hundred thousand dollar Le Mans class 991 Porsches took each other out, attacked Opossums and exploded crankcases. It wasn't a great day for Porsche at a track where the company has had an impressive string of successes. So, today I decided to take a look at two racing Porsches as an homage to their first rate engineering, their enduring appeal and incredible performance:
Year: 2011/2014
Model: 911 GT3 Cup
Engine: 3.8 liter flat-6
Transmission: 6-speed sequential
Mileage: Not Listed
Price: $229,222 Buy It Now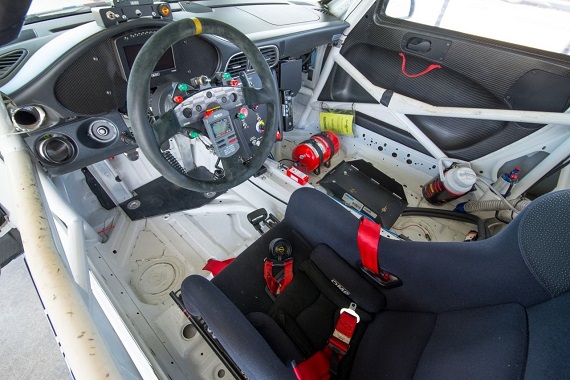 This #1 of limited edition of 5 ANDIAL Cup Cars. The car was built by Porsche Motorsport North America (PMNA) through December 2013 and April 2014.
The donor car was low milage 2011 Cup Car. The car was completely refreshed including full engine and gear box, new shocks and dampers, new C185
MoTeC dash with HD cam system. The car upgraded with Bosch ABS system and KMP paddle shifter. The car ran 6 events in 2014 and has 27 H.
Currently the car is at PMNA to be refreshed for a new owner (engine and gear box). This is one of the fastest Porsche Cup Cars in the world. It is the #1 of the
5 ANDIAL Cup cars and it is highly collectable, The car has been presented in magazines and Porsche made a video of the car for their world wide home pages.
The video was also presented in Autoblog and several race & car pages. see links below

autoblog.com/2014/12/15/porsche-911-gt3-cup-andial-edition-track-test/

press.porsche.com/motorsport/news/release.php?id=157&utm_source=feedburner&utm_medium=feed&utm_campaign=Feed%3A+PorscheMotorsportNews+%28Porsche+Motorsport+News%29

ebay.com/itm/Modellauto-Porsche-911-GT3-Cup-Andial-Racing-Viljanmaa-222-Spark-LE-300-pcs-/361098169303?pt=Spielzeugautos&hash=item541320cbd7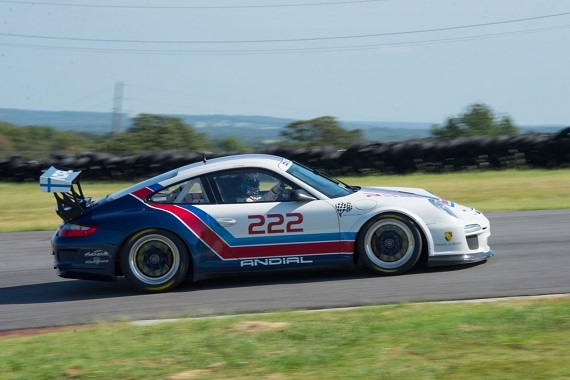 Only five of these Andial-liveried were created by Porsche Motorsports North America, the entity that bought Andial and folded the company's long history into its own. Andial indeed was effectively in the 1980s what PMNA became today – the source for all things Porsche racing in North America. If you want to buy, race and repair a factory car, PMNA is the ultimate source. That means when they rebuild a car it has serious credentials, and this GT3 has just that. PMNA took a 2011 GT3 Cup and completely refreshed it, as well as adding the paint scheme from the 2nd place overall 935 run by Andial in the 1984 Daytona 24Hrs as a 30th celebration. The car's status still at PMNA means it's race ready and top notch. That means it'll cost you; at a quarter million dollars, it's all the money for a used Cup car. Is it more collectable than others? A real winning chassis would probably be first; for example, a car that won class at a prestigious race like Daytona or Sebring. But this second tier car is right up there for Porsche collectors, and history has proven that racing Porsches tied to the factory are some very valuable pieces.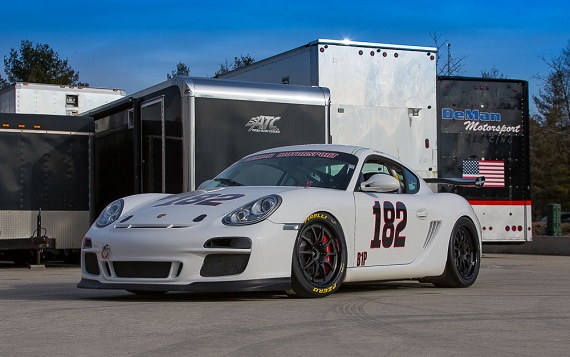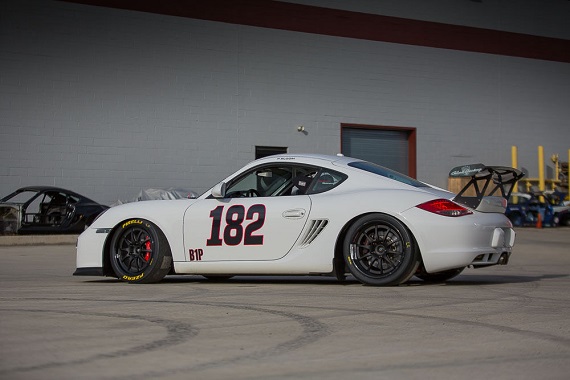 Year: 2011
Model: Cayman S
Engine: 3.4 liter flat-6
Transmission: 6-speed manual
Mileage: Not Listed
Price: $120,000 Buy It Now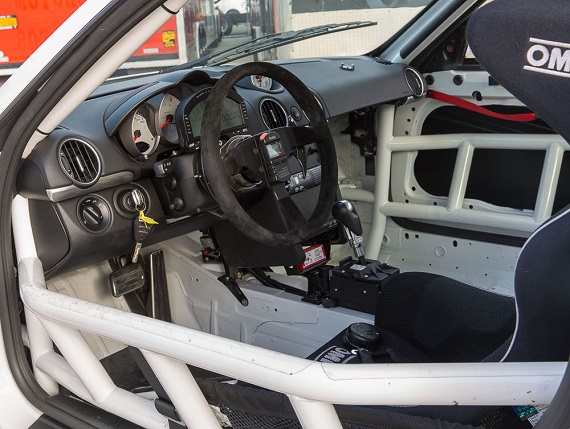 This car was built by DeMan Motorsport last winter. Raced for one season in PCA GTB-1. Race wins at Watkins Glen and Lime Rock. ITC victories as well at MMC. Very competitive car. Car is well sorted and maintained to the highest quality. The car is currently located at DeMan Motorsport.

-3 sets of Forgeline Wheels: 2 sets of pirelli slicks (new) 1 set pirelli rains (1 race)
-Latest Aim and smartycam
-Fire system
-OMP HTE Seat
-Schroth Harmess
-Cool Suit
-Motorola Radio
-JRZ Pros
-RSS Control Arms
-TPC Sway Bars and End links
-Transponder
-Trans Cooler
-Motorsport Oil Cooler
…and much more.

READY TO RACE.

Vehicle is NOT STREET LEGAL.

Pre-purchase inspection is recommended. Vehicle is delivered as is with no warranty.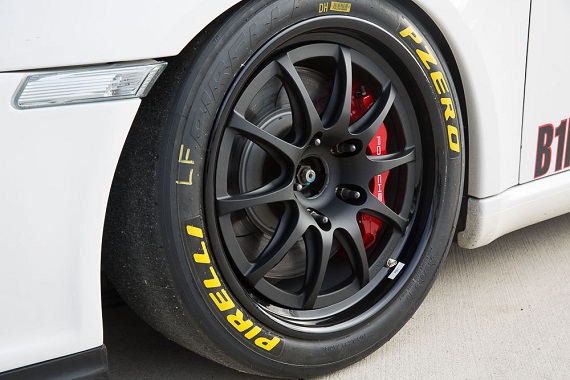 Of course, not everyone can afford to run a Cup car as frequent rebuilds and expensive factory bespoke parts mean it's a pricey proposition. A popular alternative has been to look at Porsche's own mid-engined alternative, the Cayman. With great balance, poise, and plenty of power in a much more affordable wrapper, the Cayman is a natural choice for racers on a more realistic budget. This particular example has been built by DeMan Motorsport, noted longtime Porsche racers. While the Cayman won't generate the lap times of a GT3 Cup car, it's no slouch and when turned up for race duty it's a looker, too. The large wing and GT3 front end help to elongate and balance the design in my mind – the resulting package looks much more purposeful and aggressive than the normal street Cayman. While much less money than the GT3 in race spec, these Caymans aren't by any means cheap – as demonstrated by the $120,000 asking price. But you do get the Porsche race experience for half the asking price of the GT3 with much lower running costs.
Which would I choose? In my fantasy budget land, probably neither. You can get a 996 Cup car for half the asking price of the Cayman, and while the other half of the ask will be eaten up by running costs and updates, I'd still rather have a full factory car than a converted street car at the over-$100,000 asking price. For well-heeled Gentleman Racers, though, both of these cars will be snatched up with eagerness – and hopefully, both will make their future owners quite happy on track.
-Carter