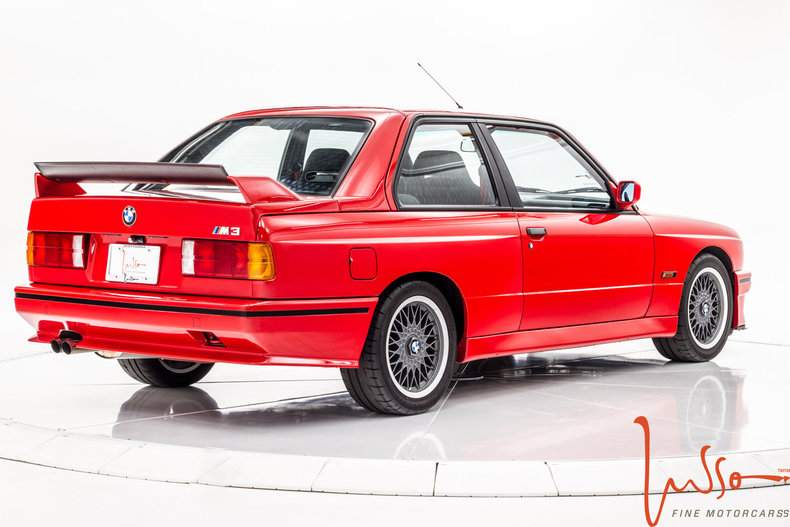 While the name "Evolution" become synonymous with Mitsubishi's WRX-fighting Lancer for the X-Box generation, the term had much greater meaning for racing fans in the 1980s and 1990s. That was the period where homologation really took off; in order to be eligible to race, the FIA stipulated a certain amount of vehicles generally matching the race version of a car would have to be produced. This resulted in some great race-inspired production cars, and in order to best each other on the race track manufacturers would be forced to modify those cars. In order to have the modifications legal to race, the maker would have to introduce those significant changes to the road-going model, too. Those changed models would be termed "Evolution" to differentiate their model changes. As a result, enthusiasts ended up with 'Evo' versions of the Ford RS200, the V8 quattro, the Mercedes-Benz 190E 2.5-16 and, of course, the M3.
The M3 Evolution I was first introduced in 1987 with only a slightly revised motor. The Evolution II followed in 1988, and signaled the first real changes in the lineup. Major alterations to the aerodynamics, bodywork, chassis, and engine netted more power, more downforce and less weight for the FIA-regulated 500 units sold to market. Iconic even within the impressive normal M3 production, these fan-favorites generate feverish bids when they come to market.
But there is an even more desirable variant: The Sport Evolution. BMW Motorsport GmbH maxed out its E30 development in an all-out attempt to dominate the world's racetracks. A new 2.5 liter S14 cranked out nearly 240 horsepower, while the same 'add lightness' recipe was prescribed; lightweight glass and body panels were met with adjustable front and rear spoilers. Signature 7.5″ wide BBS wheels were now darker Nogaro Silver and 10mm closer to the body thanks to lower suspension, while special Recaro seats kept you firmly planted inside from the g-force they were capable of generating. It was as if BMW took all of the best aspects of the E30 and distilled it down into an even more pure form. Produced only in Jet Black or Brilliant Red, 600 of these super M3s were rolled out to fans and remain arguably the most desirable model in the run: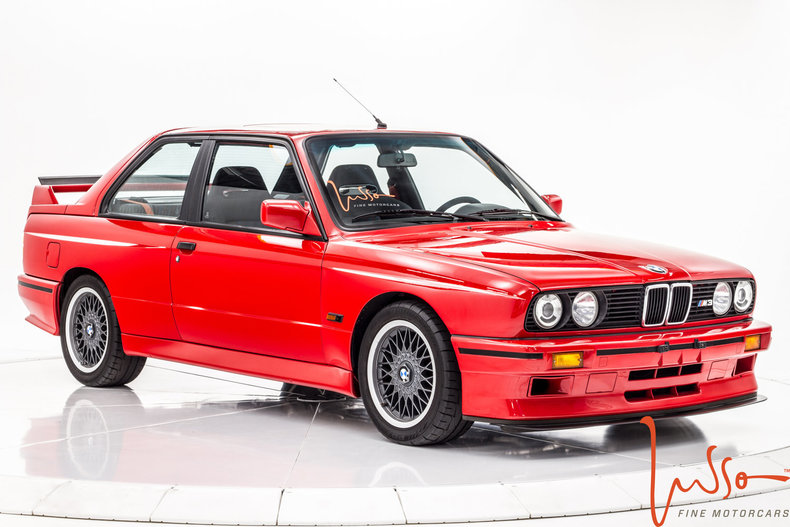 Year: 1990
Model: M3 Sport Evolution
Engine: 2.5 liter inline-4
Transmission: 5-speed manual
Mileage: 139,187 mi
Price: Price on Request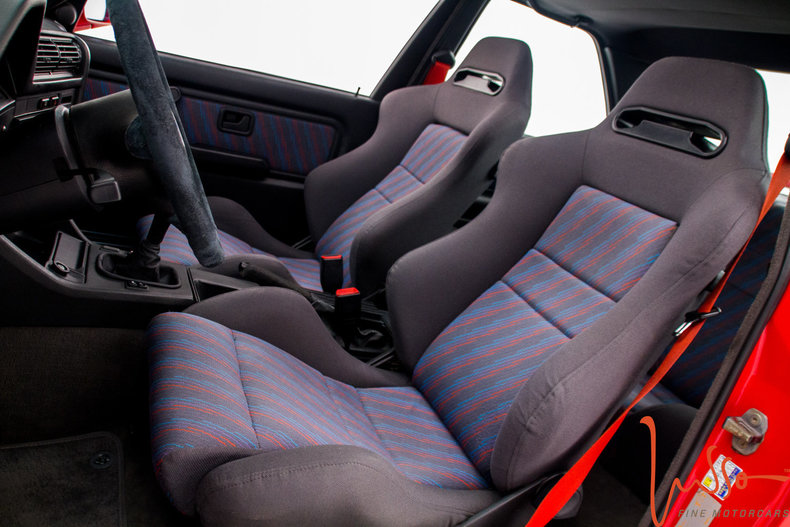 Lusso Fine Motorcars presents… 1990 E30 M3 Sport Evolution

1 of 600 Made – estimated 1 of 7 in the USA.

What distinguishes an E30 M3 Sport Evolution? – bmwmregistry.com

• 600 produced from late 1989 to early 1990. Individual models were not plated numerically, but all feature a "Sport Evolution" plaque on the dash.

Increased displacement of 2,467cc compared to the standard M3's 2,305cc. Valves were enlarged and a more aggressive cam was fitted. Special nozzles spray oil under the pistons for improved cooling. The end result was a power increase to 238 hp at 7,000 rpm, a 43 horsepower gain over the regular USA model.

Final drive ratio of 3.15:1 – Shorter gearing than standard M3 models

Thinner glass all around in addition to a lighter trunk and bumpers. Brake cooling ducts in place of fog lights. Lower volume fuel tank.

Rare AC,Power Sunroof and Power Window option on Sport Evolution.

• For homologation purposes, adjustable front splitter and rear spoiler extension. Re-profiled grille slats with sealed gaps for improved aerodynamics.

• The lightweight front fenders also feature a wider track.

10mm lower ride height.

Unique Nogaro Silver wheel finish.

• Recaro seats in Anthracite M cloth with red seatbelts unique to Sport Evo

Factory Suede-covered M Technic II steering wheel, shift knob, and parking brake handle
Contact us about this vehicle
CALL +1-480-659-2373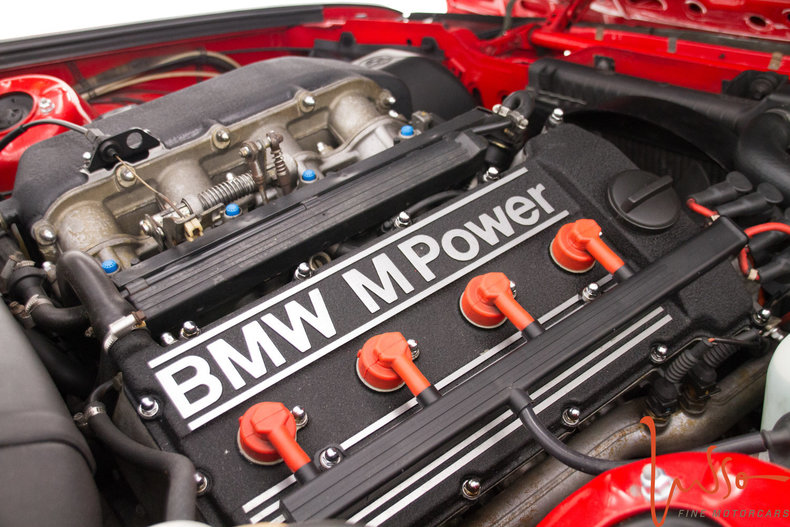 Produced in the Munich factory on January 18, 1990, this Sport Evolution was specified in Brilliantrot (308) over the Anthrazit Motorsport Design cloth (0316). Like the Carrera RS, these lightweight racers came in bare-bones spec, but you could opt in many of the weight savings to make life more bearable. Such is the case here; original options include the electric sunroof (401), electric windows (410), velour floor mats (423), warning triangle (428), electronic temperature control (535), on board computer II (551), BMW Bavaria sound system with cassette (653,675) and cassette holder (690). The car currently is equipped with a correct OEM CD player. The overall condition depicted is, as you'd expect, outstanding. Yet this car was also meant to be driven, and it's covered more than a few miles that I'd assume put some serious smiles on the drivers. While it is certainly astounding to consider an ultra-low mileage example like the 75 mile Sport Evolution that has recently been circulating the internet, it's also refreshing to see one that has been driven and well cared for.
It should come as no surprise that the ultimate evolution of the E30 M3 comes these days with a stiff price tag. But then this is a very special car, the ethos of an entire generation of performance. While it may not be the fastest car from the period, it's undoubtedly one of the most instantly recognizable. Move from the "regular" E30 M3 to the Sport Evolution, and you're now into another league of specialization; an economic small luxury sedan which can rub shoulders with some of the most vaunted supercars of the period.
-Carter