Warning!
This post is in our archives. Links in this post may have been updated to point to similar cars available to bid on eBay.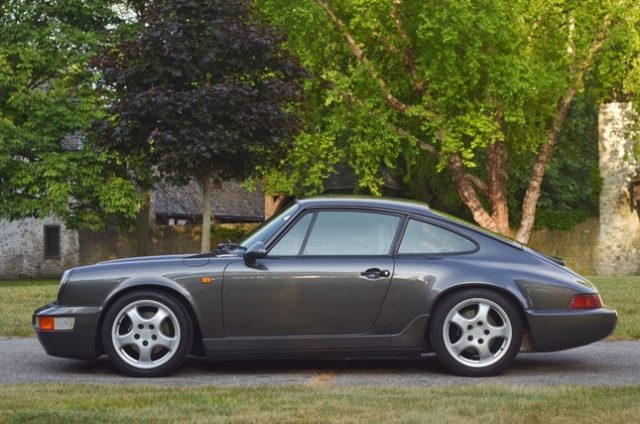 If you've been around here a while then you will know that my love for the 964 has gradually grown as time has passed and I have encountered more and more of them. The model still doesn't eclipse the 911SC as my true favorite. However, where once I saw the 964 as little more than a bridge between the classic 911 design of the 3.2 Carrera and the sophisticated modern beauty of the 993, I now see it as a design that provides the best of both worlds: a dose of modernity to show the evolution of the 911, while remaining firmly rooted in the classic 911's iconic lines.
I also am a huge fan of the 964 in Slate Grey. Slate Grey isn't a color I like on every 911 model. In fact, on most 911 models I don't really love it. So I have no real explanation for why I find the 964 so appealing in Slate Grey, but I think it's wonderful and I think the pictures here show it well. As you can imagine I really like this one: a Slate Grey Metallic 1992 Porsche 911 Carrera 2 Coupe, located in Ohio, with 74K kilometers on it.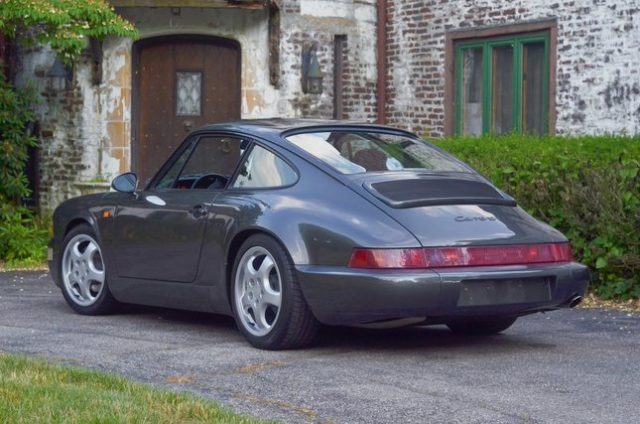 Year: 1992
Model: 911 Carrera 2
Engine: 3.6 liter flat-6
Transmission: 5-speed manual
Mileage: 74,000 km (~ 46,000 mi)
Price: $78,000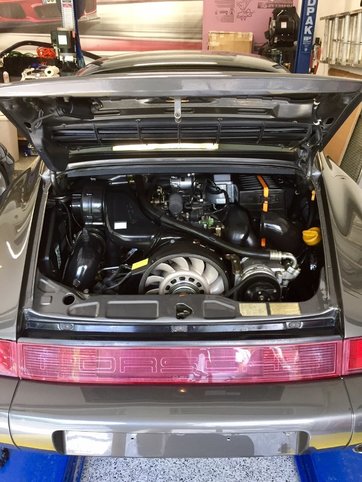 Imported from Japan where it was delivered new, 1992 ROW Porsche 964/911 C2 5-Speed Coupe, 74k KMH (46k miles), Slate Grey Metallic, Black Partial Leather, No Sunroof.

VIN WP0ZZZ96ZNS403059

Link to pictures:

https://goo.gl/photos/N3wbYDBaikHjunPs8

Options:

Per the COA, Air Conditioning, Pirelli Tires & Equipment For Japan which consists of:

130 Control and indications in English
193 Version for Japan
219 Regular differential (without limited slip)
234 Internal production code related to tires
288 Headlamp washer
323 Sticker, without ECE-regulations
379 Standard seat, left, electrical height adjustment
380 Standard seat, right, electrical height adjustment
402 16″ 5-spoke wheels
423 Holder for cassettes and coins
434 Work instructions for cars for overseas
441 Radio preparation
481 Manual gearbox, 5-speed
490 Sound system
492 Headlamps for left-hand traffic
562 Front airbags
573 Air conditioner
605 Headlight leveling system
657 Power steering
685 Rear seats
912 Without European ID plate
932 Rear seats cloth/leatherette/leatherette
947 Front seats cloth/leather/leatherette
975 Luggage compartment velour carpet

Upgrades

The car is completely stock per the COA, except for the following:

17″ Cup 1 Wheels (front 7.5″, rear 9″) with Dunlop Sport Maxx TT Tires.
Bilstein HD Struts with H&R Green lowering springs.

Maintenance

The car arrived from Japan with extensive maintenance records in Japanese which have been partially translated, showing the car was maintained well during the last 25 years.

Since its arrival in April I have completed a comprehensive, cleaning/detailing of the entire car and a considerable list of maintenance items, below are some of the highlights:

Strip and Powder Coat the 3 Engine Tins & The Fuel Pump Cover
Exhaust & Cat Heat Shields professionally cleaned
Valve Adjustment
Replaced Fan Hub/Bearing
Replaced Distributor Drive Belt
Replaced Distributor Caps & Rotors
Replaced 3 Belts
Replaced Spark Plugs
Oil & Filter Change
Replaced Fuel Filter
Replaced Air Filter
Polished Muffler Tip
Transmission Oil Change
Added Pad Keeper.
Replaced underside flexible heater ducting.
Refinished Brake Calipers & Painted Rotor Hats
Flushed/bled Brakes and Clutch
Recovered Dash Top OEM Vinyl (Classic 9 Leather Shop)
Replaced Rear Spoiler wall

This thread details some of the cleaning/refurbishment I completed on the car, see post #13:

https://rennlist.com/forums/964-foru…ne-detail.html

The engine is free of oil leaks. A leakdown check during e maintenance work yielded the following results:

Cylinder #1 2%, #6 2%, #2 2%, #4 2%, #3 4% & #5 4%.

The A/C has been serviced with R12 and blows cold.

Bodywork & Paint:

The car is completely rust free and there is no evidence that it has ever been in a collision. The has been had some paintwork which presents very well, we believe this is due to environmental wear on the paint from it being outside in Japan at some time during it's life which is not uncommon for these cars.

Paperwork:

The car was imported legally into the USA under the 25 year rule. The new owner will receive a legal title in their state of residence, the same as buying any used car.

Included:

Spare Wheel
Tire Compressor
Jack
Gloves & Bag
Full Tool Kit
2 keys
Owners Manual & Leather Holder.

Thanks for your interest, email: jfawsitt9@yahoo.com or phone 440.376.7037.

The car is located in Toledo, OH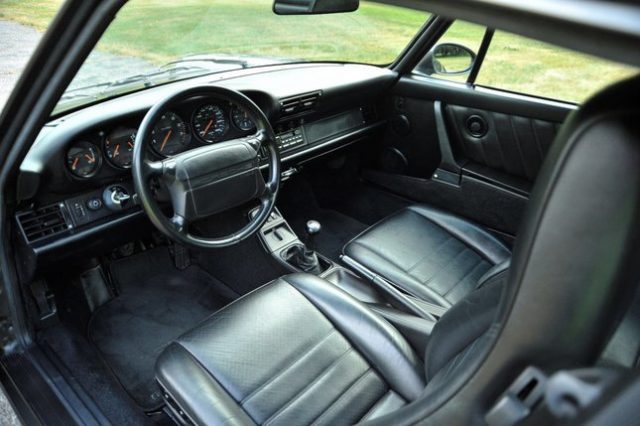 That the mileage is given in kilometers rather than miles should be the first hint that this isn't a regular ole Carrera 2. This one recently has been imported from Japan where it had spent the first 25 years of its life being pampered and driven sparingly. Or, at least, that is my assumption based on its current, very nice, appearance. It is said to come with full maintenance records (and presumably all necessary import documentation) though those records are in Japanese. Hopefully they will still tell us everything we need to know. Other than lowered springs and Cup wheels the car is said to be original and from what we can see that appears to be the case.
That this 964 comes from Japan doesn't significantly alter its appearance or performance though there are a few details throughout that distinguish the two models. The most significant likely for this Carrera 2 is the sunroof delete, which I don't come across very frequently on US models. All in all this seems like a great opportunity for a very nice 911 that's just outside the norm. At $78,000 the asking price certainly is higher than what we typically see with the usual Carrera 2, but the mileage is pretty low, the condition looks great, and it has the additional cachet of being a RoW model.
I look forward to the many more 964s that we will start to see now that the model fits squarely within the 25-year waiting period.
-Rob