Warning!
This post is in our archives. Links in this post may have been updated to point to similar cars available to bid on eBay.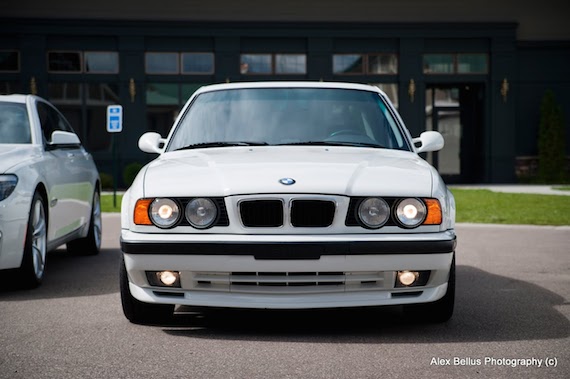 The 1990s were a watershed decade for BMW. So many great cars emerged from Munich during this period, among them the last of the E30 M3s, the brutish V12 powered 850CSi and, towards the end of the decade, the beautifully unique M Coupe. Of course, there are so many others models that passed us by during this decade. One of which was the car we see here for sale in Minnesota, the E34 540i M-Sport. The E34 M5 would bow out of the US market in 1993, leaving a hole in the lineup for a fast 5. Enter the 540i M-Sport, which was similar in spec to the European market M5, but with a 4.0 liter V8 under the hood mated to either a 6-speed manual as we see here, or a 5-speed automatic. Only 200 of these special E34s would be sold, leaving a car like this, with under 50,000 miles in desirable Alpine White over black leather, a rare treat indeed.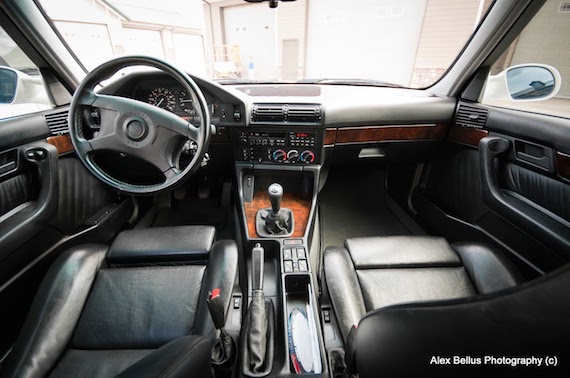 Year: 1995
Model: 540i M-Sport
Engine: 4.0 liter V8
Transmission: 6-speed manual
Mileage: 46,200 mi
Price: $25,000 OBO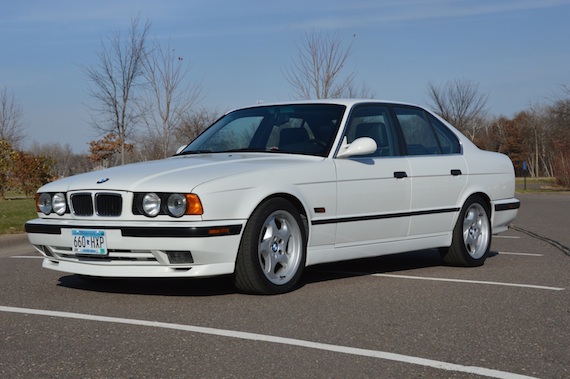 Introduction

I'm selling what is, in all likelihood, the finest remaining example of one of BMW's rarest US models: the 1995 BMW 540i M-Sport. I've thrown together all the juicy details about this car on this page. After you review everything, feel free to email me with any inquiries.

What is it and why is it special?

Charlie Kindel, the internet's 1995 BMW 540i M-Sport expert introduces the 1995 540i M-Sport:

In late 1995, just prior to switching to the E39 5-series body style for the 1997 model year (there is no such thing as a U.S. 1996 model year 5-series), BMW pumped one last breath of life into the V8 powered, E34-bodied, 540i for the U.S. market: The 1995 540i Sport. They did this by using almost all of the parts that went into the [Europe-only] 1995 6-cylinder E34 ///M5, except the engine and transmission. 200 of these 540i Sport models were sold in the U.S. 135 of them had the 6-speed manual transmission and the rest (65) had the automatic.
Please visit Mr. Kindel's Definitive Guide for the full explanation. Personally, I never sought a rare model like this, I only wanted to replace my beloved E28 535is with a spiritual successor. Ultimately, I purchased this car simply because it was the nicest used E34 I could find. Now almost 20 years have elapsed since these were built, and this may be the finest remaining 99% original, fully-functional 540i M-Sport left of those elite 200.

Basic information and photos

Year: 1995
Model: 540i M-Sport
Engine: 4.0 liter Nikasil V8
Transmission: 6-speed manual
Mileage: 45,500 miles
Exterior: Alpine White
Interior: Black bison leather, anthracite carpet
VIN: WBAHE5323SGA65370
Modifications: Billy Boat stainless steel exhaust, Dinan chip (both mods easily reversed should you choose)
Location: in storage near Minneapolis, MN
Price: $30,000.00 or best offer

Overall stellar, fully useable or showable condition. Fanatically maintained, especially since 2008. Adult owners, never a smoker in this car. One small accident in 2003 necessitated the replacement of a front quarter panel. You'd never know it.

But…

Allow me to address any potential buyer's suppurating paranoias head-on:

What's broken?

Nothing. Everything works, everything checks out. I'm that disciplined dude who's annoyed by everything yet solvent enough and mechanically adept enough to smash any problem when it crops up.

What are you CarFax hiding about that accident in 2003? How are you in cahoots?

Again, nothing. Story goes that a taller vehicle backed into the front quarter panel on this low-slung car, leaving a golf-ball sized divot. Obviously, panel replacement is the right move here, and consequently, that panel lacks a VIN tag. There aren't any frame issues or other silliness.

So it's been repainted? Or the leather's been re-dyed?

Uh, no. With the exception of the replaced panel and the front spoiler (repainted in 2007 by EAG), this car wears wonderful original paint with no glaring major or medium-sized defects. Bear in mind that under a magnifying glass, original paint means rock chips, swirls, bad touch-ups, light scratches, tar stains, bug parts, etc. Expect surprisingly excellent paint with of 20 years/45,000 miles of use, not factory-new, cleanroom-grade Alpine purity. The leather is all original and the driver's side bolster shows a little wear (see photos).

It's a used 90s BMW and they're always beat up. How have you sullied it, you monster?

I purchased it in November, 2011 and have driven approximately 5000 miles per driving season (May 1 to Oct 31), so ~15,000 miles under my ownership. I have never tracked this car or driven track-hard on public roads. However, I have gone to warp speed (145 mph) a few times on known desolate public roads.

Minnesota, eh? That's like Canada with saltier roads. How rusted is this thing?

Some parts, like the usual under-car fasteners or suspension linkage, will show minimal corrosion like they do on most cars. That said, you won't find any body or chassis rust. This car has been stored every winter it's spent in Minnesota, either in the previous owner's AutoMotorPlex hideout or in my nondescript south metro car dungeon. It hasn't tasted salt once since setting tread in our frozen hellscape.

Isn't that time-bomb EDC system all broke-down and leaky?

Not at all. I've had this system inspected twice in two years by an indy and a dealer. No leaks or functional problems whatsoever. "S" mode and "P" mode do feel distinct, although the added stiffness isn't useful until you're either cornering tightly or travelling over 80 mph.

But this car has a Nikasil block, couldn't it explode at any moment?

I was afraid once, but 5,000 (later 10,000 and 15,000) miles of driving made me rethink Nikasil.

Remember that not all Nikasil engines were affected by the lining degradation issue. The use of sulfur-laden gas varied state by state depending on local environmental regulations. This car saw warranty service throughout the late 1990s and has seen annual dealer service since 2007 (and probably regular service in between). In all that, not a single technician expressed concern about the block. This engine is completely issue-free, idles smoothly, and pulls vigorously at RPM. High-sulfur gas is long extinct, so have no fear. If you can't live with the fact that this car has a perfectly-functioning Nikasil block, buy something else.

What dark magic is keeping the interior from falling off?

The interior quality on this car is noticeably higher than that of other E34 models and much nicer than the E36. I did have issues with the front door panels, but I resolved those myself by doing a proper job: scraping the old adhesive off the door panel and the plastic "popper holders", re-gluing them in their correct orientation with Loctite PL, inserting new poppers, letting the adhesive cure for an entire winter, and finally re-installing the panels. No issues since. Interestingly, the rear door panels used a different adhesive than the front panels, and they're holding fast.

When did you add all the fake M-Sport bits to this regular 540i?

Check the VIN, under-hood photos, EDC button, suspension, exterior mirrors, wheels, door sills, instruction manuals, lower bodywork, steering wheel, and illuminated gear lever to quell your authenticity fears. It's real.

Why sell it?

Every owner plays his or her role in a collectible car's life. Some are mechanics who restore or upgrade them, others enjoy collection and ownership, and yet others are divine their satisfaction from driving. The previous owner was primarily a busy collector who enjoyed an occasional drive. He got annual inspections, added the chip and the exhaust, and cared for the car fairly tenderly.

I'm a strong driver with mechanical talent. By driving this car more, I found various kinks over time and worked them out until I had a perfectly operational vehicle in utterly amazing condition. It just also happens to be a collectible—which is precisely why it must go. Moreover, I'm a Porschephile who prefers smaller vehicles. I hit my three-year deadline. It's time for a Cayman GTS.

Ideally, this car's next owner is a hardcore collector. Someone either clinging to fond memories of their previous E34 or someone possessing a serious penchant for bygone, golden age BMWs looking to fill a gap in their stable. He or she—well, you—could also be a previous M-Sport owner seizing this opportunity to trade up and enjoy another 150,000+ miles of exclusive, historic carriage. You'll probably need to be able to cut a check for the car outright, no traditional institution will finance a ride like this. You'll also want to speak with Hagerty about collector car insurance.

Vehicle history

I've purchased a recent CarFax for you (dated November 23, 2014). Please download it here. Here's the car's known documented and undocumented service history. Records cover 2007–2014 only.
2007

Enthusiast Auto Group—September 18, 2007 (26,327 miles)

Removed and replaced clutch kit, resurfaced flywheel
Replaced front brake rotors and pads
Replaced rear brake rotors and pads
Replaced front brake caliper seals
Adjusted parking brake shoes
Replaced oil line from filter to cooler
Removed and replaced blower motor assembly
Performed inspection II service
Replaced engine drive belts
Flushed brake fluid
Flushed power steering/EDC fluid
Flushed antifreeze
Changed differential fluid
Swapped mounted wheels for correct throwing star wheels
Detail service
Install Dinan ECU
Compression test
Delivery
2008

Motorwerks BMW—May 27, 2008 (27,692 miles)

Installed special-order Dinan exhaust
Mounted and balanced four tires
Checked battery after car required jump start—battery tested good
Install left side motor mount
Provided radio code
Checked squeak during low-speed braking, nothing found
Installed updated Dinan software
Performed showroom detail
Performed BMW oil service
Motorwerks BMW—July 17, 2008 (27,816 miles)

Addressed squeaking noise from glove box by adjusting clamps
Special-ordered passenger seat control part
Provided radio code
Replaced illuminated leather shift knob
Replaced front door sill plates
Replaced center console wood trim
2009

Motorwerks BMW—February 25, 2009 (28,270 miles)

Car towed in from AutoMotorPlex for service.

Customer found major oil leak
Hooked up engine to smoke machine
Replaced left timing cover gasket
Installed new intake manifold gaskets
Installed new throttle body gasket and backing plate
Smoked intake to verify repair
Replaced leaking power steering line
Inspected torque of oil pump bolt, removed, cleaned, applied Loctite, and reinstalled/retorqued
Installed new oil pan gasket
Installed new battery
Performed BMW oil service
Installed new passenger seat power seat controls
Recommended that customer occasionally drive car at high RPMs
BMW of Minnetonka—September 16, 2009 (29,288 miles)

Performed BMW oil service
Fixed seat twist
Verified Dinan exhaust is authentic and checked fitting (apparently, the part looks just like a BMW part and this confused the PO)
Checked instrument cluster lighting, verified function
Mounted and balanced Continental tires (current tires)
Checked fog light error. Replaced fog light bulbs.
2010

No service performed in 2010.

2011

Motorwerks BMW—May 6, 2011 (30,453 miles)

Installed Billy Boat exhaust
Perfomed a world-class inspection (that's what it says)
2012

Stuff I did—March 2012 (~31,500 miles, early spring!) and November 2012

Changed oil and filter (Lubro-Moly 0W-40, Hengst filter)
Replaced trunk and hood gas shocks
Replaced throttle cable
Replaced pedal linkage bushings and springs, lubricated all frictive surfaces
Repaired door panels as described above (Fall 2012), reinstalled in April 2013
2013

Stuff I did—July 5 (37,500 miles)

I completed the the majority of an Inspection II service. My notes are rather decent:

Replaced drive belts. Used Contitech serpentine and AC belts.
Lubricated throttle linkage. Lubricated with ATF.
Replaced air filter. Used Mahle filter element.
Changed oil and oil filter. Used Mahle filter, Motul X-Cess 5W-40 oil.
Replaced spark plugs. Used Bosch 7402.
Checked all fluid levels, checked all systems for leaks. None found.
Checked battery acid level. Replaced battery with correct Exide model.
Changed transmission fluid. Used Royal Purple Synchromax.
Checked drive axle boots for leak. Looks OK, going to watch passenger side.
Look for fuel leaks. None found.
Bled brakes. Used Ate type 200.
Inspected clutch hydraulics and elected not to bleed them. Slave cylinder a little wet, mechanic will replace.
Inspected pad wear and brake rotors. Everything looks fine, really nice, actually.
Checked suspension for leaks. Nothing found.
Check exhaust. Skipped.
Check wheel bearing play on all wheels. Skipped.
Checked tread wear and depth. All's well. Tire tread fine, tires themselves seem old (2009).
Corrected tire pressure.
Scanned for codes. None found.
Check function of all lights. Cursory examination, everything OK.
Check horn and switches. I use the car, all of this is fine.
Lubricated windshield wiper linkage with ATF.
Replaced wiper blades with SWF parts.
Greased seat runners with Wurth lithium grease.
Lubricated hood release cable with ATF.
Lubricated door, hood, and trunk latches with leftover AMSOIL 5W-20.
Lubricated lock cylinders with MasterLock Teflon oil.
Tightened door lock fastners and striker plates for that sweet Germanic thud.
Applied Gummi Pflege to all seals.
Replaced master key battery.
Imola Motorsports—July 16

This work was a response to things I found while doing part of a standard Inspection II service. Some of it's corrective, but most is work I didn't feel like doing. These guys never provided final paperwork, so I'm using their estimate .pdf to make this list.

Replaced slave cylinder
Replace differential housing gasket, filled with synthetic 75W-90 (probably M1 at this place).
Drained and filled cooling system
Power steering/EDC fluid flushed (CHF 11.S)
Replaced center link and tie rod ends (new TRW parts)
Replaced idler arm bushing
Front wheel alignment
Replaced fuel filter (Hengst)
Replaced fuel level sender
Replaced cabin filter (Mann)
Removed window tint
Adjusted emergency brake
Replaced windshield with new OEM
2014

Stuff I did—June 2014

There wasn't much to do this year:

Replaced valve cover gasket. Used Elring Klinger gaskets, Victor Reinz nut/bolt gaskets, and Permatex "copper" gasket maker for the key areas that require it. Old gaskets extremely stiff.
Replaced plastic fasteners on fascia near hood/windshield.
Replaced some cable-grabbing plastic bits under the hood.
Replaced windshield washer fluid reservoir and pump.
Relubricated throttle pedal/linkage interface with lithium grease.
Repaired non-functioning driver's seat headrest.
Checked for codes. None found.
Changed oil later at 42,500 miles (Motul X-Cess 5W-40, Hengst filter I think). It'll need new oil either in July 2015 or at 50,000 miles, whichever comes first.
Motorwerks BMW—July 2014 (42,118 miles)

Fixed a leak and a seat motor issue. Can't find this document, going from memory.

Found rear end leak. Replaced differential filler plug gasket.
Seat motor cable came undone. Repaired.
LaMettry's Auto Body—late July 2014

While parked in a Minneapolis suburb, some hateful, lowlife punk decided to scrape a 20 year old car. Fortunately, his attack was confined to one panel—the same panel that was replaced in 2003. These guys fixed it right up, looks great.

What else is included?

This car comes with the following original parts and accessories:

Leather instruction manual case complete with all instruction manuals, model-specific supplementary manuals, radio information, and more. This is quite a time capsule.
A second, like-new LKM-L (light control module)
Two original six-disc magazines, one still in "new old stock" condition. I don't think the changer has been used much, I never touch it.
Door panel coin tray
Master key
Second master key
Wallet key
Original, no longer functional key
Valet key (not pictured)
Second set of floor mats (not pictured)
Plastic front bumper strip for those who don't need a front license plate (pictured on car in professional photos below)
It also includes these other parts and accessories:
Some old BMW-branded dinosaur oil and a quart-sized oil pouch
New Mann CU3338 cabin air filter
Work history documents from 2008–present
The title (lien-free)
2010 BMWCCA Oktoberfest Concours award (see professional photos)
The E34 Bentley manual (not pictured)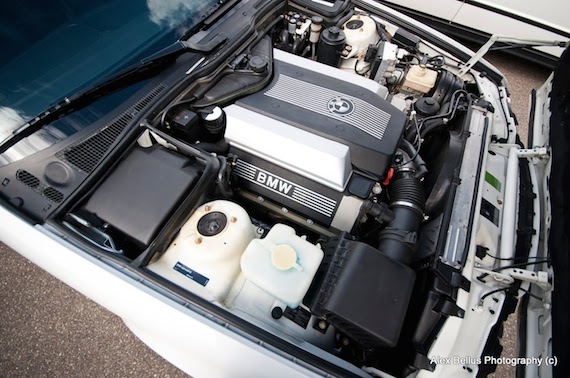 The description from the owner is yet another great example of how to present a vehicle for sale. The more information that is provided up front, the better it is for both the seller and potential buyer. I have to say, of all the cars BMW made in the 1990s, the 540i M-Sport is in my top three, alongside the E36 M3 Sedan and M Coupe. Two weeks ago, we asked the question: M5 or 540i M-Sport. After laying eyes on this low mileage example, the choice is obvious for me in this case. I'm always drawn to the last examples of any model range, as they often include technical advances, such as the V8 engine and 6-speed gearbox we see here, in a classic wrapper.
The asking price is very strong for this 540i M-Sport, quite possibly the highest we've seen here at GCFSB. However, this is one of the cleanest, no excuses example that I've seen in recent memory. Sure, it might not have the legendary M badge on its rump, but this car has the hallmarks of a true M car with exclusivity that is hard to match. This one might be a hard sell for the money, but if I had the cash lying around, I'd be gunning for this very car instead of that DTM darling, the E30 M3.
-Paul