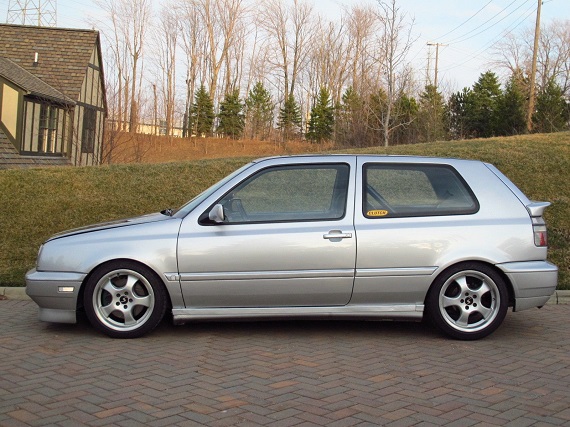 When I was getting into the "Volkswagen Scene", it was a game of brinkmanship. And by Volkswagen scene I mean my smallish group of friends who owned Volkswagens and all congregated at the local European fixing spot, and by brinkmanship I mean whatever we could afford at the time for modifications. I outfitted my "GolfTi" with a GLi interior and GLi-spec BBS RAs, my friend with his GTi got a Techtonics Exhaust and coilover suspension. One traded a Jetta Carat for a 8V 91 GTi in Tornado Red. Another (after more or less wrecking the mint 2.0 16V GLi he was given!) bought a G60 supercharged swap first generation Scirocco. That move gave this particular individual the trump card in the group, even if that G60 never ran right. The point is, we were all small potatoes, and that was made pretty clear to me when I ran into someone with an actual budget.
That person had a then brand new 1996 GTi VR6. An A2 chassis fan, I derided the A3 as fat and too luxurious. But how quick the VR6 could be was made pretty evident to me one day as I hounded the rear bumper of his GTi down a country road. Finally, he succumbed to my goading and lay hard into third gear. At the end of a quarter mile straight, it was enough to pull probably 10 car lengths on my clapped out Golf, but it might as well have been a mile – I was utterly defeated and my opinion of the VR6 changed in 15 seconds time. Since then, A3 GTi VR6s have always held a certain fascination for me and my time owning a '98 Golf K2 left me tempted to consider a late VR6 as a daily driver. But what if you had one and your group of friends also tried the same game of brinkmanship, but had better resources?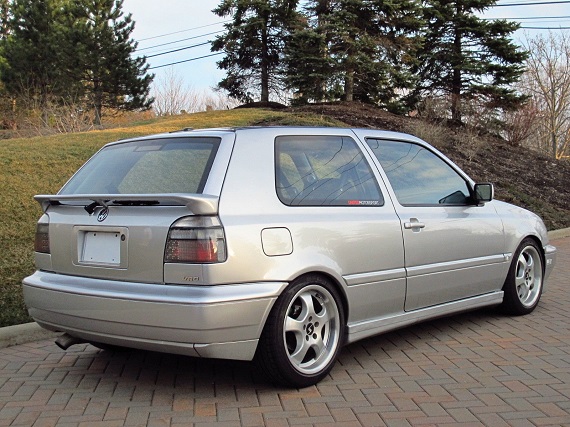 Year: 1998
Model: GTi VR6
Engine: 2.8 liter turbocharged VR6
Transmission: 5-speed manual
Mileage: 90,235 mi
Price: Reserve Auction
Call me at 440-339-4341 with questions.

This is a super, ultra clean 1998 Volkswagen GTI VR6 Turbo with 90,235 original miles. This car has been carefully, tastefully and ultra-professionally modified with performance parts for 400 wheel horsepower, yet retaining perfect everyday drivability and reliability. This car is superbly clean and has always been kept garaged and covered and has never been driven through any winters.

This car has been an active part of the local VW/import car show scene for many years and it has won numerous awards including several 1st place awards.

The previous owner of the car has been a friend of mine for about 15 years. He is extraordinarily knowledgeable in every respect of automotive tuning, mechanical work and electronics, and he is an absolute PERFECTIONIST. He only settles for work that is perfect, functions flawlessly and looks seamless. This car was literally his pride and joy and he owned it for 16 years. He spent nearly two decades caring for, upgrading and showing this beautiful vehicle. He is an active member of our local VW groups and clubs, and well-regarded as one of the master craftsmen of this hobby. He is known for super-clean installations, perfect operation of all components and zero shortcuts taken. No one does a better job in upgrading and performance part installations.

This car has had two private owners since new. It is the original paint (Silver Arrow- 1998 only). It has a clean and clear title.

This is a super-clean body with no rust or rot, with the exception of one 1-2″ bubble on the hatch around the glass. The paint is original and it is flawless and in excellent condition.
The interior is spotless. The seats are like new, the leather on the steering wheel isn't worn, all of the buttons and switchgear are clean and aren't "fingered" up or worn, even the suede shift boot and e-brake boot are in excellent shape. I have not seen a MK3 this clean in over a decade. This looks, feels, smells and drives like a nearly new car. It is hard to believe how nice this car really is in person.

The car starts and runs perfectly. All of the mods perform seamlessly and all of the factory gauges as well as the add-on instrumentation work perfectly. You could drive this car every day if you wanted, there are no drivability compromises. The engine is smooth and amazingly powerful. The suspension is tight and stable yet isn't harsh. The steering and brakes work perfectly. The car rides very well and it is comfortable and smooth. There is no check engine light illuminated and all the lights and gauges are working. The car retains all factory conveniences including air conditioning and power steering. This car was equipped new with ABS and moonroof- again intact and working.

The mods installed on this car are as follows:

Engine:

Garrett T4 60-1 turbo 3″ in and 2″ out
Matrix Engineering manifold and downpipe
Deltagate Racegate wastegate
ATP intercooler with 2.5″ piping
Stainless head spacer for 8:5:1 compression ratio
UM 42# software
manual boost controller- up to 15 psi boost
Walbro 190LPH booster pump
Aquamist 1s water injection (not currently hooked up)
3″ turbo-back exhaust to SLP resonator and high-flow catalytic converter

Trans:

Spec Stage 2 clutch
OEM lightened flywheel
Quaife ATB differential
BFI trans mount, Turn2 front lower mount, KCD front upper and rear upper mounts
Matrix Engineering oil cooler w thermostatic adapter plate and Setrab core

Suspension:

H&R adjustable coilovers
Autotech 28mm hollow rear sway bar
Eurosport rear upper strut tie bar
Autopower half cage with seat brace (bolted in)
Masontech skidplate

Interior:

Autometer C2 white faced gauges for boost, pyrometer (exhaust gas temp), oil pressure and fuel pressure
PLX Devices wide-band O2 sensor
Alpine head unit with CD/MP3/Sirius
JL Audio 12″ subwoofer with Sony amplifier (where back seat used to be)
JL Audio speakers in doors
LED gauge and interior lights
Audi TT pedals and dead pedal
MK IV Cabrio door handles
Sparco 3-point harnesses

Exterior:

Genuine carbon fiber hood and black-painted roof
MS Designs rear wing
Hella dual round headlights with 5000K HIDs
Euro VR6 lip
real French fog lights
Hella clear tail lights with LED bulbs
A4 sidemarkers in rub strips
Schmidt Cup wheels with BF Goodrich 205/45-16 tires

The boost is manually adjustable, up to 15 psi. At 15 psi, the engine output is approx 400 wheel horsepower. The car is currently set to 12 psi of boost for extended durability and longevity. This car has only had the turbocharged setup for approx 5000 miles.

The amount of time, money and energy invested in this car is staggering. Even if you bought the parts to replicate this car, you would never find a MK3 body and interior this clean.

This car is kept inside my heated warehouse in Willoughby, OH.

You can fly into Cleveland (CLE) and drive this car home. You can also have the car shipped- call Angels Transport at 530-245-0481 for a shipping quote. Note that this car has been lowered and the front ground clearance especially is reduced- please mention this when contacting shippers.

Questions, email me or call/text me at 440-339-4341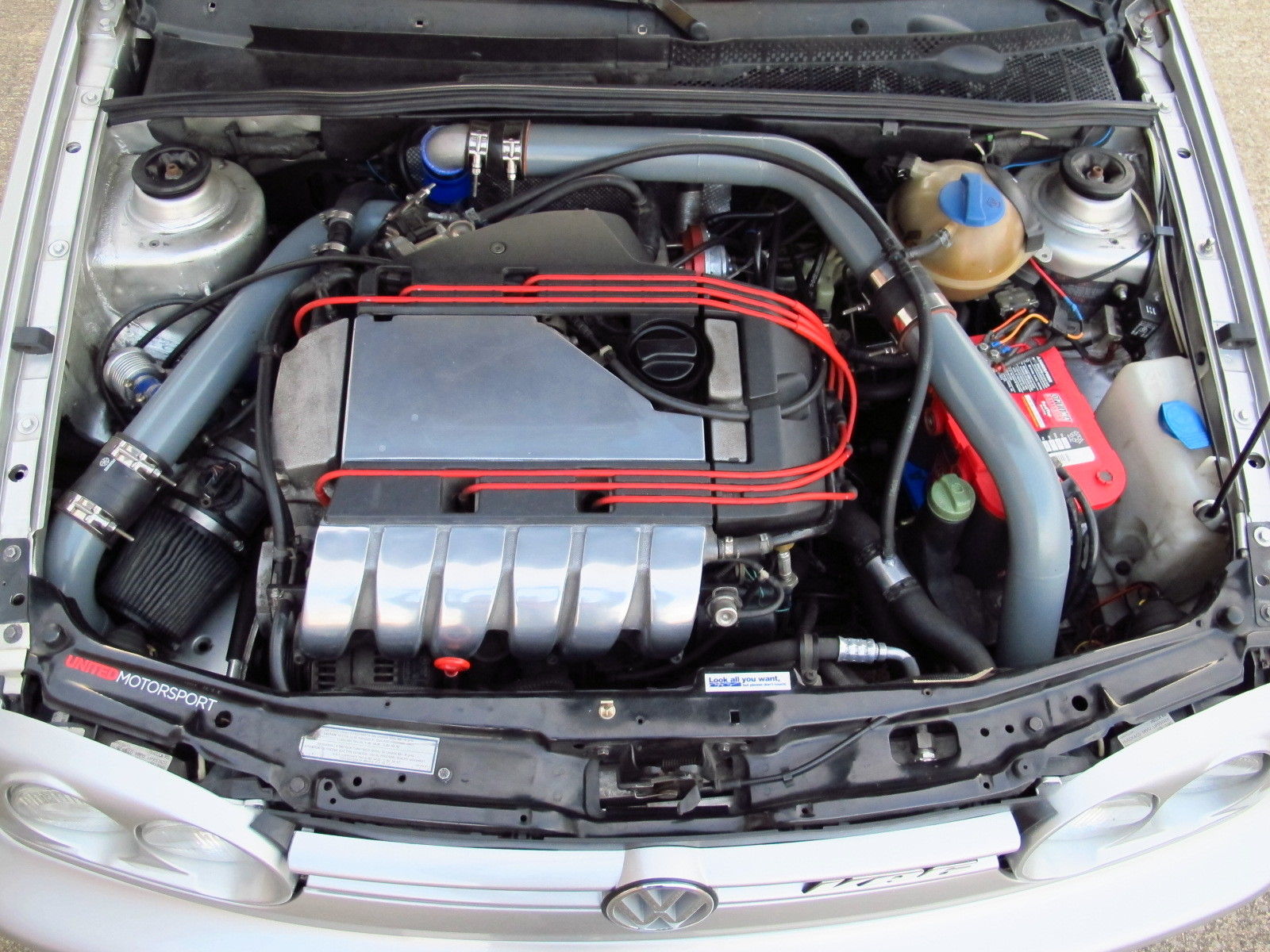 I like silver GTis quite a bit, and the later A3s got the Driver's Edition spec kit which is neat. This car strays far away from stock but is modified well compared to how many appear. The mods are big-dollar items that are well executed overall. I'm a big fan of the Hella front end conversion and Euro lip; admittedly, I'm not as big of a fan of the black hood and roof but those are relatively easily remedied. The Schmidt wheels also wouldn't be my choice but are hugely popular in the VW crowd so if you also didn't like them you could get your money back out of them without issue. Companies such as EIP have had great luck with turbocharging the VR6, and with 400 horsepower on tap this one should be no slouch. If you generally like the mods and the hotter-hatch formula, this is a great way to get into the scene – have someone else do all the heavy lifting (well) and turn the key. There aren't a lot of opportunities to get into a package like this and though it has a limited market there are many avid Volkswagen enthusiasts that I'm sure will find this car appealing. Were it mine, I'd probably revert the car to a slightly more stock look (but save those awesome Hellas!) and surprise every Mk6/7 GTi owner that thinks they're Sébastien Ogier.
-Carter