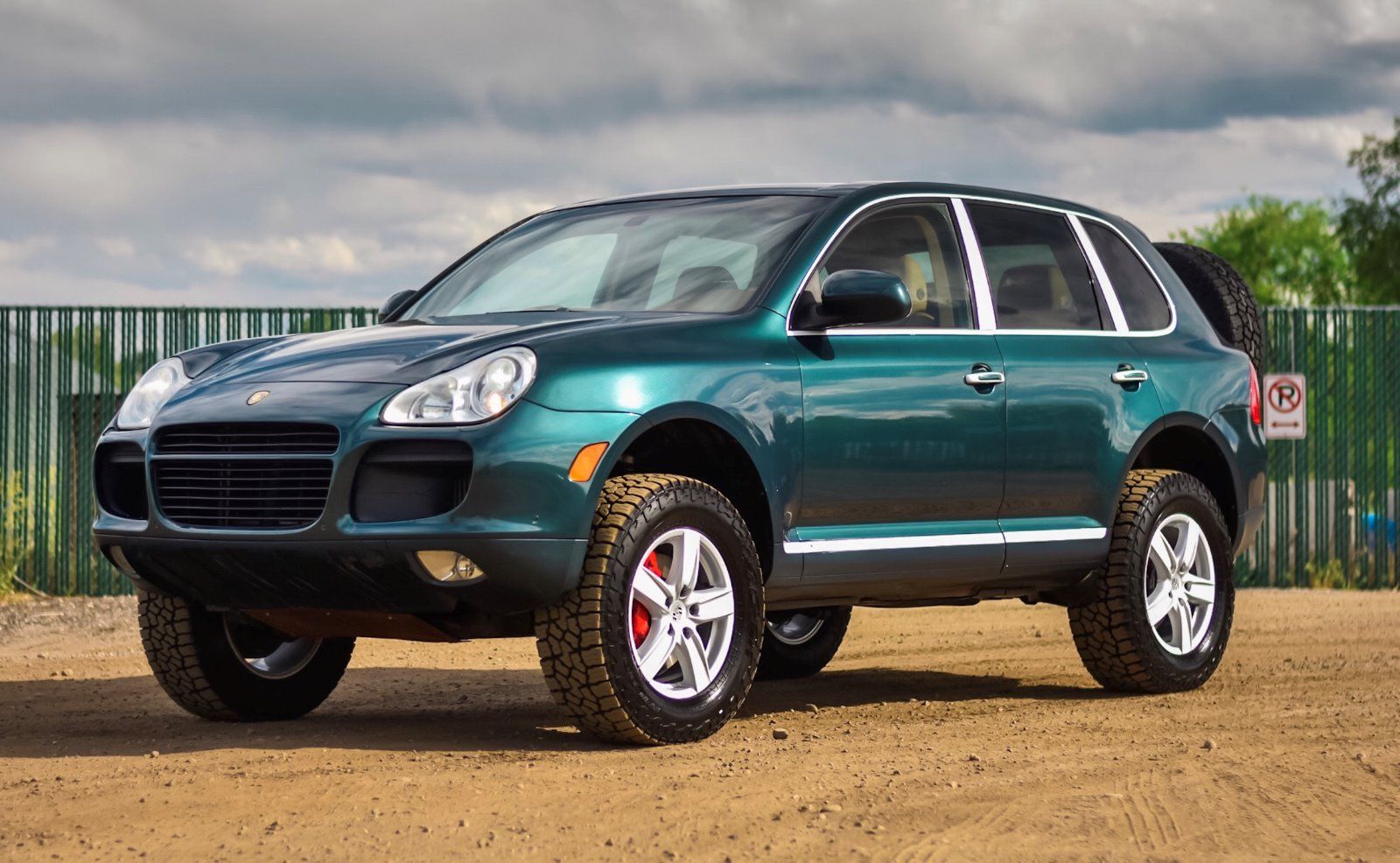 Did the world need a 450 horsepower Porsche off-roader? Maybe not. Is it cool that one exists? Certainly. Porsche came to the SUV party a little later than Mercedes-Benz, BMW and even corporate partner Volkswagen, but when it did it came in with some serious motivation. Alongside the VR6 and V8 models – already fairly potent engines – came a twin-turbocharged 4.5 liter unit. With 450 horsepower and 460 lb. ft of torque mated to a six-speed Tiptronic transmission, acceleration was blistering. The 5,700lb heavyweight hit 60 in a sports car embarrassing 5.3 seconds and was capable of topping 170 mph. Massive six piston Brembo brakes provided 911-like braking capability, too, and while in default the car had a 60 percent power bias to the rear, Porsche Traction Management system could transfer up to 100 percent of the power to whichever axle needed it most – or, more properly, was using it best.
That hinted that this was more than just a tall on-roader like the X5. No, the Cayenne was a serious off-roader. With lockable center and rear differentials, a low-range box with planetary gearing and height adjustable air suspension, it was more than competent when the going got rough. And with short overhangs both front and rear, it could actually conquer big elements. Pushed, it could also head through nearly 2-foot deep water, as well.
For most Cayenne (and especially Cayenne Turbo models), these features were about as useful for most owners as the top speed of the entire 911 range in the U.S. is. Nevertheless, it pointed towards Porsche's careful engineering of the Cayenne to be a true all-around performer. And that unique focus on performance has inspired some individuals to capitalize on the model's prowess: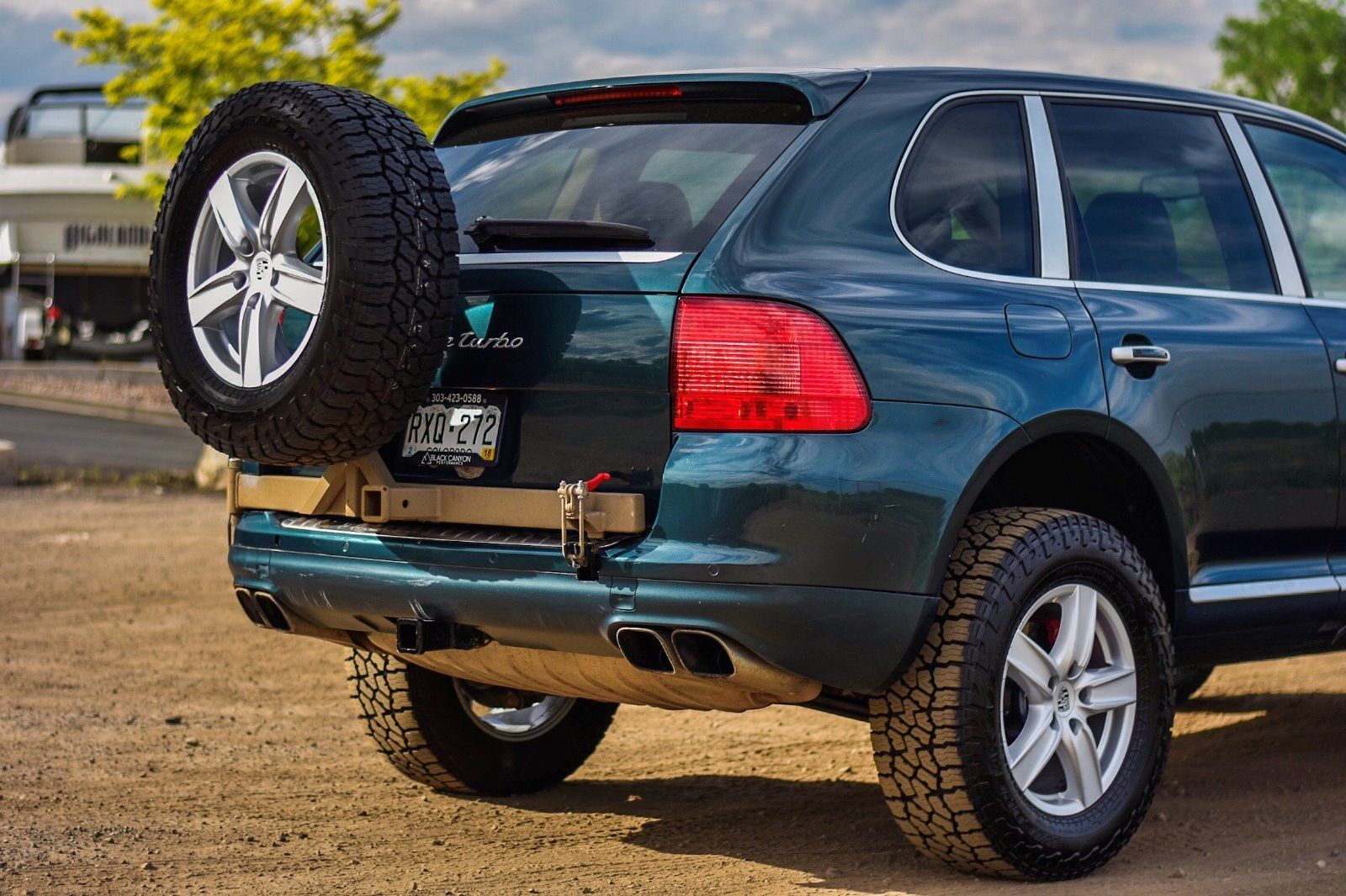 Year: 2004
Model: Cayenne Turbo
Engine: 4.5 liter V8
Transmission: 6-speed automatic
Mileage: 168,243 mi
Price: No Reserve Auction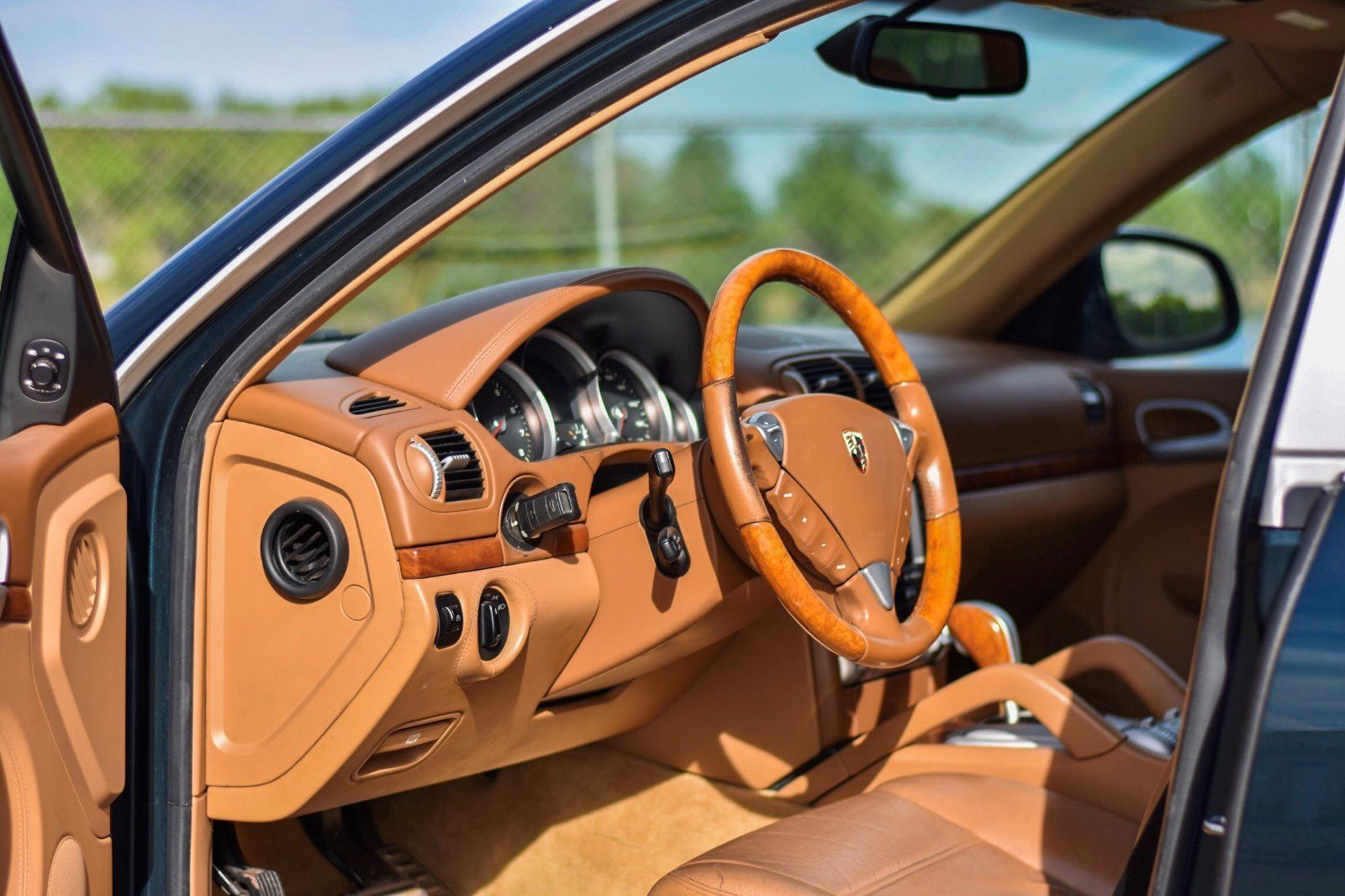 Excellent Condition
2004 Porsche Cayenne Turbo w/ custom off road features – software lifted ~3inches
168,243 miles
Bose Audio
Air Suspension
Heated Front and Rear Seats
Navigation
Tow Package

Porsche Mechanic Owned
Thousands invested in extremely recent repairs, maintenance and upgrades.
Professionally detailed and paint corrected.
Needs nothing.
Transmission shifts perfectly and smoothly.
Oil changed 10 miles ago, Mobil 1 full synthetic
Passing emissions inspection in hand.
Title in hand.

Repairs/maintenance within the last 5K miles:
Falken Wildpeak AT3W 285/65/18 (32 inch) Tires (Spare has never seen pavement)
Front brake rotors and pads
Rear brake rotors and pads
Both batteries (Under seat and in trunk)
Gas struts for rear hatch
Engine air and cabin filters
O2 sensor
Front lower control arms
Alignment
Transmission Flush
Front Differential Oil Change
Rear Differential Oil Change
Transfer Case Oil Change
Power Steering Flush
Power Steering Pressure line replacement
Intake boost pressure pipe replacement
Brake booster piping replacement

This Cayenne has been prepared and built to use exploring or simply show off around town. My goal with everything I did to this Cayenne was to make it as reliable and mechanically sound as possible. No expenses were spared. The truck doesn't leak any fluids, the under side is dry and clean. My intention was to use this truck off road for exploring this summer, however being a previous pick-up owner, I decided I really needed a pick-up again. This was a fun project and I was shocked at how capable these vehicles really are off road. It is capable of similar terrain to a mild lifted Toyota 4 Runner or Tacoma. It's also a fantastic tow vehicle, though I only towed my boat with it a couple times.

I just had the entire car detailed, including a paint correction and wax. As the pictures show, the paint looks fantastic. There is normal wear and tear for a vehicle of this age and mileage, however I would say its in overall great shape. The passenger front seat has a tear in it, which could be repaired if its a concern of the new owner. The front bumper has some clear coat peeling and some scratches but no major damage. Under the rear license plate there is a chunk of paint (pictured) that has chipped off. No major rust here, touch up paint or a full respray of the hatch would completely resolve.

The rear spare tire carrier was custom made, and the rear bumper was cut to accommodate it. This carrier could be removed if desired, and the bumper replaced and no one would ever know. As you will notice the swing out/carrier also has a receiver on it. This is not for towing, but is for having a hitch style bike rack higher off the ground for better ground clearance in the rear, and also allows you to tow at the same time with the regular hitch, if desired.

On Jun-26-17 at 17:48:24 PDT, seller added the following information:

PLASTIC COOLANT PIPES HAVE BEEN REPLACED WITH METAL
CARDAN BEARING HAS BEEN REPLACED AND HAS NO ISSUES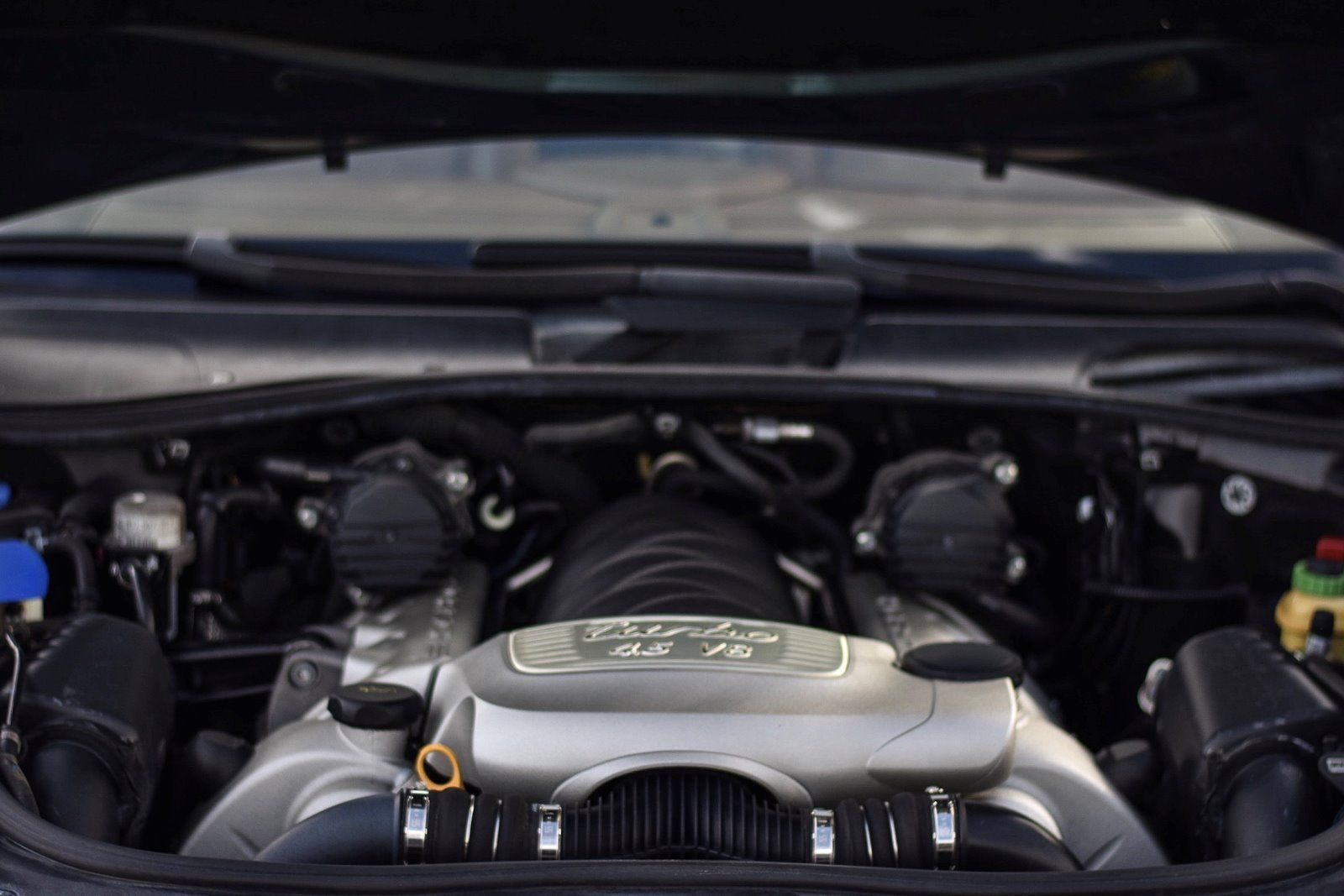 Dark Teal Metallic with Havannah Sand Beige is a lovely combination to see on the mostly black, silver or white first generation 955 Cayennes. But what really sets this model apart is of course the heady lift. With three more inches of ground clearance, the build allowed for the mounting of 32″ tires on the 18″ wheels for a rally raid-inspired look. That's matched by the external mounted spare; I can't help but look at this Turbo and think back of the early 1990's Golf Country. But again, more than just a looker, this car has the performance to back up the look and the maintenance to exploit it. As off-roaders go, you won't find many as nice looking or fast in this price range, nor will many be more capable. But the look alone might be worth the price of admission, especially to get it a bit muddy and head to the local PCA event.
-Carter