The Ultraviolet 2016 Porsche 911 GT3 RS remains up for sale and the price has come down by $20K. I wanted to revisit this one because while this was the first GT3 RS in this color I had seen at the time I featured it, I have now come across a few others (all with equally high prices) and I've come to like the color a lot more. In direct light like we see here it does come across as an extremely bright purple, but in other pictures that are more shaded the color is much more subdued and, dare I say, extremely attractive. It will always be a niche color, there is no doubt about that, but seeing it again I think it's less outlandish than I initially considered and really can fit the persona of the car quite well.
The below post originally appeared on our site December 6, 2015: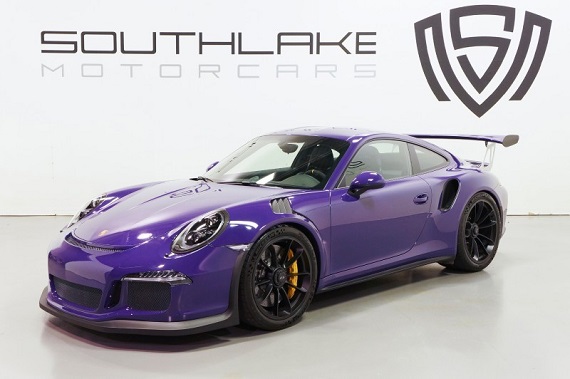 The 911 GT3 RS. The ultimate expression of a road-going icon. We've talked about this model quite a bit in the context of the 997 GT3 RS, which at this point appears will be the last of these models to feature a manual transmission rather than PDK, but we haven't actually featured one. The GT3 RS itself also happens to be my favorite car so I've had my eye out for these for a while now, and I've seen quite a few of them coming up for sale. But for some reason this one really stood out (hint: it's the color) and I finally decided to feature one. First things first: this is almost a ridiculous color, no better evidenced than by its name – ultraviolet. This is PURPLE in it most purple purpleness. But that's fine and frankly these are the sorts of colors that I like to see on a GT3 RS anyway. That ridiculousness is propelled by a 4.0 liter flat-six throwing 500 hp at the 7-speed PDK transmission, which then delivers it all to the rear wheels as the rpms scream toward 9000. In typical GT3 RS fashion the interior has less frills, features lighter sport seats and it lacks rear seats altogether. That loss of weight along with the revised suspension will help these 911s keep up with the best other car makers can offer. I'm going to withhold my assessment of the styling of these until I see one in the flesh, but there's a lot going on and I'm not sure I'm totally on board. About their performance there should be no such reservations.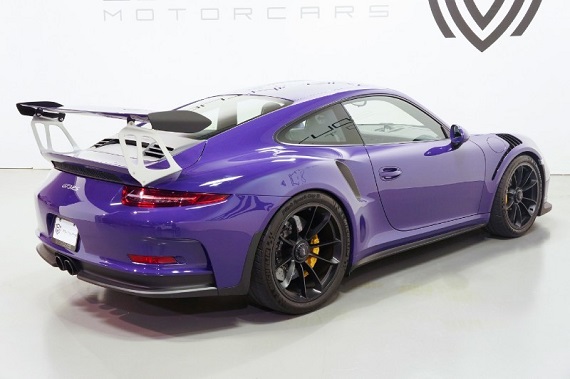 Year: 2016
Model: 911 GT3 RS
Engine: 4.0 liter flat-6
Transmission: 7-speed automatic
Mileage: 60 mi
Price: $379,495 Buy It Now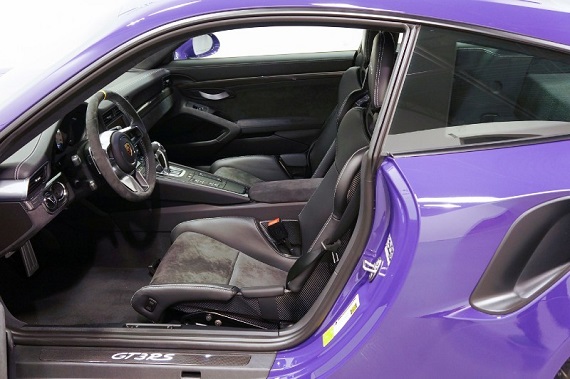 2016 Porsche 911 GT3 RS

CALL US TODAY: 972-888-5850

ORIGINAL MSRP: $233,325 – LIKE NEW!!

HIGHLIGHTS:

– 2016 Porsche 911 GT3 RS

– Ultraviolet Exterior ($3,140)/Black/GT Silver Leather Interior (Alcantara) ($3,480)

– LED Headlights in Black with Porsche Dynamic Lights System (PDLS) ($3,715)

– Porsche Doppelkupplung (PDK) Transmission

– Porsche Ceramic Composite Brake (PCCB) ($9,210)

– Sport Chrono Package (Porsche Track Precision App) ($1,850)

– Extended Range Fuel Tank, 23.9 gal

– 20"/21" GT3 RS Wheels

– Wheels Painted in Satin Black ($685)

– Light Design Package ($510)

– Full Bucket Seats

– Smoking Package

– Floor Mats

– Luggage Net in Passenger Footwell

– Fire Extinguisher ($140)

– Instrument Dials in White ($860)

– Sport Chrono Clock Dial in White ($500)

– Sun Visors in Alcantara ($585)

– Door Sill Guards in Carbon Fiber, Illuminated ($1,275)

– Pedals and Footrest in Aluminum ($625)

– Porsche Communication Management (PCM) including Navigation Module

– Sound Package Plus ($700)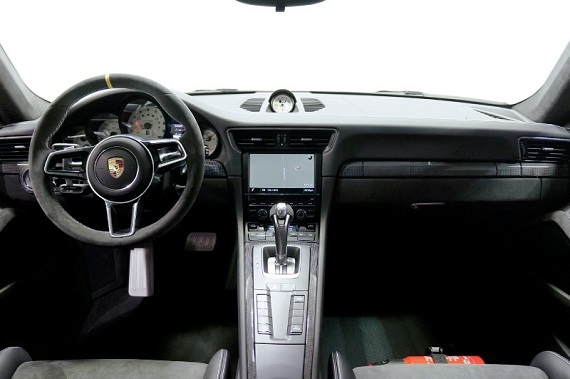 So it doesn't have a traditional manual and that's too bad. Porsche has made clear their thinking on this: the GT3 RS is faster when equipped with the PDK transmission and since the whole point of these cars is to maximize their performance then the PDK is the natural choice. Frankly, with 500 hp we're well beyond what is usable on the street anyway so I can see their thinking. It'd still be great to have a proper manual, but if your desire is for time on the street then the new Cayman GT4 can be had with a 6-speed manual and perhaps that's the overall better choice for those drivers. It's also much less expensive. About the price: this seller has been kind enough to make clear just how much of a markup they have attached to this car and it's quite significant. This GT3 RS had an MSRP of just above $233K, making the $379,494 asking price here seem more than absurd. That's quite a premium they're looking to extract and if I'm remembering correctly it's the highest priced example I've come across. They're asking a lot for this color. In fairness, I don't think I've seen a GT3 RS with an asking price below $300K so all of this is relative, but the writing on the wall is clear: if you want one immediately it will cost you significantly.
-Rob