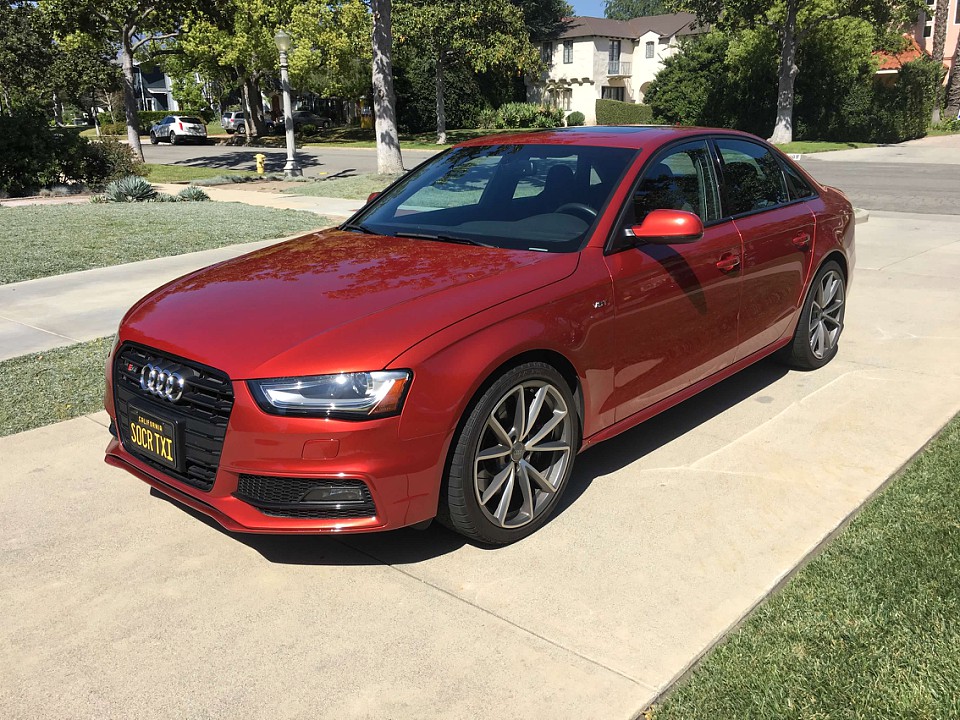 Just the other day, an old car friend of mine contacted our group of enthusiasts with an interesting challenge. He currently owns a Nissan 370Z, and while he really likes the car he's got a family and needs something a bit more practical. So he queried the group; what car should he get in the $40,000 range that was special, fast, had 4-doors and a manual transmission?
Several thoughts came to mind, and I'm sure that everyone's head is already spinning like mine did. While immediately several went to BMW M products like the E39 M5, I had an alternate suggestion which also considered where my friend lives – New Hampshire. 'What about the Audi S4?' I suggested. He admitted had hadn't thought of one, in part because he previously owned a S4 – in his case a B5 – and didn't love the driving experience.
Well, since the S4 has come a long way since the 1990s in power, technology, size and driving experience. And what has emerged is a very impressive all-arounder which flies under the radar. The supercharged V6 in the B8 gave a healthy 333 horsepower an Russian steppe-flat torque curve with 325 lb.ft available from 3,000 rpms straight through 5,250. This power could be channeled through two increasing rare options to find in electronics-heavy cars – a manual gearbox and a sport differential. Okay, 333 horsepower doesn't sound outlandish in today's world. But as with fast Audis of the past, the B8 and 8.5 made efficient use of that power and putting it down on the ground, making them capable of 4.4 second 0-60 sprints and a 13 second quarter-mile. This is a car which punches above its weight class, capable of embarrassing unsuspecting muscle cars.
Yet it retains its luxury-oriented character and go-anywhere all-wheel drive options, along with the practicality of offering 4-doors. And like 'Q-Ships' from the past, outside of a few extra exhaust ports and slightly flashier badging, most people would be hard-pressed to differentiate this serious performance package from the normal A4 wrapper. But that doesn't mean that this car has to be boring, and you could select a few beautiful exterior colors such as this Volcano Red Metallic example: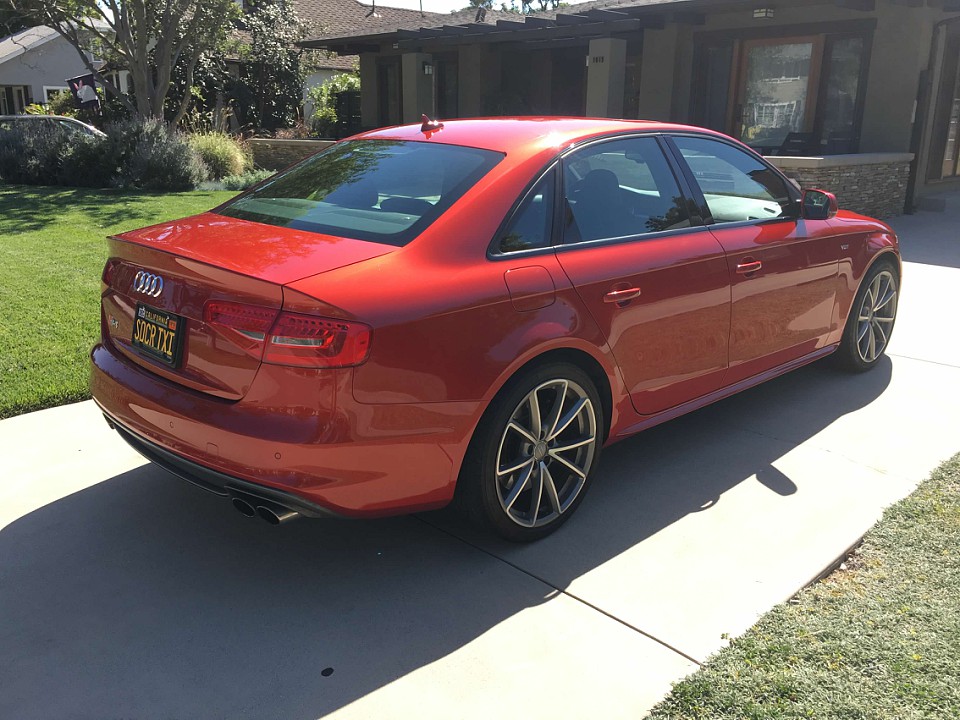 Year: 2015
Model: S4
Engine: 3.0 liter supercharged V6
Transmission: 6-speed manual
Mileage: 43,000 mi
Price: $35,000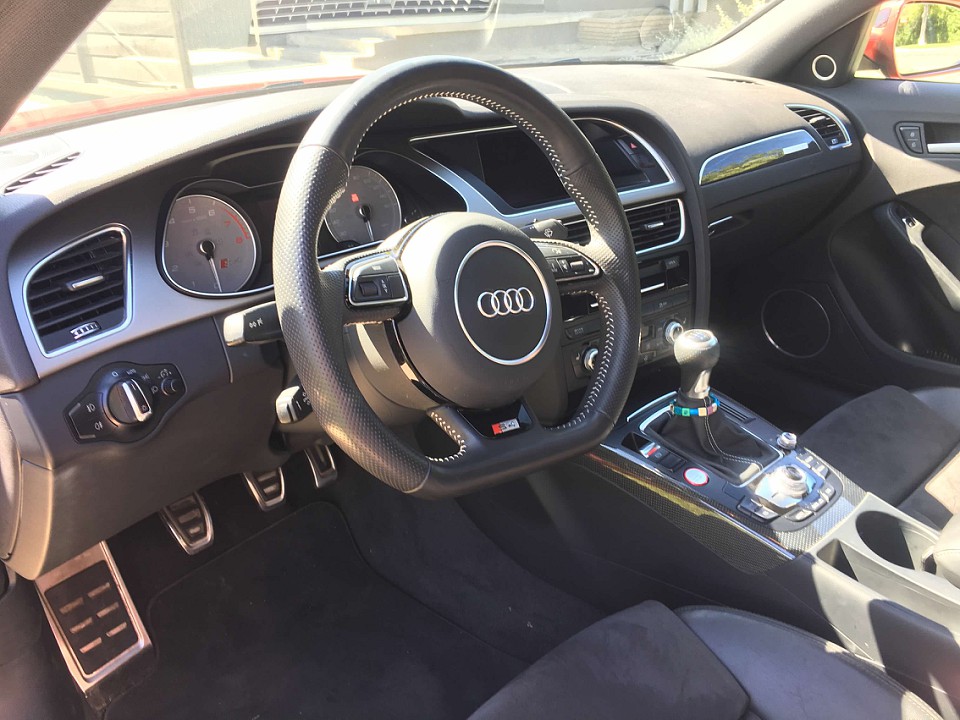 Last of the Manuals! I am selling my custom ordered 2015 S4. Extremely rare Volcano Red color combo with manual transmission. Original owner. Factory Maintained. Sadly, never tracked. 43,000 miles. Rear bumper resprayed after parking lot shenanigans by blind driver. Work done by local, Audi certified Audi/Bentley/Lamborghini/Tesla shop. Car is in excellent condition. $35,000 OBO.

Factory Options:
Technology Package
Sports Differential
Black Optic Package
Adaptive Suspension
Bang & Olufsen Sound System
Rear Side Airbags
Carbon Atlas Inlays

Other Options:
S Line Perforated steering wheel and shift knob
Audi Q5 Caliper upgrade with slotted, floating rotors
10mm Wheel spacers
7year/100K mile extended warranty
Audi Car cover and Window shade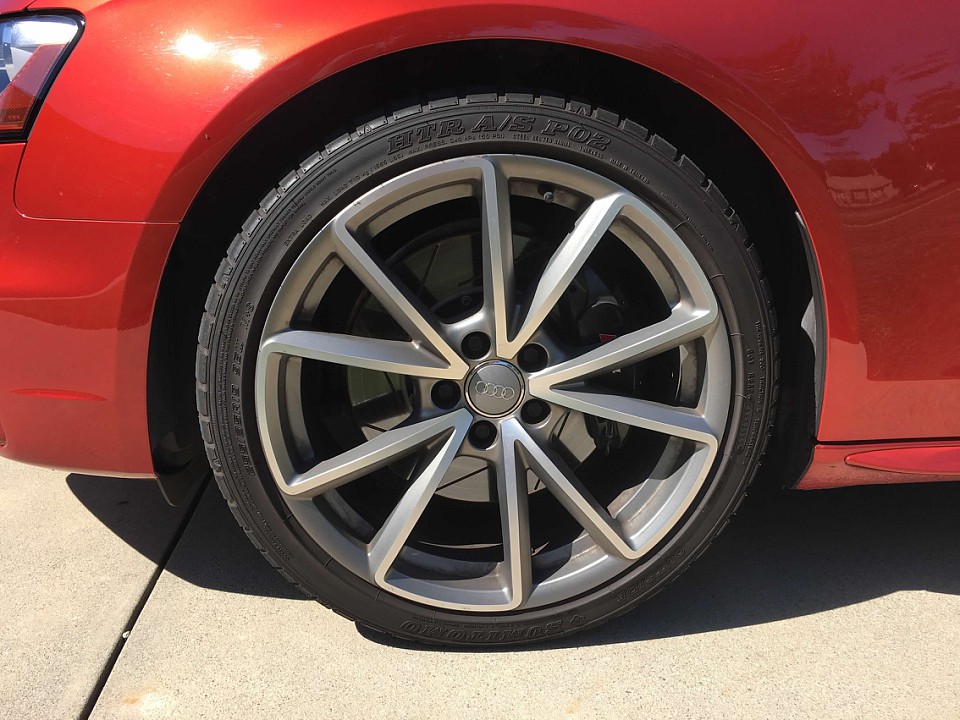 The B8.5 refresh in 2013 really improved the look of the S4 – especially the front end, in my opinion. The rectangular lights and revised LEDs look much more purposeful than the early examples. Audi also revised the MMI system, and for its period it was generally considered the best unit on the market. The Premium Plus package bundled that MMI navigation plus with Audi connect, parking system plus and Audi Side Assist. The Technology Package gave you CD/DVD player and HD radio in addition to those driver aids. Selecting the Black Optics package gave you the new 19-inch Titanium V-spoke-design wheels with 255/35 summer tires, while other options included the Bang & Olufsen sound system, sport differential, adaptive suspension, rear air bags and carbon inlays. In fact, the only option available and not selected for this car was Nappa leather, making this car about as loaded as you could spec. It is in beautiful condition, to boot.
Still well within warranty, this S4 represents the sweet spot for these cars. It's still very much a "new" car, yet you're over the precipitous drop in initial value through depreciation. It's a beautiful, luxurious, comfortable and brutally effective sport sedan that can be used and driven throughout the year regardless of weather conditions, and it's one that will make you feel special without raising eyebrows at every stop light. Simply stated, it's one of the best overall options out there.
-Carter