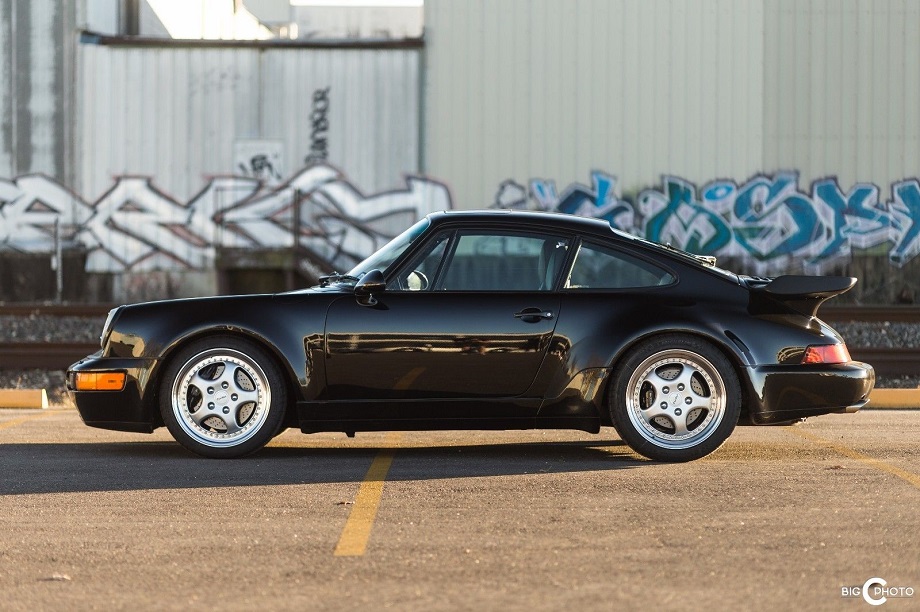 This Black on Black 1991 Porsche 911 Turbo has been for sale for a few months and I suppose the question is whether it still should be? With the air-cooled market not really blowing anyone's doors off these days it perhaps is not surprising that no one has taken the plunge with this one. You can find an early 964 Turbo in the low $100Ks. Were this one priced there it obviously no longer would be for sale. Were it priced higher – like the $150K Grand Prix White example I featured not long ago – then I'd suspect it to have little chance of selling. As it stands now, this asking price splits the difference, which given the fairly low mileage is understandable and not at all unreasonable. Is this a sign that the market for these Turbos might be struggling even more? Or is simply a little more patience required?
I don't know the answer to that right now, but this is a nice example and while not the most exciting color combination it is definitely one that should have broad appeal.
Year: 1991
Model: 911 Turbo
Engine: 3.3 liter turbocharged flat-6
Transmission: 5-speed manual
Mileage: 27,735 mi
Price: $135,000 Buy It Now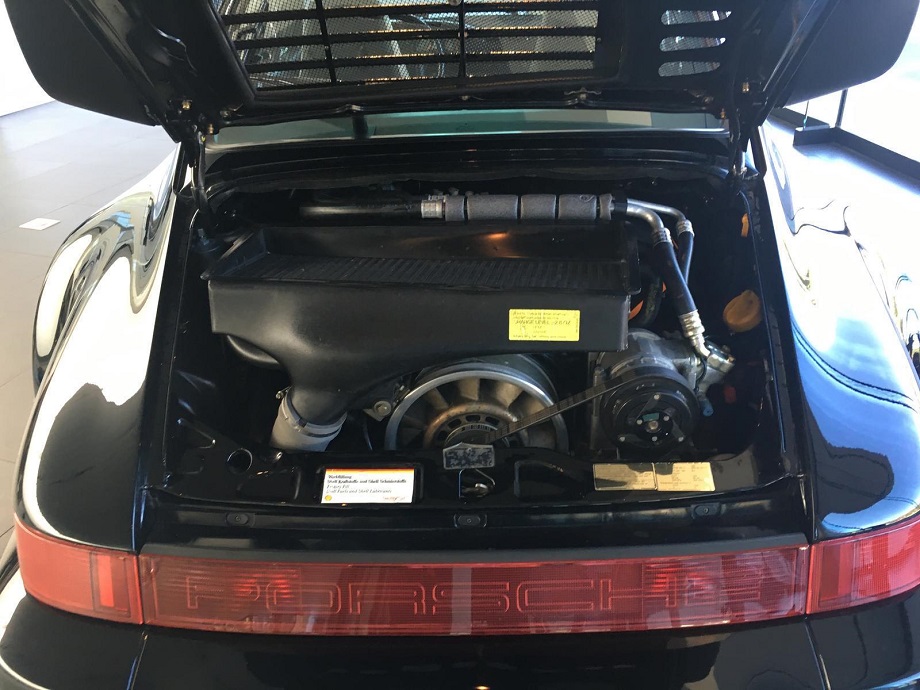 Reluctantly putting my 1991 3.3L 964 turbo up for sale. 3 prior owners, purchased from Paul Miller Porsche in NJ in October 2016 with only 26,824 original miles (from what I can gather from the history, the last owner had the car since approximately 7200 miles). I've put less than 1,000 miles on it since then (current mileage: 27,735) and is the primary reason why I've decided to sell it: just don't drive it enough.

Clean title, no accidents, no paintwork. I obtained a PPI from Powertech Porsche in Rockaway, NJ. Paintmetered all panels which ranged from 4.0 to 9.3 without any double digit outliers that would indicate a respray. Interior is pristine. After a discussion with the shop, I decided to forego a compression/leak down test as the car was so low mileage, the car was mechanically sound and had no issues producing the stock 0.7 bar boost. Only nonfunctional part of the car is the stock Porsche CD-2 radio unit which I knew about before I purchased it. Typical aircooled oil weep from the engine when the car sits. No leaks.

Optioned with Limited Slip Differential, supple leather, heated seats with lumbar support, sunroof, CD radio (nonfunctional as mentioned above)

All fluids/belts changed at Motorwerks in Houston as soon as I took delivery last year. New pads/rotors installed by Modern Aircooled. Air conditioning recharged on 10/31/17 (R134A).

Car is stock with the following exceptions:
1) Suspension (stock Boge shocks which are still functional were changed out to brand new H&R coilovers). Work done by Modern Aircooled in Houston.
2) Cup 1 wheels switched out to RH Speedlines with new Michelin Pilot Super Sports 225/40/18 (F), 265/35/18 (R)
3) Purchased a stock 964 steering wheel and had it reupholstered by CarBone Liveries. Thicker grip, top red center stripe. Original steering wheel comes with the car.
4) Rennline clock phone mount

2 keys, books. I have all the stock parts which would go with the car including tool kit, spare, car cover. Will include a pair of painted Bumper Plugs for the front license plate drill holes which I never got around to installing.

Renewed the yearly registration (exp 10/18), so if the lucky new owner is from Texas, you'll get several free months on me.

Would be happy to send any further pictures by request.

PPI's welcome at the buyer's expense.

Vehicle has an existing lien with a Texas bank who currently holds the title. Title is in my name with the bank as the lienholder. Payment details and title transfer will be worked out with buyer.

Car is located in Houston, Texas. (And just to be clear, this car DID NOT FLOOD or sustain any water damage during Harvey!)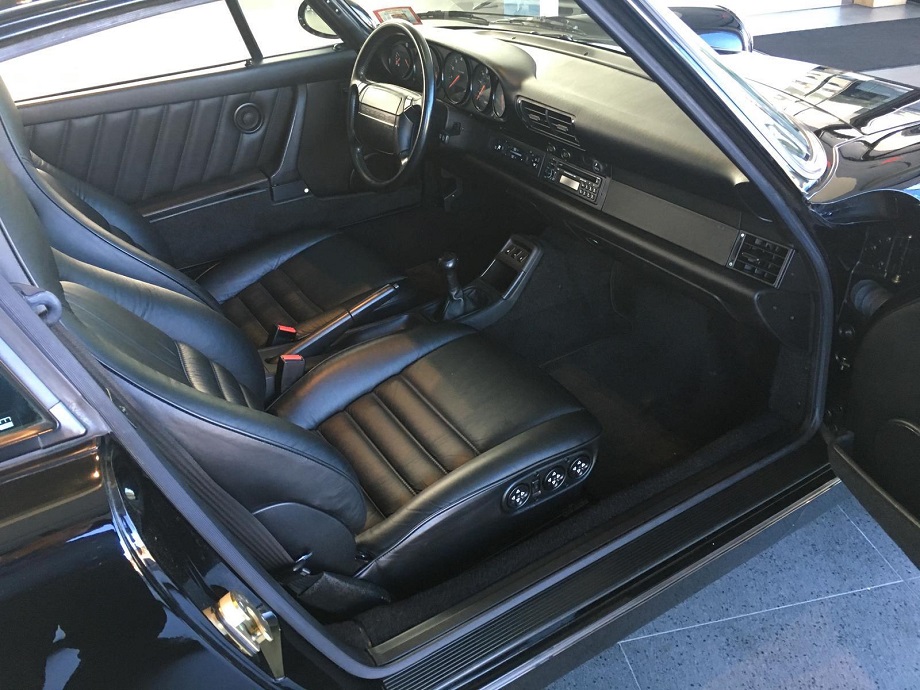 I mentioned last time the comparison between the 964 Turbo and the 930 and I always think it's a point worth considering when thinking about these cars. There are enough basic similarities between the two that both have similar appeal to similar buyers. I'd guess unless your interest were in one of the early 3.0 liter 930s, then it would be undeniable that the 964 is a better overall car than the 930. It's more modern and refined, though still retains the rough edges that made the 930 such a rewarding performance machine. These still existed before the days of Porsche using twin-turbocharging and all-wheel drive to help tame some of the 911 Turbo's handling characteristics. They also have more power than the 930 and while they certainly lack the iconic history of the first Turbo, the 964 is rarer, due to its much more short-lived existence. You can find a later 930 for less money, I guess the question is whether that should be the driving force behind your search.
This particular Turbo checks a lot of the right boxes. The mileage is quite low and both the exterior and interior present very well. It is in mostly original condition and, from what I can gather, of the various non-original parts the stock parts come with the car. Given that it has a lovely set of Speedline wheels that's a nice bonus. I can't say I'm much of a fan of the reupholstered steering wheel – something just looks off to me about it – but the original comes with the car and perhaps in person the wheel will look (and feel!) just fine. Overall this is a good looking 911 Turbo in good condition and one that should be in good working order ready for a new owner. The price isn't low. You could find one for a lower price. Would it be better?
-Rob