If you could bring one Euro-only car into the US, what would it be? Thanks to those selfish debtors hogging the best kit for years, there are so many good choices. Lancia Delta Integrale HF? Yeah, I want that. Any generation of M5 Touring? I want that too. Even the mundane E30 wagons get me going thanks to their status as forbidden fruit. However, the first car that comes to mind for me is the original B5 Audi RS4. As I've recounted before, upon first seeing one parked in Paris I stopped dead in my tracks and just stared for a few minutes, only to be doubly shocked when I walked around the block and saw another one. The front fascia and beastly wheel arches are to die for, not to mention the insane 350hp 2.7l Biturbo. There have been some amazing conversions (which are almost as brutally expensive as the real thing), but somehow the previous owner of today's RS4 went through the whole song-and-dance to get this factory RS4 into the states. You, sir, deserve a round of applause.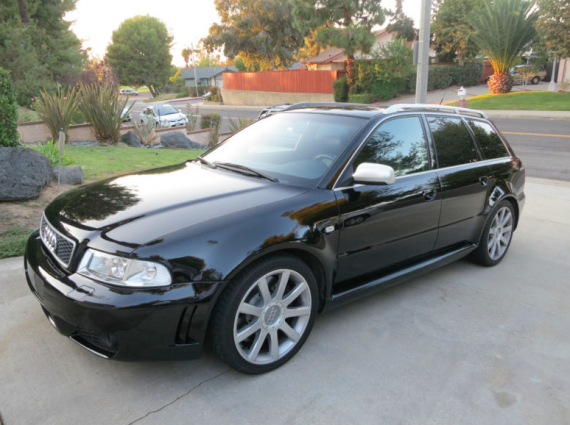 From the seller:
The car is listed as a 1980 because ebay does not recognize the vin number. 2001 Audi RS4 titled, registered and federalized in California as an rs4. I was selling this car for the owner on a consignment sale but when i saw it, i just purchased it from him. I now need the money, so its up for sale. The owner before me originally bought this car for 125k back in 2004 with a little less than 10k miles. This car is super clean and fast. The only mods on the vehicle are awe down pipes, intake, and a chip computer, this was all done back in 2004, it was always serviced at Santa Monica Audi in California. Comes with factory navigation system and tv, the only problem is that its for another country so you cant use it over here in the u.s. The radio works fine and it also has a 6 disc cd changer. Interior is in mint condition, no one rarely ever sat in the back seats, the recaro seats are still in incredible condition. I have the clean california title in hand under my name and its ready for sale, I just had the car smogged 2 weeks ago and it passed with no problem. Tires are still in great condition, comes with michellin pilot sport tires with about 80% life left on them, also comes with a full size rs4 spare tire. This car is a super rare car and any Audi fanatic will love it. The only problem the car has right now is that the LED display on the cluster is going bad, the pixels in it are dying, this is about $150 fix, i might have it fixed by then. The car was also recently inspected at WMS (WIcked Motorsports) in van nuys, buyers are also welcome to do a pre purchase inspection. Please feel free to ask me any questions that you might have.
Beyond its rarity, this dream machine has just 21k miles on it. The only blemish appears to be the standard Audi LEDs-gone-wrong in the instrument cluster. As you might expect, forbidden fruit + low mileage = R$4, and the buy-it-now for this car is $70k. Too much for you? Well, then you can just move on to the next B5 RS4 in the States. Oh… that's right, there aren't any.
-NR