After spotting the V8 Quattro last week, I got on a crazy large sedan kick, and it's still going. As I've been browsing the internet looking for great luxury sedans, a few things are becoming more and more apparent. First, BMW is going off the reservation with 7 series styling. They are one of the most polarizing cars out there, and I'm not sure how I feel. Second, these flagship sedans depreciate like CRAZY, making them some of the best bargains out there. Lastly, the Audi A8, is by far my favorite.
This silver over black A8 for sale in Framingham, MA is a great example of Audi luxury, at a reasonable price.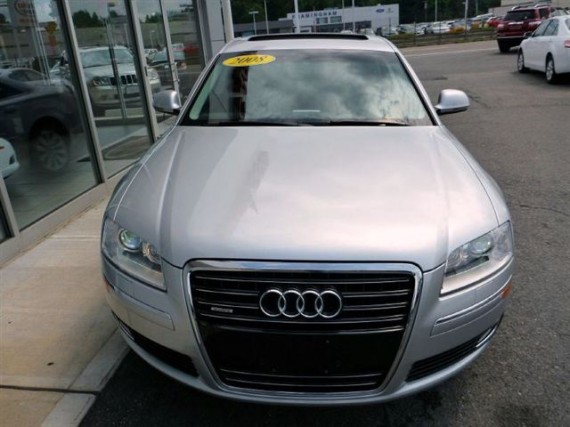 Features Navigation, Backup Camera, AWD, Moonroof, Leather

VERY LOW MILES! At just 34530 miles, this 2008 Audi provides great value.
LOADED WITH VALUE! This A8 comes equipped with: Cruise Control, Power Steering, Security System, Power Passenger Seat, Power Locks, Power Windows, Side Airbags, Passenger Airbag, Traction Control, AM/FM, CD Player, CD Changer, Moonroof
This is a great example of a well kept relatively low mileage luxury sedan in one of the best color combinations for a German car. The styling of the later D3 A8, is by far my favorite, It's the beginning of the "waterfall" grill, but it's still the generation before they went overboard with it. As someone that is in the market for a new-to-me car, this is certainly one that I would put on my short list. With an asking price of $37,995, it's priced right about where it should be, and any good negotiator could probably go home with it for around $35K out the door.
-Brian