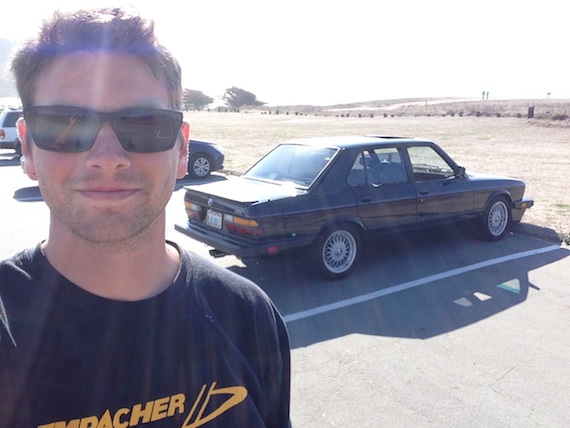 I've alluded to my M5 ownership throughout my posts here, but haven't really put together a more informative piece about what it's been like to own my dream car. No, the experience has not always been a dream, but having a firm belief going into ownership that the car is a dream has been a great baseline attitude when something breaks or the mechanic's bills come. To quote Walter Sobchak paraphrasing Theodor Herzl: "If you will it, dude, it is no dream."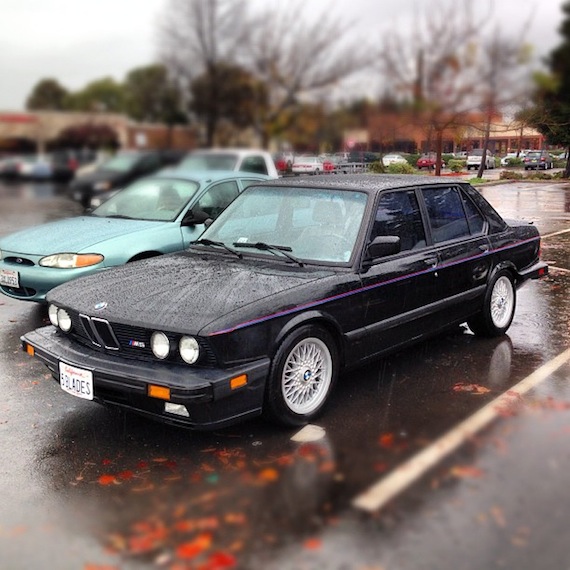 I've now had the M5 for exactly 2.5 years. For a quick refresh, I found it in Tennessee after a tempting-but-rough local example almost snagged me. MyE28.com pointed me towards this car and its seller, and the Tennessee one was nicer and better cared for while sharing similar mileage and a recent rebuild. It was $2k less than the local, so I figured that savings warranted an adventure. I flew my brother and myself to Nashville, we met Curtis (seller), looked over the car (I had spoken with him for hours about the car's intricacies, maintenance, and work done), and was more than pleased. We decided to forego taking Curtis up on his generous offer to let us stay and left Tennessee at 8pm – not stopping until 8pm the next night in Arizona. 24 hours straight a good clip is a pretty good shakedown, methinks.
Passing California's smog took a new cat and the taxes weren't great, but I considered it all part of the purchase price, which still barely eclipsed the local's list price.
For a long while after that, the M5 was just a true joy. It's my first fast car, having started on a VW Caddy and then inheriting my 1988 Toyota 4×4 Pickup, which I still own. As time went on though, small things began to seem bigger and annoy me more. The two main issues were a significant exhaust buzz beneath the center console and failing synchros in 2nd. I tolerated them for a while, but they slowly diminished the joy I felt taking driving it. I tried different mechanics for little things – the electric seats can be annoying, etc. – but was frustrated in never finding a shop that felt right. I wanted someone to work with me, to help educate me, and who would truly care for my car. I found that in German Auto Sport in Berkeley where the head tech owns an E28 M5 and an M535i, and they were all welcoming, mellow, smart guys.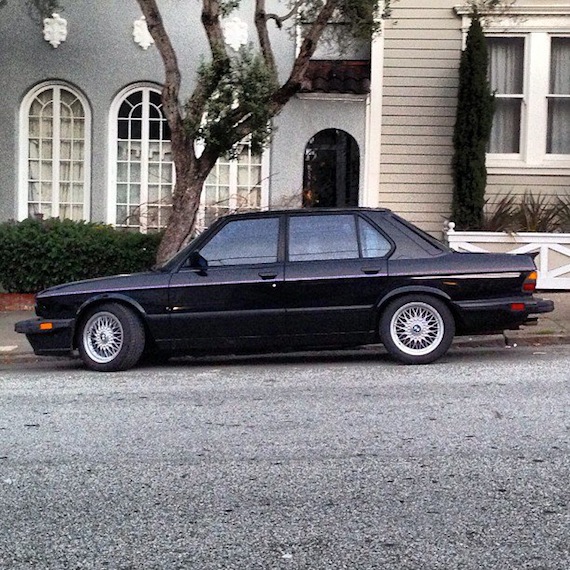 With that, I knew it was time to take Mean Marcus in for some surgery. After some back and forth looking for a suitable Getrag 280, it became apparent that there's a reason no one rebuilds them anymore. Too difficult, too expensive, not worth it. Luckily, MyE28 contributor and German Auto Sport-patron Devinder literally wrote the guide to converting M5s to a G265, so I went for it. My S38's been rebuilt, it has suspension and exhaust and a chip, and it has over 200k miles, so it's never going to be an all-original creampuff. Now that it's done, I love it; the slightly altered lower gears make it feel even faster, and I know that when I crack 500k miles (years from now), the transmission will be easier to deal with.
The next biggest thing was the exhaust buzz, which turned out to be a few cracks in the manifold and flexpipe. Fixing this has had some interesting/amazing repercussions: it sounds better and smoother, but at the same time more exhaust is going straight out through the B&B, making it grumble lower and louder. YES. It's also contributed to the car feeling noticeably faster as it breathes better than ever.
After the transmission, there were plenty of little things I wanted taken care of while it was under the knife – new radio antenna, fixed trip computer, fixed A/C, fixed ABS, repainted mirrors, fixed central locking. The one thing I was looking to do at the time that didn't get done was fixing my cracked front spoiler – I'll have to keep looking for that.
Which brings me to what's next. It's the first time I've really felt what I've read about in all those "project car" articles – the continuous desire to see what you can do next and how great the car can be. My plans include fixing that front spoiler, a possible conversion to Euro lighting (US E28 lights are truly a joke, which is scary on a 150+ mph car), a few more electrical fixes, and possibly exploring the common swap of 7-series brakes. My interior could use a little love as the front seats show every one of the 215k miles, but everyone says to do it right you should go to this guy in San Diego, and that can be a $4-6k job. I think I'll wait on that, as it looks pretty darn good overall and I'm more worried about it driving perfectly than looking perfect.
So, E28 M5s. Is the maintenance expensive? Certainly. Is the gas mileage awful? For sure, especially because you can't keep your foot out of it. Do I feel like it's worth it every single day? Abso-fricking-lutely. As someone constantly looking at and appreciating the rare, unique, and cool cars out there, putting money into this thing feels like a public service. I'm keeping one of the most badass cars BMW's ever made rumbling through the neighborhood, screaming up the hills, and flying down the highway.
-NR