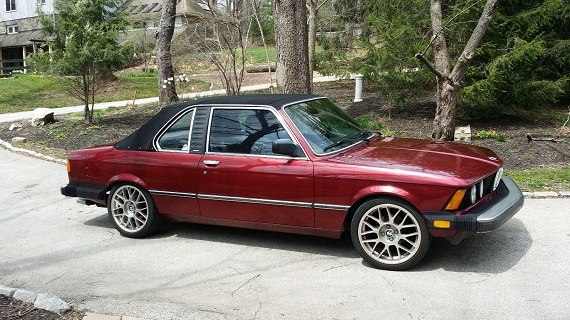 The BMW 2002 Baur is a rare car indeed, but more common are the Baur-built E21 versions of the Targa vision, though they're also rare and unusual. In all, about 5,000 of these Baur conversions were produced – not necessarily the most rare car that we've seen by any measure. But when you toss into the equation the somewhat rare already 323i with a 5-speed manual box, you've got a quite rare ride indeed:
Year: 1981
Model: 323i Baur TC
Engine: 2.3 liter inline-6
Transmission: 5-speed manual
Mileage: 51,340 mi
Price: No reserve auction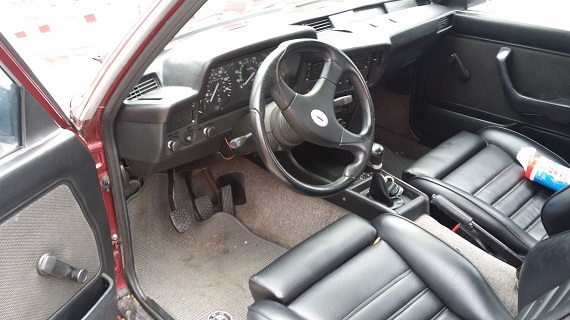 ** NOTE – Click on the picture to see a gallery of 24 images **

This may really be the nicest E21 in the country. I've owned a dozen E21s over the years, and this car is the nicest I've ever seen.

If you're here, you probably know what you're looking at, but this is a very rare car for three reasons:

First, it is a Baur TC (Top Cabriolet). These cars were pulled form the BMW assembly line in Munich and taken to Stuttgart where coach builder Baur fitted them with a cabriolet top. The cars were then returned to BMW dealers in Europe and sold like any new BMW (but much more expensive).

The top comes off in two sections: The roof panel pops out and slides into a dedicated storage rack in the trunk. Everything aft of the center section folds back like a convertible top.

In Europe, Baurs were expensive, rare, and highly sought after. Here in the US where they were never sold, they're that much rarer.

Secondly, this car is an E21 323i. In the US, E21s were only fitted with a relatively anemic 1.8L 4 cylinder engine. This car has the factory M20 inline, fuel injected 2.3L 6 cylinder. It is night/day in performance vs. any US spec E21 you've ever driven.

Third, this car has incredibly low original mileage. 51k miles in 33 years. It's been babied its whole life.

Do you know how you see E21s all of the time that lived a tough life – lots of aftermarket parts, etc., a history of cobbled repairs, a stint as an urban aspirational vehicle? This isn't one of them.

Pros for this car:

– Again, it's a Baur Top Cabriolet. (Do some research on how desirable these cars are)

– The top itself is really nice (I've owned a few Baurs, and this is the best). The fabric covering the fiberglass top panel is in excellent condition, and so is the rear part of the top. The rear plastic window is clean and nice.

– The engine runs smooth, perfect, and it's the 323 Fuel Injected engine – the largest one ever built for the E21, and never sold in the US. (The good news is that this engine was sold in the 5 and 7 series cars, so parts for the M20 motor are readily available). Given the wonders of the Internet, even the Baur-specific parts are easily ordered from European specialists (the only thing I've ever had to do was to replace one of the latches).

– I've installed newly recovered Recaro seats (with factory adapters) built by aardvarc with german vinyl. This was over a $1500 custom job.

– BBS wheels all around. They have the BMW logo inserts, but I have the BBS logo inserts also.

– Factory 5 speed

– NEW tires

– New high end Kenwood Radio (built in color lcd). Unlike most of those cars, no one cut anything structural to put in big speakers. Speakers are tastefully put into the floor panels forward of the front doors and in the rear seat sides. External amplifier, MP3 capability. iPod jack in glove compartment. The head is just a year or so old. I replaced the former aftermarket head with the latest and greatest.

– Momo steering wheel and shifter.

– Mats/carpets are excellent.

– Headers (see the one header pictured that says 'Brandy' on it from a previous owner. I've subsequently always called the car 'Brandy')

– Full toolkit

– Paint is good. Someone spent a fortune doing a high quality paint job a few years ago, and it shows. It's a beautiful color

– NO SIGNIFICANT RUST. Yes, there are couple of VERY SMALL cosmetic pieces, and they'll be talked about in a second (and are highlighted in the last two pictures), but nothing that should worry you and better than 99.999% of E21s out there.

– Comes with Baur factory tonneau cover which covers the top when folded down. I had one of the leather straps and snaps repaired. It's in perfect shape.

– Factory NON-AC car. This is a positive. If you know much about E21s, the cars with AC used a dealer installed nightmare of an AC unit which barely worked when new and never works now. Essentially, the AC unit just makes the center console clunkier, harder to keep together and is almost always disconnected.

– Everything works

This car could hold its own in a car show today. Due to its rarity, beauty, and speed, you'll get it featured instantly at any BMW or European car show. To make it concours-ready, here's what you'd need to do:

– There is a small spot of rust (pictured) just below the taillight lens on the drivers side. This is really common for E21s. The taillight gaskets leak and they rust along the weld under here. It's not a big job.

– On the left front wheel arch, there is a small dent at the top of the arch, and there's a tiny amount of surface rust near that dent. I have no idea how that happened.

– There are two places where falling fruit from my trees put tiny dents in the hood. The Dent Wizard should take them out no problem. You'll see that they are slight enough to not be visible in the pictures.

– There is a dash pad covering the dash that has warped a bit from the sun. I've never pulled it off (because it's glued down) to inspect the condition of the dash underneath. I was told by the previous owner that it's in good shape, but I can't verify.

– The tools in the toolkit are a little rusty. I'd replace them.

– The fabric on the door card on the driver's side door is a bit worn where the door handle has been grabbed (you can see this if you zoom on the picture – it's slight).

And really, that's it. Here's a hyper-rare, hyper-cool car in fantastic shape. It is already a mind-blowing daily driver, and I know this because I drive it today. With a little work, it could truly be concours quality.

Comes with a maroon Griot's Garage custom fit car cover ($400).

I also have a 'front bumper tuck-in' kit which has never been installed. I have a clear US title and a valid PA inspection.

Winning bidder to pay a $500 paypal deposit in 3 days, nonrefundable for any reason.

Winning bidder to provide cash or cashier's check within 14 days.

Car is located in the suburbs of Philadelphia. I'll pick you up at the airport or train and you can drive it anywhere. Alternatively, I'll help with whatever shipper you arrange to inspect and load the car. That said, I will not coordinate shipping for you, and you are paying for any shipping or transport.

Why am I selling? I've had the BMW bug since I bought my first beater E21 in 1989. I've successively traded up in the E21 family over those years until ending up with this car. I've also had 2002s, E30s, E39s, and E46s along the way. While I love these cars, I've recently come to the realization that I've spent 25 years driving the same model of car. As a car guy, I just want more experiences, and someone else should get a chance to own this (which is a way to say that if you have a very cool trade, I'd consider it).

Check my feedback. I've bought and sold over a dozen cars on eBay personally. Please respond with any questions.

On Apr-18-14 at 14:01:38 PDT, seller added the following information:

A few people have asked about the Baur build plate. A photo of it is below

Image of Build Plate

On Apr-19-14 at 17:36:49 PDT, seller added the following information:

Just so everyone knows, this is well on track to hit the modest reserve. The reserve is less than I paid for it, and far less than I have in it.

On Apr-20-14 at 07:30:42 PDT, seller added the following information:

So, I just went on a walk around the car to consider "If I bought this reading the description, is there anything that could possibly disappoint me?" I've bought a ton of cars on eBay sight unseen so I know this moment of truth pretty well.

In general, the car will exceed expectations. It really is sold.

It IS a 30 year old car. It's in fantastic shape for that age, but remember it is 30 years old.

A couple of things I saw that I thought I should point out:

– One of the 'falling fruit' dents described above is in the trunk lid, not the hood.

– There is a small 'star' in the paint where it looks like someone tried to slam the hood shut with the fusebox cover not on properly. Looks like the corner of the fusebox poked up from below (This makes sense now, as one thing I replaced was the cracked fusebox cover)

– Someone has installed a security system with automatic door locks. These surprisingly just work. Two transponders are included. I've never seen an E21 with power door locks, but someone did it. The only other evidence of the security system is an arming/learning button under the steering wheel and a small led just behind the shifter.

– The rotors have a bit of surface rust at the moment from the car's long winters nap.

– Someone put a mild tint on the windows. The previous owner said it came out of CA, which would add up. I'm not fond of the window tinting, but it's there. It could be removed. I removed the tint on the driver's side quarter window where it had started to wrinkle and it came off cleanly.

And that's about it.

Couple of things to emphasize. This car is sold AS-IS, WHERE-IS. It's in the suburbs of Philadelphia. If you want to come out and see it, please come.

Good luck to everyone!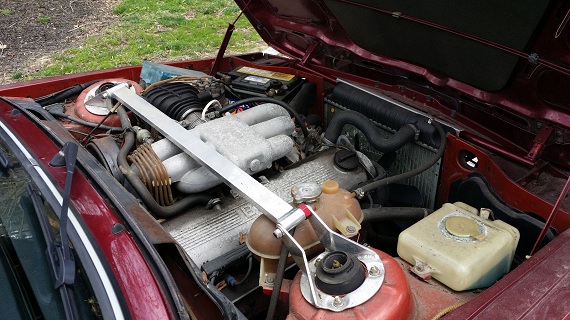 Though the Baur cars aren't my favorite of the E21 lineup, there's no denying that they're pretty neat cars that offered a BMW convertible at a time when there were no official BMW convertibles. If you wanted top-down Munich fun, this was your option! Overall, condition on this car is top; but unlike the seller's claim, I don't think it's the best E21 in the U.S.. There's a particularly stunning Alpina B6 2.8 that occasionally shows up at Lime Rock that instantly comes to mind, and I bet there are more out California way that are equally nice. There's some rust showing, the BBS RC wheels – while awesome on newer models – look out of place in my mind, and the aftermarket alarm system isn't really a welcome addition though working. Those BBS wheels also damaged the fenders from what I can see, a hint that they probably are too large to be on there. Sourcing some Alpina, Hartge or BBS Mahle wheels would solve that problem in a hurry and you could easily recoup the money on the RCs to the Volkswagen or E30 crowd. The auction is no reserve and bidding is already close to $10,000; I'm not sure what the rarity of this combination will ultimately draw but at more than $15,000 I'd probably personally opt to get into a clean Euro 323i, 320is or try to find an Alpina B6 or Hartge H3 edition. Still, the E21 is a deal amongst early BMWs compared to the increasing value of the bookend 02s and E30s, so this might be a great option for long term investment.
-Carter