Warning!
This post is in our archives. Links in this post may have been updated to point to similar cars available to bid on eBay.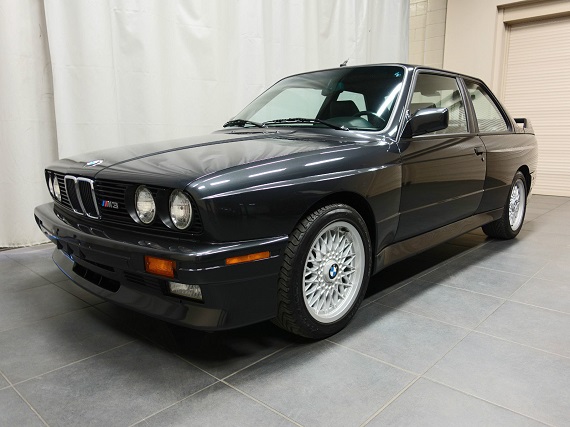 That the E30 M3 has been on a stratospheric price rise is old news. So are the stories of "I could have bought one for $400 20 years ago". You know what? I could have bought a really nice piece of land near the coast in Rhode Island for 10% its current value 30 years ago, but I didn't. Old, too, are the stories of what floor some ex-M3 owners got off at; for unlucky examples, it was $10,000 a decade ago, but smarter sellers have cashed in on E30 mania in the past year. Thanks to some big number sales late in 2015, the E30 M3 market is stronger than ever which raises the question of how high it will go. At what point will people say "You know what? This is a 4-cylinder near-luxury economy car that I'm paying $100,000 plus for"? It would seem that every time someone raises the flag of THE END IS NEAR another shockingly priced example clears what appeared previously to be an insurmountable hurdle and Mr. Toad's wild ride continues. While there's been a slight cooling in the acceleration curve, it's still pointed directly towards the Moon today. Hagerty's Condition 1 price valuation for a 1990 M3 is now $115,000, and the average value of those insured is $55,800. But the market has realized that many of the examples coming to market weren't condition 1, or frankly even condition 2. Lesser than top-tier example's value has gone almost completely flat, and now it's the really exceptional models that are rising to the top rather than the entire crop. So let's take a look at two of the best out there today and muse over whether this trend will continue to new heights: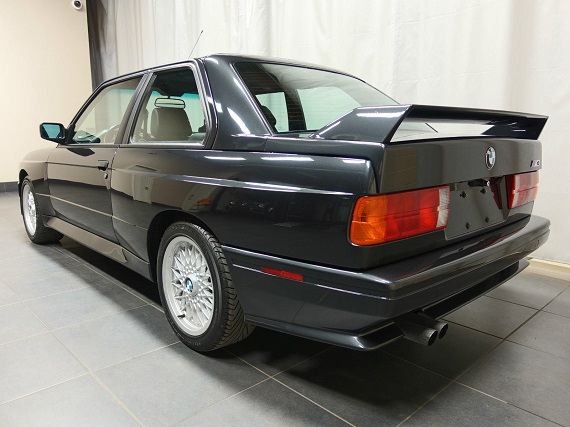 Year: 1990
Model: M3
Engine: 2.3 liter inline-4
Transmission: 5-speed manual
Mileage: 33,150 mi
Price: $109,000 Buy It Now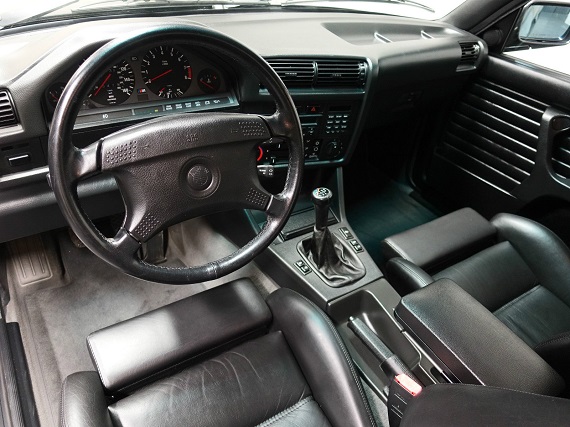 1990 BMW E30 M3 Coupe, $109,900.00 USD 33,150 miles, Diamond Black on Black Leather, 2.3L 192HP, 5 Speed Manual Transmission, One Owner E30 M3, 100% Stock Condition Vehicle, Original Body Panels with vin tags, Service History From New, Visit us @ kulumotorcar.com This vehicle is currently located and titled in Canada. It is originally a U.S.A. spec vehicle which can be exported and titled in the U.S.A.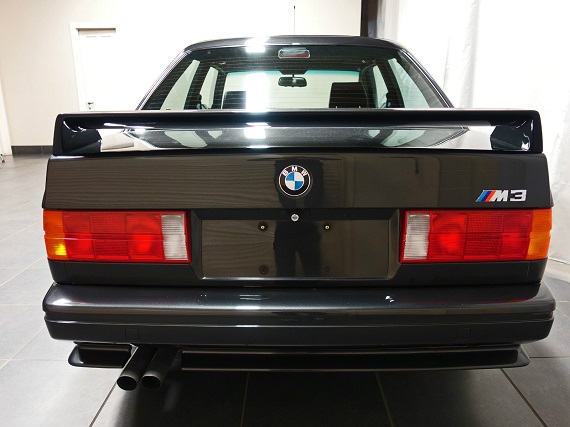 Despite the lack of description and low photo count, this does appear to be quite a nice and very low mile M3. The paint gloss is what you'd expect at top level, and inside appears near new. In fact, the entire car appears near new – but that's what it takes to be a condition 1 car, and especially if the car is all original and unrestored it will truly be a market darling. Pricing? Yes, there's that. But $109,000 doesn't seem so far fetched anymore when there have already been examples of models trading in that price range. Ultimately, it would take a very careful check to ensure originality but this one might be priced reasonably well for what it is, as shocking as the first look at the asking price may be.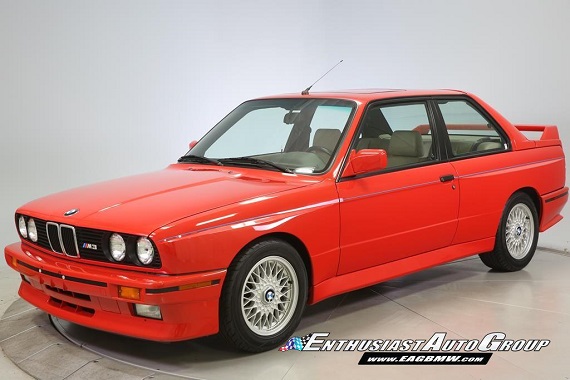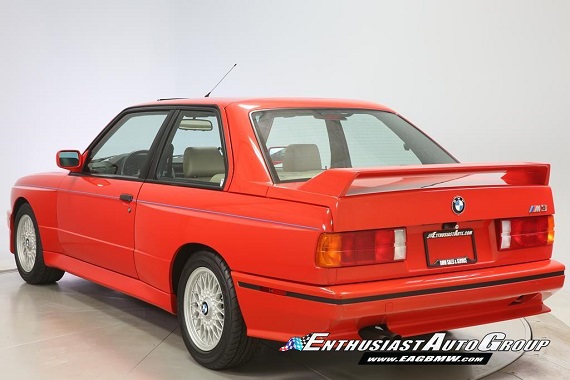 Year: 1988
Model: M3
Engine: 2.3 liter inline-4
Transmission: 5-speed manual
Mileage: 31,595 mi
Price: $159,990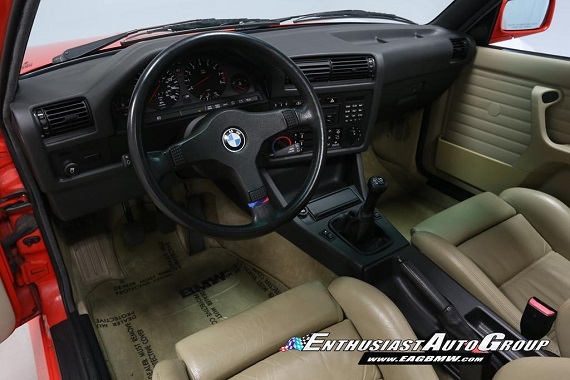 *New Arrival — Repeat Visitor* Henna Red over Pearl Beige Leather, Absolutely Stunning, Investment-Grade E30 M3! Very Rare and Desirable Henna Red Color! This iconic M3 was formerly owned by Tom Milner, the founder of PTG Racing; BMW's primary US motorsports research and development team during the 1990's. This special car has been pampered and serviced to the highest standard with extensive service records + documentation included. Period-correct, desirable updates include Dinan suspension with sport springs, Bilstein dampers, adjustable sway bars, aluminum control arms and Turner engine performance chip. All stock original parts included. This M3 example shows, runs and drives amazingly! Having always resided in a climate controlled garage and properly cared for; the appearance and condition is astounding! This time capsule is clearly one of the finest 1st generation M3s remaining. The exterior Henna paint has an awesome finish without significant flaws or blemishes. The body is all numbers-matching with VIN tags present. The interior appointments are well-preserved, original condition with supple leather, clean carpets and crack-free dash. Never seen inclement weather, therefore, the body and undercarriage are spotless without any signs of rust or corrosion. This car will not disappoint the pickiest of collectors! Henna Red was only offered during early 1987 production, this M3 was built on April 28th, 1987. Complete Car including Original Build Sheet, All Keys, Books + Manuals. Lots of Supporting Paperwork + Documentation Intact. Enthusiast Auto sourced this car in February, 2011 when it had 30,618 miles and placed it with a repeat EAG Collector in Georgia. Since then, the vehicle has received several maintenance updates including; cooling system update with water pump, thermostat, expansion tank, fan clutch + coolant hoses, intake manifold gaskets, timing chain tensioner, power steering lines, proactive clutch kit with rear main seal + shifter seal, rear shock mounts and replacement OEM windshield. EAG has completed another Comprehensive Pre-Purchase Inspection and Work Order preparing this car to join the new owners collection! Service Highlights Include Complete 10-year Service which includes: engine oil + filter change, transmission fluid change, differential fluid change, coolant flush, brake fluid flush, power steering fluid flush and fuel filter replacement. EAG has also refinished the original 15" wheels and installed new tires. Clean Vehicle History Report with No Accidents + No Drama! Responsible Adult Owned + Maintained, Never Tracked or Abused, Non-Smoker, Serious Inquiries from US Residents Only – Exportation of EAG cars breaks our consistent buy-back policy. Please call or email to obtain a Pre-Purchase Inspection Report, Build Sheet, Condition Related Details, Vehicle History and 100+ Detailed Photos; 513-554-1BMW (1269)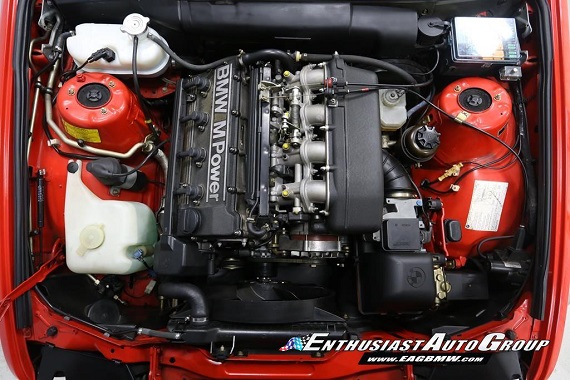 Believe it or not, this was not the original EAG M3 I started this post with. Rather, I saw the white ex-David Hobbs car listed with them. The asking price was a unfathomable $199,990 – and with that, I'm sorry for you spitting your coffee all over the computer screen. But before you totally dismiss that price, a few things; it was a pretty special car, as it had only 6,000 miles and was completely stock and original. Additionally, it was the last VIN number car for the U.S., and it was bought by David Hobbs in a charity auction to support Lime Rock Park's repaving. It also served as the pace car for Lime Rock for a bit, so it had a very unique history and provenance. And, before you say "Well, that doesn't matter…", it sold. So, too, did another example in their inventory with only 26,000 miles with an ask of $159,990. I was left selecting the third lowest mile M3 in their inventory, in this case an early car in Henna Red. It's not 100% original, but it's documented and has the original parts with it. Condition? You guessed it, top. And with 31,500 miles accrued, it's easily the match for some of the best cars on the market. The asking price is still staggering to look at – it wasn't that long ago that $160,000 bought you a very nice home. But that market is gone, and with it the affordable E30 M3 – at least for now, and for the foreseeable future. However, the market is slightly correcting itself in that the lesser examples have flattened out in value, while it's prime candidates such as these two demanding the highest value. We can claim all day long that these cars aren't worth the prices that they're fetching, but if they're trading hands at 6 figure prices, we're wrong.
Which would you choose for your dream garage? Personally, were it my $160,000 I'd be buying the Hammer from last night, but maybe that's just me….
-Carter