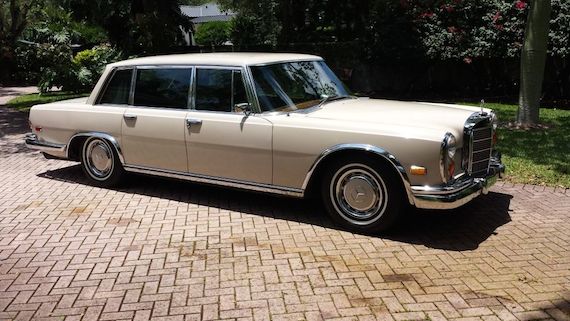 With the discontinuation of Maybach, the S class once again becomes the flagship of the Mercedes-Benz lineup. There has been talk of an über S-class of sorts, but nothing yet has materialized. Back in the early 1960s, however, Mercedes was toying with the idea of going up against the world's best with the 600, available in short and long wheelbase forms, as well as Landaulet version with a rear convertible roof. There's a few 600s floating around the auctions this week, beginning with this short wheelbase (SWB) example for sale in Miami.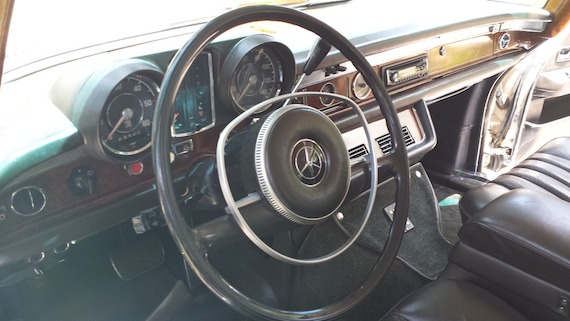 Year: 1971
Model: 600 SWB
Engine: 6.3 liter V8
Transmission: 4-speed automatic
Mileage: 29,000 mi
Price: $82,000 Buy It Now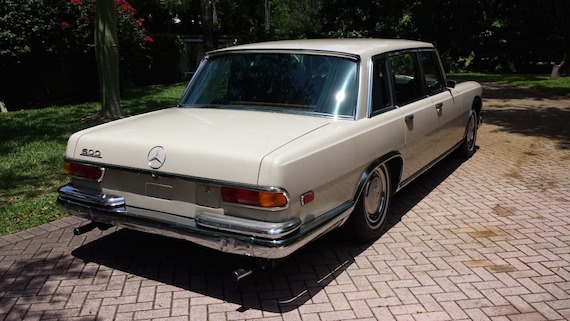 The 600 was the world's most luxurious car in its time: The preferred choice of royalty and wealthy people around the globe. This particular car is the short wheelbase model in tan with a brown leather interior.

The 600 had no immediate predecessor thus nearly all components were designed just for this car. An engineer's dream with cost being no object. It was the first Mercedes-Benz to have a V8 production engine, the M100. The 6.3 liter, fuel injected engine makes 300 horsepower. It can send this car from 0-60 in 12 seconds, and boasts a top speed of over 120 mph. Impressive for a car weighing over 5,000 pounds!

A representation of the absolute pinnacle of automobile engineering the Mercedes- Benz 600 was introduced in 1963. The 600 has been owned by such famous people as Elvis Presley, John Lennon, Jason Kay, Hugh Hefner, Elizabeth Taylor and Aristotle Onassis. A vehicle that was incredibly heavy, a massive 6.3L V8 engine that came with specially developed overhead camshafts and Bosch mechanical fuel injection to move the vehicle. The vehicle was a smooth ride with good handling that came with adjustable air suspension that improved the vehicles agility.

In 1965, production began after following two years of remodeling the 1963 model. A large luxury automobile, it featured many prestigious features including a complex hydraulic system that powered everything from seats, windows and automatic closing doors. The vehicle was extremely smooth with exceptional handling over any and all road surfaces, due to the adjustable air suspension. Available in several variants, the Mercedes-Benz 600 was came in either a 4-door sedan on a short wheelbase (similar to a modern S600 sedan) or a 4-door sedan with a power window that separated the front seats from the rear bench seat.

This vehicle belongs to a client. Please ask all the necessary questions before bidding. Don't bid then ask, its not polite.. As with any of my cars, I encourage anyone to come see it or have it inspected before bidding to ensure that what your are getting is whats described. I have done my best to describe the car as it stands, but we are all human. If you see something that I mentioned does not make sense please feel free to ask. Thank you and happy bidding.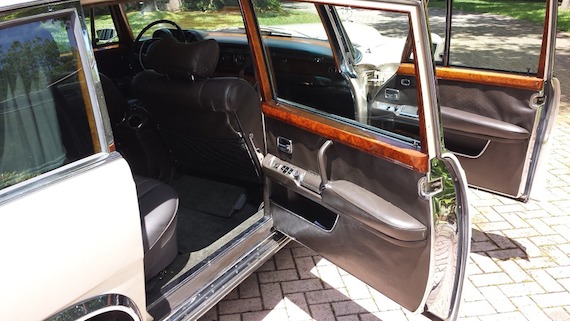 A lot of information about the model itself, but not with regards to this particular vehicle. Not exactly the way to write an ad for such an important piece of Mercedes-Benz history. This one looks to be well enough preserved, with a bit of patina such as a few dents on the bumpers and a driver's seat and door cards that need some attention. The asking price of $82,000 is near what average examples of the SWB model will run these days, with the best fetching in the $125,000 to $150,000 realm.
Next up, we have an earlier example of a 600 SWB in a bit better condition for sale in San Diego. The curious mix of white wall tires and two tone black/silver paintwork won't be to everyone's taste, but this one is closer to show quality.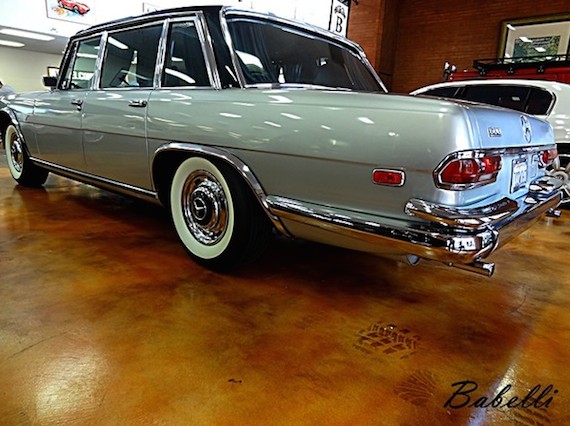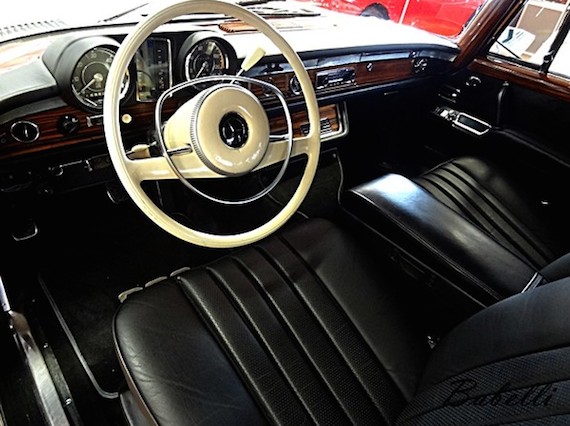 Year: 1969
Model: 600 SWB
Engine: 6.3 liter V8
Transmission: 4-speed automatic
Mileage: 89,173 mi
Price: $139,900 Buy It Now
Rare Find!!! 1 of 2,190 built.

Comfort hydraulics. Air conditioning And refrigerated refreshment bar. Utility tray between front seats. Tinted glass all around. Side compartments on all 4 doors. Radio Becker "Grand Prix" with automatic antenna. Parcel net on front seat backs. Non-glare rear view mirror. Coat-hangers in rear. Armrests on all doors. Independent center armrests. Adjustable headrests in rear. Safety steering wheel. Curtains on rear window. Rear side window curtains. Self-levelling air suspension w/adjustable road clearance.

———————–

We offer facilitation of a pre-inspection report before you purchase the vehicle

———————–

Trade-ins are welcome

If you need financing we offer a secure online credit application for pre-approval

———————–

Personal and business leases are available

———————–

Extended warranties can be purchased at the time of sale

———————–

We offer free airport pick-up, and can also help you facilitate low-cost shipping of your vehicle worldwide

———————–

If you have any question about this vehicle please contact us @ 1-619-338-0861 or via email at sales@babellimotors.com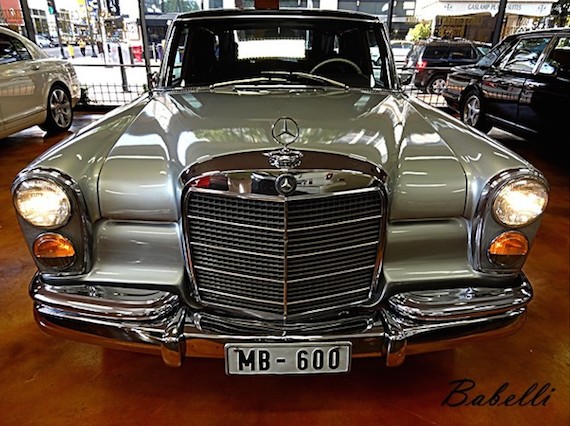 For the condition, this one is priced just about right. It appears this example has been restored and it would be worth investigating if the current livery is actually original to this particular car. It's not to my particular taste but this would certainly make one distinctive conveyance for a wedding.
Last but not least, we have up next a 600 Pullman for sale in California. This is an unrestored example originally sold in California in 1974. It's hard to come across these variants for sale, let alone in untouched condition such as this one, which has benefitted from a good amount of mechanical freshening recently, with some parts sourced from the Mercedes-Benz Classic Center in Irvine, California.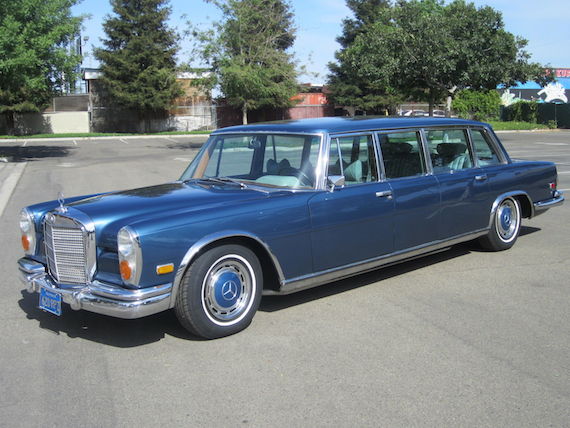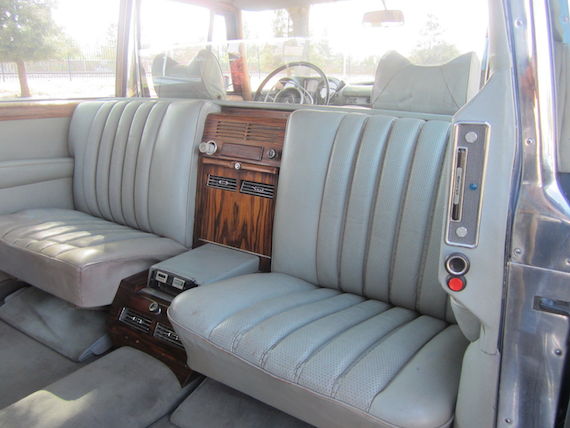 Year: 1972
Model: 600 Pullman
Engine: 6.3 liter V8
Transmission: 4-speed automatic
Mileage: 27,489 mi
Price: Reserve auction
1972 Mercedes-Benz 600 Pullman.

Here is a real find; an unrestored, sold new, and lived all its' life in California MBZ 600 LWB. This car even has its' original California issued blue license plates, we were able to peel back the yearly registration stickers which went back to its' 1974 first registration sticker. The car is rust free and solid, the floors have no rust. Even the area behind the rear wheels that are prone to rust on the best of these cars is original and rust free. The car looks to have had one older repaint.

The car starts easily, sounds good and idles well and does not smoke. The car goes through the gears and the brakes stop the car. We purchased the car around five years ago, and since then had the plugs wires, distributor cap and dual points changed; the gas tank and lines were cleaned and we replaced the fuel injection unit (from renowned Pacific Fuel Injection in San Francisco). We also replaced all four suspension bags (purchased from Mercedes Benz Classic Center in Irvine CA…..supposedly the last few left).

The tachometer, speedometer/odometer, gauges and dash lights work…the gas gauge does not work. The exterior lights/turn signals work. The interior courtesy lights and glove box light work; the ambient temperature gauge works. The clock and radio do not work. The heating & a/c will need to be checked/serviced. The interior is original, the seats have normal wear and have never been refinished/dyed. Overall the car is original/ un-restored and is in such condition.

The hydraulic system that controls the windows, center divider, moon-roof, cowl vent and trunk all work. In the past when we installed the air bags, the rear of the car would go up and stay up, the front bags would go up and after about three days go down to half height and stay there. Right now, the air bags fill with air but the car does not rise above the level as seen in the pictures. The tires that the car had been sitting on had a lot of tread but were old and dry cracked, so to avoid any complications/issues we just installed a brand new set of tires….the spare is still a BF Goodrich polyester tubeless tire.

In California, vehicles over ten years old are exempt from mileage disclosures. However, as you can see the mileage on the odometer shows 27,489; on the driver doorjamb there is a sticker from the mid seventies that says that odometer was repaired and replaced at 50,865. So, we can assume the car has been driven at least a combination of those two amounts.

If you have any questions other than "what's your reserve/buy it now price", you are welcome to contact us through ebay; or call my cell# 559-801-8623 anytime between 10am-6pm PST (California time; please calculate time difference, if any, before calling). Thanks, Bill.

This vehicle is sold as-is and as equipped. However, you are welcome to come see and/or have the car inspected before the end of the auction. Payment is due in full within seven days of the end of the auction. California buyers and all in-state sales are subject to sales tax, doc. & lic fees. In California, vehicles over ten years old are sold miles 'exempt'. Transportation is the responsibility of the buyer.
Of the three 600s, the second SWB is the obvious choice for those wanting to show and display their vehicle. If you run a fleet, perhaps the Pullman might tempt you. The originality certainly makes that car a conversation piece. If there aren't a lot of mechanical issues lurking, the first 600 SWB we featured could be a decent bargain if it could be had for a few grand under the asking price to give the new owner some room to freshen up bits of the brightwork and interior. Whatever your choice, a half century on, the 600 is still one of the ultimate choices for executives, heads of state and celebrities to be shuffled around in. It exudes great taste and demands respect.
-Paul