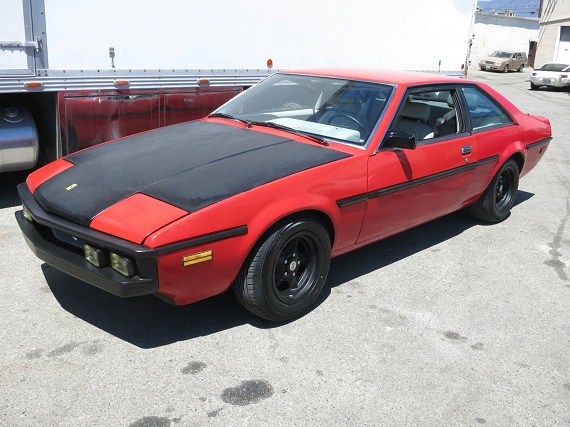 While we usually don't like to show cars that are not at least good examples of the respective marques that they represent, occasionally some oddballs pop up that are just too good to pass up. Today is such a case, with two unique vehicles popping up on Ebay that rarely get seen at all. Unfortunately, both are in need of a fair amount of work, so depending on your comfort level I wouldn't really consider either of these cars a turn key, collector vehicle as they stand. However, with the right about know-how, determination and a fair amount of work I think both of these cars could be resurrected to their former glory; certainly, both would bring smiles at shows wherever they went. Let's look first at the rare duck of the two, the Bitter SC: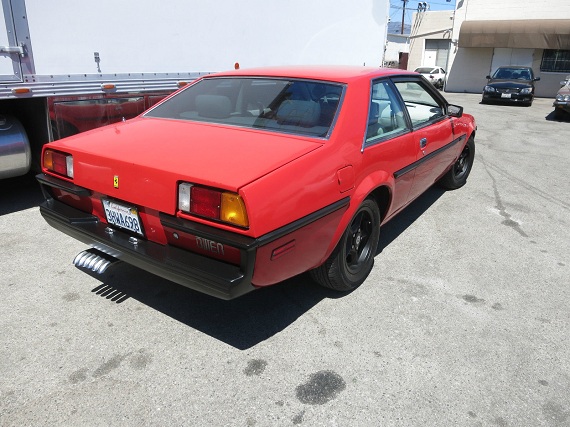 Year: 1985
Model: SC Coupe
Engine: 3.0 liter inline-6
Transmission: 3-speed automatic
Mileage: 32,500 mi
Price: Reserve Auction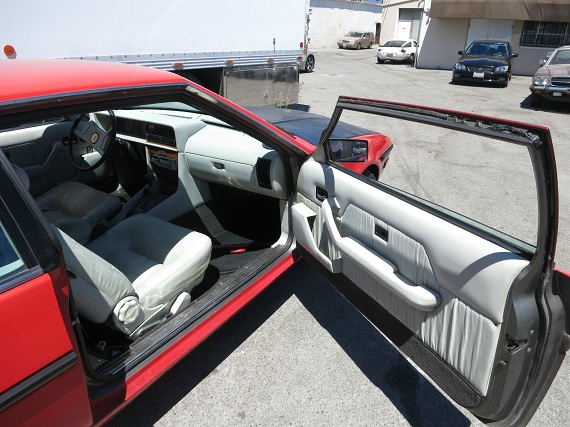 "GOOD CONDITION THIS CAR FROM 1985 IS A HEAD TURNER, BACK ON THE ROAD AFTER 8 YEARS. WILL OUTLINE GOODIES IN DESCRIPTION. I CANNOT BE EXPECTED TO LIST EVERY PROBLEM, BUT I WILL LET YOU KNOW WHAT I DO. SCRUTINISE MY PICTURES. OBVIOUS FLAWS ARE: THERE ICRACKED WINDSHIELD, MUCH OF LEATHER INTERIOR IS DRIED OUT.TRANSMISSION OR REAR MAIN SEAL HAS A LEAK. THERE IS A BROKEN LUG NUT. PAINT IS CRACKING IN NUMEROUS PLACES, HAS BEEN PAINTED 3 TIMES. WOOD ON CENTER CONSOLE IS GONE- I HAVE A PIECE OF CARBON FIBER I WAS GOING TO MAKE FIT. GAUGES WORK EXCEPT FOR TEMP GAUGE, I HAVE NEW ROUND ONE TO BE USED. TACHOMETER WORKS SOME TIMES NOT. VISORS TABS AND SECURING MOUNT ARE BROKEN- PLASTIC DRIED OUT. ORIGINAL ELECTRIC FAN IS IN TRUNK, I HAVE A MODERN HIGH RPM PLASTIC ONE TO BE FITTED. THESE CARS ARE KNOWN FOR ELECTRICAL PROBLEMS. HEADLIGHTS AND TURN SIGNALS UP FRONT NEED ATTENTION WITH SAID WIRING. FUEL INJECTION WILL NEED A GOOD TUNE UP, SENSORS NEED CHECKING SOMETIME RUNS FINE SOMETIME ERRATIC IDLE"

THIS CAR IS FROM 1985 EBAYS SYSTEM WOULD NOT ACCEPT THE VIN # BEING POST 1981. VIN NUMBER IS SAME AS ON CALIFORNIA TITLE. WELL IT IS BACK ON THE ROAD. THIS WAS BOUGHT FROM THE SON OF THE ORIGINAL OWNER A FEW MONTHS AGO. I WAS GOING TO RESTORE CAR BUT LOST INTEREST AND DO NOT HAVE SPACE ANYMORE. CAR IS RUNNING WITH NO FUNNY ENGINE NOISES. COMPRESSION IN THE ENGINE WHEN I BOUGHT CAR WAS BETWEEN 180-210. I HAVE SINCE LET MARVEL MYSTERY OILS SOAK RINGS FOR A WEEK, WILL TRY AND GET A NEW COMPRESSION TEST DONE. NO SMOKE. THERE IS A DENT ON REAR PANEL AND DRIVERS DOOR. THESE ARE THE THINGS I HAVE DONE. NEW BATTERY, NEW PLUGS, CAP AND ROTOR. NEW FUEL PUMP, LINES AND FILTER. PUMP IS REMOTELY WIRED WITH A SWITCH IN INTERIOR. REBUILT BRAKE MASTER. NEW FALKEN TIRES LESS THAN 20 MILES ON THEM. BILLET ALUMINUM AIR CAPS. NEW OIL AND FILTER. MOST HOSES AND CLAMPS REPLACED. HAD RADIATOR SHOP REMOVE RADIATOR CLEAN AND FLUSH ENGINE- NEW COOLANT AND THERMOSTAT. HAD MUFFLER SHOP REPLACE RusTED PIPES AND INSTALL TWO STAINLESS MUFFLERS WITH TRICK TRI-TIPS. CAR IS REGISTERED IN CALIFORNIA TILL FEBRUARY 2015 WITH CLEAR TITLE. HAVE RECEIPTS FOR ALL PARTS AND WORK DONE. I HAVE ONLY PUT ABOUT 20 MILES ON THE CAR- IT STILL HAS BUGS TO WORK OUT- SEEN AND UNFORSEEN. HAS LUG WRENCH AND OLD SKOOL SPARE TIRE THAT USES COMPRESSED AIR, NO AIR CAN. NEW SPARE TIRE COVER. OF COURSE I WILL HELP WITH GETTING CAR SHIPPED CONTACT ME. HAVE HAD PERFECT RESULTS WITH CALSHIP.COM FOR OVERSEAS SHIPMENT. YOU ARE WELCOME TO COME SEE CAR AND HEAR IT RUN. AT A CLIMATE CONTROLLED CAR STORAGE FACILITY IN NORTH HOLLYWOOD. CALL ME FOR AN APPOINTMENT CHRIS 818 660 7378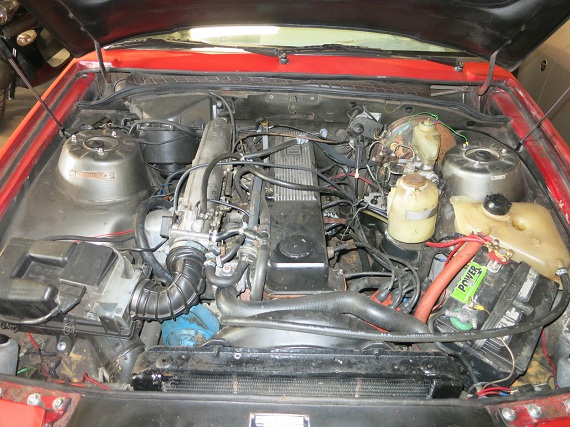 The Bitter SC is a handsome design; while the CD channeled some De Tomaso lines, the SC firmly looks like a Pininfarina design that could easily have popped out of Maranello. Apparently, one of the owners of this car felt the same, having labeled it with the famous Black Stallion. Outwardly, few non-enthusiasts could probably tell the difference between a 400i and the Bitter from a distance, but underneath they were very different. The Bitter was based primarily on Opel running gear; not the exotic items you're used to seeing in Ferraris. Still, the performance level wasn't bad as the Bitter was reasonably lightweight and the higher output version of the inline-6 topped 200 horsepower. Restoring this car will be a labor of love, but they're exceedingly rare to come by; to put it into perspective, there were nearly as many M1s as Bitter SCs produced. If you want to stand apart from the normal German crowd, look no further. Would you rather have something a little more mainstream?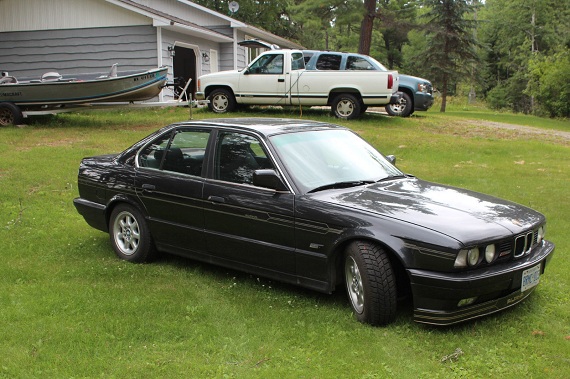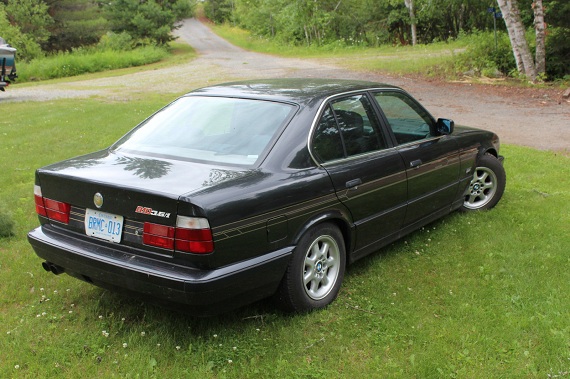 Year: 1989
Model: B10 3.5/1
Engine: 3.5 liter inline-6
Transmission: 4-speed automatic
Mileage: 93,790 mi
Price: Reserve Auction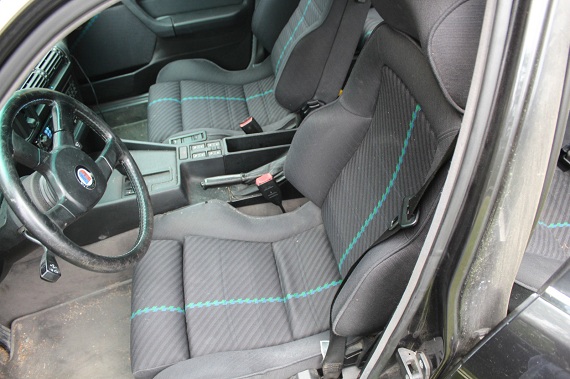 Genuine 1989 Alpina B10 3.5/1 (Not Bi-Turbo)
VIN – WAPBA35019BB30242

This rare, limited production vehicle is the real deal. It is now 25 years old and should be eligible for US Import. (but look into the import thing yourself!)

Location

Car is located in Nestor Falls, Ontario, P0X1K0. This is about 60 miles North of International Falls or Baudette MN. About 3.5 hours from Winnipeg, MB which would be the nearest major Canadian Airport. I think Duluth is the nearest major US airport but there is service into International Falls.

Nestor Falls is in the heart of prime freshwater fishing territory located on famous Lake of the Woods.

Delivery / Customs

Personal Pickup is preferred. Come and have a fishing holiday and drive your Alpina home! Can deliver to Winnipeg, International Falls or Baudette for $2 US / Mile. Other shipping and customs clearance is your responsibility. Please make sure you know what you need to do to legally import the car into the USA

History

I originally imported this car for my father back around 2007. At that time it had around 115KM on it if I recall. Car has only travelled `36,000 km since then as it is now at 150,940 KM. Car was sold new in Japan. After a couple of years, my dad sold it to a friend of his. This second Canadian owner dented the trunk lid and the rear Alpina badge is now gone. (see photos and description) After a short period my father bought the car back from his friend. At that time we imported an E34 M5 Touring and the Alpina was put in storage for a couple years. That is when I then bought the car with about 132 KM on it. I have had it for about 1.5 years.

My AWD winter vehicle has blown its engine and I am forced to sell the Alpina to get something more reasonable for the bad roads and weather.

Vehicle Description

Options / Features

– Auto (I know, I know…. But its hard to find a stick! It it were indeed manual my dad would have never sold it to me. )
– 3.5L Inline 6
– RWD
– Air conditioning (Currently not working)
– Power Windows, Power Locks, Power mirrors, Sunroof
– Alpina airdam and interior
– Alpine AM/FM/CD w/ipod control

Exterior
– Body is in decent overall condition.
– Lots of rock chips on the front
– dent in A pillar on drivers side
– 2 small dents in hood
– dent on trunk lid where a previous owner hit something and Alpina badge is gone.
– Front Roundel fell off. Was replaced with a low-priced Alpina one which promptly turned yellow. In case you are not aware, the appropriate/original roundel for this Alpina is a standard BMW one.
– Rear roundel fell off (see pic) has not been replaced
– Front and Rear B10 badges fading a bit
– No rust other than some surface corrosion on the trunk lid dent and what you see by the Alpina VIN
– Has be rust protected with the "Krown" rust protection program
– Fog lights are currently cheap aftermarket projectors. Hit a groundhog and destroyed one of the originals as well as damaged the airdam.
– Front airdam has been refinished by insurance claim as per rodent impact. I am very disappointed with the repair as they only fixed where the airdam was cracked and just painted over the rest which had nicks and chips. This is deemed "industry standard" by my crappy insurance company and they refuse to re-do it. So it looks good from afar, but its far from good.
– Glass all good
– Has the smiley lights with city lights and rear foglight
– Currently fog lights are wired as daytime running lamps (Canada regulation)
– Exhaust tips showing a little corrosion. Probably would shine right up.
– I added some "eyebrows" which are just taped on and come off with ease.

Engine
– replaced injectors with Mustang injectors
– Alpina airbox
– Some new hoses and boots
– Due for oil change
– Starts and runs great.
– Alpina cam is "lumpy". If you haven't driven a genuine B10 3.5/1 before then it seems odd as it doesn't idle smooth like you would expect. This is normal.
– Exhaust gasket / heat shield replaced back around 2008
– Headers ceramic coated while they were out for the gasket job. (These headers are quite fantastic)
– Oil dipstick is broken at the top.
– Slight seeping from the power steering pump area
– Some oil on the side of the block below the oil filter. I believe this is just from oil changes as the car doesn't seem to use any oil.

Driveline / Suspension / Brakes

– Car will need front brake work. It seems as though a caliper may be sticking or other issues. Braking performance is reduced and makes some noise. Also have a warped rotor feel
– Transmission has no issues.
– Front right strut is going bad, There is a slight clunk going over bumps.
– Otherwise all is well in this department.

Wheels and Tires

– Car is currently equipped with 15″ BBS Bugatti wheels and some near-mint condition winter tires. I was intending on driving it last winter but that didn't happen.
– Original Alpina wheels ARE NOT INCLUDED in this auction! Original 17″ wheels are available for $1500 USD on top of the auction total. Wheels are in reasonable condition but the locking center caps are requiring refinishing. Tires on the original wheels are basically worn out. Or I will exchange the BBS wheels with the Alpina wheels for $1300

Interior

– Air conditioning has a leak. It works but then its empty in 1 day or so. You can smell it inside the car so its likely evaporator or some seal. New R134 compatible A/C seal kit included but not yet installed.
– Some tape type residue on the center of the top of dash where a GPS antenna was mounted.
– Some tape type residue and minor damage to the side of the console there some device was mounted
– OEM cruise control installed. The car was not originally equipped with cruise but it was pre-wired. So all I needed to do was add the computer, servo and lever, used from a donor E34. The ACCEL portion of the cruise requires a wiggle of the stalk to engage. This is indicative of dirty contacts in the switch. Isn't a big enough concern for me to worry about
– Headliner good.
– Rear dash is faded and loose in areas.
– Doors have loose panel inserts as is very common on E34's. A little glue and they are good to go.
– Passenger door has some lifting. See pic.
– Shifter indicator a little faded
– Alpina plaque has come off due to the adhesive deteriorated. This just happened last week. (#242 plaque matches VIN)
– Some wear on drivers seat from sliding in and out of these Recaro type buckets.
– Alpina colors stitched into the seats in good condition.
– Alpina steering wheel showing a bit of wear
– Floor mats and carpet good
– Glove box latch broke and has been replaced. However I did not install the lock cylinder so it does not lock. As well I didn't properly align the glove box when I reassembled it. It's a little tricky and tedious to get right, but if you have E34 experience you already know that.
– Right rear power lock not working
– Car is equipped with 34/78 Optima yellow top battery. May be able to work out a small discount if you let me keep it.
– Passenger seat belt receptacle is finicky. Sometimes you really need to pound it in there. I have seen receptacles online for low prices here and there.

Summary

– GENUINE ALPINA Eligible for USA import!
– Needs a little TLC (Front brakes and struts) but will pass Ontario inspection in its current condition. (Add $200 if you want me to certify it in Ontario for you)
– Body in decent condition with some minor nicks, dings and scratches

Payment

– $500 non-refundable deposit required within 24 hours of auction end. (Paypal OK for deposit) Full payment due within 7 days. Balance of payment should be wire transfer, direct deposit, cash or money order. No paypal or personal checks.
– Auction and all prices are in US funds.

Other

– Car is currently insured and registered and can be test driven with an appointment. Can also take to a shop of your choice in the area for an independent inspection (at your cost of course). In our town there is only one shop. If you want a euro-specialist to look at it, there is a VW guy in Kenora about 125 km from here. Otherwise the closest true BMW shops are in Winnipeg. Mileage will apply to take the car anywhere other than the local garage.
– No taxes, private sale.
– Please ask all questions prior to bidding. Will provide a phone number to discuss as required.

quick walk-around and startup video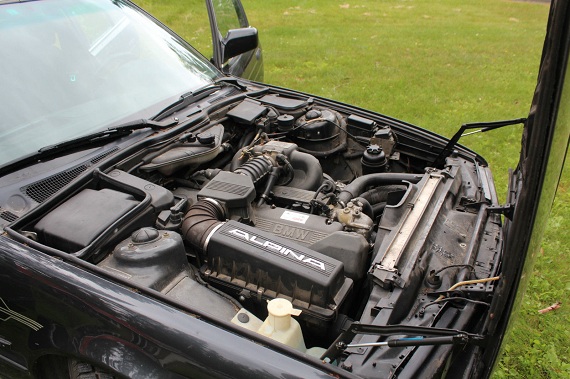 The color of today's Alpina is a bit sedate but the stellar interior, chin spoiler and stripes are there. Unlike the Bi-Turbo, the 3.5/1 received a warmed-over version of the venerable M30, with new cam, pistons, intake, cylinder head and revised Motronic injection. The result was a not-unimpressive 250 horsepower, though it was over 100 shy of the Bi-Turbo. This car appears to have suffered it's fair share of wear and tear, though all the important bits are there – minus the wheels, which are available only at additional price. That's a bit disappointing, but were I buying this car I'd certainly sport for them. Restoration seems like it would be fairly straightforward, with some bodywork and mechanical freshening, and a good cleaning. Why would you try it? Well, first of all it's on this side of the ocean, which saves a large amount of money. Second, it's currently less than 1/10 the price of the Bi-Turbo example from the other day, leaving a large amount for repairs and restoration. The Alpina would be the one I would choose, but I think either can certainly be salvaged and turned into a stunner. Which would be your choice?
-Carter